Way out West book
Our free version of Way out West is available as a book that you can purchase from Amazon.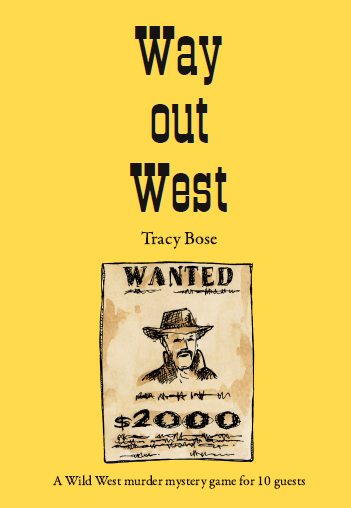 You can download our free version of Way out West by signing up to our newsletter (see here for how to do that), but if you don't fancy reading it on your computer screen, you can now get it in real made-from-dead-trees format.
Even if you do buy the Way out West book, we still recommend that you use the downloadable version to actually play the game – otherwise you'd have to destroy the book.
But the book is a much easier way of learning Way out West or reading through it while relaxing in the bath.
You can purchase Way out West from Amazon here (US) or here (UK).
You can even purchase it for the Kindle (US or UK).
As for Way out West itself...
It is the spring of 1884. America's west coast is slowly being populated with small towns full of settlers, coming to prospect for precious metals, set up ranches and run dubious saloons. Now the railway is coming! Cactus Gulch is one such small town. Founded 20 years ago, tonight it has a festive air as the townsfolk get set to start their 20th anniversary celebrations. Plus, the railway is coming! However, all is not running smoothly. Land disputes, disreputable card games, strange folk from out of town and hostile Indians are all adding to a tense atmosphere…
Way out West lasts for about four hours and is suited to an evening. It is often played over a meal – a finger buffet if possible to allow guests to circulate and talk in private.
These are the characters in Way out West:
Blaise Sadler – Aging saloon owner
Clem Parham – City slicker, Mid West Rail rep
Dan Fairweather – Slow and honest deputy sheriff
Doc Faraday – Notorious gambler
Elijah Entwhistle – Travelling preacher
John Paulson – Town's much-revered judge
Lucy Calhoun – Zeke's daughter, young woman, complete tomboy
Mel Easton – City slicker, South West Rail rep
Runs Like a Deer – Indian woman
Slick O'Hare – Scruffy ranch hand for hire