Great value murder mystery game bundles!
Sometimes we make special offers of collections of our murder mystery games bundled together, so you can take care of your needs for your next few parties! And, of course, there's a hefty discount for buying them this way – games in a bundle are around half the price compared to if you buy them separately.
Here below is our current seasonal bundle offer, the Holiday Season Bundle – ideal for your festive party! We've included The Night before Christmas and also Dazzled to Death, which is the same game but with a non-Christmas setting. Both these games are suitable for adults and for older teens. And we're also throwing in our newest game Death on the Rocks (which is intended for adults). You can buy the bundle here, in UK pounds or in US dollars as you prefer. And of course we've included links back to each game's individual page, so you can see more details about them.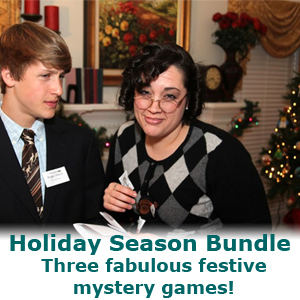 Buy the Holiday Season Bundle
Consisting of:
The Night before Christmas (12–15 guests), plus
Dazzled to Death (12–15 guests), plus
Death on the Rocks (12–16 guests)
All three games have free extra characters available, if you need a few more!