Best of the Wurst – a light-hearted 1942 wartime Peaky Games freeform for 9 guests plus a host
Recommended for ages 15+. Costs US$9.99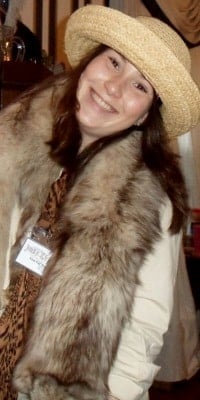 (we don't have any photos from Best of the Wurst yet, so this is from one of our other games)
It is 1942 Occupied France, and in the Castle Quimper Hotel, overlooking the sleepy town of Quimper a very important event is being planned. To demonstrate that German/Franco relations are, in fact, excellent, Colonel Kronenburg has organised a sausage tasting competition – the best German wurst against sausages from across Europe! Is there any doubt who will win? There are even rumours of a visiting Very Important Person!
But in a hotel famed for its painting of St Francis of Assisi with the Large Boobies and the Great Tits (a nature scene), the locals may have other ideas…
Best of the Wurst lasts 3 hours (including setup and debrief). It is published by Peaky Games and was written by Nickey Barnard, Martin Jones, Mike Snowden, Julie Winnard.
These are the characters in Best of the Wurst:
Yvonne Brun – the Castle Quimper Hotel's hard-working maid
Pierre Evian – owner of the Castle Quimper Hotel and habitual beret wearer
Estelle Evian – organises and runs the Castle Quimper Hotel, the scene of tonight's special wurst tasting
Mayor Albert Renard – Owner of Quimper's charcuterie; the German Occupying forces have made Renard Mayor of Quimper
Herr Colonel Klaus Kronenburg – senior German officer, known to enjoy the finer things in life, such as French food and wine and, of course, wurst
Fraulein Lieutenant Gerda Bloch – German ex-Gestapo ice-maiden
Constance Marchant – the Countess of Brest, here in Quimper to judge the sausage tasting competition
Giles Rupert – sausage maker from Brest
Viktor Lazlo – a Rumanian Wurst-Meister
Best of the Wurst has 4 female, 4 male, and 1 gender-neutral characters.
Best of the Wurst is a light-hearted (dare we say silly?) freeform set in Occupied France, very much in the spirit of the 1980s BBC television sitcom 'Allo 'Allo. Please don't take it too seriously. Also, one of the characters is a vampire.
How Best of the Wurst works
Best of the Wurst works like many of our normal murder mystery games, except that there's no murder. All of the characters have their own goals and objectives. Like our other games, how you achieve your goals is entirely up to you.
On the evening of the game the players are given their detailed backgrounds - including dark secrets, objectives and money. When everyone has arrived the game starts in the Castle Quimper Hotel. The real fun then begins as everyone questions each other and tries to achieve their goals. Finally, the game concludes and everyone finds out how they did, and what secrets everyone else was concealing.
Best of the Wurst is published by Peaky Games and assumes that you have hosted a murder mystery game before. While the instructions are fairly clear, if you haven't already played or hosted one of our murder mystery games, we recommend you do that first.
Buy Best of the Wurst for $9.99
Contact us via Facebook (your query comment won't appear on Facebook itself, unless you choose for it to):