The Day the Music Died – a 1960s musical Peaky Games freeform for 10 guests plus a host
Recommended for ages 15+. Costs US$9.99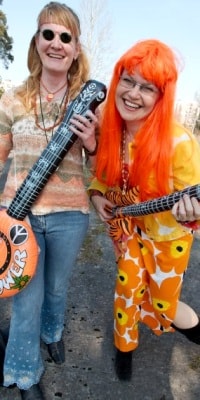 (we don't have any photos from The Day the Music Died yet, so this is from one of our other games)
Welcome to Radio Rebecca, the grooviest radio station in the English Channel. Hot on the heels of the 1965 FAB Music Awards, we are pleased to host our famous and exclusive post-awards party, only for the hippest in Swinging London. The results of the awards have just been announced and there is a shock result with the relatively unknown Lovebirds taking first prize.
There are musicians, record promoters and members of the press at the party and fortunes can be made and lost. The party will climax with the winning record being broadcast on the John Corr Evening Show. For now, turn on, tune in, drop out...
The Day the Music Died lasts 3 hours (including setup and debrief). It is published by Peaky Games and was written by Jim Ashby, Kath Banks, Jerry Elsmore, Heidi Kaye and Janet Young.
These are the characters in The Day the Music Died:
John Corr - DJ Radio Rebecca – Lives for his music
Nikki Least - Producer/Owner FAB Records – Corporate powerhouse
Toni Priest - FAB magazine – Up and coming journalist
Bobbi McGee - American promoter – Gateway to fame and fortune
Rick "Brick" Bragger - Heart-throb singer – Jumping Jack Flash
Mike Lee - Drummer/Singer of The Lovebirds – New to the scene
Nina Lee - Singer/Guitarist of The Lovebirds – New to the scene
Sally Uno - Bass player/Songwriter of the Hornets – Rock chick
Hank Webb - Singer/Guitarist – Peter Pan of rock 'n' roll
Petal Oldfield - Singer/Songwriter/Acoustic guitarist - New talent
The Day the Music Died has 3 female, 4 male, and 3 gender-neutral characters.
How The Day the Music Died works
The Day the Music Died works like many of our normal murder mystery games, except that there's no murder. All of the characters have their own goals and objectives. Like our other games, how you achieve your goals is entirely up to you.
On the evening of the game the players are given their detailed backgrounds - including dark secrets, objectives and money. When everyone has arrived the game starts at Radio Rebecca. The real fun then begins as everyone questions each other and tries to achieve their goals. Finally, the game concludes and everyone finds out how they did, and what secrets everyone else was concealing.
The Day the Music Died is published by Peaky Games and assumes that you have hosted a murder mystery game before. While the instructions are fairly clear, if you haven't already played or hosted one of our murder mystery games, we recommend you do that first.
Buy The Day the Music Died for $9.99
Contact us via Facebook (your query comment won't appear on Facebook itself, unless you choose for it to):