Murder mystery party food
Here are some murder mystery party hints and tips about food and drink, including hosting our games around a sit-down meal.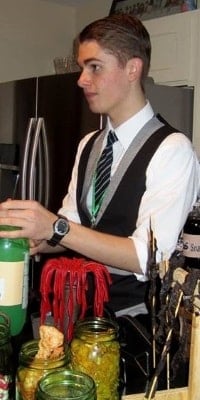 Pause for food
We have found that a 'declared pause' for food is a good idea. Some of our guests get so involved they forget to eat!! (suggested by Anne Burden).
Finger food tips
Russell suggests that: the players bring either finger buffet food with them or they prepare a course to bring along. Obviously ask people what to bring, as you don't want to end up with 13 lasagnas… Either way, it frees up time for the host to host the game, rather than running around panicking because they can't find the salad dressing.
Jollirog also suggests: As we've run our MM's as birthday events, we've always asked our guests to bring a bottle or food instead of a gift. The response is always overwhelming and loads of food is provided (and loads of booze!!) Some people let me know what they're bringing in advance, but even so we've always had a great variety of food.
I love that everyone gets to do their bit and there have become certain dishes that 'regulars' pride themselves in bringing (vodka jellies, slimming world quiches and homemade trifles for example!) People have even been really happy to cater to hubby's dietary requirements or to bring their own veggie options.
We've always made this optional and always been astounded by people's generosity – my kids do pretty well too and love living off 'party food' for the next couple of days!
Sit-down dinner tips and stories
We sometimes get queries about whether our games can be played around a sit-down meal. That's not how we tend to play them, but our customers have explained to us how that has worked for them:
Bev Postma, in Singapore, organized a game of Casino Fatale around a sit-down dinner in a terrific-sounding French restaurant: The sit down format worked remarkably well! In fact, in many ways we found it was useful to have a captive audience for the auction and updates. With such a large and boisterous group it would have been difficult to gather everyone together and get their attention if we didn't have the food as an excuse!
We spent some time discussing the timing with the Chef because we didn't want to compromise the quality of the meal or the integrity of the game. In the end, the whole thing worked perfectly. The room was designed in such a way that people could get up between meals and mingle with other characters without straying too far. We had a row of soft seating behind the table where people could huddle in relative privacy to trade information (and kill each other!)
We also designed the seating plan strategically to allow for specific characters to sit together. This enabled key dialogue to take place during the courses when everyone was eating. We originally intended to hold only Part 1 of the auction but everyone was so enthusiastic that we ended up holding three sessions! We had lots of extra lots and the single table made it very easy for the auctioneer (Pat Bullitt!) to hold everyone's attention. I don't think this would have worked so well if people were sitting at different tables.
I believe that the other critical factor was that we provided everyone with a schedule of events at the beginning of the evening so everyone knew what to expect. We had no grumbles about the timing between courses and we had no difficulty bringing everyone back to the table for each course by tapping a knife on a glass. It was also essential to have the catering managed by a separate team of people who weren't involved in the game. It would have been impossible for the host to coordinate the game and the food!
We managed to stick roughly to the timing until the main course, which was a bit later than planned. This merely allowed for extra mingling and killing! People particularly enjoyed discussing the solution together over dessert.
Thanks again for an excellent game. Everyone was most impressed with the quality of the plot and preparation.
Note: the overall timing was: guests arrive 7.00, game starts 7.20, game ends 10.45: so that's not really much longer than our normal schedule.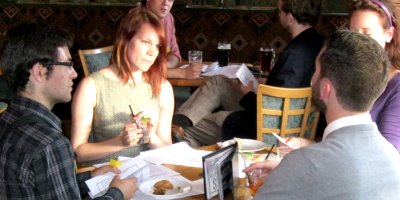 Gavin, in South Africa, adds: I ran a game of Halloween Lies back in 2011 at a restaurant which totally didn't take in that I had recommended finger foods rather than a sit down meal. I was a bit worried about how it was going to work out but it seemed to actually work out fine. People sat down for the various courses with their friends and caught up but then quickly got up and carried on with the game in between courses. I'm not sure if they dropped character while they were sitting and eating, but it seemed to work out fine and didn't actually take any longer than usual?
Share your own murder mystery party food tips
If you would like to send us your murder mystery party food tips you can contact us via our contact form, or via our Facebook page, or by posting in the Facebook Comments below.