I am so glad I began my journey with murder mysteries playing a freeform game. I have heard of many other more controlled or directed games. I doubt those will ever have the same attraction as the working out of a unique sequence of events, determined by the players! Jacobeth Whiting, South Africa
Free murder mystery game
We also have a free murder mystery game that you can download and play. The only difference between the free version of Way out West and the paid version is that the free version is for 10 players, while the paid version will cater for up to 24 players. To find out about the free game, just click here.
Thanks for having the best murder mystery games ever. I just purchased two more and intend to keep buying until we've played them all! Jennifer Franklin, USA
About us
We are two veteran game designers, who started this business back in 2001 because we wanted to add something fun and exciting in the way of murder mystery party games! Click here to learn more about us.
Hello Mo and Steve,
I wanted to say. I have been hosting your games just about every year for nearly the past ten years. We started with one of the pirate-themed games and had a Bring-your-own-knife pirate buffet dinner where there was no silverware except a the knife you bring. Most recently I hosted Hollywood Lies for a friend's daughter's Sweet 16 birthday party. It has become a New Year's tradition to host one of your games on New Year's Eve. So thank you for continuing to make games. If you ever decide to stop you have to let me know so I can buy them all up and be stocked up for a few years. Anyway, just wanted to say hi and thanks for the great times from playing your games. Don Tedrow, USA
Cast-Iron Guarantee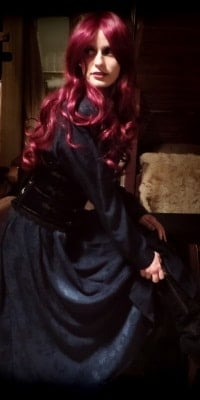 Our games are a bit different from other murder mystery games, and they aren't for everyone. But because we believe they are the best murder mysteries anywhere (and we're not the only ones that believe this – check out our testimonials), we want you to try them RISK FREE.
That's why all of our murder mystery games come with a Cast-Iron, no-quibble guarantee. If you're not completely satisfied then please let us know within 30 days and we will promptly refund you the purchase price, no questions asked.
(Of course, you could just try Way out West, completely free instead!)
"Freeform Games offers what I call First Class Customer Care! I have been overwhelmingly happy (and even shocked) with the extremely helpful assistance you provide in choosing a game that is a perfect match. You quickly and clearly answered all my questions from start to finish. Thank you for making this purchase a memorable one!" Tammy, USA
Your next steps
Your next step to hosting a Freeform Games murder mystery game is to choose a game – click here for our advice on choosing a murder mystery game.
Or click here if you want to host a game that's suitable for kids.
"I've hosted several murder mystery parties before and have bought games from various companies. Your games are by far my favorite. They are well written and I love the format! So thank you for helping me throw fun parties. Keep up the good work." Calissa, USA