Organizing murder mystery party materials
This page contains hints and tips for organizing murder mystery party materials such as item cards, money, character sheets and so on. These murder mystery game hints and tips have been written both by our customers and by us.
If you would like to send us your murder mystery game hints and tips you can contact us via our contact form, or via our Facebook page, or by posting in the Facebook Comments at the bottom of the page.
Creating a Host's Folder to organize everything
Cynderella recommends preparing a folder for organizing the game materials: I bought a special folder that has a lot of different compartments and pockets in it. I printed everything out, cut everything up and put everything together two months in advance. I put the special ability and weapon cards in a pocket in the folder. I put all of the character scripts in a compartment, all of the host instructions in a compartment, etc. I had everything in it's own compartment so I could easily find it any time I needed it. At the party, it was so easy to hand everything out to everyone and keep up with the instructions. I just kept my folder within easy reach and I was able to enjoy myself the whole time.
Name badges
Several customers suggested using sticky labels instead of name badges. If you like the look of our name badges you could even glue them to sticky labels.
Tips for item cards
Plastic credit card wallets (free from a local bank) will keep item cards and money cards safe from prying eyes but meant they were still easily accessible (suggested by Debbie Myerscough).
Punch a hole in the corner of item cards so you can use a metal ring (eg a keyring) to hold the cards and make them easier to keep track of (suggested by Joan Frank).
Print the cards on different coloured card – for example, print the money on green card and items on white card. It does take a little work, but it looks really good (suggested by Jessica Schweitzer).
Managing cards
Our current game format includes abilities, secrets and clues in the character booklet. Before that, they were separate cards and could be somewhat fiddly to manage. (Some of our older games are still in this format.)
Here's a suggestion from Kwayne to help manage all these cards: We just completed our 5th game this year. I am always the host of the evening and finally came up with a way keep track of Info, Secrets, Items and Abilities that everyone liked. I provide each guest with a inexpensive paper folder that has 2 pockets and the metal tabs inside. I purchased plastic business card holders that have 16 pockets on an 8x10 sheet and place those in the middle of the folder - they have holes for the tabs. Each character gets a folder with their specific info, secrets, abilities and item cards in the pockets.
When they need to, they can easily pull them out to show someone info, secret or item or mark the use of an ability. When they are done with that card and used up their abilities, I instruct them to flip it over. There are extra pockets for pickpocketed or stolen items. Each folder has the person's name on the front and paper and pencil inside for notes. I also tell them to put any information from their original packet that they feel important in their folders. It works well and they are not fumbling through their cards or dropping them and so far I have not caught anyone peeking!
Passport holders
Lanalehr reports: I went to the dollar store and was looking for some sort of folder type thing for everyone to put their cards in. I found passport holders, which had little flaps on the inside that held the cards and nametags perfectly. I also folded the character booklets in quarters and tucked them into the second side for quick reference. There was also room for a little notebook (4 in a pack from the dollar store), and a golf pencil for everyone. Total cost: about $1.50 per guest.
People really loved the idea, and commented on them a few times. Since we were doing Davy Jones' Locker and were all on a ship, the passport lended itself well to traveling in international waters. (Everyone got a laugh that they were all Canadians, despite their character backgrounds). The passports were small enough to carry around or tuck in a pocket or side bag, and we didn't have papers lying around everywhere like last time.
Prop Bags
Ejvals suggests: I wanted to use props in the game, so I made 8 by 11" bags out of scrap material for everyone to hold their props, character descriptions, and ability cards (strapped together with a hole punch and a piece of string). The bags closed with Velcro. The women had rope straps on their bags to sling over their shoulder, and the men had belt clasps to hang on their belt loops at their waists.

The players enjoyed using the props...especially when it came to the action part of the game. I put the information from the actual item card on return address labels and then stuck them onto the prop. For example, if there was a gun, I put a label on the handle that had how many uses the gun had.

The bags worked great!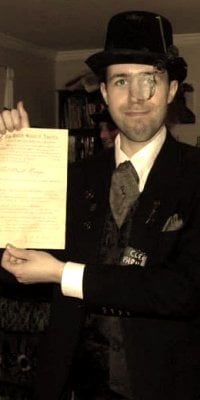 Envelopes
Pat Baker-Simon reports: One of the things we did to get the teen group involved before the Hollywood Lies party night was to put their pre-information into manila envelopes stamped 'confidential.' My daughter handed these out at school. It added to the excitement.
Printing tips
We're based in the UK and we've written the games to suit the standard paper over here – A4. Not only that, but because everyone has a different printer, we've created fairly large margins for all the pages. We recommend printing some sections at two sheets per page (to save paper), this can cause problems for those of you using American letter-size paper (8.5in x 11in) as the result can be uncomfortably small.

The solution is this: Some printer software lets you specify both the original page size as well as the destination paper size, including customizable sizes. So the trick for Americans is to set the original page size to a custom size – I found that 170mm x 265mm works best – and to set the destination size to their standard (8.5in x 11in). Then set scaling to none, and print. 2-page printing will then print large, readable pages (originally suggested by Kyle Murray).
Share your tips for organizing murder mystery party materials
Do you have any tips for organizing murder mystery party materials? If so, please let us know Facebook Comments below.