Top ten murder mystery party tips
Jollirog has hosted many of our murder mystery parties and offers her top ten murder mystery party tips:
Don't be afraid to invite newbies. Reassure them that this is a great way to talk to and get to know others and that it's not a test - at the end of the day, we're all there to have fun. Every year we invite folk who've never done anything like this before and they're always a little nervous, but they always have a wonderful time (I have letters and e-mails to prove it) and come back for more.
Consider your characters carefully. I spend the most time on this. Freeform provide loads of detailed info and I always think carefully about matching partners with each other, giving newbies fairly minor characters, making sure the 'murderer' is a) someone who will definitely be there (we've had one not make it before!) and b) someone who will relish the part. Be prepared to make changes, most guests are okay with swapping characters at the last minute.
REASSURE. I can't say this enough. The majority of guests get a bit nervous about the whole deal, but all it takes is for you to be on hand to offer that little touch of reassurance. Drop a line about costume advice, remind them it's a game and they don't need to know every intimate detail. Over the years, facebook and texts have become invaluable tools for this pre-party.
Those little touches. We don't go extremes with decor, but the little touches make a huge amount of difference. Lighting makes for a great atmosphere and cosy corners to chat in. We've used 'scene setters' for several - available fairly cheaply and online. For Arabian Nights, we pinned saris to the ceiling, threw cushions everywhere and use black sugar paper and shiny wrapping paper to create moroccan style mirrors - it looked amazing.
Don't be afraid to use your space. Our murder mystery parties spread out into the kitchen, by the stairs, the hallway and the garden (most of Halloween Lies took place in the garden and this was October!) One of my favourite early Freeform moments is hearing about a guest who had retrieved some vital info while sitting on the downstairs loo and eavesdropping on other guests conspiring outside the door!)
Compliment your guests. Make a point of thanking them for the effort they have put into their costumes. We have seen some outstanding efforts with costume over the years and I always make a point of speaking to everyone and telling them how amazing they look.
Take LOTS of photos. Or appoint someone else to as if you're hosting, you probably won't remember half the night and it's great to have the pics to look back on plus the guests love seeing pics of themselves and others in the aftermath.
BUFFET. Very definitely the best way to do the food. That way your guests can help themselves as and when and the flow of the evening doesn't get interrupted. We've always asked guests to contribute food/drink towards the night and the amount given is staggering ( keeps my kids fed for a least a week after!)
As a host, keep tabs but also be creative. I love being host. It's like directing a play. It helps to keep as much info to hand as poss (either in a file, or as I did this last time use a laptop), but you also need to be able to blag it with confidence. Most guests will do what you tell them, so long as you sound like you know what you're doing.
HAVE FUN. At the end of the day, it's a party. It's meant to be fun; and if it all goes t**s up then what does it really matter? When I'm 'selling' a Freeform Game to newbies, my line is usually 'it's a chance to dress up, have a laugh and talk to people without really worrying what to talk about' . We've been through all the dramas and yet survived. Our Freeform parties have become legendary amongst our friends, but we've not run a 'perfect' one yet!

Happy Murrrrrrderrrrrrs, one and all :)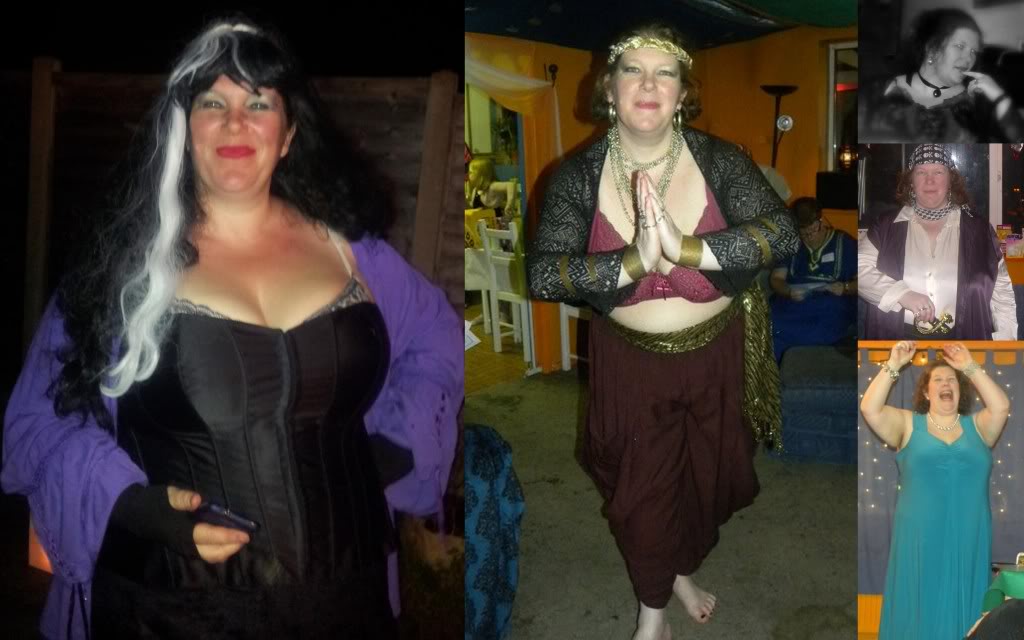 Top ten murder mystery party tips – your thoughts?
If you would like to send us your own top ten murder mystery party tips you can contact us via our contact form, or via our Facebook page, or by posting in the Facebook Comments below.