Murder mystery games for beginners
We've written our murder mystery games so that they can be hosted by anyone, no matter how inexperienced a host they are.
However, some of our games are more complex than others. Therefore, if you want a more straightforward party, we suggest choosing one of these murder mystery games.
Simpler murder mystery games
These are our simplest games, covering the full range of party sizes: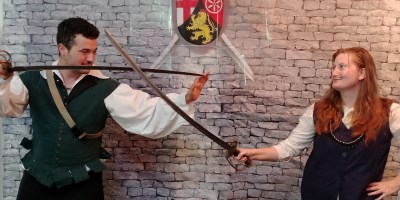 I am so glad I began my journey with murder mysteries playing a freeform game. I have heard of many other more controlled or directed games. I doubt those will ever have the same attraction as the working out of a unique sequence of events, determined by the players! Jacobeth Whiting, South Africa
Please note – these murder mysteries are as enjoyable as our more complex games. The more complex games have more rules (for things like combat). To see an example, you can download our free version of Way out West.
A Will to Murder was the first murder mystery game I've hosted and the first one that my group of friends have ever played so not only did we not know what to expect but it was also a learning experience. Despite that, it was a GREAT night of fun!! The night wasn't even over and some of us were talking about doing another one. Denise Knebel, United States
Tips for beginners
Here are some tips to help a first-time murder mystery host:
A

smaller party

is generally easier for a single person to run. So if you're not sure about running a murder mystery game, then we recommend you host a party for no more than 10 to 12 guests.
Give yourself

plenty of time

in advance of your party. We recommend you purchase our games at least six weeks before you plan to runit. This will give you plenty of time to become familiar with the game, cast it, and arrange the venue.

Use a co-host

to help you run the game. Perhaps the simplest way of making a game easier to run is to get someone else to help.
Get someone to sort out

the catering

so that you can concentrate on running the game.

Try out

some of the rules first. This will not be necessary for the games above, but some of our games include rules for combat, and you might want to try them out before your party so that you know how they work. You can even do this with some of the players so that they know what to expect.
Read our common questions page. You may find that we've already covered your question.

Ask us a question

– you can do that via our contact form, our Facebook page, or the comments box below. We're always happy to help!
Just wanted to tell you how great last night was. We put on Dazzled To Death (the first Murder Mystery I've ever hosted!) and it was fantastic! Everyone said how much they loved it and it was a huge success. At first my guests didn't know what was going on but they soon got into the swing of things! We made photographs to hang on the wall, family tree, family portrait and a lovely buffet. It seems as though the general consensus is to do one again but everyone wants me to do one sooner rather than later! So who knows I might be writing to you again around Christmas & New Year with the next story! I highly recommend to people to give Dazzled To Death a go because it was excellent! Thanks a lot Freeform Games! Nick Eccles, United Kingdom