Welcome to the Freeform Games murder mystery party newsletter!
Hi,
Welcome to the continuing lockdown issue of our occasional newsletter! In this issue we talk about beating those lockdown blues by:
A brand new online video chat murder mystery party game, Death in Venice!

Now the host can play too!

More practical tips and experience about hosting our regular games online
Enjoy!
Mo and Steve
---
Online murder mystery party game – Death in Venice!
After the success of our first video-chat murder mystery game, Reunion with Death, we've now published a successor – Death in Venice. If you liked Reunion with Death, you'll love this! And if you haven't tried murder mystery via online chat yet, then now you have two to choose from!
In these games, the characters themselves are locked down, trying to find out which of them committed the murder, communicating with each other via video and text chat – so it's a perfect match to the way that you and your guests will be playing it!
Last night at the glamorous Venice Film Festival, controversial director Clay McFarland picked up the prestigious Golden Lion award for this season's hit movie Never Look Back. But this morning, he was found lying in front of St Mark's Cathedral – hacked to death with a meat cleaver.
The stars of the movie and some of their guests supposedly spent the night sleeping off the effects of the post-awards party, on the Casanova, their luxury yacht moored in the marina – but it seems that someone was up to no good. Traces of McFarland's blood found on the Casanova's dinghy mean that police are confident that the culprit is one of those now aboard the yacht.
Everyone now is confined to their cabins aboard the Casanova, while the police start their investigation. The only way they can communicate is online.
As cathedral bells toll out across the ancient city, on board the Casanova a frothy ferment of vineyards, memoirs, gossip, jealousy, and movie-set punch-ups will come to the boil.
Charge your glasses, put on your designer sunglasses, and join the cast and crew of Never Look Back as they try to solve the mystery of Death in Venice!
Death in Venice is for 5–9 players. It costs $29.99 (or £20.00) and has been written to be played online in lockdown, using video chat. We've included detailed instructions for using Google Hangouts, but you can use any system that you are familiar with.
Just click here to find out all about it!
---
Now the host can play too!
You'll know, if you've hosted one of our murder mystery party games, that usually the host is a separate person – playing a facilitator-type character, but not trying to solve the mysteries along with the guests.
But! In these new online-chat games, we've been able to use an alternative structure where the host can play one of the regular roles, along with the guests, and can solve the murder together with everyone else, if they wish.
You don't have to do it like that, of course – you can still just host in the usual way, if you prefer. The way it works is, when you download the game, you can choose either of two packages to download – one is for the host just hosting in the usual way – the other is for if the host wishes to play a regular character, and it's put together so that the host doesn't get exposed to any of the game's secrets in advance.
(And, of course, if you wish you can download both versions and decide later which one you want to use – or you can come back and download the other version later, if you change your plans.)
You might prefer to, while as host you don't know the secrets, avoid accidentally casting yourself as the murderer. Some hosts are fine with that, others would rather not – and that's entirely OK. We can help – just email us and we will tell you a 'safe' character to cast yourself in, without giving away any further secrets.

---
More tips for online play
We recently adapted one of our regular games, The Karma Club, to run online via video chat – and had a great time with it!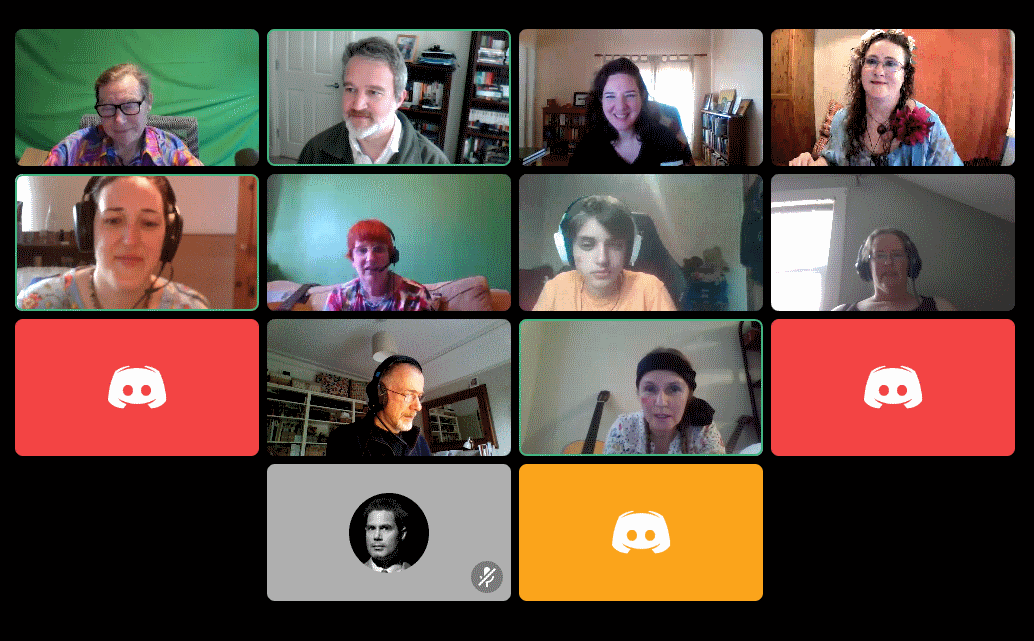 Here's a writeup on our blog of what we did, and how it went – combined with what we've learned from Reunion with Death and Death in Venice – to give some helpful advice on how to run an online murder mystery yourself!
https://www.freeformgames.com/blog/tips-for-hosting-our-games-online/
If you've already run an online murder mystery party yourself, please do let us know! – we'd love to hear about how it went.