Click here to buy the game
Here's what people have been saying about Court in the Act:
"I hosted Court in the Act for my 18th birthday party last year and it went amazingly well. We all dressed in costume – to varying degrees – and it was a great icebreaker for people who didn't know each other well or at all. Everyone's character allowed for so much interaction.
"At the end we gave prizes – bags of Ye Olde English chocolate coins – for various categories. These included best dressed, best speech, best deceit, best acting, best characterisation, and of course, the best death scene – we accidentally killed Shakespeare. Oops.
"Anyway, it was a great success and everyone loved it – even the people who were most apprehensive at the beginning. One of the people there has just called me to find out your site – they're going to do one for their birthday too!"
Elise, Australia
"I hosted Court in the Act for my 18th birthday party, and it went down a storm. I was initially apprehensive that a large group of teenagers used to discos and the like might find the idea a little silly and geekish, and not want to get involved, but I couldn't have been more wrong. I have never seen some of my friends as excited as they were when they opened their invitations.
I'll admit that I ended up having to play around with the storylines a little – some of the characters weren't quite as gender-neutral as they were supposed to be, and I had an excess of girls, but this actually proved useful as I could tailor the event to the guests I had. I also wrote an extra, purposely non-taxing, character for a particularly shy guest, who by the end of the night got so into it that he was awarded a prize for the Most Outrageous Death!
I had so many compliments for coming up with a unique way to celebrate my 18th that it was unreal. Even my college teachers were jealous that they couldn't come! I would definitely recommend this kind of party to others – they are great fun to host, and they get everyone involved. Inhibitions usually disappear within half an hour, and it's great if you have friends that don't all know each other very well, as I do.
Thank you very, very much for a wonderful evening. I hope to run another night like this one very soon."
Gemma King, United Kingdom
"I decided to have a murder mystery party for my 18th birthday. I chose Court in the Act because I'm really into the Renaissance era.
I'm so glad I came across Freeform Games! My guests had so much fun – they said it was the best party they've ever been to!!
Everyone dressed up (especially my Queen Elizabeth!) At first, everyone had a hard time starting out, but after an hour, everyone was talking to each other. Not all of my friends knew each other, but the party was a success nonetheless!
We served Maggiano's Little Italy catering instead of English food, which was a bit odd… haha! But that didn't stop my friends from acting all "English".
Overall, the party was a huge success!! THANK YOU, FREEFORM GAMES!!!"
Christina Wu, United States
"We've played roughly 10 of your games, and Court in the Act was one of the best. We like it when there's something unique and memorable about the game, like resolving the Spanish invasion at the end. And plenty of opportunity for dressing up!"
Petter Olsen, Norway
---
If you would like to tell us how your party went, please click here to send us your story.
Court in the Act – a murder mystery party game with an Elizabethan setting for 13 to 21 guests
"I bought this game to play with my Shakespeare class (the students were 12–18) – it was a very fancy affair. We just did it today. It was AWESOME. Everyone came in costume and had a blast. They were begging me to do it again!"
Susan Taylor, California, United States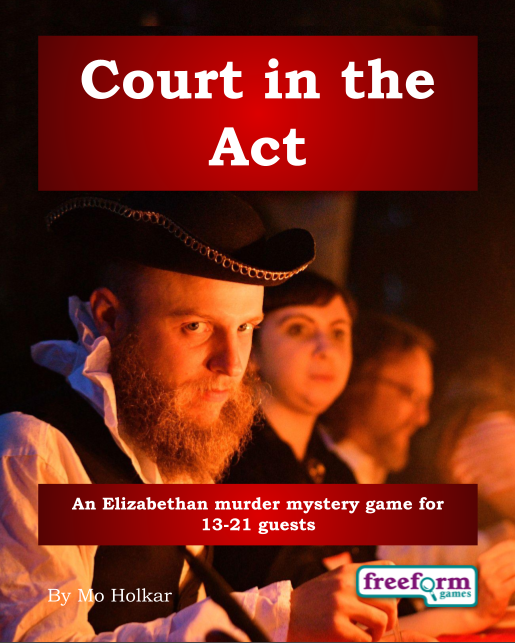 Recommended for ages 18+
Costs US$39.99
Written by Mo Holkar
Click here to buy the game
Court in the Act is a murder mystery party game for 13 to 21 guests and one or two hosts – download the free introductory pdf file.
Join us at the court of Queen Elizabeth I of England for an evening of revelry, intrigue and murder. You will be in the middle of the action and it will be up to you to wheel and deal with the other guests. Can you achieve your goals, keep your secrets hidden and survive Court in the Act? It's up to you.
Court in the Act
The Court of St James's Palace, London, in the reign of Queen Elizabeth I. All present have but lately arrived from the Royal premier of Master Shakespeare's latest rib-tickling comedy, Two Ladies of Venice. Now, the Queen makes merry and entertains her courtiers, guests, would-be husbands and envoys from foreign powers with a sumptuous banquet. But while all prepare to feast and frolic, dark clouds gather, the sound of war-drums is heard in the distance - and that dear old man the Archbishop of Canterbury, who surely had never an enemy in the world, is found brutally murdered.
At Court in the Act you will discover the following:
Who murdered the Archbishop of Canterbury?
Why must Queen Elizabeth never marry?
Who wrote Shakespeare's plays?
What is the secret of Dr John Dee's magical powers?
...and can England be saved from defeat by the Spanish Armada?
Find out in Court in the Act!
See stories and pictures
from Court in the Act Read the
Prologue
Court in the Act lasts for about four hours and is suited to an evening. It is often played over a meal – a finger buffet if possible to allow guests to circulate and talk in private.
"I use Court in the Act with students who are not able to go on our 8th grade Washington D.C. Trip. We have played it for three years now, and each year is different but amazing. The kids get involved and do a great job. They love being able to participate in something special that other kids don't do! Plus it ties in to our reading of "Much Ado about Nothing". Thanks for the great product! "
Shannyn Hanlon, United States
The free introductory pdf file contains an introduction to the game, a cast list of all the characters, and a copy of the Prologue – plus details of how to buy the game.
| | |
| --- | --- |
| | No combat, no poison. |
These are the characters in Court in the Act:
Doctor John Dee – Adept and Magus
Elizabeth – named Gloriana, a Queene
General FitzBacon – a commander of Irish mercenaryes and moss-troopers
His Eminence Diego Menendez de Aviles – Cardinal of Seville
His Grace Andrew Prim – Archbishop of York
Hobbs – a servant
Lady Catherine Northwood – lady-in-waiting upon Her Majesty
Lord Canning – military counsellor to ye Queene
Mary, Queen of Scots – a Dethroned Monarch
Master Chris. Marlowe – an established play-writer
Master Edward Kelley – an Associate of Doctor Dee
Master Wm. Shakespeare – an Actor of some new-found fame
Mistress Jane Dee – Wife to Doctor Dee
Mistress Nagel – a serving-wench
Philippe of France – a Junior Prince
Robert Deveraux, Earl of Essex – a Gallant and Peer of the Realm
Señor Juan Futin da Greve – Ambassador of the King of Spain
Signor Pico della Mirandola – a Philosopher of Venice
Sir Francis Drake – a most Daring sailor and Champion Bowler
Sir Francis Walsingham – close adviser to ye Queene
Sir Walter Raleigh – an Explorer
Number of
guests
Male
characters
Female
characters
Ungendered
characters
13
6
5
2
14
6
6
2
15
7
6
2
16
8
6
2
17
9
6
2
18
10
6
2
19
11
6
2
20
10
7
3
21
11
7
3
How Freeform Games Murder Mysteries Work
Court in the Act is unlike many murder mystery games. Although the game starts with a murder, most of the characters have more important things to do than to investigate it. And the killing may not be over – it is unlikely that everyone will survive the remainder of the evening!
Court in the Act is played just like a murder mystery game. You may be trying to solve the murder, but primarily you are (initially at least) concentrating on your own goals and objectives. Unlike most boxed murder mystery games, Court in the Act lets you decide how to achieve your goals and thwart your enemies.
"Court in the Act was amazing! We made so much food but everyone forgot to eat because they were so in to the game. We used our balcony for "private conversations". Very few of my guests had played a murder mystery game before but the ones who had agreed that this was a way better, more interactive set up."
Jo Dixon, Canada
On the evening of the game the guests are met by the organizer, the Chamberlain of the Court of St James. They then receive their detailed backgrounds - including dark secrets, objectives and money. When everyone has arrived the Chamberlain announces that, despite the recent tragic events, dinner will now be served. The fun then begins as everyone questions, bribes and blackmails each other. As the evening progresses they may even try to murder one another! Depending on what the players choose to do, there are several different possible endings, but finally everyone finds out how they did, and what secrets everyone else was concealing.
Recommended for ages 18+
We recommend Court in the Act for those aged 18+ as it contains the following themes: extra-marital affairs, and an illegitimate child, in the characters' background.
Extra characters
Sometimes you have too many guests and you need more characters. So we've written a free extra character for each of our games that you can add in, and some of our customers have created their own characters for their parties and are kindly willing to share them.
'Ginger' Roberts – freelance reporter in search of the Big Story. (Any)
(by Freeform Games)
Carlos Santiago – Assistant to the Spanish Ambassador (M)
(by Pam Hoffmann and Jeremy Gustafson)
Syrino Foreal – Cardinal's under-secretary (M)
(by Pam Hoffmann and Jeremy Gustafson)
Please note that we haven't always tested these – and they may not tie in exactly with our games.
IMPORTANT – if you've bought the game, you can download the files for these characters from the download page where you got your main game files. Contact us if you need the link and password to get back to that page.
Purchasing Court in the Act
Court in the Act costs US $39.99. You can buy it from anywhere in the world. The price will be converted back into your own currency for you, at today's exchange rate.
IMPORTANT: please be aware that you are buying a game to download from our website, not a boxed game that we will send you in the mail.
After completing your purchase on PayPal, you'll be brought back to this website.

Don't close the PayPal tab, or navigate away!

PayPal might take some time to send you back here: please be patient. Buy

Court in the Act for $39.99
Our payments are usually handled by PayPal, but you don't have to have a PayPal account to buy this game. If you prefer, you can just buy it with your credit or debit card in the normal way. You'll see that option when you click the button above.

IMPORTANT: if PayPal isn't working for you, or if you'd prefer not to use it, we have an alternative payment method – just click here to get payment buttons where you can pay directly with your card. These prices are in UK£.
"Thank you for a great site, fantastic games, good service and very quick reply. Keep up the good work." Ole Martin Brodwall, Norway
Cast Iron Guarantee
We offer a Cast Iron Guarantee on all our murder mystery games. If you're not completely satisfied with Court in the Act then please let us know within 30 days and we will refund you. See our full terms and conditions here.
Trouble downloading? If you have trouble downloading the game files, please first check your spam folder. If you still can't find the download email, drop us a line at info@freeformgames.com with the name of the game and the email address you used to purchase it, and we'll resend it.
Use the form below to contact us via Facebook (your query comment won't appear on Facebook itself unless you choose for it to). Please don't use this for download queries as we can't always match your Facebook profile with the email you used to buy the game.