Death on the Rocks – a 1930s murder mystery party game with a village setting for 12 to 16 guests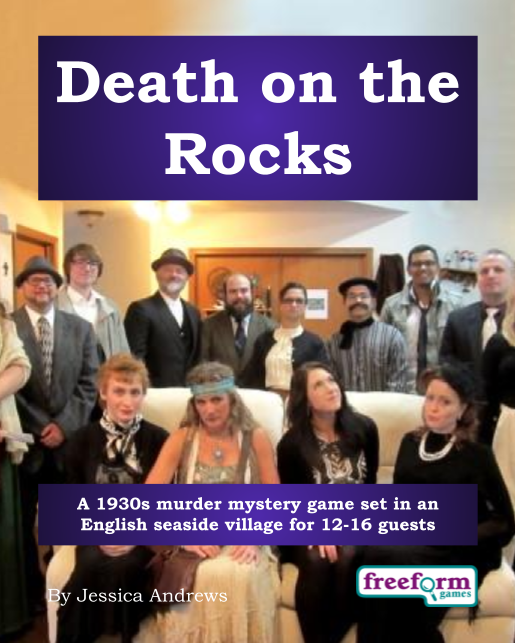 Recommended for ages 18+
Costs US$29.99
Written by Jessica Andrews
Click here to buy the game
Death on the Rocks is a murder mystery party game for 12 to 16 guests and a host – download the free introductory pdf file.
Join us in a thrilling evening of romantic scandal, poisonous gossip, political tension and murder. You will be in the middle of the action and it will be up to you to wheel and deal with the other guests. Can you achieve your goals, keep your secrets hidden and survive Death on the Rocks? It's up to you.
Death on the Rocks
Death on the Rocks is set in 1936, on the notoriously cold and windy Gull Island, just off the north-east coast of England, whose perilous rocks have claimed many a victim. It is 6:30pm on the eve of the winter's Solstice, a traditional day of celebration for the villagers of Little Bleakly – much to the horror of the local Reverend. The wind is howling and the rain is coming down in sheets, but inside the village hall has been cheerfully decorated with brightly coloured flags and bunting.
The needle of the gramophone is poised over 'Music Maestro Please', and many of the villagers have already arrived in the village hall, when Little Bleakly is suddenly plunged into darkness by a power cut. Stumbling along the shadowy and winding paths with candles in their hands, the remaining villagers are on their way when light returns.
The festivities are ready to begin! Except someone is missing: Hugo Malady, the dashing heir to the legendary Malady fortune, who traditionally kickstarts the Winter Solstice Celebrations, is nowhere to be seen! The villagers spread out over the island in search. Soon, a shrill scream is heard from Lighthouse Bay: Freda, the local pub landlady, has discovered the body of Hugo Malady on the beach, lifeless, with a dagger protruding from the back of his neck!
Get ready for suspicion, intrigue, gossip and a jolly good pub meal – and join us at Death on the Rocks!
See stories and pictures
from Death on the Rocks Read the
Gull Island Gazette
Death on the Rocks lasts for about four hours and is suited to an evening. It is often played over a meal – a finger buffet if possible to allow guests to circulate and talk in private.
The free introductory pdf file contains an introduction to the game, a cast list of all the characters, and a copy of the Gull Island Gazette – plus details of how to buy the game.
| | |
| --- | --- |
| | No combat, no poison. |
These are the characters in Death on the Rocks:
Charm Malady – Hugo's glamorous sister, Charm Malady dreams of becoming a Hollywood star
Dr Seth Jerome – Little Bleakly's new doctor, Seth Jerome is an American and very popular with the ladies
Fräulein Braun – A visitor to Gull Island, Fräulein Braun was one of Charm Malady's teachers at the etiquette school in Berlin
Fräulein Louisa Winter – Charm's super-strict German governess
Freda Carla Karamazova – The fiery gypsy landlady of The Cold Blast Inn
Hillary Grey – Little Bleakly's highly respectable, tweed-bedecked post person
Jens Svederborg – Little Bleakly's eccentric Swedish librarian
Lady Emily Malady – Hugo's mother, Lady Emily is a notorious recluse, still in mourning for the death of her late husband Sir George Arthur Malady
Louis le Roux – A visitor to Gull Island, Louis is a French cartographer, come to map the island
Luke Cleary – A young bohemian artist who lives in the lighthouse and was Hugo's best friend
Nova Grey – Hillary's daughter and Hugo's fiancée, the belle of the village
Percival Reeves – The Malady family's perfectly proper butler
Reverend Meredith Brown – Little Bleakly's fire-and-brimstone vicar
Robin Hardcastle – Dr Seth Jerome's meek and mild assistant
Rosie White – The Malady family's innocent young maid
Vivian Oddy – A visitor to Gull Island and an avid twitcher, Vivian is researching an article for Bird Watching Weekly
Number of
guests
Male
characters
Female
characters
Ungendered
characters
12
5
6
1
13
5
6
2
14
6
6
2
15
6
6
3
16
6
6
4
How Freeform Games Murder Mysteries Work
Death on the Rocks is unlike many murder mystery games. Although the game starts with a murder, most of the characters have more important things to do than to investigate it. And the killing may not be over – it is unlikely that everyone will survive the remainder of the evening!
Death on the Rocks is played just like a murder mystery game. You may be trying to solve the murder, but primarily you are (initially at least) concentrating on your own goals and objectives. Unlike most boxed murder mystery games, Death on the Rocks lets you decide how to achieve your goals and thwart your enemies.
On the evening of the game the guests are met by the organizer, the Malady family's Lawyer, and welcomed to Little Bleakly. They then receive their detailed backgrounds – including dark secrets, objectives and money. The fun then begins as they form alliances, blackmail each other, steal items and maybe even try to murder one another! Along the way they may uncover some of the mysteries of Death on the Rocks. What is the secret of the wig? Is there really a gypsy curse? What is kept in small blue glass bottles? Who wants to live forever? Who might be a foreign spy? And, of course, who killed Hugo Malady? Depending on what the players choose to do, there are several different possible endings, but finally everyone finds out how they did, and what secrets everyone else was concealing.
Recommended for ages 18+
We recommend Death on the Rocks for those aged 18+ as it contains the following themes: adult references and the option of homosexuality.
Extra characters
Sometimes you have too many guests and you need more characters. So we've written a free extra character for each of our games that you can add in, and some of our customers have created their own characters for their parties and are kindly willing to share them.
'Ginger' Roberts – aspiring film-maker (Any)
(by Freeform Games)
Catherine Konrad-Malady – Hugo and Charm's cousin (F)
(by Marc Christenhusz)
Charlotte Chambers – well-known author (F)
(by Kristen Hanneman)
Horace Finleigh – gentleman hunter. (M)
(by Marc Christenhusz)
Please note that we haven't always tested these – and they may not tie in exactly with our games.
IMPORTANT – if you've bought the game, you can download the files for these characters from the download page where you got your main game files. Contact us if you need the link and password to get back to that page.
ALSO IMPORTANT – you shouldn't add too many of these characters in to your game as they haven't been designed to work together (unlike the main game characters). If you add in several, they may make your game chaotic and incoherent. You should probably instead choose a larger game. If you still want to add several extra characters (four or more), we recommend having an extra host to help.
Purchasing Death on the Rocks
Death on the Rocks costs US $29.99. You can buy it from anywhere in the world. The price will be converted back into your own currency for you, at today's exchange rate.
IMPORTANT: please be aware that you are buying a game to download from our website, not a boxed game that we will send you in the mail.
After completing your purchase on PayPal, you'll be brought back to this website.

Don't close the PayPal tab, or navigate away!

PayPal might take some time to send you back here: please be patient. Buy

Death on the Rocks for $29.99
Our payments are usually handled by PayPal, but you don't have to have a PayPal account to buy this game. If you prefer, you can just buy it with your credit or debit card in the normal way. You'll see that option when you click the button above.

IMPORTANT: if PayPal isn't working for you, or if you'd prefer not to use it, we have an alternative payment method – just click here to get payment buttons where you can pay directly with your card. These prices are in UK£.
"Thank you for a great site, fantastic games, good service and very quick reply. Keep up the good work." Ole Martin Brodwall, Norway
Cast Iron Guarantee
We offer a Cast Iron Guarantee on all our murder mystery games. If you're not completely satisfied with Death on the Rocks then please let us know within 30 days and we will refund you. See our full terms and conditions here.
Trouble downloading? If you have trouble downloading the game files, please first check your spam folder. If you still can't find the download email, drop us a line at info@freeformgames.com with the name of the game and the email address you used to purchase it, and we'll resend it.
Use the form below to contact us via Facebook (your query comment won't appear on Facebook itself unless you choose for it to). Please don't use this for download queries as we can't always match your Facebook profile with the email you used to buy the game.