Click here to buy the game
Here's what people have been saying about Happy Birthday R.J.:
"We hosted Happy Birthday RJ this Saturday and it was a blast! Since it was also my real-life birthday party, Alissa encouraged me to play a character so I could interact with my friends more than if I were a host. Naturally Alissa cast me as RJ the birthday boy himself :) I cannot tell you how much fun I and all of our guests had."
Jeremy Gustafson, USA
"I hosted Happy Birthday R.J. at Bellamy Manor & Gardens Bed and Breakfast in Enfield NC this past Saturday April 14th 2012. We had 14 people in attendance. All went smoothly and all had a great time. I was surprised that even though people had 2 pages of notes to read and understand (plus a 2 page introduction the night before) – everyone got into character and had fun with it."
Darren, United States
"Ran Happy Birthday RJ last weekend. Excellent – everybody enjoyed it. I had to add the additional character (i.e. Ginger) and to add to the enjoyment, I provided him with a gold pen which was stolen by one of the characters at the party. The whole evening went down very well and after I've given my wife time to recuperate I will purchase another mystery from you."
F Grover, Hertfordshire, United Kingdom
"Fun. Happy Birthday R.J. was an entertaining evening that is unique, something our friends look forward to every year. We enjoy these games and choose them based on the number of people that we have to play (for an annual party that we've played for the last 5 years). I like the flexibility that people have with their characters (to tell the truth or not), mingling during a buffet dinner and the twists that are in each game"
A Customer, United States
"We played Happy Birthday R.J. for our daughter's 16th birthday. She invited 14 of her closest friends and they had a blast. Many of the girls played male characters but that just made it interesting and they had fun hamming it up. None of the girls had been to a murder mystery party before so it took them a minute to get going but when they did anything went. It was a night that they all will remember and we hope to have another this summer just for the fun of it. Thank you so much."
Mae, United States
"Just a short note to let you know we held our Murder Mystery [Happy Birthday RJ -- below] last night and everyone had a ball. This morning I have had all my guests ring me without exception, to tell me what fabulous party it was last night and that they had never had so much fun at a party. So, thanks guys for the game. I have already had people ask me where I got it from, so I have given out your web site. Thanks again. "
Sue Morrison, Sydney, Australia
"Over the years I've had many murder mystery parties, and once I found Freeform Games I never went back. I played Happy Birthday R.J. last year for my 17th birthday party and I think it was one of my favorites. Freeform makes it so easy to have fun. My friends and I are actors, so we love to dress up and improv, but anyone can do it. (I had my uncle, and my 9 year old cousin in it too) It's so fun, and my friends and I look forward to it every year. I'm planning on having another one next month for my 18th birthday!"
Louie Rinaldi, United States
"I played Happy Birthday R.J. for my own 25th Birthday last weekend, and all of my friends are still going on about it! Everyone got involved in the Texan accents, and we can't wait to try out the next Freeform game!! Thanks so much for a flawless evening :-)"
Jennie Dixon, United Kingdom
"Last night I played your murder mystery Happy Birthday R.J. with some friends from university. I just want to thank you for having created such a wonderfully fun and engrossing game. Each of my guests said they had had a fantastic time and I had just as much fun as the host. I've played several 'scripted' Murder Mysteries in the past, but I have to say that yours was vastly superior and I'll certainly return to Freeform Games in the future."
Matt Clifford, Cambridge, United Kingdom
"I hosted Happy Birthday R.J. in 2005. The murderer being determined by me (the host), was awesome. I had several potential characters that I could have pulled aside and told they were the murderer, but I ended up picking the one who seemed to be playing out her motive the strongest, and it worked out beautifully! This was the first Dinner and a Murder I ever did, and to date was the best one – mainly because of that aspect! I have since done 3 more – and am planning my next one for next Spring."
Elizabeth Phillips, United States
---
If you would like to tell us how your party went, please click here to send us your story.
Happy Birthday R.J. – a 1980s murder mystery party game with a Texan setting for 11 to 15 guests
"...the game and evening was very enjoyable and it worked very well indeed."
Rob Ivory, Essex, United Kingdom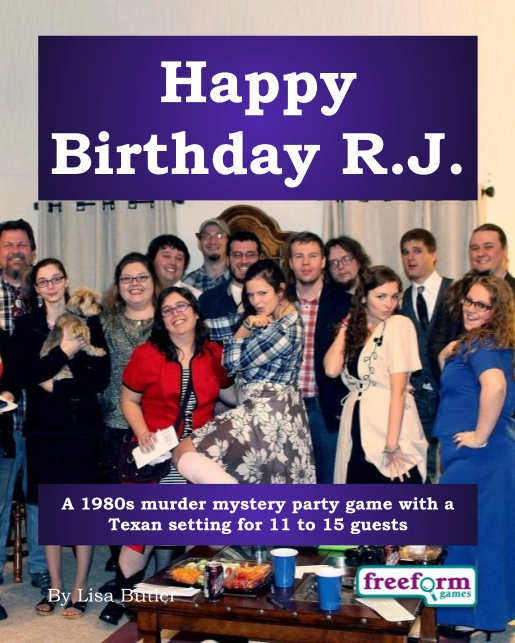 Recommended for ages 18+
Costs US$29.99
Written by Lisa Butler
Click here to buy the game
Happy Birthday R.J. is a murder mystery party game for 11 to 15 guests and a host – download the free introductory pdf file.
Note that while Happy Birthday R.J. doesn't start with a murder to solve, it's likely that murders may be committed during the party!
Join us in a thrilling evening of scheming, double-dealing and big, big shoulderpads. You will be in the middle of the action and it will be up to you to wheel and deal with the other guests. Can you achieve your goals, keep your secrets hidden and survive Happy Birthday R.J.? It's up to you.
Happy Birthday R.J.
It is 1984 and the height of the oil boom. Harrington Oil is the most successful oil company in the state of Texas. Tonight is a lavish birthday party for R.J. Harrington held at his parents' ranch - SouthSpoon. What could possibly spoil such a joyous occasion?
See stories and pictures
from Happy Birthday R.J. Read the
Perm Creek Newsletter
Happy Birthday R.J. lasts for about four hours and is suited to an evening. It is often played over a meal – a finger buffet if possible to allow guests to circulate and talk in private.
"We played Happy Birthday RJ for a 13 year old's birthday party (with slight adaptations!). A group of teens who had never done an rpg before had what they described as the best party they'd been to and they are looking forward to the next time. Keep up the good work."
Pam Everitt-Bronze, Essex, United Kingdom
The free introductory pdf file contains an introduction to the game, a cast list of all the characters, and a copy of the Perm Creek Newsletter – plus details of how to buy the game.
| | | | |
| --- | --- | --- | --- |
| | No combat, no poison. | | One character will die during the game, and will be replaced with a new character for that guest. |
These are the characters in Happy Birthday R.J.:
R.J. Harrington: The birthday boy himself, a slick southern boy with a cheeky look in his eye.
Dixie Green: R.J.'s lovely girlfriend, a genuine southern belle.
Jack Harrington: R.J.'s dad, suave and sophisticated oil tycoon with old cattle ranching money.
Crystal Harrington: Jack's wife and R.J.'s glamorous stepmom.
Bobby Harrington: R.J.'s half-brother, a sweet and caring southern boy. Recently returned from university and started in Harrington Oil.
Lucille Harrington: R.J.'s half-sister–butter wouldn't melt!
Ali Fields: Crystal's sibling, a city lawyer.
Billy Joe Butler: Jack's best friend and neighbor.
Sue Helen Butler: Billy Joe's wife, an expert horsewoman.
Sam Bond: Crystal's friend, Sam works in insurance.
Rick Harper: R.J.'s old schoolfriend is a gym instructor and dashing bachelor.
Deedee Taylor: Sweet Deedee is Dixie's best friend.
Dolly Douglas: Lucille's best friend, Dolly works as a hotel receptionist.
Drew Morrison: Drew used to be a doctor in Houston and recently moved to town.
Randy Coltrane: Bobby's friend, and the Perm Creek deputy sheriff.
Number of
guests
Male
characters
Female
characters
Ungendered
characters
11
5
4
2
12
5
4
3
13
5
5
3
14
6
5
3
15
6
6
3
How Freeform Games Murder Mysteries Work
Happy Birthday R.J. is unlike many murder mystery games. When the game starts, a murder has yet to be committed. However, by the end of the evening it is unlikely that everyone will survive!
Happy Birthday R.J. is played just like a murder mystery game. You may be trying to solve the murder, but primarily you are (initially at least) concentrating on your own goals and objectives. Unlike most boxed murder mystery games, Happy Birthday R.J. lets you decide how to achieve your goals and thwart your enemies.
"Happy Birthday R.J. was a thoroughly good night's entertainment for all. Young and old!"
A Customer, United Kingdom
On the evening of the game the guests are met by the organizer, the Harringtons' butler or housekeeper. They then receive their detailed backgrounds - including dark secrets, objectives and money. When everyone has arrived, Jack Harrington welcomes the guests to his dear son's birthday party. The fun then begins as everyone questions, bribes and blackmails each other. As the evening progresses they may even try to murder one another! Along the way they may uncover some of the Harrington family secrets. What is contained in Eli Harrington's will? Why are Sue Helen and Billy Joe barely speaking to each other? Why does Dixie alternate between looking ecstatic and miserable? And what is Lucille up to? Finally, the party draws to a close and everyone finds out how they did, and what secrets everyone else was concealing.
Recommended for ages 18+
We recommend Happy Birthday R.J. for those aged 18+, as it contains the following themes: references to infidelity and homosexuality.
Extra characters
Sometimes you have too many guests and you need more characters. So we've written a free extra character for each of our games that you can add in, and some of our customers have created their own characters for their parties and are kindly willing to share them. They are included in your download when you purchase the game.
'Ginger' Roberts – freelance reporter in search of the Big Story. (Any)
(by Freeform Games)
Robin Brown – gym instructor. (M)
(by Emma Margrett)
Please note that we haven't always tested these – and they may not tie in exactly with our games.
Purchasing Happy Birthday R.J.
Happy Birthday R.J. costs US $29.99. You can buy it from anywhere in the world. The price will be converted back into your own currency for you, at today's exchange rate.
IMPORTANT: please be aware that you are buying a game to download from our website, not a boxed game that we will send you in the mail.
After completing your purchase on PayPal, you'll be brought back to this website.

Don't close the PayPal tab, or navigate away!

PayPal might take some time to send you back here: please be patient. Buy

Happy Birthday R.J. for $29.99
Our payments are usually handled by PayPal, but you don't have to have a PayPal account to buy this game. If you prefer, you can just buy it with your credit or debit card in the normal way. You'll see that option when you click the button above.

IMPORTANT: if PayPal isn't working for you, or if you'd prefer not to use it, we have an alternative payment method – just click here to get payment buttons where you can pay directly with your card. These prices are in UK£.
"Thank you for a great site, fantastic games, good service and very quick reply. Keep up the good work." Ole Martin Brodwall, Norway
Cast Iron Guarantee
We offer a Cast Iron Guarantee on all our murder mystery games. If you're not completely satisfied with Happy Birthday R.J. then please let us know within 30 days and we will refund you. See our full terms and conditions here.
Trouble downloading? If you have trouble downloading the game files, please first check your spam folder. If you still can't find the download email, drop us a line at info@freeformgames.com with the name of the game and the email address you used to purchase it, and we'll resend it.
Use the form below to contact us via Facebook (your query comment won't appear on Facebook itself unless you choose for it to). Please don't use this for download queries as we can't always match your Facebook profile with the email you used to buy the game.