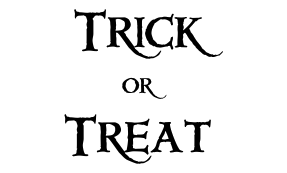 In the haunted county of Hallowshire, gangs of monsters are competing to see who can become the best monster gang – and the gang with the most treats wins!
Trick or Treat is a themed party game for 8 to 24 kids of all ages – but particularly suited to ages 8 and up.
What do you get when you buy
Trick or Treat?
A step-by-step guide that explains how to run the game.
Gang sheets for the monsters including background, goals and objectives, and clues to find stolen items.
Monster contests – including graveyard shootout and a build-a-scarecrow contest.
Potion ingredients and badges.
And more!
"We've played your games with great success. We use them for our kids' birthdays, and they and their friends really enjoy dressing up and playing." Richey Rivers, USA
Trick or Treat costs £20 (UK pounds) or $24.99 (US dollars), and you can buy it using any major credit, debit or charge card. You'll be able to download the game files immediately after making your purchase. We'll also email you with the download details so that you can come back and download Trick or Treat at a later date.
The files are PDFs – if you don't already have the free Acrobat Reader software needed to read that kind of file, you can get it from the link to the left here.
Note – we have another game called Monster Mash, which is a non-Halloween-themed version of Trick or Treat. Apart from the Halloween theme, the two games are basically the same, so if you've already got one you shouldn't also buy the other.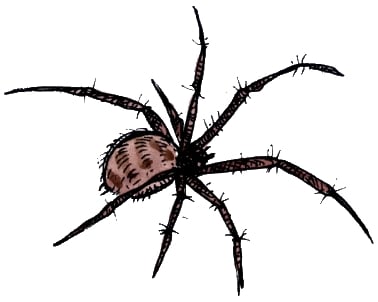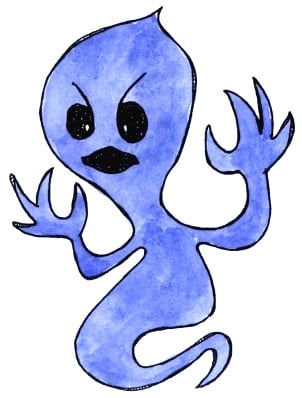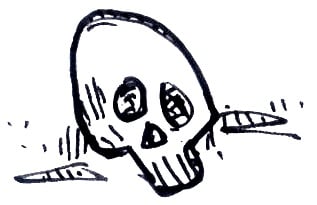 How does
Trick or Treat

work?

Trick or Treat has been written for 8 to 24 kids aged eight and up. (You can play with younger monsters – but they will probably need some adult help. You can also play with older monsters – they'll probably have as much fun as the younger ones.)

All the monsters are organised into gangs, and they must cooperate together to create potions and win the contests. The gang with the most treats wins!

The step-by-step instructions explain how to tailor Trick or Treat to suit the number of monsters coming to your party.

Trick or Treat lasts for about an hour and is ideal as part of a larger party – such as a birthday party. Two or three adults are needed to run the party, and one person will need to prepare everything beforehand.
What else you'll need for
Trick or Treat
When you buy our party game kit, the only extra thing you need is some treats – plastic coins, poker chips, coloured plastic gems. How much you need depends on how large your party is, but about 15 per child should be plenty. You will also need some pens, rulers and other craft materials.
Then in addition we recommend that you get some prizes to award to the best monster gang (and any other prizes that you want to award such as best costume) – perhaps skulls, plastic skeletons, or costume items.
Apart from that, you'll probably want Halloween decor for the room where you're having the party, monster-suitable food, costumes and so on, like for any other kids' party.
After completing your purchase on PayPal, you'll be brought back to this website. Don't close the PayPal tab, or navigate away! PayPal might take some time to send you back here: please be patient. Click one of these buttons to buy Trick or Treat now for US$24.99:
Our payments are usually handled by PayPal, but you don't have to have a PayPal account to buy this game. If you prefer, you can just buy it with your credit or debit card in the normal way. You'll see that option when you click the button above.

Or if you'd prefer not use PayPal at all, that's fine too of course – just click here to get alternative payment buttons where you can pay directly with your card. These prices are in UK£.
"You folks are the best. Great customer service and great writing!" Benjamin S., USA
What if I don't like
Trick or Treat?
No product is perfect for everyone. We know that and you know that – and that's why we offer a cast-iron, no quibble guarantee. If you're not completely satisfied with Trick or Treat, let us know within 30 days and we will refund you. Click here to read our full terms and conditions.
"Many thanks for all your help in my questions. Thanks for your good wishes for Saturday's party. Look forward to trading with you again." Sue Garrod
If you have any problems or questions, please contact us!
"Thank you very much for your swift response. I am very grateful (not to mention impressed with your customer service)!" Sarah Buxton, UK