Click here to buy the game
Here's what people have been saying about Murder at Sea:
"It was the best staff party we've had in years, everyone enjoyed it [All at Sea] and thank you very much! I have passed your details on to others, and praise you for keeping the costs affordable and the games fun!"
Nicky Neale, United Kingdom
"I was delighted with the effort put into the costumes [All at Sea] – as you can see above, people really got into the spirit and created a good atmosphere! All in all, an enjoyable evening. I'm hoping we can do another one next year. Thanks again for all your help."
Wilf Jessop, Sheffield, United Kingdom
"Overall, I really enjoyed All at Sea. I ran it for my 30th birthday party and everyone had a great time. I have family in the entertainment business and they were able to provide a large variety of props that helped set the mood and scene for the game. It felt like we were setting up for a movie. Once everyone became familiar with their character details and the rules of the game, everyone really seemed to take on their own character and had a great time. Many people came dressed in character. I had one of the most memorable nights of my life and it is a birthday I will never forget. Thank you for providing such a fun evening."
Holly Condon, California, United States
"I did have a fantastic time as the host [with All at Sea], I think it was the best position to be in. All our guests had a brilliant time and there was not anyone who did not enjoy themselves."
Bill Nagle, Australia
"The [All at Sea] evening was brilliant… it took a lot of organising, as I'm sure you know, but it was very much worth it… everybody entered the evening in character and we all had great fun."
A Customer, United Kingdom
"All at Sea was a great game that made our evening. Everyone was thoroughly engaged, and had fun!
Dressing up made it a really enjoyable experience, and added to their characters.
Everyone of all ages was able to play the game (some with a little more help!)"
Becky Grimes, United Kingdom
"All at Sea was my daughter's 18th birthday. She has been having these parties since she was 13. It was so fun to see how quickly the kids who had come before got into the game. The kids who had never played before were a bit nervous at first but they soon got into it. For just plain fun you really can't beat a Freeform Games mystery party. As they were leaving the guests were asking when we were going to have another one.
Really you guys are doing a great job. I tell everyone about you – even the people I met in the thrift store when we were buying the costumes."
Jill Getchell, United States
"All at Sea was an excellent evening and a complete success. Everyone had a wonderful evening. We did find that the plots were a bit complicated for some of the younger players, but it didn't spoil the enjoyment for anyone. Everyone could be as involved as they wanted. Most dressed up and really got into their own character, complete with accents! Our ship was constantly changing course across the Atlantic and all sorts of bribery and deception took place – great fun, thank you!"
Julie Hastings, United Kingdom
"Everyone thoroughly enjoyed All at Sea. We had a lot of fun, played outside in beautiful weather, ate lots of good food and everyone is looking forward to our next game. The game cards, secrets, abilities, etc. is a very good touch."
Charles Alger, Tennessee, United States
---
If you would like to tell us how your party went, please click here to send us your story.
Murder at Sea – a 1910s murder mystery party game with a seaborne setting for 17 to 33 guests
"We really enjoyed All at Sea, and in fact we extended the play to give more performing time!"
Katherine Clarke, United Kingdom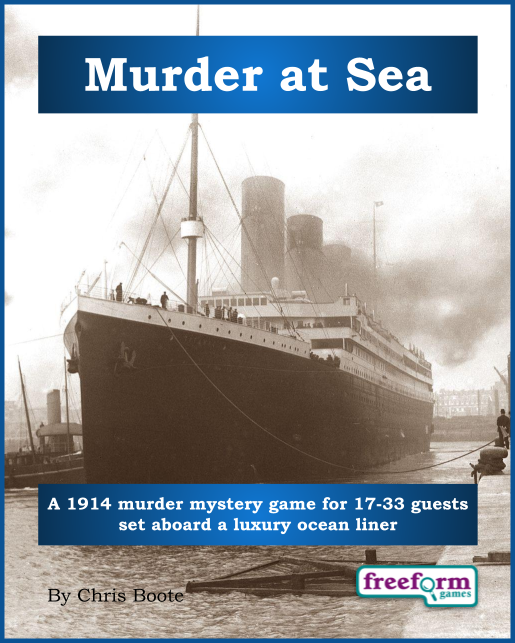 Recommended for ages 15+
Costs US$49.99
Written by Chris Boote
Click here to buy the game
Murder at Sea is a murder mystery party game for 17 to 33 guests and one or two hosts – download the free introductory pdf file.
Join us in a thrilling evening of plotting, mystery and treachery. You will be in the middle of the action and it will be up to you to wheel and deal with the other guests. Can you achieve your goals, keep your secrets hidden and survive Murder at Sea? It's up to you.
Murder at Sea
It is 1914 and the First World War has just broken out. On an American cruise ship in the middle of the Atlantic Ocean, diplomats, dignitaries and the crew must grapple with not only the outbreak of war but also the murder of Captain Bayard.
Who killed Captain Bayard – and why? Find out in Murder at Sea.
See stories and pictures
from Murder at Sea
Murder at Sea lasts for about four hours and is suited to an evening. It is often played over a meal – a finger buffet if possible to allow guests to circulate and talk in private.
"I really enjoyed All at Sea and thought that your materials were extremely well done. "
Beverley Neyenhouse, United States
The free introductory pdf file contains an introduction to the game and a cast list of all the characters – plus details of how to buy the game.
| | |
| --- | --- |
| | Includes rules for combat. |
These are the characters in Murder at Sea:
Aggie Marbles – Amateur sleuth and friend of the Finkelsteins.
Albert Wiggin – English travel writer.
Armin Oberhausen – Maximillian von Grafenberg's ambitious assistant.
Candice Dumlop – American socialite and Eldon Dumlop II's wife.
Catherine New – One of the Libertania's stewardesses.
Chief Engineer Brynneth Cawdra – Libertania's Welsh Chief Engineer.
Chief Purser Chris Gamble – Libertania's American Chief Purser.
Clark Ridgeway – PJ Nichols's manager.
Cynthia Petal – One of the Libertania's stewardesses.
Eldon Dumlop II – Rich American socialite.
Elizabeth James – Sir Ranulph Royston's 19 year old daughter.
Engineer Reiner Tanhauser – One of Libertania's engineers.
Entertainments Officer Vic Hammerstein – Libertania's American Entertainments Officer.
Eric Lassiter – Trainee Steward aboard the Libertania.
First Officer Daniel Warren – Libertania's popular American First Officer.
Gilbert Ryce – American Secretary of State.
Jennifer Floreste – Libertania's American caberet singer.
Jeremiah Finkelstein – American industrial businessman.
Julilia Morteblanca – Libertania's Italian cocktail stewardess.
Lady Isabelle Canter – Sir Rory Canter's wife and previously an actress.
Lou Noble – American journalist.
Marie Hati – Glamorous French journalist.
Master Chef Blaise de Richelieu – Libertania's temperamental French chef.
Maximillian von Grafenberg – German Procurement Minister.
Patrick Malloy – Libertania's Irish padre.
PJ Nichols – Music-hall entertainer and singer.
Rachel Finkelstein – Jeremiah Finkelstein's wife and business partner.
Sasha Alexandrovich Ilyatkin – Russian Minister.
Second Officer David Whitworth – Libertania's competent Second Officer.
Sir Ranulph Royston – British Minister of War.
Sir Rory Canter – English Baronet and rumoured to be the richest man in Great Britain.
Third Officer Christina Younger – Libertania's female Third Officer.
Wilma Drew – Gilbert Ryce's assistant.
Number of
guests
Male
characters
Female
characters
Ungendered
characters
17
7
7
3
18
7
7
4
19
7
8
4
20
8
8
4
21
8
9
4
22
8
10
4
23
9
10
4
24
9
11
4
25
9
11
5
26
10
11
5
27
10
12
5
28
10
12
6
29
11
12
6
30
11
12
7
31
12
12
7
32
13
12
7
33
14
12
7
How Freeform Games Murder Mysteries Work
Murder at Sea is unlike many murder mystery games. Although the game starts with a murder, most of the characters have more important things to do than to investigate it. And the killing may not be over – it is unlikely that everyone will survive the remainder of the journey!
Murder at Sea is played just like a murder mystery game. You may be trying to solve the murder, but primarily you are (initially at least) concentrating on your own goals and objectives. Unlike most boxed murder mystery games, Murder at Sea lets you decide how to achieve your goals and thwart your enemies.
"Many of the people who came to play All at Sea were new to freeform games. We had a great time! Thanks!"
Melanie Westbrook, Oregon, United States
On the evening of the game the guests are met by the organizer. They then receive their detailed backgrounds - including dark secrets, objectives and money. When everyone has arrived Captain Bayard makes his introduction - then the lights go out and when they come back up Captain Bayard is dead!. The fun then begins as everyone questions, bribes and blackmails each other. As the evening progresses they may even try to murder one another! Finally, the Libertania arrives at its destination and everyone finds out how they did, and what secrets everyone else was concealing.
Recommended for ages 15+
We recommend Murder at Sea for those aged 15+ as it contains the following themes: minor references to infidelity, ad one character is the illegitimate child of two of the others.
Extra characters
Sometimes you have too many guests and you need more characters. So we've written a free extra character for each of our games that you can add in, and some of our customers have created their own characters for their parties and are kindly willing to share them.
'Ginger' Roberts – freelance reporter in search of the Big Story. (Any)
(by Freeform Games)
Seven extra characters – a group of seven extra characters (Any)
(by Pauline Wilson)
Please note that we haven't always tested these – and they may not tie in exactly with our games.
IMPORTANT – if you've bought the game, you can download the files for these characters from the download page where you got your main game files. Contact us if you need the link and password to get back to that page.
Purchasing Murder at Sea
Murder at Sea costs US $49.99. You can buy it from anywhere in the world. The price will be converted back into your own currency for you, at today's exchange rate.
IMPORTANT: please be aware that you are buying a game to download from our website, not a boxed game that we will send you in the mail.
After completing your purchase on PayPal, you'll be brought back to this website.

Don't close the PayPal tab, or navigate away!

PayPal might take some time to send you back here: please be patient. Buy

Murder at Sea for $49.99
Our payments are usually handled by PayPal, but you don't have to have a PayPal account to buy this game. If you prefer, you can just buy it with your credit or debit card in the normal way. You'll see that option when you click the button above.

IMPORTANT: if PayPal isn't working for you, or if you'd prefer not to use it, we have an alternative payment method – just click here to get payment buttons where you can pay directly with your card. These prices are in UK£.
"Thank you for a great site, fantastic games, good service and very quick reply. Keep up the good work." Ole Martin Brodwall, Norway
Cast Iron Guarantee
We offer a Cast Iron Guarantee on all our murder mystery games. If you're not completely satisfied with Murder at Sea then please let us know within 30 days and we will refund you. See our full terms and conditions here.
Trouble downloading? If you have trouble downloading the game files, please first check your spam folder. If you still can't find the download email, drop us a line at info@freeformgames.com with the name of the game and the email address you used to purchase it, and we'll resend it.
Use the form below to contact us via Facebook (your query comment won't appear on Facebook itself unless you choose for it to). Please don't use this for download queries as we can't always match your Facebook profile with the email you used to buy the game.