Click here to buy the game
Here's what people have been saying about Snow Business:
"We just finished Snow Business and it was a blast even with the limited time we had. we DEFINITELY liked it."
Stefanos Konsta, Greece
"I have run a murder mystery birthday party every year for my birthday from Freeform Games for the past 4 years. All of my friends love them and year after year when it comes to fall, and then to December (when my birthday is) they ask me every day if I have chosen the theme yet. Everyone really gets into it and tons of lies are spread. It is great because it really plunges everyone in to interact with one-another - no icebreaker needed! Alliances and secret meetings and evesdropping are some of my favorite parts. Thanks, freeformgames.com for making the best parties ever!"
Sarah Nelson, United States
"I purchased Snow Business to play over Christmas / New Year period. A group of us (18 in total) rented a chalet in Morzine and we played it there. I actually only got back yesterday. The game was brilliant, it went down really well, everybody enjoyed it... So thank you Mo and Steve it was excellent."
Karen Rainford
"I just wanted you to know Snow Business was a huge success! Everyone involved had a wonderful time! I have now done two of your murder mysteries and plan on working my way through all of them! I have already had several folks ask for another one. Overall my guests and my family had a blast and we will be doing it again soon!"
Christina Haley, Texas, United States
"Snow Business was our second game from Freeform Games – our son just LOVES them – and we will do it again, definitely!!
We didn't have much time to prepare because our son hadn't completely decided on whether or not to do a game this year.Even with our hurried time-frame, it was very easy to pull together!
The last game we did was Casino Fatale. We loved them both. Snow Business was on a much smaller scale and we had a lot more time to talk to the players, eat and generally have a great time. GREAT FUN!!"
Amy Nolte, United States
"I chose Snow Business because it was appropriate for the number of players, age appropriate, and because we were all gathered for a winter vacation. The setting was perfect! It was so much fun! Even though one of my characters had to be gender-swapped, careful planning on my part ensured the appropriate amount of scandal that surprised many people at the end of the story!"
A Customer, United States
---
If you would like to tell us how your party went, please click here to send us your story.
Snow Business – a present-day murder mystery party game with a snowbound setting for 10 to 12 guests
"Snow Business was GREAT!!!!
"I can't remember the last time I've had so much fun or laughed so hard."
Doris Arnett-Gary, United States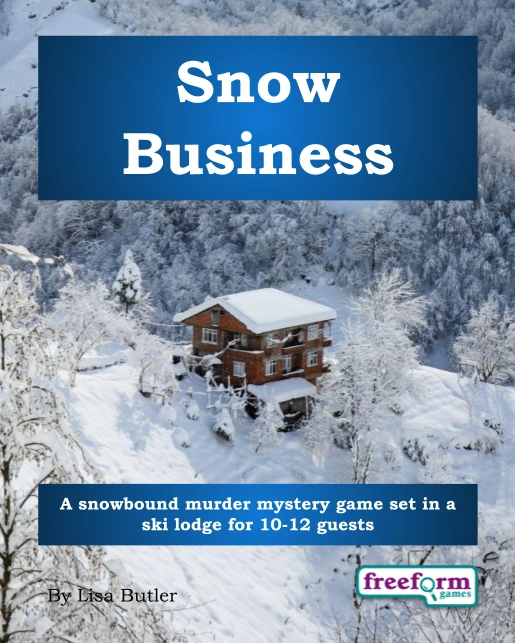 Recommended for ages 18+
Costs US$29.99
Written by Lisa Butler
Click here to buy the game
Snow Business is a murder mystery party game for 10 to 12 guests and a host – download the free introductory pdf file.
In Snow Business, the stage is set for an innocent family gathering, with a few friends and strangers added to make the party go with a swing. However, not everyone is as they seem - some have dark secrets they need to keep hidden… and someone is the killer. You will be in the middle of the action and it will be up to you to wheel and deal with the other guests. Can you achieve your goals, keep your secrets hidden and survive Snow Business? It's up to you.
Snow Business
Each winter, the Harrisons and the Perrys ski in the French Alps and always rent the Chalet Flaubert. They hire the whole chalet and bring both families and friends. The holidays are usually an opportunity to relax and unwind away from the pressures of normal life, but this year has been different. Jacqui and Mariella have been arguing, Lucy has sprained her wrist, snow has cut the chalet off – and tonight, real tragedy has struck. A few minutes ago, John Morgan was found dead at the foot of the attic steps, his neck broken at an unfortunate angle. Nobody can leave the chalet; and there is no phone or radio in here… Did John fall or was he pushed? Is there a murderer in Chalet Flaubert? Can you achieve your goals, keep your secrets hidden and survive Snow Business? It's up to you.
In Snow Business you will discover the following:
What happened to the missing wallet?
Who still carries a torch for an old flame?
Is an ungrateful child really sharper than a serpent's tooth?
What are the Swiss good at, apart from chocolate and cuckoo clocks?
… and, of course, who killed John Morgan?
Find out in Snow Business!
See stories and pictures
from Snow Business
Snow Business lasts for about four hours and is suited to an evening. It is often played over a meal – a finger buffet if possible to allow guests to circulate and talk in private.
"I love your games! They are easy to set up and do. I have tried other ones and they are inferior in my opinion. All of my Snow Business players had a wonderful time. I have already had several ask me when we are doing another one!"
Christina Haley, United States
The free introductory pdf file contains an introduction to the game and a cast list of all the characters – plus details of how to buy the game.
| | | | |
| --- | --- | --- | --- |
| | No combat, no poison. | | One character will die during the game, and will be replaced with a new character for that guest. |
These are the characters in Snow Business:
The Harrisons

Harold Harrison: Harold is an accountant and does the accounts for Bank Farm Stables.Harold and Mariella are married and have a daughter, Lucy.
Mariella Harrison: Mariella is an expert horsewoman and jointly runs the Bank Farm Stablesriding school with her sister Jacqueline.
Lucy Harrison: Lucy is 18 and is taking a year out before going to university inSeptember. She has sprained her wrist skiing.

The Perrys

Daniel Perry: Daniel is a celebrated musician and is married to Jacqueline.
Jacqueline Perry: Jacqueline is Mariella's younger sister and business partner at BankFarm Stables. She is also an expert horsewoman.
Jonathon Perry: Jonathon is Daniel and Jacqueline's son and is currently in his firstyear at university studying medicine.
Travis Perry: Travis is Daniel's brother and a city lawyer.

Friends, Family andStrangers

Amy Morgan: Harold's sister is a librarian and children's author.
John Morgan: Amy's husband has just been found dead!
Alex Harvey: Alex is Jacqui and Mariella's cousin, and Mariella's best friend. Alexis an ex-show jumper who now does radio commentary.
Robin Fay: Friend of the Perrys and a pianist, composer and conductor.
Jo Robertson and Max Parker: Jo and Max are skiers stranded at the chalet.
Number of
guests
Male
characters
Female
characters
Ungendered
characters
10
4
4
2
11
4
4
3
12
4
4
4
How Freeform Games Murder Mysteries Work
Snow Business is unlike many murder mystery games. Although the game starts with a death, most of the characters have more important things to do than to investigate it. And the killing is not over – it is certain that not everyone will survive the remainder of the evening!
Snow Business is played just like a murder mystery game. You may be trying to solve the murder, but primarily you are (initially at least) concentrating on your own goals and objectives. Unlike most boxed murder mystery games, Snow Business lets you decide how to achieve your goals and thwart your enemies.
On the evening of the game the guests are met by the organizer and welcomed to the chalet. They then receive their detailed backgrounds – including dark secrets, goals and items. The fun then begins as they form alliances, blackmail each other, steal items and maybe even resort to murder! Depending on what the players choose to do, there are several different possible endings, but finally everyone finds out how they did, and what secrets everyone else was concealing.
Recommended for ages 18+
We recommend Snow Business for those aged 18+, as it contains the following themes: references to infidelity, and a potential cousin relationship.
Extra characters
Sometimes you have too many guests and you need more characters. So we've written a free extra character for each of our games that you can add in, and some of our customers have created their own characters for their parties and are kindly willing to share them. They are included in your download when you purchase the game.
'Ginger' Roberts – freelance reporter in search of the Big Story. (Any)
(by Freeform Games)
Please note that we haven't always tested these – and they may not tie in exactly with our games.
Purchasing Snow Business
Snow Business costs US $29.99. You can buy it from anywhere in the world. The price will be converted back into your own currency for you, at today's exchange rate.
IMPORTANT: please be aware that you are buying a game to download from our website, not a boxed game that we will send you in the mail.
After completing your purchase on PayPal, you'll be brought back to this website.

Don't close the PayPal tab, or navigate away!

PayPal might take some time to send you back here: please be patient. Buy

Snow Business for $29.99
Our payments are usually handled by PayPal, but you don't have to have a PayPal account to buy this game. If you prefer, you can just buy it with your credit or debit card in the normal way. You'll see that option when you click the button above.

IMPORTANT: if PayPal isn't working for you, or if you'd prefer not to use it, we have an alternative payment method – just click here to get payment buttons where you can pay directly with your card. These prices are in UK£.
"Thank you for a great site, fantastic games, good service and very quick reply. Keep up the good work." Ole Martin Brodwall, Norway
Cast Iron Guarantee
We offer a Cast Iron Guarantee on all our murder mystery games. If you're not completely satisfied with Snow Business then please let us know within 30 days and we will refund you. See our full terms and conditions here.
Trouble downloading? If you have trouble downloading the game files, please first check your spam folder. If you still can't find the download email, drop us a line at info@freeformgames.com with the name of the game and the email address you used to purchase it, and we'll resend it.
Use the form below to contact us via Facebook (your query comment won't appear on Facebook itself unless you choose for it to). Please don't use this for download queries as we can't always match your Facebook profile with the email you used to buy the game.