Click here to buy the game
Here's what people have been saying about The Night before Christmas:
"We loved it and will play again."
Robin Goracke, United States
"Like the other games that I have run, everyone left the house asking when the next one will be run…"
Jeff B., Portsmouth VA, United States
"Many thanks for all your help, and for providing such an entertaining murder mystery in The Night before Christmas! The party was a huge success! Definitely takes a lot of planning, but in the end it was well worth it. Other friends found out about the one I held on Dec 15, and they wanted me to do another one for them... so I'm having another one this Saturday! I'll definitely be back for more murder and mayhem! Thanks!"
Larry Weixel, United States
"The Night before Christmas is my 2nd party I've done – the first was A Dead Man's Chest. I am amazed at how great they turn out! The first game, I had people back out, and had to recast for the very minimum crew of people for that party. But this one I had more than enough people -- everyone found out, and I had to promise I'd have another one, for the ones I couldn't invite to this one. Everyone who comes just loves it!"
Carey, United States
"Thank you very much for your quick response to my question. The Night before Christmas was our first murder mystery game and we had a great time. Everything was well planned and laid out and everything we needed was included in the kit. We enjoyed it so much that we are doing it again (with a different group) for Valentine's Day!"
Extremely Satisfied Mystery Lover, Michigan, United States
"This was our first time to host a game ever. So glad we picked yours We had so much fun and the kids were asking when we were going to do the next one!
We hosted The Night Before Christmas for my daughter's 18th birthday. All of her friends came dressed for a cocktail party, served "mocktails" and trays of appetizers. The whole night was such a success.
Thank you for your outstanding product!"
A Customer
"Just before Christmas this year, my sister and I decided to host a Murder Mystery Party for close friends and family. As we had quite a large group to invite, The Night before Christmas was the best solution. We had previously enjoyed many of the boxed Murder Mystery games, but found that the unscripted element made for a more exciting evening (including one rather dramatic death scene). Everyone threw themselves into their characters and thoroughly enjoyed the evening. There were even requests to make it an annual event!"
Liz Gore, United Kingdom
---
If you would like to tell us how your party went, please click here to send us your story.
The Night before Christmas – a 1948 murder mystery party game with a Christmas setting for 12 to 15 guests
"The Night before Christmas was a terrific party. The story line was sophisticated enough to engage everyone but not so complicated that we didn't all get into it. My family had a blast and wanted to do it again the very next day (not practical). I'm sure we will be doing other events of this type in the future when we can get everyone together. Good fun was had by all."
Nancy Wakeman, United States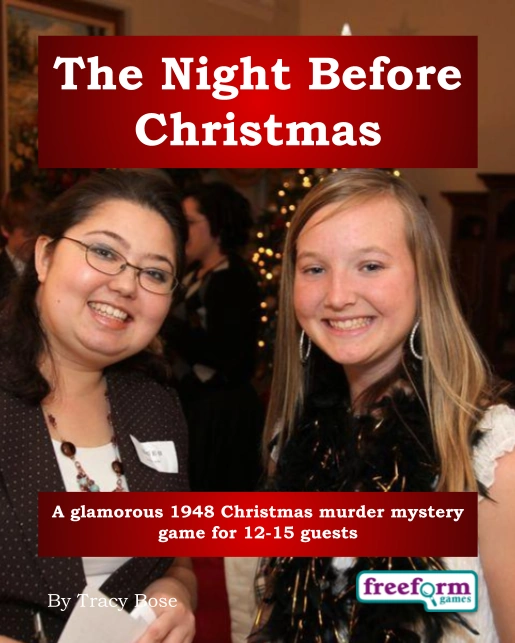 Recommended for ages 15+
Costs US$29.99
Written by Tracy Bose
Click here to buy the game
The Night before Christmas is a murder mystery party game for 12 to 15 guests and a host – download the free introductory pdf file.
In The Night before Christmas, the stage is set for an innocent family gathering, with a few friends and strangers added to make the party go with a swing. However, not everyone is as they seem -- some have dark secrets they need to keep hidden... and someone is the killer. You will be in the middle of the action and it will be up to you to wheel and deal with the other guests. Can you achieve your goals, keep your secrets hidden and survive The Night before Christmas? It's up to you.
The Night before Christmas
It is December 24, 1948. The socialite Evington-Browne family and guests are preparing for the annual Christmas Eve cocktail party, held by tradition at the family's hunting lodge in the White Mountains north of Boston. Snow has been falling for days - a blizzard has now set in - and the party finds itself cut off from the rest of the world. This is unfortunate, as the valet of one of the guests has been found dead in the kitchen! It looks like a heart attack - but is it murder? Can you achieve your goals, keep your secrets hidden and survive The Night before Christmas? It's up to you.
In The Night before Christmas you will discover the following:
Who has been wearing a Santa Suit to sneak around?
Who will inherit the Brilliant Diamonds?
Would the infamous cat-burglar 'the Puma' dare to strike here?
Are the Evington-Browne family in danger of losing their money, their reputation in society and their sanity?
Can anyone keep control of Tracy's pet monkey?
... and, of course, who killed the valet?
Find out in The Night before Christmas!
See stories and pictures
from The Night before Christmas Read the
Boston Times
The Night before Christmas lasts for about four hours and is suited to an evening. It is often played over a meal – a finger buffet if possible to allow guests to circulate and talk in private.
"I loved The Night before Christmas – the pdf packet included everything I could have possibly needed to run the game smoothly. And I liked that there was more to the story than just solving the murder. With the multiple storylines, everyone got the chance to have a key role."
Kylie Speirs, United States
The free introductory pdf file contains an introduction to the game, a cast list of all the characters, and a copy of the Boston Times – plus details of how to buy the game.
| | |
| --- | --- |
| | Includes rules for the use of poison. |
These are the characters in The Night before Christmas:
John Evington-Browne III: Respected businessman and head of the family.
Rose Evington-Browne: John's much-loved wife.
Patrick Evington-Browne: John and Rose's studious 20-year-old son.
Evie Evington-Browne: John and Rose's willful 21-year-old daughter.
Tracy Evington-Browne: John and Rose's mischievous 16-year-old daughter.
Priscilla Evington-Browne: John's elderly and often forgetful aunt.
Agatha 'Aggie' Marbles: Priscilla's elderly English friend and allegedly famed detective.
James Pemberton: Rose's brother. Art dealer and traveler.
Charles Pemberton: James's son, currently a student at Harvard.
Dr. Bruisyard: Retired family doctor and friend.
Miles Earnshaw: Unexpected guest, friend from Rose's youth.
Reggie Haven: Young socialite friend of Evie's.
Christy Crompton: Student friend of Patrick's.
Soames: Butler/Housekeeper.
Dinah Peters: Cook (temporary stand-in for usual cook).
Number of
guests
Male
characters
Female
characters
Ungendered
characters
12
4
6
2
13
5
6
2
14
5
6
3
15
5
6
4
How Freeform Games Murder Mysteries Work
The Night before Christmas is unlike many murder mystery games. Although the game starts with a death, most of the characters have more important things to do than to investigate it. And the killing may not be over – it is unlikely that everyone will survive the remainder of the evening!
The Night before Christmas is played just like a murder mystery game. You may be trying to solve the murder, but primarily you are (initially at least) concentrating on your own goals and objectives. Unlike most boxed murder mystery games, The Night before Christmas lets you decide how to achieve your goals and thwart your enemies.
"The Night before Christmas was brilliant! Our first murder mystery game, but definitely won't be our last."
Trish Thornby, United Kingdom
On the evening of the game the guests are met by the organizer, the Waiter, and welcomed to the party. They then receive their detailed backgrounds - including dark secrets, goals and items. The fun then begins as players form alliances, blackmail each other, steal items and maybe even resort to murder! Depending on what the players choose to do, there are several different possible endings, but finally everyone finds out how they did, and what secrets everyone else was concealing.
Recommended for ages 15+
We recommend The Night before Christmas for those aged 15+, as it contains the following themes: refers to a child born out of wedlock, although this is handled delicately.
Extra characters
Sometimes you have too many guests and you need more characters. So we've written a free extra character for each of our games that you can add in, and some of our customers have created their own characters for their parties and are kindly willing to share them. They are included in your download when you purchase the game.
'Ginger' Roberts and Jules Cameron – freelance reporter and event photographer. (Any)
(by Freeform Games and Larry Weixel)
Angelique Gemini – Priscilla Evington-Browne's paid companion. (F)
(by Michele Scott)
Beryl Sutton – Rose Evington-Browne's cousin. (F)
(by Jenni Malloch)
K.C. Warburton – internationally acclaimed artist. (Any)
(by Steph Mann)
Mephisto Lustig – Harvard friend of Charles Pemberton's. (M)
(by Michele Scott)
Reverend Maxwell Reagan – pastor of the First Church of Boston. (M)
(by Larry Weixel)
Please note that we haven't always tested these – and they may not tie in exactly with our games.
IMPORTANT – you shouldn't add too many of these characters in to your game as they haven't been designed to work together (unlike the main game characters). If you add in several, they may make your game chaotic and incoherent. You should probably instead choose a larger game. If you still want to add several extra characters (four or more), we recommend having an extra host to help.
Purchasing The Night before Christmas
The Night before Christmas costs US $29.99. You can buy it from anywhere in the world. The price will be converted back into your own currency for you, at today's exchange rate.
IMPORTANT: please be aware that you are buying a game to download from our website, not a boxed game that we will send you in the mail.
After completing your purchase on PayPal, you'll be brought back to this website.

Don't close the PayPal tab, or navigate away!

PayPal might take some time to send you back here: please be patient. Buy

The Night before Christmas for $29.99
Our payments are usually handled by PayPal, but you don't have to have a PayPal account to buy this game. If you prefer, you can just buy it with your credit or debit card in the normal way. You'll see that option when you click the button above.

IMPORTANT: if PayPal isn't working for you, or if you'd prefer not to use it, we have an alternative payment method – just click here to get payment buttons where you can pay directly with your card. These prices are in UK£.
"Thank you for a great site, fantastic games, good service and very quick reply. Keep up the good work." Ole Martin Brodwall, Norway
Cast Iron Guarantee
We offer a Cast Iron Guarantee on all our murder mystery games. If you're not completely satisfied with The Night before Christmas then please let us know within 30 days and we will refund you. See our full terms and conditions here.
Trouble downloading? If you have trouble downloading the game files, please first check your spam folder. If you still can't find the download email, drop us a line at info@freeformgames.com with the name of the game and the email address you used to purchase it, and we'll resend it.
Use the form below to contact us via Facebook (your query comment won't appear on Facebook itself unless you choose for it to). Please don't use this for download queries as we can't always match your Facebook profile with the email you used to buy the game.