Welcome to the Freeform Games murder mystery party newsletter!
Hi,
Welcome to the latest issue of our occasional newsletter! In this issue we have an exciting new game, as well as more lockdown tips and suggestions:
A new murder mystery party game for the holidays, Christmas Reunion with Death!

Details of our other holidays-themed games
Enjoy!
Mo and Steve
---
A new murder mystery party game for the holidays – Christmas Reunion with Death!
We've brought out a new game with a festive theme, which is ideal for playing online or in small groups. Christmas Reunion with Death is a special seasonal version of our popular game Reunion with Death, and we hope that it'll add a murderous touch to meeting or talking with your family and friends over the holidays!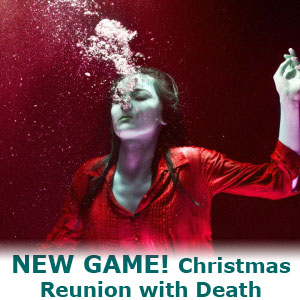 It's Christmas, in smallish-town America – and Holborrow High is staging its 15-year school reunion. Former students are gathering in the town's main hotel, ahead of the big festive party tonight. But one of them, former prom queen Mikolette Lukanis, has been found murdered!
Everyone is being kept under lockdown in their individual hotel rooms, pending a full police investigation. High-school rivalries will re-emerge, old grudges and secrets will surface: along with a heady mix of present-day envy, betrayal, and holiday-season lust.
Restock the minibar with eggnog, put on your complementary terrycloth slippers and your Santa hat, hang out the 'Do Not Disturb' sign, and join the alumni of Holborrow High as they prepare for their Christmas Reunion with Death!
Christmas Reunion with Death is for 6–9 players, and it costs $29.99. It's designed to be played online, but we've also included instructions for playing it face-to-face in the regular way, if that works better for you at the moment. And the host can play too! – like in the regular Reunion with Death (and also in Death in Venice), this game has the option for the host to play a character and try to solve the murder. Or you can just host and administer as normal, if you prefer.
Just click here to find out all about it!
IMPORTANT – if you've recently purchased the regular Reunion with Death, and are planning to use it for a holiday-season party, then you're very welcome to switch it for this new Christmas-themed version, if you'd like to! Just email us and let us know, and we'll send it over to you.
---
Our other holidays-themed games
So the new Christmas Reunion with Death is ideal for small get-togethers, and for playing online -- but what if you have more people ready to investigate a murder? Well, we have two other, larger, games that will be just perfect for you!
The Night before Christmas is for 12–15 guests and a host, and it costs $29.99..
"It is December 24, 1948. The socialite Evington-Browne family and guests are preparing for the annual Christmas Eve cocktail party, held by tradition at the family's hunting lodge in the White Mountains north of Boston. Snow has been falling for days - a blizzard has now set in - and the party finds itself cut off from the rest of the world. This is unfortunate, as the valet of one of the guests has been found dead in the kitchen! It looks like a heart attack - but is it murder? Can you achieve your goals, keep your secrets hidden and survive The Night before Christmas? It's up to you."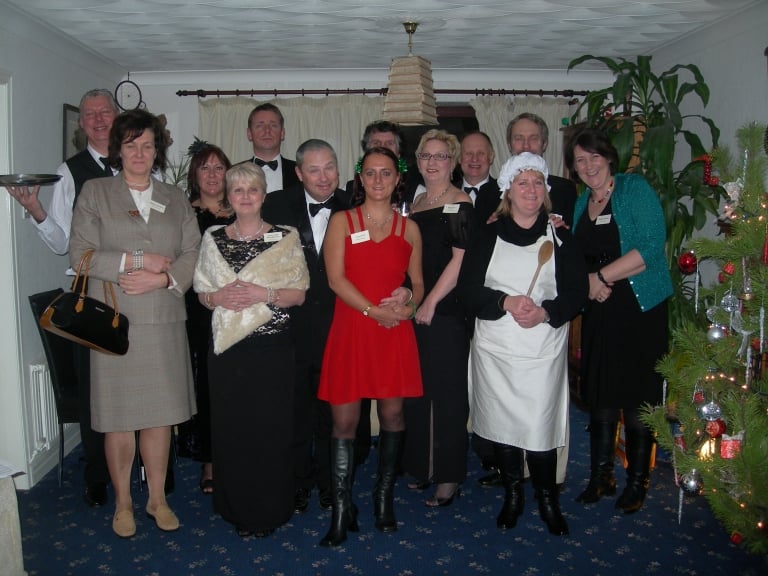 And then for bigger gatherings still, there's Christmas Lies, which is for 16–32 guests and one or two hosts! It costs $49.99.
"It's award night and Tom Speed's latest film, Christmas Confidential, has just swept the board and garnered four Santas – for Best Picture, Best Actor, Best Director and Best Screenplay. Sadly, Tom Speed's award for Best Actor was accepted posthumously by his friend, Hayden Vicars, as Tom was killed in a driving accident late last night. Despite this note of sadness, celebrations are in full swing at the Christmas Confidential post-award party. Deals are being cut for future productions and everyone is having a good time enjoying the atmosphere and mingling with Hollywood's movers and shakers. Is there anything suspicious about Tom Speed's death? Who will win next year's Santas? Find out at Christmas Lies."
Both of these games were designed to be played face-to-face, but if you'd like to play them online instead, that's fine – they include instructions for how to do just that.