Click here to buy the game
Here's what people have been saying about A Dead Man's Chest:
"A Dead Man's Chest was a great success. It's well thought out and so kept us all active the whole time. It's very good for getting everyone talking and having fun. None of us had played a mystery before, so we took some time to get started, but once we got going it went well."
Keith, Whitby, United Kingdom
"My church "youth" group (ages 15-30) recently played A Dead Man's Chest, and the game was a big hit! ... We appreciated that the game was family-friendly, and that it had a good mix of complicated and less-complicated characters to accommodate the players' varied acting abilities. This game was more than worth the cost, especially since I now know where to find an engaging party game whenever I need one!"
Tara Laben, United States
"(Dan ran A Dead Man's Chest as a training aid at an English as a Second Language school.)
The students were pretty apprehensive at first and it took some convincing to get them to join the party but once there they all had a great time. The last one I ran, though, turned into a bloodbath from the get-go but I didn't have much control over that. The highlight was when one of the players, who was running around attacking people, failed to get his intended target to take a drink he had poisoned and, forgetting he had poisoned it, drank it himself."
Dan Johns, Toronto, Canada
"I have been doing murder mystery parties at my place for at least 6 or 7 years now and in that span of time about 9 games or so, and I have to say hands down that your approach these types of games is the best. The flexibility is great with how everyone can essentially do what they will with their characters since there is no pre-defined script to follow. Just now I have purchased the A Dead Man's Chest game and I am looking forward to matching up my friends with the given characters. Again great games and thus greatly appreciated."
Chesley Way
"The game [A Dead Man's Chest] was fantastic, I did it for my son's 13th birthday party and everyone had a fab time. It was a lot of work beforehand, reading all the instructions and getting all the pack together, but between my husband son and me, we got it sorted. The worst problem was that two people cancelled, one the day before which was fine, but one person just didn't turn up -- but as my husband and I didn't have a part, we managed to sort it out."
Katharyn Roffey, United Kingdom
"The format of A Dead Man's Chest was different from what we have done before, but the kids had a wonderful time. They played the game for about 3 hours and were all equally engaged. They have asked that we host another game later this year. "
A Customer, Canada
"Wow! What a great evening. I wanted to do something a bit different for my birthday and I had tried boxed versions of Murder Mystery games before but they were nothing like this. A Dead Man's Chest was great and I was so pleased with the effort my friends made in dressing up! They were all really impressed and we will be doing another one for my birthday this year!"
Maria, United Kingdom
---
If you would like to tell us how your party went, please click here to send us your story.
A Dead Man's Chest – a murder mystery party game with a pirate setting for 12 to 16 guests
"A Dead Man's Chest was very clever, excellently written and we all LOVED the open-ended nature of what people could do. SO much plotting and back stabbing."
Jack Lawrence, United Kingdom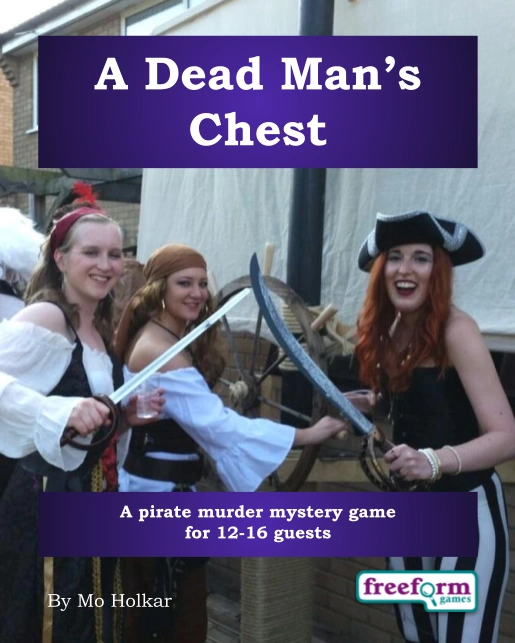 Recommended for ages 12+
Costs US$29.99
Written by Mo Holkar
Click here to buy the game
A Dead Man's Chest is a murder mystery party game for 12 to 16 guests and a host – download the free introductory pdf file.
Join us in a thrilling evening of piracy, intrigue, heroism and skulduggery. You will be in the middle of the action and it will be up to you to wheel and deal with the other guests. Can you achieve your goals, keep your secrets hidden and survive A Dead Man's Chest? It's up to you.
A Dead Man's Chest
Two pirate crews descend upon the sleepy Caribbean island of Santo Oloroso -- to avenge the death of their former master Captain Flint, or to find and grab his treasure?
Old enmities will surface, deals will be made and broken, and some folk will swing from the yard-arm while others receive the dreaded Black Spot, before these affairs are settled, for good or ill.
Will fortune favour the brave? Will faint heart ever win fair lady? How many Pieces of Eight make a Doubloon? Find out all this and more at A Dead Man's Chest.
See stories and pictures
from A Dead Man's Chest Read the
Caribbean Courier
A Dead Man's Chest lasts for about four hours and is suited to an evening. It is often played over a meal – a finger buffet if possible to allow guests to circulate and talk in private.
"Just wanted to tell you that A Dead Man's Chest was an awesome mystery – my friends really loved it. Thanks for a great product!"
Michael Eddings,
The free introductory pdf file contains an introduction to the game, a cast list of all the characters, and a copy of the Caribbean Courier – plus details of how to buy the game.
| | | | |
| --- | --- | --- | --- |
| | Includes rules for the use of poison. | | Includes rules for combat. |
These are the characters in A Dead Man's Chest:
The Scurvy Knave
Captain 'Black' Jack McCracken – the dashing and gallant Captain of the Scurvy Knave
Sawbones McGraw – the sarcastic but reliable ship's doctor
Quintus Swelter – the vain and sinister ship's cook
Tom – the helpful young ship's boy
Colonial forces
Sir Percival Stanforth – the steadfast and rather stuffy Governor of Jamaica
Elizabeth Stanforth – the Governor's highly desirable (if demanding) elder daughter
Captain Hal Overy – the stubborn and blunt Royal Navy Captain
The Fury
Captain 'Saucy' Nancy Martin – the bold and fiery Captain of the Fury
Alice Tremain – the Fury's shrewd and intellectual 1st Mate
Blaise Richelieu – the temperamental and passionate ship's cook
Taino natives
Hayapitl – the diplomatic Diaho chief
Cassinga – the intimidating DIaho shaman
Tokeleth – the chief's headstrong daughter
Others
Don Inigo de Velez y Contrera – the aristocratic and condescending Spanish nobleman
Salamanca – the Don's cynical and easily amused valet
Bill Pistol – the marooned former pirate, now as mad as a brush
Number of
guests
Male
characters
Female
characters
Ungendered
characters
12
6
4
2
13
6
4
3
14
6
4
4
15
6
4
5
16
6
4
6
How Freeform Games Murder Mysteries Work
A Dead Man's Chest is unlike many murder mystery games. Although the game starts with a murder, most of the characters have more important things to do than to investigate it. And the killing may not be over – it is unlikely that everyone will survive the remainder of the evening!
A Dead Man's Chest is played just like a murder mystery game. You may be trying to solve the murder, but primarily you are (initially at least) concentrating on your own goals and objectives. Unlike most boxed murder mystery games, A Dead Man's Chest lets you decide how to achieve your goals and thwart your enemies.
"We played A Dead Man's Chest in honor of my 21st birthday and had SUCH a great time! …The next day, the game was the ONLY thing being talked about in the theatre department – everyone was telling everyone how much fun it was, all the funny jokes, everything – it was quite a hit!"
Bonnie Prather, United States
On the evening of the game the guests are met by the organizer. They then receive their detailed backgrounds - including dark secrets, objectives and money. The players can form alliances, blackmail each other, steal items and even mutiny. Along the way they may solve some of A Dead Man's Chest's mysteries. Why was the Governor's daughter kidnapped by pirates? Who is the masked do-gooder 'El Cuervo'? Where is the fabled treasure buried? And of course, how did Captain Flint die? Finally, the game concludes and everyone finds out how they did, and what secrets everyone else was concealing.
Recommended for ages 12+
Extra characters
Sometimes you have too many guests and you need more characters. So we've written a free extra character for each of our games that you can add in, and some of our customers have created their own characters for their parties and are kindly willing to share them. They are included in your download when you purchase the game.
Balavari – young Diaho tribesman. (M)
(by Jenni Malloch)
Belladonna – Jack McCracken's fancy-woman. (F)
(by Jocelyn Thompson and Bonnie Prather)
Bosun Barnes – crewmate of Captain Overy. (M)
(by Dathan Burden)
Bosun Barnes (alternate) – crewmate of Captain Overy. (M)
(by Dan Johns)
Grace Cooper – pirate of the Fury. (F)
(by Dan Johns)
Jay Sommer – stowaway aboard the Scurvy Knave. (Any)
(by Lisa Perez)
Louis de Monnaie – deckhand aboard the Scurvy Knave. (M)
(by Tara Laben)
Madame Zuzu – Santo Oloroso's resident voodoo lady. (F)
(by Al Kennedy and Carrie Graham)
Rev Cecil Howard and Georgiana Fitzsimmons – Missionary minister and she-pirate. Must be used together. (Any)
(by Andreah Mathews)
Reverend Ian Plumpton – missionary travelling aboard the Scurvy Knave. (M)
(by Dathan Burden)
Rose – Ship's Girl of the Fury. (Any)
(by Dathan Burden)
Shay Collins (family-friendly version of Belladonna) – pirate of the Fury. (Any)
(by Jocelyn Thompson and Bonnie Prather, revised by Lisa Perez)
Please note that we haven't always tested these – and they may not tie in exactly with our games.
IMPORTANT – you shouldn't add too many of these characters in to your game as they haven't been designed to work together (unlike the main game characters). If you add in several, they may make your game chaotic and incoherent. You should probably instead choose a larger game. If you still want to add several extra characters (four or more), we recommend having an extra host to help.
Purchasing A Dead Man's Chest
A Dead Man's Chest costs US $29.99. You can buy it from anywhere in the world. The price will be converted back into your own currency for you, at today's exchange rate.
IMPORTANT: please be aware that you are buying a game to download from our website, not a boxed game that we will send you in the mail.
After completing your purchase on PayPal, you'll be brought back to this website.

Don't close the PayPal tab, or navigate away!

PayPal might take some time to send you back here: please be patient. Buy

A Dead Man's Chest for $29.99
Our payments are usually handled by PayPal, but you don't have to have a PayPal account to buy this game. If you prefer, you can just buy it with your credit or debit card in the normal way. You'll see that option when you click the button above.

IMPORTANT: if PayPal isn't working for you, or if you'd prefer not to use it, we have an alternative payment method – just click here to get payment buttons where you can pay directly with your card. These prices are in UK£.
"Thank you for a great site, fantastic games, good service and very quick reply. Keep up the good work." Ole Martin Brodwall, Norway
Cast Iron Guarantee
We offer a Cast Iron Guarantee on all our murder mystery games. If you're not completely satisfied with A Dead Man's Chest then please let us know within 30 days and we will refund you. See our full terms and conditions here.
Trouble downloading? If you have trouble downloading the game files, please first check your spam folder. If you still can't find the download email, drop us a line at info@freeformgames.com with the name of the game and the email address you used to purchase it, and we'll resend it.
Use the form below to contact us via Facebook (your query comment won't appear on Facebook itself unless you choose for it to). Please don't use this for download queries as we can't always match your Facebook profile with the email you used to buy the game.