Click here to buy the game
Here's what people have been saying about A Heroic Death:
"We just threw out first Murder Mystery Party here as a birthday shindig! We did A Heroic Death and of course did it very spur of the moment, giving our participants only 2 days notice! Add to that that we did the party on a week/work/school night (we are a mixture of your professionals and graduate students at Virginia Tech). But boy, did our friends come through! We had a former D&D Dungeon Master playing our host and everyone came in full costume!!
We thoroughly enjoyed the game, the party, and the fellowship! We can't wait to play another sometime soon, just as soon as our hangovers wear off :)
Thanks so much!"
Molly Stedfast, USA
"Thank you for providing these games! This is the second one I've hosted from your site and, as before, everyone had a blast and was wanting to know when the next one would be. I am definitely a repeat customer! I started planning A Heroic Death the moment I heard about it in your email newsletter. The game was VERY well written with some wildly funny superhero cliches (I won't elaborate in case of spoilers!)."
Chris Laws, United States
"Hosted the A Heroic Death (Kids) Murder Mystery game last weekend at our chalet north of Toronto Canada. The temperature outside dropped to an incredible minus 30 Celsius, so it was a perfect time to stay inside (except for the Ice Queen). Our family of 4 hosted 2 other families so we had 6 Adults and 6 kids from the age of 9 to 12. The two invited families had never played a murder mystery game, but I knew they all secretly wanted to be superheroes, so A Heroic Death was perfect. I was pleasantly surprised by the effort they put into costumes by the group. We played the game in about 2.5 hours, and spent over an hour debriefing. Everybody loved it and kept talking about the various characters for hours afterwards, and even the majority of the next day. The newbies are all keen to do another game now that they understand how they work - so we will probably do something in the summer."
Chris Van Staveren, Canada
"Yesterday was a blast! I just wanted to let you guys know that everyone LOVED A Heroic Death. Everyone was new to the world of murder mystery games so maybe I should have picked an easier plot for an all-first-timer-team but it was fantastic nonetheless!! All the characters arrived in wonderful costumes (all home-made and creative) and even though there was some confusion here and there, it was just superb!! Some characters got a little side-tracked and got so engaged in blackmailing and bargaining that at the end of the game they had no clue whatsoever who the killer might have been. :))) I hadn't laughed this much in a long time, so thank you!! "
Noémi Überhardt, Hungary
"A Heroic Death played out beautifully! I had a group that went all out. I had to give a little direction near the beginning, but they got the hang of it quickly. We are excited to try another game next month!"
Brandon Hicks, USA
---
If you would like to tell us how your party went, please click here to send us your story.
A Heroic Death – a futuristic murder mystery party game with a superhero setting for 8 to 12 guests
"As always, we loved A Heroic Death!"
Andreah Mathews, United States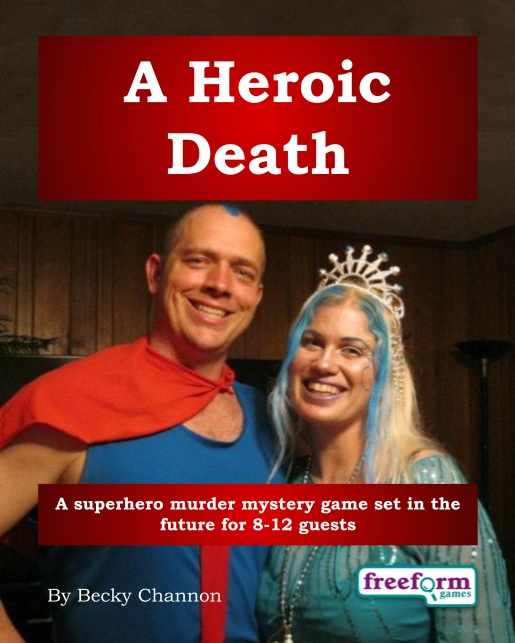 Recommended for ages 15+ (or 12+ for the kid-friendly version)
Costs US$29.99
Written by Becky Channon
Click here to buy the game
A Heroic Death is a murder mystery party game for 8 to 12 guests and a host – download the free introductory pdf file.
Kids' version – this game includes a FREE special version written for kids and younger teens.
This game is a bit more complex than some of our others. If you've not hosted one of our games before, you might want to allocate a bit longer to prepare for it and to read through how it's going to work.
Join us in a heroic evening of crime-fighting, superpowers and Noble Justice! You will be in the middle of the action and it will be up to you to wheel and deal with the other guests. Can you achieve your goals, keep your secrets hidden and survive A Heroic Death? It's up to you.
A Heroic Death
The world is in jeopardy. As usual. And as usual, it's up to the SuperHeroicJusticeDoomSquad to save the day. The problem is that they all had a big party last night celebrating something exciting that they can't quite remember; and this morning, their manager Bernard was found dead on the lovely faux-sheepskin rug in their Lounge.
Their secret base, the location of this party, has impenetrable defences (being inside a giant dormant volcano, naturally) and it was locked shut all night – so they have come to the realization that the killer must have been one of the Squad… or possibly their cleaner, Miguel.
The big red 'World in Danger!' light is flashing in the control room, so they really need to get out there and defeat the bad guys, but there's another problem. Bernard was the only one who had the access code to the main computer which controls everything, and it somehow got logged out last night. Now the Heroes can neither speak to the outside world to find out what crisis is going on this time, nor can they turn off the SuperHeroicSuperiorAlarmSystems alarm and leave the base. The outside door (which is controlled by the main computer) is locked shut until the alarm system can be reset, and it has been specially made to withstand anything.
Our heroes need to find a way to get out of the base in time to save the world – and find out which of them is a murderer, and why – before it's too late!
See stories and pictures
from A Heroic Death Read the
CityVille Post
A Heroic Death lasts for about four hours and is suited to an evening. It is often played over a meal – a finger buffet if possible to allow guests to circulate and talk in private.
"So glad we picked this story, we definitely got our money's worth! Everyone had a blast with A Heroic Death and was impressed with all the plot twists, character backstory and abilities. Can't wait to host another event!"
Debbie Ma, Canada
The free introductory pdf file contains an introduction to the game, a cast list of all the characters, and a copy of the CityVille Post – plus details of how to buy the game.
| | | | |
| --- | --- | --- | --- |
| | Includes rules for the use of poison. | | Uses superpowers instead of our usual combat and poison rules. |
These are the characters in A Heroic Death:
The SuperHeroicJusticeDoomSquad Register
Captain Amazing! – Charismatic and photogenic, Captain Amazing! founded the SuperHeroicJusticeDoomSquad (along with The Masked Crusader).
Doctor Robot-Neck – The squad's second in command and its brains.
Bloody Mary – Bloody Mary likes fighting villains and drinking cocktails, and sometimes mixes them together.
WhizzoGirl – WhizzoGirl often acts as the Squad's spokesperson and media liaison.
InvisoGirl – Unusually shy, InvisoGirl is known for her mischievous sense of humour.
Shaman – Once a librarian, Shaman is possessed by the spirit of a powerful Native American shaman.
Puss-in-Boots – A talking cat that wears clothes and walks on hind legs.
S. – The squad's newest member, S. only joined yesterday and really likes snakes.
The Masked Crusader – The squad's co-founder, The Masked Crusader rejoined the squad a month ago.
– Icy blast.
The Russian – A mysterious character with a surprisingly French accent.
The Staff Register
Miguel – A bespectacled cleaner with a poor grasp of English but a strong work ethic.
Number of
guests
Male
characters
Female
characters
Ungendered
characters
8
3
3
2
9
3
3
3
10
4
4
2
11
4
4
3
12
4
4
4
How Freeform Games Murder Mysteries Work
A Heroic Death is unlike many murder mystery games. Although the game starts with a murder, some of the characters have more important things to do than to investigate it. And the killing may not be over – it's not certain that everyone will survive the remainder of the evening!
A Heroic Death is played just like a murder mystery game. You may be trying to solve the murder, but primarily you are (initially at least) concentrating on your own goals and objectives. Unlike most boxed murder mystery games, A Heroic Death lets you decide how to achieve your goals and thwart your enemies.
On the evening of the game the guests are met by the organizer, the HOST, and welcomed to the secret base. They then receive their detailed backgrounds – including dark secrets, objectives and money. The fun then begins as they form alliances, blackmail each other, steal items and maybe even try to murder one another! Depending on what the players choose to do, there are several different possible endings, but finally everyone finds out how they did, and what secrets everyone else was concealing.
Recommended for ages 15+ (or 12+ for the kid-friendly version)
We recommend the adults' version of A Heroic Death for those aged 15+, as it contains the following themes: references to alcohol. (This content is not present in the kids' version.)
Extra characters
Sometimes you have too many guests and you need more characters. So we've written a free extra character for each of our games that you can add in, and some of our customers have created their own characters for their parties and are kindly willing to share them. They are included in your download when you purchase the game.
'Ginger' Roberts – freelance reporter in search of the Big Story. (Any)
(by Freeform Games)
Acro-Bat – exchange student from Europe (Any)
(by Andreah Mathews)
Officer Jones – dedicated public servant (Any)
(by Andreah Mathews)
Please note that we haven't always tested these – and they may not tie in exactly with our games.
Purchasing A Heroic Death
A Heroic Death costs US $29.99. You can buy it from anywhere in the world. The price will be converted back into your own currency for you, at today's exchange rate.
IMPORTANT: please be aware that you are buying a game to download from our website, not a boxed game that we will send you in the mail.
After completing your purchase on PayPal, you'll be brought back to this website.

Don't close the PayPal tab, or navigate away!

PayPal might take some time to send you back here: please be patient. Buy

A Heroic Death for $29.99
Our payments are usually handled by PayPal, but you don't have to have a PayPal account to buy this game. If you prefer, you can just buy it with your credit or debit card in the normal way. You'll see that option when you click the button above.

IMPORTANT: if PayPal isn't working for you, or if you'd prefer not to use it, we have an alternative payment method – just click here to get payment buttons where you can pay directly with your card. These prices are in UK£.
"Thank you for a great site, fantastic games, good service and very quick reply. Keep up the good work." Ole Martin Brodwall, Norway
Cast Iron Guarantee
We offer a Cast Iron Guarantee on all our murder mystery games. If you're not completely satisfied with A Heroic Death then please let us know within 30 days and we will refund you. See our full terms and conditions here.
Trouble downloading? If you have trouble downloading the game files, please first check your spam folder. If you still can't find the download email, drop us a line at info@freeformgames.com with the name of the game and the email address you used to purchase it, and we'll resend it.
Use the form below to contact us via Facebook (your query comment won't appear on Facebook itself unless you choose for it to). Please don't use this for download queries as we can't always match your Facebook profile with the email you used to buy the game.