Arabian Nights – a fairy-tale murder mystery party game with an exotic setting for 18 to 24 guests
"We played Arabian Nights last Saturday to a huge success! It was amazing! I instantly had requests to start planning another. You guys are great!!!"
Kent Nyland, Arizona, United States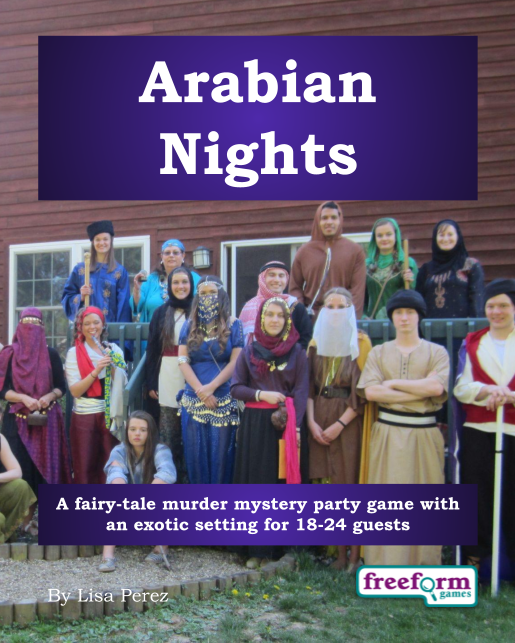 Recommended for ages 12+
Costs US$39.99
Written by Lisa Perez
Click here to buy the game
Arabian Nights is a murder mystery party game for 18 to 24 guests and one or two hosts – download the free introductory pdf file.
Join us in an enchanted evening of thievery, investigation, betrayal, and magic! You will be in the middle of the action and it will be up to you to wheel and deal with the other guests. Can you achieve your goals, keep your secrets hidden and survive Arabian Nights? It's up to you.
Arabian Nights
Welcome to Ardalan, a small kingdom ruled by a benevolent Sultan. Ardalan has its share of troubles: the city is plagued by thieves and smugglers, including a group known as the Band of Forty Thieves. Try as they might, the Sultan's guards have never succeeded in capturing the Band's leader.
However, not everything in Ardalan is corrupt. The Sultan has a beautiful daughter, Princess Almeera, who has just turned eighteen. Earlier this evening, the Sultan chose a husband for her. Dozens of princes attended the feast, but the Sultan noticed one man who was handsomer, cleverer, and richer than any of the others in attendance. So, the Sultan announced his daughter's engagement to the Prince Ala' ad-Din.
Tragically, the young prince's dead body was discovered in the marketplace only an hour later. The Sultan's guards are surrounding the marketplace, and the Grand Vizier is on his way to oversee the investigations. No-one is leaving the marketplace until the murderer is found.
See stories and pictures
from Arabian Nights Read the
Marketplace Messageboard
Arabian Nights lasts for about four hours and is suited to an evening. It is often played over a meal – a finger buffet if possible to allow guests to circulate and talk in private.
"I directed Arabian Nights last Friday and what a blast! It's really a fantastic game, probably one of your best :) Thanks for giving it to us, you guys are awesome :)"
Sigrún Geirsdottir, Iceland
The free introductory pdf file contains an introduction to the game, a cast list of all the characters, and a copy of the Marketplace Messageboard – plus details of how to buy the game.
| | | | |
| --- | --- | --- | --- |
| | Includes rules for the use of poison. | | Includes rules for combat. |
These are the characters in Arabian Nights:
Abdul-Malik – the Sultan's Grand Vizier
Adi – a member of the Sultan's Guard
Ara – a young woman shopping in the marketplace
Cantara – a fortune teller
Deniz – a trader traveling with Inas
Hassan – the caravan leader
Hayat – Captain of the Sultan's Guard
Inas – a trader
Ismat – the crazy beggar
Jamal – Hassan's son
Jinan – a doctor
Joharra – the tailor's apprentice
Kalila – a merchant
Kasuni – a caravan guard
Malak – a fire walker
Nadia – Omar's apprentice
Nihad – an entertainer with a performing monkey
Numair – a member of the Sultan's Guard
Omar – a jeweler
Prince Amir Barad – a suitor of the Princess
Prince Jabbar Sharifi – a suitor of the Princess
Rasha – the snake charmer
Zahrah – a young woman shopping in the marketplace
Zane – a messenger
Number of
guests
Male
characters
Female
characters
Ungendered
characters
18
6
6
6
19
6
7
6
20
7
6
7
21
7
7
7
22
7
8
7
23
8
7
8
24
8
8
8
How Freeform Games Murder Mysteries Work
Arabian Nights is unlike many murder mystery games. Although the game starts with a murder, most of the characters have more important things to do than to investigate it. And the killing may not be over – it is unlikely that everyone will survive the remainder of the evening!
Arabian Nights is played just like a murder mystery game. You may be trying to solve the murder, but primarily you are (initially at least) concentrating on your own goals and objectives. Unlike most boxed murder mystery games, Arabian Nights lets you decide how to achieve your goals and thwart your enemies.
"I loved the theme of Arabian Nights! Really unique."
A Customer, United States
On the evening of the game the guests are met by the organizer, the Genie, and welcomed to Ardalan's marketplace. They then receive their detailed backgrounds – including dark secrets, objectives and money. The fun then begins as they form alliances, blackmail each other, steal items and maybe even try to murder one another! Along the way they may uncover some of the mysteries of Arabian Nights. Who is the leader of the Band of Forty Thieves? Who stole the magic lamp? Who secretly loves Princess Almeera? And, of course, who murdered Prince Ala' ad-Din? Depending on what the players choose to do, there are several different possible endings, but finally everyone finds out how they did, and what secrets everyone else was concealing.
Recommended for ages 12+
Extra characters
Sometimes you have too many guests and you need more characters. So we've written a free extra character for each of our games that you can add in, and some of our customers have created their own characters for their parties and are kindly willing to share them.
Shaki – a marketplace urchin (Any)
(by Freeform Games)
Sinbad – a famous sailor (M)
(by Freeform Games)
Please note that we haven't always tested these – and they may not tie in exactly with our games.
IMPORTANT – if you've bought the game, you can download the files for these characters from the download page where you got your main game files. Contact us if you need the link and password to get back to that page.
Purchasing Arabian Nights
Arabian Nights costs US $39.99. You can buy it from anywhere in the world. The price will be converted back into your own currency for you, at today's exchange rate.
IMPORTANT: please be aware that you are buying a game to download from our website, not a boxed game that we will send you in the mail.
After completing your purchase on PayPal, you'll be brought back to this website.

Don't close the PayPal tab, or navigate away!

PayPal might take some time to send you back here: please be patient. Buy

Arabian Nights for $39.99
Our payments are usually handled by PayPal, but you don't have to have a PayPal account to buy this game. If you prefer, you can just buy it with your credit or debit card in the normal way. You'll see that option when you click the button above.

IMPORTANT: if PayPal isn't working for you, or if you'd prefer not to use it, we have an alternative payment method – just click here to get payment buttons where you can pay directly with your card. These prices are in UK£.
"Thank you for a great site, fantastic games, good service and very quick reply. Keep up the good work." Ole Martin Brodwall, Norway
Cast Iron Guarantee
We offer a Cast Iron Guarantee on all our murder mystery games. If you're not completely satisfied with Arabian Nights then please let us know within 30 days and we will refund you. See our full terms and conditions here.
Trouble downloading? If you have trouble downloading the game files, please first check your spam folder. If you still can't find the download email, drop us a line at info@freeformgames.com with the name of the game and the email address you used to purchase it, and we'll resend it.
Use the form below to contact us via Facebook (your query comment won't appear on Facebook itself unless you choose for it to). Please don't use this for download queries as we can't always match your Facebook profile with the email you used to buy the game.