Click here to buy the game
Here's what people have been saying about Bludgeoned on Broadway:
"We had a great time with Bludgeoned on Broadway this past weekend. This is the third game my friends attempted from your site. Keep up the good work."
Drew Johnson, Tanzania
"A very enjoyable evening [Bludgeoned on Broadway]."
Paul Nichols, United Kingdom
"What better way to celebrate being alive and kicking in a new year than an old-fashioned-death-and-deception whodunit? As a New Year's Eve party with the villain nabbed at midnight, Bludgeoned on Broadway gets an Oscar. With plenty of twists and turns and intriguing characters for all ages, this game's a winner. Highly recommended."
Marjorie Hafer, United States
"Just to let you know we had our murder mystery evening last week, Bludgeoned on Broadway, and we had a great time. It was our first freeform game, and we enjoyed it very much. Although everybody also was exhausted at the end of the evening, because of all the confusing information they got: suddenly there was a fake bomb, dressing-rooms were exchanged…
But still, everybody had a great time. The play was so well written and the characters very colourful. Some of us had some problems last week saying goodbye to their alter ego.
We sure want to try another game in the future. Being a host required a lot more than I expected. Instead of getting closer to resolving the murder, people got more confused and I should have taken more care that information was circulating better. The players as well said they would play it very differently a next time. It's definitely a game you must learn to play, but it brings a lot of fun. So thank you very much and best wishes from Nijmegen, the Netherlands!"
Marc Damen, Nijmegen, the Netherlands
"Bludgeoned on Broadway was the first murder-mystery we'd ever attended, and my husband and I weren't quite sure what we were getting ourselves into. When the curtain went up we were surrounded by secret alliances, hidden agendas and of course, MURDER! A fun time was had by all trying to discover the who's, what's and why's. What a great way to spend an evening!!"
Nicole Merkel, United States
"I had a fantastic time playing Bludgeoned on Broadway.
As the host, I had spent a lot of time reading and preparing for the night, I am glad I did! There is a lot of story lines running at the same time and at points I had to give people tips about who to talk to and questions to asked when they got a little stuck. It was good being able to do this easily and from memory.
It ran extremely smoothly though and everyone absolutely loved it!"
Frances Jackson, United Kingdom
"One thing that some of the kids said (they were 16-year-olds) is how much they enjoyed having a party [Bludgeoned on Broadway] where there was something fun to do, as opposed to standing around not knowing what to do! It really is a perfect activity for teens who want to have fun and be together but have something planned so they don't feel awkward."
Betsy Abernathy, United States
---
If you would like to tell us how your party went, please click here to send us your story.
Bludgeoned on Broadway – a 1940s murder mystery party game with a theatrical setting for 8 to 13 guests
"Bludgeoned on Broadway was a wonderful game, all the guests had loads of fun! "
Amanda McLeod, Canada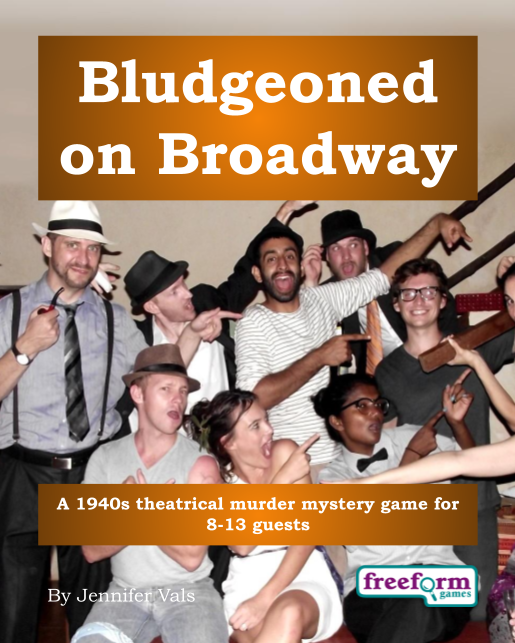 Recommended for ages 15+
Costs US$29.99
Written by Jennifer Vals
Click here to buy the game
Bludgeoned on Broadway is a murder mystery party game for 8 to 13 guests and a host – download the free introductory pdf file.
Join us in a thrilling evening of of drama, double takes, and denouements. You will be in the middle of the action and it will be up to you to wheel and deal with the other guests. Can you achieve your goals, keep your secrets hidden and survive Bludgeoned on Broadway? It's up to you.
Bludgeoned on Broadway
It's 1947 and along New York City's Broadway Avenue, theatres are stuffed to capacity with anxious spectators waiting to be entertained. Inside the Arlington Theatre, it's the first scene of the new Broadway play Olympian Days, and leading actor Jackson Turner has failed to make his grand entrance! Why? He's been brutally murdered in his dressing room backstage.
In Bludgeoned on Broadway, everyone is acting a part, and it's up to you to figure out who's hiding behind the mask of illusion, deception, and even murder! You can form alliances, blackmail each other, steal items and money, and generally usurp and upset others' attempts to achieve goals!
Along the way, you may solve some of Bludgeoned on Broadway's mysteries, like who is the Theatre Bomber? Who is the Midwest Murderer? Who is a Communist? And of course, who murdered Jackson Turner? Find out in Bludgeoned on Broadway!
See stories and pictures
from Bludgeoned on Broadway Read the
New York Press
Bludgeoned on Broadway lasts for about four hours and is suited to an evening. It is often played over a meal – a finger buffet if possible to allow guests to circulate and talk in private.
"What a great way to spend a New Year's Eve!I loved it! The mystery was so well written. Everyone seemed to understand and fit into their character role. It is a must play game! "
Jen Laubscher, United States
The free introductory pdf file contains an introduction to the game, a cast list of all the characters, and a copy of the New York Press – plus details of how to buy the game.
| | |
| --- | --- |
| | No combat, no poison. |
These are the characters in Bludgeoned on Broadway:
"Scrappy" Barker – the wily owner of the Arlington Theatre
Bruno – the stage manager and a tough mafia soldier
Dorothy Sadler – the ditzy leading actress debuting in the role of Hera, Greek Queen of the Gods
Franco Torrio – fronts as a waste management consultant, but really a powerful mafia capo
Hannah Edelstein – the production's talented choreographer and a Jewish immigrant from Denmark
Harold Finney – the veteran character actor and mischievous storyteller playing the role of Hades, God of the Underworld
Jordan Lutrova – the costume / prop coordinator and an eccentric collector of antiques and other treasures
Lana Johnson – the glamorous and talented Broadway actress playing the supporting role of Aphrodite, Greek Goddess of Love
Logan Randolph – a New York City police detective
Mayor La Garner – the ambitious New York City Mayor
Olivia Dalton – the Olympian Days producer
Pat Waddle – the studious and idealistic Olympian Days playwright
Taylor Higgins – a newspaper reporter from the Manhattan Happenings newspaper
Number of
guests
Male
characters
Female
characters
Ungendered
characters
8
3
2
3
9
3
3
3
10
4
3
3
11
4
3
4
12
5
4
3
13
5
4
4
How Freeform Games Murder Mysteries Work
Bludgeoned on Broadway is unlike many murder mystery games. Although the game starts with a murder, most of the characters have more important things to do than to investigate it. And the killing may not be over – it is unlikely that everyone will survive the remainder of the evening!
Bludgeoned on Broadway is played just like a murder mystery game. You may be trying to solve the murder, but primarily you are (initially at least) concentrating on your own goals and objectives. Unlike most boxed murder mystery games, Bludgeoned on Broadway lets you decide how to achieve your goals and thwart your enemies.
"Bludgeoned on Broadway all went well overall and everyone had fun! Thank you so much for your quick response and a great time!"
Dawn Ringer, United States
On the evening of the game the guests are met by the organizer, the Director, and welcomed to the Arlington Theatre. They then receive their detailed backgrounds - including dark secrets, objectives and money. The fun then begins as they form alliances, blackmail each other, steal items and maybe even try to murder one another! Depending on what the players choose to do, there are several different possible endings, but finally everyone finds out how they did, and what secrets everyone else was concealing.
Recommended for ages 15+
We recommend Bludgeoned on Broadway for those aged 15+ as it contains the following themes: references to infidelity, plotlines around burlesque theatre, some political issues.
Extra characters
Sometimes you have too many guests and you need more characters. So we've written a free extra character for each of our games that you can add in, and some of our customers have created their own characters for their parties and are kindly willing to share them.
'Ginger' Roberts – freelance reporter in search of the Big Story. (Any)
(by Freeform Games)
Please note that we haven't always tested these – and they may not tie in exactly with our games.
IMPORTANT – if you've bought the game, you can download the files for these characters from the download page where you got your main game files. Contact us if you need the link and password to get back to that page.
Purchasing Bludgeoned on Broadway
Bludgeoned on Broadway costs US $29.99. You can buy it from anywhere in the world. The price will be converted back into your own currency for you, at today's exchange rate.
IMPORTANT: please be aware that you are buying a game to download from our website, not a boxed game that we will send you in the mail.
After completing your purchase on PayPal, you'll be brought back to this website.

Don't close the PayPal tab, or navigate away!

PayPal might take some time to send you back here: please be patient. Buy

Bludgeoned on Broadway for $29.99
Our payments are usually handled by PayPal, but you don't have to have a PayPal account to buy this game. If you prefer, you can just buy it with your credit or debit card in the normal way. You'll see that option when you click the button above.

IMPORTANT: if PayPal isn't working for you, or if you'd prefer not to use it, we have an alternative payment method – just click here to get payment buttons where you can pay directly with your card. These prices are in UK£.
"Thank you for a great site, fantastic games, good service and very quick reply. Keep up the good work." Ole Martin Brodwall, Norway
Cast Iron Guarantee
We offer a Cast Iron Guarantee on all our murder mystery games. If you're not completely satisfied with Bludgeoned on Broadway then please let us know within 30 days and we will refund you. See our full terms and conditions here.
Trouble downloading? If you have trouble downloading the game files, please first check your spam folder. If you still can't find the download email, drop us a line at info@freeformgames.com with the name of the game and the email address you used to purchase it, and we'll resend it.
Use the form below to contact us via Facebook (your query comment won't appear on Facebook itself unless you choose for it to). Please don't use this for download queries as we can't always match your Facebook profile with the email you used to buy the game.