Click here to buy the game
Here's what people have been saying about Curse of the Pharaoh:
"Curse of the Pharaoh was last night. It went sooooooooooooo well that I would just like to thank you for doing an amazing job. Thank you! I thought it was perfect. Absolutely amazing. Me and my friends had the best time, with relatively no work on my part. Four months later and my friends are STILL talking about it. It let us get really creative, and yet we all saw a competitive side of our friends that we hadn't seen before."
Emma Bardes
"We ended up having over twenty guests invited and only two bowed out at the last moment because of family illness. At first I was terrified, no one mingled – they tried to stay in their private groups. As the Servant I began prodding them into asking questions of other guests and directing them toward a 'treasure' table we'd set up. By the end of the evening everyone was having a blast and wanting to know when we would host the next one.'"
Deb Longoria, United States
"Just a quick note to say thanks for helping our New Years Eve go so well! We played Curse of the Pharaoh and everyone had a fantastic time. I was surprised that the cost was the same as purchasing a 'kit' from the shops but the money-back guarantee (and the quality of the introduction doc) won me over!"
Rob Tudor, Hertfordshire, United Kingdom
"We had a great group, and it was a terrific time. For a group where only one of the participants besides myself had every heard of roleplaying, they did a super job at getting into character... Thanks for the wonderful game [Curse of the Pharaoh]!"
Jay Shaffstall, United States
"We had the Curse of the Pharaoh a few weeks ago and had such fun! Thank you for a very inventive and clever game."
Liz H, United States
"I played Curse of the Pharaoh at my friend's birthday party. I had a great time. My friend made traditional Egyptian cuisine and all the costumes looked great. I was very impressed with the quality of freeform games, and now I know what to do for my birthday party!"
Scott, United States
"First time we played a Freeform Games game, and Curse of the Pharaoh was totally enjoyable. We had played another Murder Mystery game, but it was nowhere as good as this.Well done – the setting and characters were brilliant. The plots were intricate to the right point, and the fact that the players have their individual objectives rather than just focusing on the main murder is a great touch."
Marvin Zammit, Malta
"Curse of the Pharaoh was a great game. Was fun to watch the guests dress up, and take to character. Though they were slow on the uptake (lots of reading for 16yos), they quickly came around and had a blast. After the game, they sat for over an hour, talking about their characters' successes and failures."
A Customer, Queensland, Australia
"I enjoyed Curse of the Pharaoh very much, and must say congrats to you for creating a great storyline."
Mark Doney, Oxfordshire, United Kingdom
"I've never had an activity at any party that got everyone talking to each other quite as quickly as Curse of the Pharaoh did!"
Glenn Selwood, United Kingdom
"Well, actually I'm about two years late in reporting on this murder mystery but it was excellent (the best one so far our guests reported!) We used the garden mostly for Curse of the Pharaoh and it was a great success – we bought around seven sand-bags and emptied it all onto sheets in the garden – placed half a gazebo/tent over the sand and added the props table and hid scorpions etc in the sand! It was fantastic! This was our fifth murder mystery and we all thoroughly enjoyed it!"
Nick Eccles, United Kingdom
"It sounded like Curse of the Pharaoh would be a lot of fun – and it was. EVERYBODY LOVED IT, and everybody wants to play more Freeform games."
Mark Rickert, United States
---
If you would like to tell us how your party went, please click here to send us your story.
Curse of the Pharaoh – a 1890s murder mystery party game with an archaeological setting for 6 to 19 guests
"We did Curse of the Pharaoh for my birthday and had a blast! I was so impressed with the game, the flow and of course everyone's costumes. Super fun!"
Laura Bohen,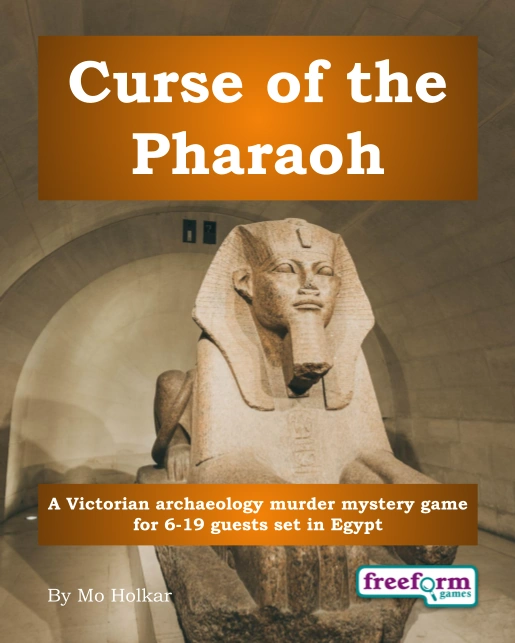 Recommended for ages 18+
Costs US$39.99
Written by Mo Holkar
Click here to buy the game
Curse of the Pharaoh is a murder mystery party game for 6 to 19 guests and one or two hosts – download the free introductory pdf file.
This game is a bit more complex than some of our others. If you've not hosted one of our games before, you might want to allocate a bit longer to prepare for it and to read through how it's going to work.
Join us in Egypt, 1894, and determine the fate of the British Empire in a thrilling evening of mystery and murder. You will be in the middle of the action and it will be up to you to wheel and deal with the other guests. Can you achieve your goals, keep your secrets hidden and survive Curse of the Pharaoh? It's up to you.
Curse of the Pharaoh
The Valley of the Kings, Luxor, Egypt. 23 April 1894. The excavation season will soon be over, as the baking sun makes digging unbearable, but the Oxford University archaeologists lead by Sir William Saville have made a startling discovery. Tonight, the team and their guests prepare to enjoy a slap-up dinner to celebrate the uncovering of the tomb of a previously unknown XVIth Dynasty pharaoh. But while the archaeologists make merry, dark clouds gather, internal tensions among the group burst to the surface and one of the local diggers is brutally murdered.
See stories and pictures
from Curse of the Pharaoh Read the
Cairo Gazette
Curse of the Pharaoh lasts for about four hours and is suited to an evening. It is often played over a meal – a finger buffet if possible to allow guests to circulate and talk in private.
"Curse of the Pharaoh is a brilliant game – better than any other murder mystery I have played."
Becky Pruitt, United States
The free introductory pdf file contains an introduction to the game, a cast list of all the characters, and a copy of the Cairo Gazette – plus details of how to buy the game.
| | | | |
| --- | --- | --- | --- |
| | Includes rules for the use of poison. | | Includes rules for combat. |
These are the characters in Curse of the Pharaoh:
Sir William Saville: renowned archaeologist and leader of the dig
Ariadne Price-Evans: veteran translator of Egyptian inscriptions
Hugh Carlaw: enthusiastic young student
Helen Mackinnon: the belle of Oxford
Shahfeez Merouf: mysterious Arab, the Curator of the Luxor Museum
Alvy Spanheim: Cultural Attaché at the German Consulate
Eva de Chalons: dilettante and art connoisseur
Lindsay Wilde: also wild by nature, a brooding misfit on the archaeological scene
Pol Tregarne: Detective Sergeant in the Colonial Police
Alex McQueen: Detective Constable in the Colonial Police
Armand Lenoir: leader of a French excavation nearby
Marie-Claire Guiscard: hard-working assistant to Lenoir
Tariq al-Mansoor: wealthy collector of Egyptian antiquities
Fatima al-Mansoor: wealthy collector of Egyptian antiquities
Professor Reginald Mathers: respected archaeologist from Cambridge
Lady Jane Fortescue: noble widow and archaeological dilettante
Chris Kovacs: young Hungarian student
Reverend Godfrey Fox: Cambridge-based church minister
Angela Fox: Mathers' administrative assistant
Number of
guests
Male
characters
Female
characters
Ungendered
characters
6
2
2
2
7
2
2
3
8
2
3
3
9
3
3
3
10
3
3
4
11
4
4
3
12
4
4
4
13
5
5
3
14
5
5
4
15
5
5
5
16
6
6
4
17
6
6
5
18
7
7
4
19
7
7
5
How Freeform Games Murder Mysteries Work
Curse of the Pharaoh is unlike many murder mystery games. Although the game starts with a murder, most of the characters have more important things to do than to investigate it. And the killing may not be over – it is unlikely that everyone will survive the remainder of the evening!
Curse of the Pharaoh is played just like a murder mystery game. You may be trying to solve the murder, but primarily you are (initially at least) concentrating on your own goals and objectives. Unlike most boxed murder mystery games, Curse of the Pharaoh lets you decide how to achieve your goals and thwart your enemies.
"Curse of the Pharaoh has a brilliant story – I have played other mystery games from other sites in the past – your story was unique and everyone loved the complexity and the props."
A Customer, United States
On the evening of the game the guests are met by the organizer, the archaeological team's native servant. They then receive their detailed backgrounds - including dark secrets, objectives and money. When everyone has arrived the servant announces that, with the corpse tidied away into the camel shed for safekeeping, dinner will now be served. The fun then begins as everyone questions, bribes and blackmails each other. As the evening progresses they may even try to murder one another! Depending on what the players choose to do, there are several different possible endings, but finally everyone finds out how they did, and what secrets everyone else was concealing.
Recommended for ages 18+
We recommend Curse of the Pharaoh for those aged 18+, as it contains the following themes: the occult, an extra-marital affair, and an illegitimate child in the characters' background.
Extra characters
Sometimes you have too many guests and you need more characters. So we've written a free extra character for each of our games that you can add in, and some of our customers have created their own characters for their parties and are kindly willing to share them. They are included in your download when you purchase the game.
'Ginger' Roberts – freelance reporter in search of the Big Story. (Any)
(by Freeform Games)
Paige Money – archaeological reporter for The Times. (Any)
(by Philip Murray)
Please note that we haven't always tested these – and they may not tie in exactly with our games.
Purchasing Curse of the Pharaoh
Curse of the Pharaoh costs US $39.99. You can buy it from anywhere in the world. The price will be converted back into your own currency for you, at today's exchange rate.
IMPORTANT: please be aware that you are buying a game to download from our website, not a boxed game that we will send you in the mail.
After completing your purchase on PayPal, you'll be brought back to this website.

Don't close the PayPal tab, or navigate away!

PayPal might take some time to send you back here: please be patient. Buy

Curse of the Pharaoh for $39.99
Our payments are usually handled by PayPal, but you don't have to have a PayPal account to buy this game. If you prefer, you can just buy it with your credit or debit card in the normal way. You'll see that option when you click the button above.

IMPORTANT: if PayPal isn't working for you, or if you'd prefer not to use it, we have an alternative payment method – just click here to get payment buttons where you can pay directly with your card. These prices are in UK£.
"Thank you for a great site, fantastic games, good service and very quick reply. Keep up the good work." Ole Martin Brodwall, Norway
Cast Iron Guarantee
We offer a Cast Iron Guarantee on all our murder mystery games. If you're not completely satisfied with Curse of the Pharaoh then please let us know within 30 days and we will refund you. See our full terms and conditions here.
Trouble downloading? If you have trouble downloading the game files, please first check your spam folder. If you still can't find the download email, drop us a line at info@freeformgames.com with the name of the game and the email address you used to purchase it, and we'll resend it.
Use the form below to contact us via Facebook (your query comment won't appear on Facebook itself unless you choose for it to). Please don't use this for download queries as we can't always match your Facebook profile with the email you used to buy the game.