Click here to buy the game
Here's what people have been saying about Davy Jones' Locker:
"Started using these games back in 2005, Davy Jones' Locker is the 5th game we hosted and a lot of fun yet again. Albeit this one was a bit more complicated as we had a lot of newbies, by about 1/2 way through everything got smoothed out. Seems like we ignited the bug in some of our friends who will be trying to host their own games. Thx as always guys!"
Chesley Way, Canada
"Just a quick one to let you know we had the most amazing night with Davy Jones' Locker. It was so much fun and everyone that came got right into it. Thanks so much for coming back to me so quickly, you calmed my worries! Looking forward to our next party! "
Shontelle Gregory-Hunt, USA
"As a group we've been playing Murder Mysteries for around 25 years now and have sampled most brands with numbers from 6 up to very large groups and sitting at a table playing in rounds to the free flow of Freeform games. Davy Jones' Locker is the first Freeform game we played (although our kids enjoyed the Pirate Island game a couple of years ago), and we loved it – plenty to do to keep everyone occupied all night and even the two newbies (who coincidentally were the two who didn't have English as a first language) were able to get right into it straight away, working on their goals. Architect Matt organised our holiday cottage into a galleon with the help of massive pictures of parts of the ship – and we ate fish n chips from the local Chippy. A perfect evening. Looking forward to the next."
Annemarie Johnson, UK
"We took our adult children (ages 20–26) and spouses on a houseboat trip for 4 days. Played the Davy Jones Locker game. IT WAS A HIT! They thoroughly enjoyed it. It was great to watch them play act and be kids again. I would recommend it to anyone – it really was great fun!"
Jackie Girdner, USA
"There was a great range of characters in Davy Jones' Locker, which made it easy for me to pick people to play them. Everyone was talking to everyone else, despite not having met them previously. "
A Customer, Australia
"Davy Jones' Locker went well with a lot of intrigue. Our group loves pirates and most costumes were already in the closet. This was the first freeform game our group has done. They're ready for another."
Mark Plagens, United States
"Davy Jones' Locker was most of our group's second time doing a murder mystery. We had a clever hostess that made up new and interesting ways to help us achieve what we wanted. I know that this ended up very twisted in the end, but that is the fun of these types of games! Lots of laughs and many more to come with our next one. Thanks so much!"
Melanie Loree, United States
"I am well known for hosting murder mystery parties but I can 100% say that Davy Jones' Locker was the best one I have ever done! I only stumbled across this game after looking for a boat themed murder mystery for our boating holiday on the Norfolk Broads, but I definitely will be purchasing one of these freeform games again! Thank you for providing a great evening, loved by all!"
Alicia Garrett, United Kingdom
"Davy Jones' Locker seemed like the best theme for my group of players… I loved it! Wouldn't change a thing."
Jamie Anderson, United Kingdom
"Many thanks for all your help. My son's 18th birthday went down superbly with the help of Davy Jones' Locker. We had about 14 attempted murders, one marriage and countless double dealing. The characters were great and the plot intricately woven – some people kept their secrets better than others, but all had a fantastic time."
Debbie Myerscough, United Kingdom
"We had a super Davy Jones' Locker evening! We have used other games before, but the consensus was that we like the creativity of the freeform format best. We will be using your games again."
Doug Phillips, Utah, United States
"We just played Davy Jones' Locker. We had a blast with this game. We have been playing the murder mystery games for a year now. We just finished all of another author's games. I have been looking for more games like hers. YOU FIT THE BILL. Thank you. Our group consists 4 couples and 2–5 teens. We have a murder a month. We loved Davy Jones' Locker. We had to play a couple of DUDS before we found you. I am so glad we kept looking. Don't stop writing them."
Nora Francis, United States
"We played Davy Jones' Locker last weekend and had a blast! This is the eighth game I've played, and with a variety of groups of people, and this was as much fun as ever! This was a new group of people and at first they seemed a bit overwhelmed, but once I pointed them toward the "tips for beginners" and encouraged them to use their ability cards, the game took off. Right away people were making deals and deceiving one another. No one wanted the boat to land (well, except the person who got thrown overboard, but that was at the last minute…)"
Jess Cox, United States
---
If you would like to tell us how your party went, please click here to send us your story.
Davy Jones' Locker – a murder mystery party game with a pirate setting for 10 to 15 guests
"Now that we've tried a freeform game, we'll never host another type of mystery dinner party! Six months later, our guests are still talking about what a fantastic time they had with Davy Jones' Locker."
Amy D., United States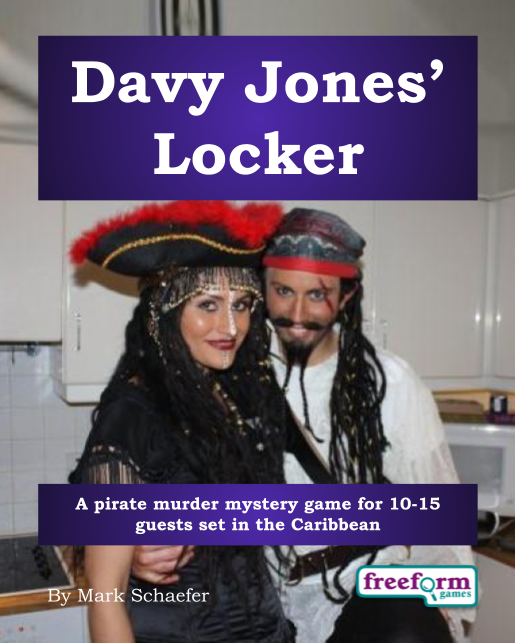 Recommended for ages 15+
Costs US$29.99
Written by Mark Schaefer
Click here to buy the game
Davy Jones' Locker is a murder mystery party game for 10 to 15 guests and a host – download the free introductory pdf file.
Note that while Davy Jones' Locker doesn't start with a murder to solve, it's likely that murders may be committed during the party!
Join us in a thrilling evening of intrigue, double-dealing, mysterious powers and murder. You will be in the middle of the action and it will be up to you to wheel and deal with the other guests. Can you achieve your goals, keep your secrets hidden and survive Davy Jones' Locker? It's up to you.
Davy Jones' Locker
It is 1785, and the Caribbean is a hotbed of violence, treachery, the occult and, of course, piracy. Tortuga, an island off the north coast of Haiti, is home not only to peaceful plantations, but also to thieves, gypsies, scavengers, voodoo queens and grave robbers. Tortuga is also a pirate stronghold and a frequent port-of-call for the most feared pirates in the Caribbean.
Abel "Blackheart" Read, the Caribbean's most nefarious pirate, had wrought havoc for many years throughout the region – but now his reign of terror is over. First, Blackheart and the Pegasus, his ship, was captured a month ago -- and then two weeks ago Blackheart's second-in-command, Calico Jack, ran his ship (the Orion) aground off Tortuga's rocky north coast. With these two pirates (and their ships) out of business, the waters of the Caribbean are much safer.
They have also created a power vacuum in the pirate world – one that will no doubt be filled before too long.
Tonight, the Libra, a retired warship converted for commercial use, departs from Tortuga on its journey to St. Augustine, Florida. For some of its passengers, this will prove to be a profitable journey. For others, Tortuga may be the last dry land they ever see...
In Davy Jones' Locker, the course of this fateful journey will be played out over the course of a single evening. There are, among the passengers and crew, an ex-pirate, a gypsy, and a nun. However, not everyone is who, or what, they seem. Some (well, all) of those on board have mysterious secrets and will do anything to prevent them from being revealed.
See stories and pictures
from Davy Jones' Locker Read the
Tortuga Gazette
Davy Jones' Locker lasts for about four hours and is suited to an evening. It is often played over a meal – a finger buffet if possible to allow guests to circulate and talk in private.
"Davy Jones' Locker was fantastic. All the scheming and backstabbing made for a great time. A great night was had by all!"
Kimberley Retschlag, Australia
The free introductory pdf file contains an introduction to the game, a cast list of all the characters, and a copy of the Tortuga Gazette – plus details of how to buy the game.
| | | | |
| --- | --- | --- | --- |
| | Includes rules for combat. | | Does not start with a murder that needs solving. |
These are the characters in Davy Jones' Locker:
Captain Hargrave – Captain of the Libra – formal, proper and straight-laced.
Darrell Sims – A plantation manager.
Dirty Dana – An opium dealer.
Drunken Willie – A Tortugan drunk.
Esmerelda – A flamboyant gypsy.
First Officer Cook – The Libra's First Officer, and Captain Hargrave's loyal aide.
Jean La Croix – A retired French Naval officer.
Maggie Brown – A young Tortugan woman.
Mambo Faith – A poor Tortugan woman.
Rummy Ike – A sailor.
Rusty Mike – A ruthless bounty hunter wearing an eye-patch.
Saucy Sue – A Tortugan wench.
Shanks McCaffee – A Tortugan cook.
Sister Agnes – A nun.
Slippery Pete – A grizzled ex-pirate and seaman.
Number of
guests
Male
characters
Female
characters
Ungendered
characters
10
5
3
2
11
5
4
2
12
6
4
2
13
6
5
2
14
6
5
3
15
6
5
4
How Freeform Games Murder Mysteries Work
Davy Jones' Locker is unlike many murder mystery games. This game, unlike most of our mysteries, doesn't start with a murder. However, by the end of the journey it is unlikely that everyone will survive!
Davy Jones' Locker is played just like a murder mystery game. You may be trying to solve the murder, but primarily you are (initially at least) concentrating on your own goals and objectives. Unlike most boxed murder mystery games, Davy Jones' Locker lets you decide how to achieve your goals and thwart your enemies.
"Everyone really enjoyed Davy Jones' Locker – they commented that it was so different from other murder mysteries they've played, and it was much better than they were expecting after previous experiences with scripted games."
Jennifer Stout, United Kingdom
On the evening of the game the guests are met by the organizer, the Deckhand, and welcomed aboard the Libra. They then receive their detailed backgrounds - including dark secrets, objectives and money. The fun then begins as they form alliances, blackmail each other, steal items and maybe even try to murder one another! Along the way they may uncover some of the mysteries of Davy Jones' Locker. Who was responsible for Blackheart's capture? Who really wrecked the Orion? Will the Montenegro curse be broken? And perhaps most importantly of all, who will find Blackheart's treasure? Depending on what the players choose to do, there are several different possible endings, but finally everyone finds out how they did, and what secrets everyone else was concealing.
Recommended for ages 15+
We recommend Davy Jones' Locker for those aged 15+ as it contains the following themes: plot about elopement, reference to voodoo and gypsy magic.
Extra characters
Sometimes you have too many guests and you need more characters. So we've written a free extra character for each of our games that you can add in, and some of our customers have created their own characters for their parties and are kindly willing to share them.
'Ginger' Roberts – freelance reporter in search of the Big Story. (Any)
(by Freeform Games)
Bonnie Jones – Captain Hargrave's fancy-woman (F)
(by James Cameron)
Bow-Legged Bill – Ex-Royal Navy sailor. (M)
(by James Cameron)
Luz Castillo – Stowaway aboard the Libra. (Any)
(by Lisa Perez)
Misty Raynes – Tortugan seamstress (F)
(by James Cameron)
Please note that we haven't always tested these – and they may not tie in exactly with our games.
IMPORTANT – if you've bought the game, you can download the files for these characters from the download page where you got your main game files. Contact us if you need the link and password to get back to that page.
ALSO IMPORTANT – you shouldn't add too many of these characters in to your game as they haven't been designed to work together (unlike the main game characters). If you add in several, they may make your game chaotic and incoherent. You should probably instead choose a larger game. If you still want to add several extra characters (four or more), we recommend having an extra host to help.
Purchasing Davy Jones' Locker
Davy Jones' Locker costs US $29.99. You can buy it from anywhere in the world. The price will be converted back into your own currency for you, at today's exchange rate.
IMPORTANT: please be aware that you are buying a game to download from our website, not a boxed game that we will send you in the mail.
After completing your purchase on PayPal, you'll be brought back to this website.

Don't close the PayPal tab, or navigate away!

PayPal might take some time to send you back here: please be patient. Buy

Davy Jones' Locker for $29.99
Our payments are usually handled by PayPal, but you don't have to have a PayPal account to buy this game. If you prefer, you can just buy it with your credit or debit card in the normal way. You'll see that option when you click the button above.

IMPORTANT: if PayPal isn't working for you, or if you'd prefer not to use it, we have an alternative payment method – just click here to get payment buttons where you can pay directly with your card. These prices are in UK£.
"Thank you for a great site, fantastic games, good service and very quick reply. Keep up the good work." Ole Martin Brodwall, Norway
Cast Iron Guarantee
We offer a Cast Iron Guarantee on all our murder mystery games. If you're not completely satisfied with Davy Jones' Locker then please let us know within 30 days and we will refund you. See our full terms and conditions here.
Trouble downloading? If you have trouble downloading the game files, please first check your spam folder. If you still can't find the download email, drop us a line at info@freeformgames.com with the name of the game and the email address you used to purchase it, and we'll resend it.
Use the form below to contact us via Facebook (your query comment won't appear on Facebook itself unless you choose for it to). Please don't use this for download queries as we can't always match your Facebook profile with the email you used to buy the game.