Death in Venice – a present-day murder mystery party game with a film-festival setting for 5 to 9 people where the host can play too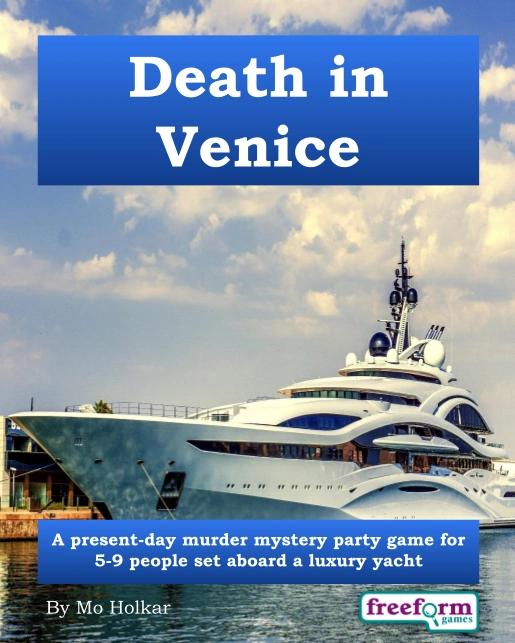 Recommended for ages 15+
Costs US$29.99
Written by Mo Holkar
Click here to buy the game
Death in Venice is a murder mystery party game for 5 to 9 people including a host – download the free introductory pdf file.
THE HOST CAN PLAY TOO! – this murder mystery game has been specially designed so that the host can play a character investigating the murder, just like everyone else, if they wish to do so. And it's great for playing online, too!
Join us in an evening of film-festival fury, movie-making misbehavior, and murder. You will be in the middle of the action and it will be up to you to wheel and deal with the other guests. Can you achieve your goals, keep your secrets hidden and survive Death in Venice? It's up to you.
Death in Venice
Last night at the glamorous Venice Film Festival, controversial director Clay McFarland picked up the prestigious Golden Lion award for this season's hit movie Never Look Back. But this morning, he was found lying in front of St Mark's Cathedral – hacked to death with a meat cleaver.
The stars of the movie and some of their guests supposedly spent the night sleeping off the effects of the post-awards party, on the Casanova, their luxury yacht moored in the marina – but it seems that someone was up to no good. Traces of McFarland's blood found on the Casanova's dinghy mean that police are confident that the culprit is one of those who are now confined aboard the yacht.
As cathedral bells toll out across the ancient city, on board the Casanova a frothy ferment of vineyards, memoirs, gossip, jealousy, and movie-set punch-ups will come to the boil.
Charge your glasses, put on your designer sunglasses, and join the cast and crew of Never Look Back as they try to solve the mystery of Death in Venice!
See stories and pictures
from Death in Venice Read the
Celebrity Online
Death in Venice lasts for about four hours and is suited to an evening. It is often played over a meal – a finger buffet if possible to allow guests to circulate and talk in private. And it can also easily be played online using video chat – such as Google Chats, Skype, Discord, Zoom or similar.
The free introductory pdf file contains an introduction to the game, a cast list of all the characters, and a copy of the Celebrity Online – plus details of how to buy the game.
| | | | |
| --- | --- | --- | --- |
| | No combat, no poison. | | The host can either play one of the characters or can just be the host, as they prefer. |
These are the characters in Death in Venice:
From Never Look Back
Daniel Setters: The star of Never Look Back—a strong and soulful leading man who mingles tough with tender.
JJ Kowalski: Expert film editor, responsible for the narrative thrust of Never Look Back.
Mary-Lou Sinclair: The other star of Never Look Back, a skilled and versatile leading lady renowned for her ability to express subdued emotion.
Tindall Nobbs: Supporting actor in Never Look Back, famous for a friendly and approachable demeanor.
Visitors and guests
Célestine de Vincennes: Decadent French minor aristocrat, reputed to be fabulously wealthy.
Courtney Keller: Personal assistant to Landor Hammond. Always seems to be rather busy.
Cruz Vicente: Journalist covering celebrity material for the Celebrity Online website.
Landor Hammond: Tech mogul responsible for a string of online businesses, and owner of the Casanova.
Lyra Spark: Hugely successful pop star, currently thought to be trying to develop a side career as an actor.
Number of
guests
Male
characters
Female
characters
Ungendered
characters
5
2
2
1
6
2
2
2
7
2
2
3
8
2
2
4
9
2
2
5
How Freeform Games Murder Mysteries Work
Death in Venice is unlike many murder mystery games. Although the game starts with a murder, most of the characters have more important things to do than to investigate it.
Death in Venice is played just like a murder mystery game. You may be trying to solve the murder, but primarily you are (initially at least) concentrating on your own goals and objectives. Unlike most boxed murder mystery games, Death in Venice lets you decide how to achieve your goals and thwart your enemies.
On the evening of the game the guests are met by the organizer, the Chief Steward, and welcomed to the Casanova. They each have their detailed backgrounds – including dark secrets and personal objectives. The fun then begins as they form alliances, blackmail each other, lie, cheat, and deceive! Along the way they may uncover some of the mysteries of Death in Venice. Who punched who on the set of Never Look Back, and why? Who is The Child in the Sailor Suit, and who will play their parents? And, of course, who is the murderer of Clay McFarland? Depending on what the players choose to do, there are several different possible endings, but finally everyone finds out how they did, and what secrets everyone else was concealing.
And the host can play too! Unlike most of our other games, the host can also play a character in Death in Venice. We've provided a version of the game that means that the host can play – just be careful not to read the files before you start playing. (And if you want to host the game without playing a character, you can do that as well.)
Recommended for ages 15+
We recommend Death in Venice for those aged 15+, as it contains the following themes: potential for romance and dating.
Extra characters
Sometimes you have too many guests and you need more characters. So we've written a free extra character for each of our games that you can add in, and some of our customers have created their own characters for their parties and are kindly willing to share them. They are included in your download when you purchase the game.
Alessi Enorme – Venetian celebrity chef (Any)
(by John Mulheren)
Please note that we haven't always tested these – and they may not tie in exactly with our games.
Purchasing Death in Venice
Death in Venice costs US $29.99. You can buy it from anywhere in the world. The price will be converted back into your own currency for you, at today's exchange rate.
IMPORTANT: please be aware that you are buying a game to download from our website, not a boxed game that we will send you in the mail.
After completing your purchase on PayPal, you'll be brought back to this website.

Don't close the PayPal tab, or navigate away!

PayPal might take some time to send you back here: please be patient. Buy

Death in Venice for $29.99
Our payments are usually handled by PayPal, but you don't have to have a PayPal account to buy this game. If you prefer, you can just buy it with your credit or debit card in the normal way. You'll see that option when you click the button above.

IMPORTANT: if PayPal isn't working for you, or if you'd prefer not to use it, we have an alternative payment method – just click here to get payment buttons where you can pay directly with your card. These prices are in UK£.
"Thank you for a great site, fantastic games, good service and very quick reply. Keep up the good work." Ole Martin Brodwall, Norway
Cast Iron Guarantee
We offer a Cast Iron Guarantee on all our murder mystery games. If you're not completely satisfied with Death in Venice then please let us know within 30 days and we will refund you. See our full terms and conditions here.
Trouble downloading? If you have trouble downloading the game files, please first check your spam folder. If you still can't find the download email, drop us a line at info@freeformgames.com with the name of the game and the email address you used to purchase it, and we'll resend it.
Use the form below to contact us via Facebook (your query comment won't appear on Facebook itself unless you choose for it to). Please don't use this for download queries as we can't always match your Facebook profile with the email you used to buy the game.