Click here to buy the game
Here's what people have been saying about Lord and Lady Westing's Will:
"We played Lord and Lady Westing's Will for my husband's 40th birthday just after New Year's, and had an absolute blast! We decided to make it a steampunk theme to encourage some creativity with costumes because why no? Also a hot air balloon accident and submarine plans mystery sounded like a perfect steampunk story so we put candles and old books and few other themed decorations around the house. The thing was that it was a very dark and stormy night and the power went out half an hour before everyone arrived! So it was very atmospheric to have the party by candle and lantern light. Thankfully the food was all finger food and already prepared!
Some guests went all out in their costumes and in the dark it made everyone seem very mysterious! When the power did come back on, we ended up turning out most of the lights again because it was so much more fun.
Everyone left the evening laughing and having had a great time, with several couple saying they were now going to plan a mystery party for their birthdays!
Your game was well laid out and easy to prepare – my only regret is not reading through all the materials sooner as host. There is a lot to digest and I would have stumbled over my guests questions a little less. But we were all winging it and had a great time. We will definitely be choosing your party games again!"
Maggie Van Seters, Canada
"My third time as a host of a game, but with a group of players who'd never tried a freeform game before (though a couple of role players). Organization was easy and we got a great location to play in… a old convent's sitting room and parlour. Everyone by the end had thrown themselves into their roles, several characters got away with what they needed rather splendidly, while others who were thwarted were keen to try again at some point soon… now they see how it worked they felt they'd have a better understanding of how to approach their goals.
Everyone got into the swing of things after a few minutes of not really knowing who to talk too at first. My job was pretty easy, though active with many people doing searches of the 'mansion' and several questions on what they could or couldn't do…
Everything provided was easy to use, and make it go smoothly. Couple of minor layout changes on the clue/secrets/abilities would probably help for the mechanics of the game itself, but these are minor quibbles. "
Chris Rudram, Canada
"What a fun afternoon :-) We made the decision a little late to host a Murder Mystery for my birthday this year.
My partner very generously agreed to host the game so that I could play. He had never participated in a Murder Mystery before and was not entirely prepared for the volume of work hosting entailed, but he took to it like a pro and set the tone from the start with his invitation.
We had a mix of experienced and inexperienced participants which meant that some were tentative to speak to each other and try out their abilities and others figured out how to get ahead really quickly. This didn't matter, eventually everyone got into character and after some great twists to the tale things got particularly interesting towards the end!
I highly recommend Lord and Lady Westing's Will. We used all of the characters including the bonus character.
We played in the afternoon not the evening. We hosted the event at home and served a finger feast with lots of beer and wine and whisky which worked really well.
Everyone had an awesome time – thanks for a great game."
Tonia Jackson, South Africa
"I hosted Lord and Lady Westing's Will for my son's 17th birthday and it was a fabulous evening! I bought the game just 3 days before the party, and that is definitely not recommended, especially if you are the host and having a sit down dinner also. (Pizza next time, but my son thought it would be fun to gather everyone together to try to spy on each other.) It is very important to have a comfort level with the material, as there is a lot going on, so you do need time to study everything.
The kids were very enthusiastic: they thrift-stored for their vintage looks, stayed in character to the end, lied and connived like champs, built alliances, and were very patient when I had to fumble through the pages of my notes. When all the item cards were out and about, it made for very spirited play. There were bodies all over the place! They are all ready for another game as soon as possible, and another parent is looking forward to trying his hand as host in a couple of months. I am so glad to have found Freeform Games. The story and characters were all very interesting and diverse and it was great fun for the guests to be the characters with their hilarious "accents," instead of following a script. Bravo Freeform and thank you! Our only problem now is which mystery to try next. "
Melani O'Brien, United States
---
If you would like to tell us how your party went, please click here to send us your story.
Lord and Lady Westing's Will – a 1930s murder mystery party game with an aristocratic setting for 11 to 16 guests
"I wanted to say how much I loved Lord and Lady Westing's will. It was quite complicated but still lots of fun. My guests and I will be way more prepared and excited for next time! Thanks again!"
Sam Wright, United Kingdom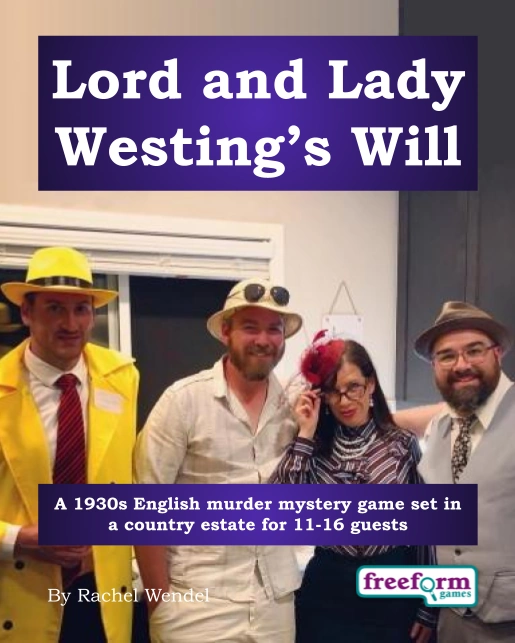 Recommended for ages 15+
Costs US$29.99
Written by Rachel Wendel
Click here to buy the game
Lord and Lady Westing's Will is a murder mystery party game for 11 to 16 guests and a host – download the free introductory pdf file.
Join us in an impeccably suave evening of suspicion, double-dealing and murder. You will be in the middle of the action and it will be up to you to wheel and deal with the other guests. Can you achieve your goals, keep your secrets hidden and survive Lord and Lady Westing's Will? It's up to you.
Lord and Lady Westing's Will
Lord and Lady Westing's Will is set in 1935, at Chateauhouse in Derbyshire, England: the country estate of the wealthy and influential Lord and Lady Westing.
Lord and Lady Westing have died in a tragic hot-air balloon accident. You have been invited to a celebration of their life and legacy. It will be a day of celebration and gaiety (and possibly great reward!) The year is 1935 and there are rumblings of war across Europe. The Great War is still fresh in people's memory. Times are lean and Germany is looking more militant by the day. The tragic death of this charming and exciting couple only further darkens the mood of the country.
But there are hints that not all is as it seems. Why did the Westings arrange this unusual party to read their will? Why did they invite crime-solvers as well as some of Europe's and America's more notorious personalities? Was their death truly an accident? – or is something more sinister in the wind?
See stories and pictures
from Lord and Lady Westing's Will Read the
News Clippings
Lord and Lady Westing's Will lasts for about four hours and is suited to an evening. It is often played over a meal – a finger buffet if possible to allow guests to circulate and talk in private.
The free introductory pdf file contains an introduction to the game, a cast list of all the characters, and a copy of the News Clippings – plus details of how to buy the game.
| | | | |
| --- | --- | --- | --- |
| | Includes rules for the use of poison. | | Includes rules for combat. |
These are the characters in Lord and Lady Westing's Will:
Ethel Collins: Lord and Lady Westing's cook
Alex Harper: flighty socialite
Georgie King: wealthy American big game hunter
Max Kuchler: powerful Swiss arms manufacturer
Francesca Marcuzzi: elegant Italian viscountess and widow
Jack McGritt: grizzled, no-nonsense American private investigator
Marion Miles: world-renowned mystery writer, creator of the Dash Hamlet and Agnetha Mistie novels
Frank Norris: Lord and Lady Westings' gamekeeper
Camille Perroquet: famous French private investigator
William Smyth: Lord and Lady Westings' loyal lawyer
Grace Stevens: charming and youthful American heiress
Superintendent Charles Stone: respected and solid officer of the Metropolitan Police
Natalya Sudakova: talented ballerina from the Soviet Union
Helen Trout: middle-class London shopkeeper
Lord Jimmy Vaughn: charming and frivolous second son of a Duke
Morgan Vay: well-known German hypnotist and psychologist
Number of
guests
Male
characters
Female
characters
Ungendered
characters
11
4
3
4
12
4
4
4
13
4
4
5
14
4
4
6
15
5
4
6
16
6
5
5
How Freeform Games Murder Mysteries Work
Lord and Lady Westing's Will is unlike many murder mystery games. Although the game starts with a murder, some of the characters have more important things to do than to investigate it. And the killing may not be over – it's not certain that everyone will survive the remainder of the evening!
Lord and Lady Westing's Will is played just like a murder mystery game. You may be trying to solve the murder, but primarily you are (initially at least) concentrating on your own goals and objectives. Unlike most boxed murder mystery games, Lord and Lady Westing's Will lets you decide how to achieve your goals and thwart your enemies.
On the evening of the game the guests are met by the organizer, the Westings' butler/housekeeper, and welcomed to Chateauhouse. They then receive their detailed backgrounds – including dark secrets, objectives and money. The fun then begins as they form alliances, blackmail each other, steal items and maybe even try to attack one another! Depending on what the players choose to do, there are several different possible endings, but finally everyone finds out how they did, and what secrets everyone else was concealing.
Recommended for ages 15+
We recommend Lord and Lady Westing's Will for those aged 15+, as it contains the following themes: references to flirtation and a playboy lifestyle.
Extra characters
Sometimes you have too many guests and you need more characters. So we've written a free extra character for each of our games that you can add in, and some of our customers have created their own characters for their parties and are kindly willing to share them. They are included in your download when you purchase the game.
'Ginger' Roberts – freelance reporter in search of the Big Story. (Any)
(by Freeform Games)
Sam Doubloon – collector of antiquities (Any)
(by Freeform Games)
Please note that we haven't always tested these – and they may not tie in exactly with our games.
Purchasing Lord and Lady Westing's Will
Lord and Lady Westing's Will costs US $29.99. You can buy it from anywhere in the world. The price will be converted back into your own currency for you, at today's exchange rate.
IMPORTANT: please be aware that you are buying a game to download from our website, not a boxed game that we will send you in the mail.
After completing your purchase on PayPal, you'll be brought back to this website.

Don't close the PayPal tab, or navigate away!

PayPal might take some time to send you back here: please be patient. Buy

Lord and Lady Westing's Will for $29.99
Our payments are usually handled by PayPal, but you don't have to have a PayPal account to buy this game. If you prefer, you can just buy it with your credit or debit card in the normal way. You'll see that option when you click the button above.

IMPORTANT: if PayPal isn't working for you, or if you'd prefer not to use it, we have an alternative payment method – just click here to get payment buttons where you can pay directly with your card. These prices are in UK£.
"Thank you for a great site, fantastic games, good service and very quick reply. Keep up the good work." Ole Martin Brodwall, Norway
Cast Iron Guarantee
We offer a Cast Iron Guarantee on all our murder mystery games. If you're not completely satisfied with Lord and Lady Westing's Will then please let us know within 30 days and we will refund you. See our full terms and conditions here.
Trouble downloading? If you have trouble downloading the game files, please first check your spam folder. If you still can't find the download email, drop us a line at info@freeformgames.com with the name of the game and the email address you used to purchase it, and we'll resend it.
Use the form below to contact us via Facebook (your query comment won't appear on Facebook itself unless you choose for it to). Please don't use this for download queries as we can't always match your Facebook profile with the email you used to buy the game.