Murder on the Dancefloor – a 1950s murder mystery party game with a diner dance-off setting for 14 to 20 guests
"Everything about the game was great!"
Julie (playtester), United Kingdom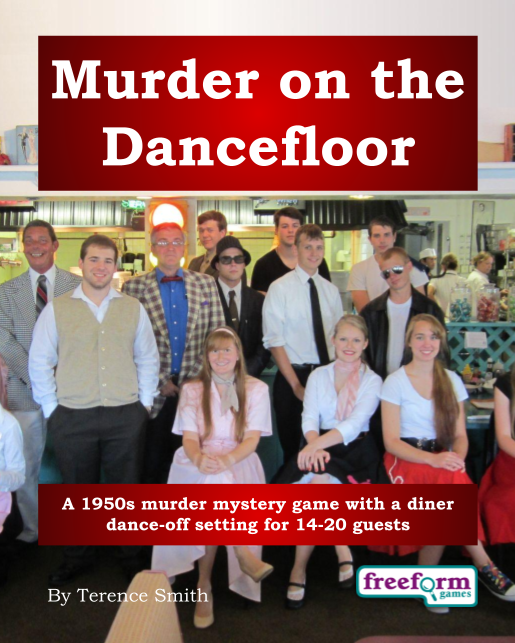 Recommended for ages 15+
Costs US$39.99
Written by Terence Smith
Click here to buy the game
Murder on the Dancefloor is a murder mystery party game for 14 to 20 guests and one or two hosts – download the free introductory pdf file.
Join us in a thrilling evening of suspicion, double-dealing and murder. You will be in the middle of the action and it will be up to you to wheel and deal with the other guests. Can you achieve your goals, keep your secrets hidden and survive Murder on the Dancefloor? It's up to you.
Murder on the Dancefloor
It's the 1950s, small-town USA: and tonight Flo's Diner is the place to be. It's the most popular place in town, and the local hangout for teens and adults alike. Neon lights flash out front, the checkered dancefloor sparkles inside, and the seats are polished to perfection.
Tonight the diner is set to host the town's annual Dance-off competition. Famous celebrities have arrived at the event to help judge, while many keen locals and newcomers wish to participate. As the sun sets in the sky, the diner fills with people and the night begins. The dancefloor is flashing, milkshakes and burgers are being served constantly, and there's a great vibe of enthusiasm.
But suddenly a terrifying scream echoes throughout the diner, causing panic! Local bad-boy, Ricky Johnson has been found dead in the male restroom by his best friend, Mikey Reed. Mikey found Ricky on the bathroom floor, with a fatal knife wound to his chest.
With the local police officer already at the diner, everyone is told to remain on the premises. Detective Hudson has ordered all exits and entrances to the building locked until further notice. In an effort to not completely destroy the night, however, Flo has arranged for the Dance-off to carry on as normal.
With the Dance-off only an hour away, and Ricky's killer unknown, many mysteries hang in the air: so just who did commit Murder on the Dancefloor?
See stories and pictures
from Murder on the Dancefloor Read the
Weekly Herald
Murder on the Dancefloor lasts for about four hours and is suited to an evening. It is often played over a meal – a finger buffet if possible to allow guests to circulate and talk in private.
"Lots to do, very clear, very enjoyable! I liked the way everyone has a list of things to achieve."
Angela (playtester), United Kingdom
The free introductory pdf file contains an introduction to the game, a cast list of all the characters, and a copy of the Weekly Herald – plus details of how to buy the game.
| | |
| --- | --- |
| | Includes rules for combat. |
These are the characters in Murder on the Dancefloor:
Bailey Higgins – Flo's only child
Becky Johnson – Younger sister of Ricky Johnson, butter wouldn't melt in her mouth
Bernie Reese – The Diner's chef
Clare Simpson – Hardworking waitress at Flo's Diner
Corey Rogers – Youngest and newest member of Ricky's gang
Crystal Reed – Local greaser girl
Dallas Anthony – Local business tycoon
Detective Hudson – Local law enforcer
Dr Peter Hodge – Local physician and protective husband of Penny Hodge
Eric Anthony – Competitive reigning champion of the Dance-off with Sally, younger brother of Dallas
Flo Higgins – Single mother and owner of Flo's Diner
Jamie Shephard – Worker at Flo's Diner
Joseph Marks – Local greaser and enemy of Ricky Johnson
Mel Rivers – Famous singer in town to judge the Dance-off
Mikey Reed – Ricky's dashing best friend, and twin brother of Crystal
Pat Larvis – Janitor at Flo's Diner
Penny Hodge – Local respectable citizen
Percy Wilson – A traveler passing through Flo's Diner
Sally Larvis – Reigning champion of the Dance-off with Eric and daughter of Pat
Steven Starling – Famous TV personality in town to judge the local Dance-off
Number of
guests
Male
characters
Female
characters
Ungendered
characters
14
5
6
3
15
5
6
4
16
5
6
5
17
5
6
6
18
5
6
7
19
6
6
7
20
6
6
8
How Freeform Games Murder Mysteries Work
Murder on the Dancefloor is unlike many murder mystery games. Although the game starts with a murder, most of the characters have more important things to do than to investigate it. And the killing may not be over – it is unlikely that everyone will survive the remainder of the evening!
Murder on the Dancefloor is played just like a murder mystery game. You may be trying to solve the murder, but primarily you are (initially at least) concentrating on your own goals and objectives. Unlike most boxed murder mystery games, Murder on the Dancefloor lets you decide how to achieve your goals and thwart your enemies.
"The evening was a huge success: I loved the theme and the whole game!"
Elaine (playtest host), United Kingdom
On the evening of the game the guests are met by the organizer, the Diner Manager, and welcomed to Flo's Diner.
They then receive their detailed backgrounds – including dark secrets, objectives and money. The fun then begins as they form alliances, blackmail each other, steal items and maybe even try to murder one another! Along the way they may uncover some of the mysteries of Murder on the Dancefloor. Who is Bailey Higgins's father? Who attacked Penny Hodge? Who broke into the diner's safe, and who is the agent of a gas company? And, of course, who killed Ricky Johnson?
Depending on what the players choose to do, there are several different possible endings, but finally everyone finds out how they did, and what secrets everyone else was concealing.
Recommended for ages 15+
We recommend Murder on the Dancefloor for those aged 15+ as it contains the following themes: teen romance, gang fights, and a teen pregnancy.
Extra characters
Sometimes you have too many guests and you need more characters. So we've written a free extra character for each of our games that you can add in, and some of our customers have created their own characters for their parties and are kindly willing to share them.
'Ginger' Roberts – freelance reporter in search of the Big Story. (Any)
(by Freeform Games)
Please note that we haven't always tested these – and they may not tie in exactly with our games.
IMPORTANT – if you've bought the game, you can download the files for these characters from the download page where you got your main game files. Contact us if you need the link and password to get back to that page.
Purchasing Murder on the Dancefloor
Murder on the Dancefloor costs US $39.99. You can buy it from anywhere in the world. The price will be converted back into your own currency for you, at today's exchange rate.
IMPORTANT: please be aware that you are buying a game to download from our website, not a boxed game that we will send you in the mail.
After completing your purchase on PayPal, you'll be brought back to this website.

Don't close the PayPal tab, or navigate away!

PayPal might take some time to send you back here: please be patient. Buy

Murder on the Dancefloor for $39.99
Our payments are usually handled by PayPal, but you don't have to have a PayPal account to buy this game. If you prefer, you can just buy it with your credit or debit card in the normal way. You'll see that option when you click the button above.

IMPORTANT: if PayPal isn't working for you, or if you'd prefer not to use it, we have an alternative payment method – just click here to get payment buttons where you can pay directly with your card. These prices are in UK£.
"Thank you for a great site, fantastic games, good service and very quick reply. Keep up the good work." Ole Martin Brodwall, Norway
Cast Iron Guarantee
We offer a Cast Iron Guarantee on all our murder mystery games. If you're not completely satisfied with Murder on the Dancefloor then please let us know within 30 days and we will refund you. See our full terms and conditions here.
Trouble downloading? If you have trouble downloading the game files, please first check your spam folder. If you still can't find the download email, drop us a line at info@freeformgames.com with the name of the game and the email address you used to purchase it, and we'll resend it.
Use the form below to contact us via Facebook (your query comment won't appear on Facebook itself unless you choose for it to). Please don't use this for download queries as we can't always match your Facebook profile with the email you used to buy the game.