Reunion with Death – a present-day murder mystery party game with a high-school reunion setting for 6 to 9 people where the host can play too
"I thought everything about Reunion with Death was great! The interwoven storylines were good, I liked the clues and the slow release of information throughout the evening."
Cerys ,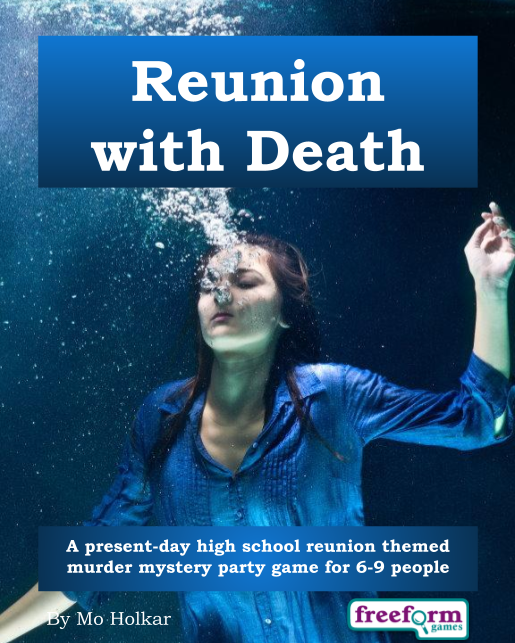 Recommended for ages 18+
Costs US$29.99
Written by Mo Holkar
Click here to buy the game
Reunion with Death is a murder mystery party game for 6 to 9 people including a host – download the free introductory pdf file.
THE HOST CAN PLAY TOO! – this murder mystery game has been specially designed so that the host can play a character investigating the murder, just like everyone else, if they wish to do so. And it's great for playing online, too!
Join us in an evening of high-school grudges, present-day rivalries, and murder. You will be in the middle of the action and it will be up to you to wheel and deal with the other guests. Can you achieve your goals, keep your secrets hidden and survive Reunion with Death? It's up to you.
Reunion with Death
A 15-year high-school reunion, in smallish-town America. Former students are gathering in the town's main hotel, ahead of the big party tonight. But one of them, former prom queen Mikolette Lukanis, has been found murdered!
Everyone is locked in together in the hotel ballroom where the gala was to have taken place, pending a full police investigation. High-school rivalries will re-emerge, old grudges and secrets will surface: along with a heady mix of present-day envy, betrayal, and lust.
Get out your glad rags, consult your old high-school yearbook, head for the complementary bar, and join the alumni of Holborrow High as they prepare for their Reunion with Death!
See stories and pictures
from Reunion with Death Read the
Holborrow Courier-Bugle
Reunion with Death lasts for about four hours and is suited to an evening. It is often played over a meal – a finger buffet if possible to allow guests to circulate and talk in private. And it can also easily be played online using video chat – such as Google Chats, Skype, Discord, Zoom or similar.
"I have hosted at least 8 in-person Freeformgames murder mystery parties, so I was excited to do a virtual one for once!… The game was SO fun! Everyone had a great time, and is still talking to me and each other about it!… Overall, I am VERY satisfied, and they all keep asking me when the next one will be!"
Rob Newbold, United States
The free introductory pdf file contains an introduction to the game, a cast list of all the characters, and a copy of the Holborrow Courier-Bugle – plus details of how to buy the game.
| | | | |
| --- | --- | --- | --- |
| | No combat, no poison. | | The host can either play one of the characters or can just be the host, as they prefer. |
These are the characters in Reunion with Death:
Charles Masinga – Former high-school-band member, now a professional musician
Damian Lukanis – Former chess club captain, married to Mikolette Lukanis, now an architect
Elizabeth Rondel – Former library monitor, now a police officer
Frieda Gilbert – Former 'nice girl', now a beautician
Jay Fitzgerald – Dropped out of high school, now a software developer
Ross Tallowah – Former swim team star, now runs a café
Rowan Silverberg – Former grade-A student, inherited money and now a dilettante
Suzanne Cardigan – Former goth outsider, now a journalist
Taylor Michaels – Former science whiz, now cares for elderly parents
Number of
guests
Male
characters
Female
characters
Ungendered
characters
6
2
2
2
7
2
2
3
8
3
3
2
9
3
3
3
How Freeform Games Murder Mysteries Work
Reunion with Death is unlike many murder mystery games. Although the game starts with a murder, most of the characters have more important things to do than to investigate it.
Reunion with Death is played just like a murder mystery game. You may be trying to solve the murder, but primarily you are (initially at least) concentrating on your own goals and objectives. Unlike most boxed murder mystery games, Reunion with Death lets you decide how to achieve your goals and thwart your enemies.
"We've played Reunion with Death twice – I hosted for some of our regulars and for my daughter and her friends (800 miles north of us). It was well received by both groups."
Mark Rickert, United States
On the evening of the game the guests are met by the organizer, the Hotel Manager, and welcomed to the Sturner Palace Hotel. They each have their detailed backgrounds – including dark secrets and personal objectives. The fun then begins as they form alliances, blackmail each other, lie, cheat, and deceive! Along the way they may uncover some of the mysteries of Reunion with Death. Who is secretly a drug kingpin? How fifteen years ago, did high-school girl Marcie Matthews die? What will be the fate of local radio station KHOL? And, of course, who is the murderer of Mikolette Lukanis? Depending on what the players choose to do, there are several different possible endings, but finally everyone finds out how they did, and what secrets everyone else was concealing.
And the host can play too! Unlike most of our other games, the host can also play a character in Reunion with Death. We've provided a version of the game that means that the host can play – just be careful not to read the files before you start playing. (And if you want to host the game without playing a character, you can do that as well.)
Recommended for ages 18+
We recommend Reunion with Death for those aged 18+ as it contains the following themes: references to drug use, extra-marital affairs, and homosexuality.
Extra characters
Sometimes you have too many guests and you need more characters. So we've written a free extra character for each of our games that you can add in, and some of our customers have created their own characters for their parties and are kindly willing to share them.
Parker Biggins – tobacco shop owner from a nearby town (Any)
(by John Mulheren)
Please note that we haven't always tested these – and they may not tie in exactly with our games.
IMPORTANT – if you've bought the game, you can download the files for these characters from the download page where you got your main game files. Contact us if you need the link and password to get back to that page.
Purchasing Reunion with Death
Reunion with Death costs US $29.99. You can buy it from anywhere in the world. The price will be converted back into your own currency for you, at today's exchange rate.
IMPORTANT: please be aware that you are buying a game to download from our website, not a boxed game that we will send you in the mail.
After completing your purchase on PayPal, you'll be brought back to this website.

Don't close the PayPal tab, or navigate away!

PayPal might take some time to send you back here: please be patient. Buy

Reunion with Death for $29.99
Our payments are usually handled by PayPal, but you don't have to have a PayPal account to buy this game. If you prefer, you can just buy it with your credit or debit card in the normal way. You'll see that option when you click the button above.

IMPORTANT: if PayPal isn't working for you, or if you'd prefer not to use it, we have an alternative payment method – just click here to get payment buttons where you can pay directly with your card. These prices are in UK£.
"Thank you for a great site, fantastic games, good service and very quick reply. Keep up the good work." Ole Martin Brodwall, Norway
Cast Iron Guarantee
We offer a Cast Iron Guarantee on all our murder mystery games. If you're not completely satisfied with Reunion with Death then please let us know within 30 days and we will refund you. See our full terms and conditions here.
Trouble downloading? If you have trouble downloading the game files, please first check your spam folder. If you still can't find the download email, drop us a line at info@freeformgames.com with the name of the game and the email address you used to purchase it, and we'll resend it.
Use the form below to contact us via Facebook (your query comment won't appear on Facebook itself unless you choose for it to). Please don't use this for download queries as we can't always match your Facebook profile with the email you used to buy the game.