Spellbound – a present-day murder mystery party game with a magical setting for 13 to 17 guests
"Spellbound was an amazing game and led to a magical evening full of intrigue and betrayal and enough stories to last the rest of the weekend. Thank you so much."
Daniel Langley, United Kingdom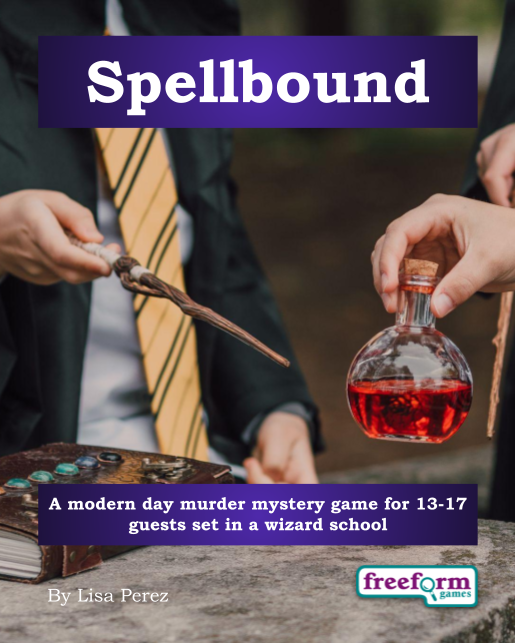 Recommended for ages 12+
Costs US$29.99
Written by Lisa Perez
Click here to buy the game
Spellbound is a murder mystery party game for 13 to 17 guests and one or two hosts – download the free introductory pdf file.
Note that Spellbound starts with a crime that is not a murder, but a theft of memory – so as to make it more appropriate for younger people.
Join us in an enchanted evening of magic, mayhem, and mystery! You will be in the middle of the action and it will be up to you to wheel and deal with the other guests. Can you achieve your goals, keep your secrets hidden and survive Spellbound? It's up to you.
Spellbound
Welcome to the Tremaine School of Magic, which is located within an ancient British castle. The castle is built at the top of a cliff and is miles from the nearest town or city. Students and Professors live in the castle during the school year, but today is the last day of school before summer break.
Last night, someone painted a red X on the Headmaster's door. This morning Professor Bennet, the Headmaster, woke up unable to remember anything. Not even his own name! Parents are convinced that the school is under some sort of magical attack, and the professors have announced that if the culprit is not caught, the school will close and will not reopen next year. Professor Riley Karlsen, the most senior teacher, is overseeing investigations. No-one may leave the school grounds before the end of the school day. Anyone caught doing so will be presumed guilty and detained for questioning.
Even with all of that going on, today is still the dreaded day of finals. Each professor will give an exam and grade the students' performance, and a full scholarship will be awarded to the student with the highest grades.
Let's hope the students' memories are working better than the unfortunate Professor Bennet's!
See stories and pictures
from Spellbound Read the
Sorcerer's Scoop
Spellbound lasts for about four hours and is suited to an evening. It is often played over a meal – a finger buffet if possible to allow guests to circulate and talk in private.
The free introductory pdf file contains an introduction to the game, a cast list of all the characters, and a copy of the Sorcerer's Scoop – plus details of how to buy the game.
| | | | | | |
| --- | --- | --- | --- | --- | --- |
| | Includes rules for the use of poison. | | Includes rules for combat. | | Does not start with a murder that needs solving. |
These are the characters in Spellbound:
Angela McIntosh – A smart, studious girl
Blair Jones – A fun-loving, friendly student; the class clown
Casey Lansing – A rebellious rule-breaker
Dave White – A smart, studious boy
Detective Alex Rogers – Detective Stephens's partner, also investigating the case
Detective Kerry Stephens – The head detective investigating the case
Erick Bennet – The son of Professor Bennet
Jason Edwards – The most popular boy in school, dating Shantell Andersen
Julie Andersen – The smartest girl in school, Shantell's sister
Nina Brown – A socially awkward, quiet student
Professor Lee Roderick – Professor of Alchemy
Professor Riley Karlsen – Professor of Transformation
Professor Skyler Patterson – Professor of Foretelling
Ryan O'Callaghan – A good-looking, arrogant student
Shantell Andersen – The most popular girl in school, Julie's sister, dating Jason Edwards
Taylor Martin – A rich and popular student
Veronica Olsen – A rich and popular student, best friends with Shantell
Number of
guests
Male
characters
Female
characters
Ungendered
characters
13
4
5
4
14
4
5
5
15
4
5
6
16
4
5
7
17
4
5
8
How Freeform Games Murder Mysteries Work
Spellbound is unlike many murder mystery games. Although the game starts with the attack on Professor Bennet, most of the characters have more important things to do than to investigate it. And the attacks may not be over – no-one is safe!
Spellbound is played just like a murder mystery game. You may be trying to solve the murder, but primarily you are (initially at least) concentrating on your own goals and objectives. Unlike most boxed murder mystery games, Spellbound lets you decide how to achieve your goals and thwart your enemies.
On the evening of the game the guests are met by the organizer, the Librarian, and welcomed to the Tremaine School of Magic. They then receive their detailed backgrounds – including dark secrets, objectives and money. The fun then begins as they form alliances, blackmail each other, steal items and maybe even try to attack one another! Depending on what the players choose to do, there are several different possible endings, but finally everyone finds out how they did, and what secrets everyone else was concealing.
Recommended for ages 12+
Extra characters
Sometimes you have too many guests and you need more characters. So we've written a free extra character for each of our games that you can add in, and some of our customers have created their own characters for their parties and are kindly willing to share them.
'Ginger' Roberts – freelance reporter in search of the Big Story. (Any)
(by Freeform Games)
Harley Garrick – school groundskeeper. (Any)
(by Nathanial McConnell)
Patrick O'Grady – the new kid (M)
(by Andreah Mathews)
Sally May – the school nurse (F)
(by Andreah Mathews)
Please note that we haven't always tested these – and they may not tie in exactly with our games.
IMPORTANT – if you've bought the game, you can download the files for these characters from the download page where you got your main game files. Contact us if you need the link and password to get back to that page.
ALSO IMPORTANT – you shouldn't add too many of these characters in to your game as they haven't been designed to work together (unlike the main game characters). If you add in several, they may make your game chaotic and incoherent. You should probably instead choose a larger game. If you still want to add several extra characters (four or more), we recommend having an extra host to help.
Purchasing Spellbound
Spellbound costs US $29.99. You can buy it from anywhere in the world. The price will be converted back into your own currency for you, at today's exchange rate.
IMPORTANT: please be aware that you are buying a game to download from our website, not a boxed game that we will send you in the mail.
After completing your purchase on PayPal, you'll be brought back to this website.

Don't close the PayPal tab, or navigate away!

PayPal might take some time to send you back here: please be patient. Buy

Spellbound for $29.99
Our payments are usually handled by PayPal, but you don't have to have a PayPal account to buy this game. If you prefer, you can just buy it with your credit or debit card in the normal way. You'll see that option when you click the button above.

IMPORTANT: if PayPal isn't working for you, or if you'd prefer not to use it, we have an alternative payment method – just click here to get payment buttons where you can pay directly with your card. These prices are in UK£.
"Thank you for a great site, fantastic games, good service and very quick reply. Keep up the good work." Ole Martin Brodwall, Norway
Cast Iron Guarantee
We offer a Cast Iron Guarantee on all our murder mystery games. If you're not completely satisfied with Spellbound then please let us know within 30 days and we will refund you. See our full terms and conditions here.
Trouble downloading? If you have trouble downloading the game files, please first check your spam folder. If you still can't find the download email, drop us a line at info@freeformgames.com with the name of the game and the email address you used to purchase it, and we'll resend it.
Use the form below to contact us via Facebook (your query comment won't appear on Facebook itself unless you choose for it to). Please don't use this for download queries as we can't always match your Facebook profile with the email you used to buy the game.