The Reality is Murder – a 2000s murder mystery party game with a tropical setting for 23 to 30 guests
"We hosted The Reality is Murder this past Saturday night and everyone (all 30 characters!!) seemed to have a blast!"
Jeremy Gustafson, USA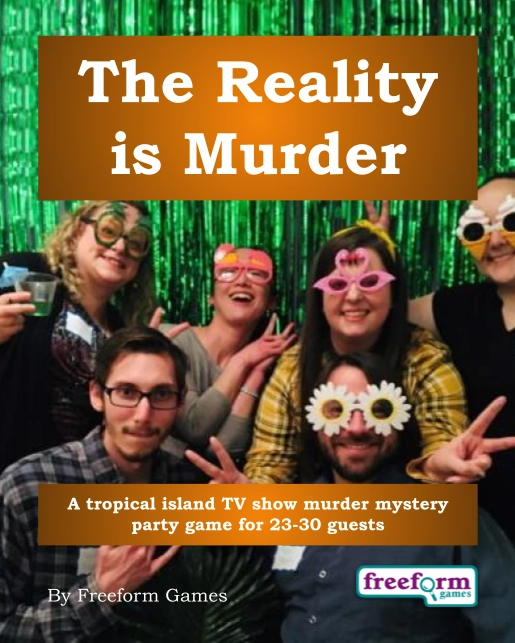 Recommended for ages 18+
Costs US$49.99
Written by Freeform Games
Click here to buy the game
The Reality is Murder is a murder mystery party game for 23 to 30 guests and one or two hosts – download the free introductory pdf file.
Join us in an exciting evening of reality television and murder. You will be in the middle of the action and it will be up to you to wheel and deal with the other guests. Can you achieve your goals, keep your secrets hidden and survive The Reality is Murder? It's up to you.
The Reality is Murder
It is 2003 and Tribal is Network 123's reality show where 12 people live on Moko Shanti, a beautiful tropical island for up to 40 days. Every few days, contestants vote each other off the island during Tribal Meetings. Now, only three contestants are left, and tonight is Tribal's finale.
Tonight, everyone has returned to the beach where the final Tribal Meeting will be broadcast live and the winner of the $1,000,000 prize will be decided.
Unfortunately, all is not well. Jeff Thompson, Tribal's creator and director, has been found dead on the beach – a machete embedded in his chest… Find out who killed Jeff Thompson in The Reality is Murder.
See stories and pictures
from The Reality is Murder Read the
The Islander
The Reality is Murder lasts for about four hours and is suited to an evening. It is often played over a meal – a finger buffet if possible to allow guests to circulate and talk in private.
"Overall, players (experienced and new) had a really good time."
Mark Rickert, USA
The free introductory pdf file contains an introduction to the game, a cast list of all the characters, and a copy of the The Islander – plus details of how to buy the game.
| | |
| --- | --- |
| | Includes rules for combat. |
These are the characters in The Reality is Murder:
Tribal Contestants

Cindy Perkins – A waitress from Miami, Florida and a finalist.
Mike Hollandale – A real estate agent from LA and a finalist.
Sandy Aikley – A lawyer from Chicago and a finalist.
Harry Samson – A retired US Army veteran from Long Island. Most recently eliminated in Tribal – coming 4th.
Lou Breakmier – An aging mystic from San Francisco, coming 5th.
Ronnie Brooks – Ski instructor and mountain guide from Colorado, coming 6th.
Derek Lunesdale – A body builder from Detroit, coming 7th.
Kelly Patterson – A model from New York City, coming 8th.
Devon Warring – Unemployed, from Orlando. Mysteriously pulled out of the show, effectively coming 9th.
Rev. Hal Cleever – A minister from a small town in Texas, coming 10th.
Domino Mountford – An eccentric French contestant currently living in New York City, coming 11th.
Bernie Fraser – A stay-at-home parent from New York. First to be eliminated, coming 12th.

Tribal Crew

Sam Wraysford – Sam is Tribal's producer.
Murray Neilson – Originally a park warden from the Florida Everglades, now an assistant producer.
Chris Keller – Tribal's head of security.
Rex Newby – One of the set designers, responsible for the creation of the Tribal Meeting set. Mary's husband.
Mary Newby – Production assistant and Rex's wife.
Dr Charlie Milahoff – Tribal's psychologist.
Jules McGee – A snake and insect expert, originally from Australia.
Britney Thompson – Jeff Thompson's wife and Tribal's host.
PJ Deever – Tribal's primary camera operator.
Dr Georgie Palmer – Tribal's on-site doctor, an expert in tropical diseases and injuries.

Other TV People

Matthew Stuart-Fosterson IV – CEO of the TV Network 123.
Alex Johnson – Matthew Stuart-Fosterson's personal assistant.
Bo Bo Hardensfield – TV chef and presenter of Tribal's spin-off show, Tribal Bites.
Honey Rider – Bikini model from LA.
Clara Stuart-Fosterson – Network 123's Finance Director, and Matthew's wife.

Islanders

Uninhabited before 1948, Moko Shanti is owned by the Islanders.

Phoenix – Leader of the Moko Shanti Islanders
Skua – Phoenix's headstrong son.
Summer – Phoenix's daughter.
Number of
guests
Male
characters
Female
characters
Ungendered
characters
23
6
7
10
24
6
7
11
25
8
7
10
26
8
7
11
27
9
7
11
28
9
7
12
29
9
7
13
30
9
8
13
How Freeform Games Murder Mysteries Work
The Reality is Murder is unlike many murder mystery games. Although the game starts with a murder, most of the characters have more important things to do than to investigate it. And the killing may not be over – it is unlikely that everyone will survive the remainder of the evening!
The Reality is Murder is played just like a murder mystery game. You may be trying to solve the murder, but primarily you are (initially at least) concentrating on your own goals and objectives. Unlike most boxed murder mystery games, The Reality is Murder lets you decide how to achieve your goals and thwart your enemies.
"Keep up the good work … no one makes scripts like yours."
Nicole Brownlee, USA
On the evening of the game the guests are met by the organizer, the Events Manager, and welcomed to Moko Shanti. They then receive their detailed backgrounds – including dark secrets, objectives and money. The fun then begins as they form alliances, blackmail each other, steal items and maybe even try to murder one another! Along the way they may uncover some of the mysteries of The Reality is Murder. Who will win Tribal? Who are ANTHRO? And of course, how did Jeff Thompson die? Depending on what the players choose to do, there are several different possible endings, but finally everyone finds out how they did, and what secrets everyone else was concealing.
Recommended for ages 18+
We recommend The Reality is Murder for those aged 18+, as it contains the following themes: extra-marital affairs, a sex-tape plot, and teen pregnancy.
Extra characters
Sometimes you have too many guests and you need more characters. So we've written a free extra character for each of our games that you can add in, and some of our customers have created their own characters for their parties and are kindly willing to share them. They are included in your download when you purchase the game.
'Ginger' Roberts – freelance reporter in search of the Big Story. (Any)
(by Freeform Games)
Please note that we haven't always tested these – and they may not tie in exactly with our games.
Purchasing The Reality is Murder
The Reality is Murder costs US $49.99. You can buy it from anywhere in the world. The price will be converted back into your own currency for you, at today's exchange rate.
IMPORTANT: please be aware that you are buying a game to download from our website, not a boxed game that we will send you in the mail.
After completing your purchase on PayPal, you'll be brought back to this website.

Don't close the PayPal tab, or navigate away!

PayPal might take some time to send you back here: please be patient. Buy

The Reality is Murder for $49.99
Our payments are usually handled by PayPal, but you don't have to have a PayPal account to buy this game. If you prefer, you can just buy it with your credit or debit card in the normal way. You'll see that option when you click the button above.

IMPORTANT: if PayPal isn't working for you, or if you'd prefer not to use it, we have an alternative payment method – just click here to get payment buttons where you can pay directly with your card. These prices are in UK£.
"Thank you for a great site, fantastic games, good service and very quick reply. Keep up the good work." Ole Martin Brodwall, Norway
Cast Iron Guarantee
We offer a Cast Iron Guarantee on all our murder mystery games. If you're not completely satisfied with The Reality is Murder then please let us know within 30 days and we will refund you. See our full terms and conditions here.
Trouble downloading? If you have trouble downloading the game files, please first check your spam folder. If you still can't find the download email, drop us a line at info@freeformgames.com with the name of the game and the email address you used to purchase it, and we'll resend it.
Use the form below to contact us via Facebook (your query comment won't appear on Facebook itself unless you choose for it to). Please don't use this for download queries as we can't always match your Facebook profile with the email you used to buy the game.