Vanished in Vegas – a present-day murder mystery party game with a Las Vegas hotel and casino setting for 15 to 20 guests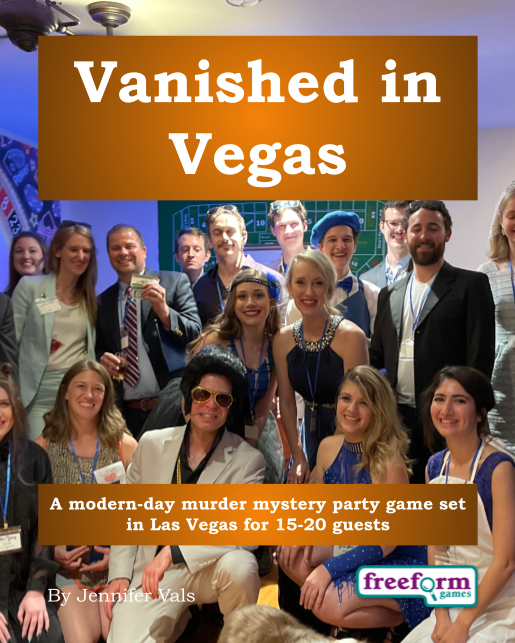 Recommended for ages 15+
Costs US$39.99
Written by Jennifer Vals
Click here to buy the game
Vanished in Vegas is a murder mystery party game for 15 to 20 guests and a host – download the free introductory pdf file.
NEW RELEASE! Be one of the first to try this brand new game.
Join us in a spectacular night of gaming and escapades on the Vegas Strip! You will be in the middle of the action and it will be up to you to wheel and deal with the other guests. Can you achieve your goals, keep your secrets hidden and survive Vanished in Vegas? It's up to you.
Vanished in Vegas
Welcome to Las Vegas, where, as the saying goes, "What happens in Vegas, stays in Vegas."
The Sapphire Hotel and Casino hosts Vegas' hottest ticket – Jaspar the Great's Magic Show. Jaspar never disappoints, and his show climaxes with his famous vanishing act, where he disappears into a case and reappears wearing an extravagant costume unique for each show!
Tonight, however, when his assistant unveiled the case, Jaspar did not reappear – the case was empty! His assistant shrieked and ran off the stage in tears – but was that all part of the act? What happened to Jaspar?
It is now an hour later, and Jaspar has yet to make an appearance. Undercover FBI agent, Declan Grant, is holding everyone in the casino for questioning. Everyone may mingle but cannot leave until the mystery of Jaspar's disappearance has been solved.
The pandemonium is just beginning… a magician, a bag of money, and a pet chihuahua have all vanished. Who is responsible? A ghost and a Bengal tiger aren't the only suspicious culprits. Con artists, mafia thugs, blackmailers, and thieves will all come into play.
Get ready for a one-of-a-kind, spectacular evening at The Sapphire on the Strip in Vanished in Vegas!
See stories and pictures
from Vanished in Vegas Read the
Las Vegas Sunny Times
Vanished in Vegas lasts for about four hours and is suited to an evening. It is often played over a meal – a finger buffet if possible to allow guests to circulate and talk in private.
The free introductory pdf file contains an introduction to the game, a cast list of all the characters, and a copy of the Las Vegas Sunny Times – plus details of how to buy the game.
| | |
| --- | --- |
| | Includes rules for combat. |
These are the characters in Vanished in Vegas:
"Elvis" – impersonator
Adair Warner – The Sapphire's jewelry shop owner
Amber Lee – magician's assistant
Brighton Hall – cabana host
Dakota Allen – comedian
Declan Grant – blackjack dealer
Don Giordano – Mafia boss
Franny Green – head housekeeper
Gloria Martin – lounge singer
Greta Starr – showgirl
Harley Jones – pit boss
Jules Stone – wealthy gambler
Lily Davis – newlywed bride
Monique Cruz –

Love Animals

president
Sadie Bennett – hotel owner's ex-wife
Sheldon Cruz – Governor of Nevada
Sidney Thomas – animal rights activist
Tatum Young – pop star
Tyler Bennett – hotel owner
Will Davis – newlywed groom
Number of
guests
Male
characters
Female
characters
Ungendered
characters
15
6
4
5
16
7
4
5
17
7
4
6
18
7
5
6
19
7
6
6
20
7
7
6
How Freeform Games Murder Mysteries Work
Vanished in Vegas is unlike many murder mystery games. Although the game starts with a murder, most of the characters have more important things to do than to investigate it.
Vanished in Vegas is played just like a murder mystery game. You may be trying to solve the murder, but primarily you are (initially at least) concentrating on your own goals and objectives. Unlike most boxed murder mystery games, Vanished in Vegas lets you decide how to achieve your goals and thwart your enemies.
On the evening of the game the guests are met by the organizer and welcomed to The Sapphire Hotel and Casino. They then receive their detailed backgrounds – including dark secrets, objectives and money. The fun then begins as they form alliances, blackmail each other, steal items and maybe even try to murder one another! Along the way they may uncover some of the mysteries of Vanished in Vegas. Who has been stealing historical artifacts? Who is here under a false identity? What happened to the promising new radio technology? And, of course, who killed Jaspar the Great? Depending on what the players choose to do, there are several different possible endings, but finally everyone finds out how they did, and what secrets everyone else was concealing.
Recommended for ages 15+
We recommend Vanished in Vegas for those aged 15+ as it contains the following themes: gambling, embezzlement, romantic rivalry.
Extra characters
Sometimes you have too many guests and you need more characters. So we've written a free extra character for each of our games that you can add in, and some of our customers have created their own characters for their parties and are kindly willing to share them.
'Ginger' Roberts – freelance reporter in search of the Big Story. (Any)
(by Freeform Games)
Please note that we haven't always tested these – and they may not tie in exactly with our games.
IMPORTANT – if you've bought the game, you can download the files for these characters from the download page where you got your main game files. Contact us if you need the link and password to get back to that page.
Purchasing Vanished in Vegas
Vanished in Vegas costs US $39.99. You can buy it from anywhere in the world. The price will be converted back into your own currency for you, at today's exchange rate.
IMPORTANT: please be aware that you are buying a game to download from our website, not a boxed game that we will send you in the mail.
After completing your purchase on PayPal, you'll be brought back to this website.

Don't close the PayPal tab, or navigate away!

PayPal might take some time to send you back here: please be patient. Buy

Vanished in Vegas for $39.99
Our payments are usually handled by PayPal, but you don't have to have a PayPal account to buy this game. If you prefer, you can just buy it with your credit or debit card in the normal way. You'll see that option when you click the button above.

IMPORTANT: if PayPal isn't working for you, or if you'd prefer not to use it, we have an alternative payment method – just click here to get payment buttons where you can pay directly with your card. These prices are in UK£.
"Thank you for a great site, fantastic games, good service and very quick reply. Keep up the good work." Ole Martin Brodwall, Norway
Cast Iron Guarantee
We offer a Cast Iron Guarantee on all our murder mystery games. If you're not completely satisfied with Vanished in Vegas then please let us know within 30 days and we will refund you. See our full terms and conditions here.
Trouble downloading? If you have trouble downloading the game files, please first check your spam folder. If you still can't find the download email, drop us a line at info@freeformgames.com with the name of the game and the email address you used to purchase it, and we'll resend it.
Use the form below to contact us via Facebook (your query comment won't appear on Facebook itself unless you choose for it to). Please don't use this for download queries as we can't always match your Facebook profile with the email you used to buy the game.