Click here to buy the game
Here's what people have been saying about Who Shot the Sheriff:
"Who Shot the Sheriff was great! You guys are so creative to have come up with all of the intricate plots. People were AMAZED how everything intertwined at the end. We're going to get another one in about 6 months!"
Erin Knowles, United States
"We ran your Who Shot the Sheriff game this weekend, and it was a blast! None of the 13 people that attended had done a murder mystery party before, including myself or my wife as the hosts, but the provided instructions were excellent and everything worked out great. The story was interesting and had plenty of twists and turns, and every single character had something interesting to do, even if they weren't directly involved with the murder. We are already thinking about running another, and we can't wait to try the sequel, Way Out West!"
Anthony Gillet, United States
"I'd been hearing about Freeform Games for a long time, so when I heard that my friends would be hosting Who Shot the Sheriff I knew I had to be there. Never mind that I currently live about 800 miles away, I needed a vacation anyhow. My epic trek across America landed me in the Old West, complete with horseshoes, wanted posters and plenty of ten-gallon hats (well, maybe only two-gallon). A murderer was on the loose, along with plenty of bank robbers, con men, indians, proper (and improper) ladies, lawmen and layabouts. Leather boots on my feet and a fetching bonnet on my head, I tried my hand at a little thievery, jail-breaking and even occasionally assisted the forces of law and order. In the end, a grand time was had by all, though that murderer did prove remarkably difficult to corner!"
Cassie Giordano, United States
"Playing Who Shot the Sheriff was easily one of my favorite of many murder mystery games I've taken part in. The game was so alive with dynamic characters that all came together under an awesome plot. Each character was so vividly portrayed and revealed as the story unfolded that I felt like I was really part of the story. The atmosphere of the evening, dressing the part, and getting into character were what made Who Shot the Sheriff one of the best games for fellowship with friends and family. We talked for days after about our experience, and even after months have passed, we still talk about how much fun it was!"
Kyle Clopton, United States
"Who Shot the Sheriff was my second time at one of these types of games, and boy was it fun. Who could you trust? No one! Who did you have to trust at some time during the game? Everyone! Why is this woman watching me all the time? Why is that man avoiding me? The costumes and decorations were great, especially since I love Western themes anyway. Once you learn to let go of who you are and become the person in the game, it really gets fun. The hardest thing for me to get over was absence of rules for what you could or couldn't do in the game. Once over that, the fun really begins as you turn into your character. I can't wait for the next one!"
Tim Lange, United States
"I had the delightful opportunity to play Who Shot the Sheriff this past weekend. I had heard about Freeform Murder Mystery Games, but couldn't imagine how it would work with so many people playing parts… and having to get into those parts quickly enough to make the plot work out correctly. As the night progressed I discovered that the game was so well thought out and each character's information was so complete as to their background, their goals, what they knew about others, their abilities, secrets, and information unique to them, that it worked even while allowing players to have freedom in how they played their characters. What made it even more fun were the many subplots rippling through the room even as the main plot unfolded. I highly recommend this game as an entertaining way to:
1. encourage conversation, even for the shy;
2. foster critical thinking, and making it fun;
3. take a costume party to a whole new level.
Who Shot the Sheriff gets two thumbs up!"
Becky, United States
---
If you would like to tell us how your party went, please click here to send us your story.
Who Shot the Sheriff – a murder mystery party game with a Western setting for 12 to 15 guests
"I must say, I found Who Shot the Sheriff to be a very enjoyable night. The way the plot was written was cleverly twisted, and led many players (including myself) to believe they had found the killer before realizing they had been following a dead end all along. I was particularly entertained by the classic Wild West feel: there was every type of character from cowboys to indians, and from bartenders to bankers. There was also a good mix of classic good guy characters, sneaky bad guys, and of course, the renegade characters who really don't pick a side and just care about themselves! It was such a great night, and I would definitely participate in another game if I was invited. In fact, I might even just host one myself! "
Jeff Lange, United States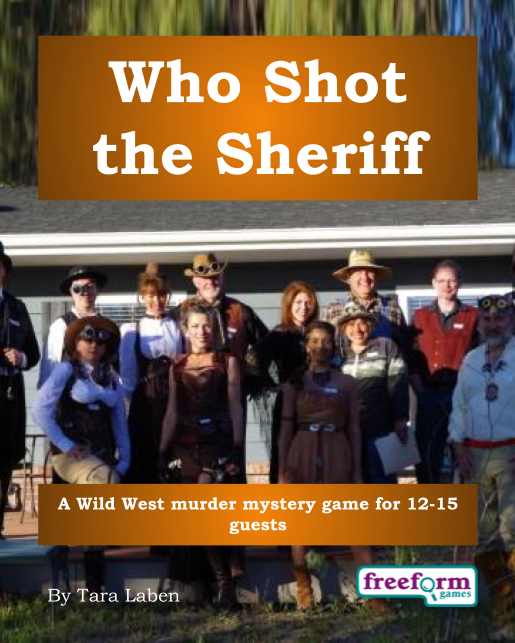 Recommended for ages 12+
Costs US$29.99
Written by Tara Laben
Click here to buy the game
Who Shot the Sheriff is a murder mystery party game for 12 to 15 guests and a host – download the free introductory pdf file.
Join us in a bang-up evening of gold-hunting, investigating, six-shooting and double-dealing. You will be in the middle of the action and it will be up to you to wheel and deal with the other guests. Can you achieve your goals, keep your secrets hidden and survive Who Shot the Sheriff? It's up to you.
Who Shot the Sheriff
In the summer of 1869, two stagecoaches set out from the small town of Dustville on a three-day trip across the American West to San Francisco. A new source of gold has been discovered 20 miles from San Francisco, attracting miners, prospectors and businesspeople.
After two days, the stagecoaches stop for a break at a ghost town called Buzzard Creek. It's a chance to water the horses and let everyone stretch their legs. Buzzard Creek is deserted save for a few old-timers, Sheriff Cassidy, Deputy Baxter, Good-For-Nothin' Ned, and the employees of the Gold Nugget Saloon.
Unfortunately, before the horses are ready, a dust storm approaches. Then, gunshots ring out. In the stables, the Bartender finds Sheriff Cassidy sprawled face-down with gunshot wounds in his back, his gun lying beside him. With the passengers and townsfolk gathered in the Gold Nugget Saloon, the full force of the ferocious dust storm arrives, confining everyone inside. Everyone, including Sheriff Cassidy's killer…
See stories and pictures
from Who Shot the Sheriff Read the
Buzzard Creek Buzz
Who Shot the Sheriff lasts for about four hours and is suited to an evening. It is often played over a meal – a finger buffet if possible to allow guests to circulate and talk in private.
"Who Shot the Sheriff is great for younger players, highly recommended. "
Chris Spetter, United States
The free introductory pdf file contains an introduction to the game, a cast list of all the characters, and a copy of the Buzzard Creek Buzz – plus details of how to buy the game.
| | | | |
| --- | --- | --- | --- |
| | Includes rules for the use of poison. | | Includes rules for combat. |
These are the characters in Who Shot the Sheriff:
Blaise Sadler – the saloon's only waitress, and the "most beautiful girl in town" winner for three years in a row
Christy Martin – an enterprising business owner
Deputy Beau Baxter – the new Sheriff Deputy, who only arrived in Buzzard Creek last month
Doctor Riley Bones – a doctor famous for traveling the world and discovering exotic remedies
Doctor Shiloh Merriwhether – an eccentric doctor notorious for working with the Indians
Elijah Entwhistle – a fiery traveling preacher
Fitzhugh Smith – a wealthy, gentlemanly city slicker who owns a chain of banks and savings-and-loan companies
Good-for-Nothin' Ned – a scruffy local ne'er-do-well
Jessie Calhoun – a sharp-eyed female adventurer traveling alone
Laughing Owl – an Indian
Piper Lee – a poor prospector following the Gold Rush
Ruby-Mae Marshall – a fun-loving traveler hoping to start a new life in San Francisco with her feller, Willard
Runs Like a Deer – a quiet, determined Indian woman
Sam Banks – owner of the Gold Nugget Saloon, and the editor of the local newspaper
Willard Preston – a rough and tough-looking traveler hoping to start a new life in San Francisco with his girl, Ruby-Mae
Number of
guests
Male
characters
Female
characters
Ungendered
characters
12
5
4
3
13
6
4
3
14
6
4
4
15
6
4
5
How Freeform Games Murder Mysteries Work
Who Shot the Sheriff is unlike many murder mystery games. Although the game starts with a murder, most of the characters have more important things to do than to investigate it. And the killing may not be over – it is unlikely that everyone will survive the remainder of the evening!
Who Shot the Sheriff is played just like a murder mystery game. You may be trying to solve the murder, but primarily you are (initially at least) concentrating on your own goals and objectives. Unlike most boxed murder mystery games, Who Shot the Sheriff lets you decide how to achieve your goals and thwart your enemies.
"All in all I'd say Who Shot the Sheriff was a GREAT game! It was the most well thought out game that I have hosted so far. PERFECT for hosts that have experience because of the intricate plots!"
Rob Newbold, Ohio, United States
On the evening of the game the guests are met by the organizer, the Bartender, and welcomed to the Gold Nugget Saloon. They then receive their detailed backgrounds – including dark secrets, objectives and money. The fun then begins as they form alliances, blackmail each other, steal items and maybe even try to murder one another! Along the way they may uncover some of the mysteries of Who Shot the Sheriff? What happened to the money stolen from the Bank of Dustville? Is the "Gold Rush Ghost" an evil spirit, or a human being? Who is the mysterious masked Stranger, and who is the notorious gold-smuggler Handlebar Harry? Depending on what the players choose to do, there are several different possible endings, but finally everyone finds out how they did, and what secrets everyone else was concealing.
Recommended for ages 12+
Extra characters
Sometimes you have too many guests and you need more characters. So we've written a free extra character for each of our games that you can add in, and some of our customers have created their own characters for their parties and are kindly willing to share them.
'Ginger' Roberts – freelance reporter in search of the Big Story. (Any)
(by Freeform Games)
Doc Faraday – local medical practitioner. (M)
(by Freeform Games)
Please note that we haven't always tested these – and they may not tie in exactly with our games.
IMPORTANT – if you've bought the game, you can download the files for these characters from the download page where you got your main game files. Contact us if you need the link and password to get back to that page.
Purchasing Who Shot the Sheriff
Who Shot the Sheriff costs US $29.99. You can buy it from anywhere in the world. The price will be converted back into your own currency for you, at today's exchange rate.
IMPORTANT: please be aware that you are buying a game to download from our website, not a boxed game that we will send you in the mail.
After completing your purchase on PayPal, you'll be brought back to this website.

Don't close the PayPal tab, or navigate away!

PayPal might take some time to send you back here: please be patient. Buy

Who Shot the Sheriff for $29.99
Our payments are usually handled by PayPal, but you don't have to have a PayPal account to buy this game. If you prefer, you can just buy it with your credit or debit card in the normal way. You'll see that option when you click the button above.

IMPORTANT: if PayPal isn't working for you, or if you'd prefer not to use it, we have an alternative payment method – just click here to get payment buttons where you can pay directly with your card. These prices are in UK£.
"Thank you for a great site, fantastic games, good service and very quick reply. Keep up the good work." Ole Martin Brodwall, Norway
Cast Iron Guarantee
We offer a Cast Iron Guarantee on all our murder mystery games. If you're not completely satisfied with Who Shot the Sheriff then please let us know within 30 days and we will refund you. See our full terms and conditions here.
Trouble downloading? If you have trouble downloading the game files, please first check your spam folder. If you still can't find the download email, drop us a line at info@freeformgames.com with the name of the game and the email address you used to purchase it, and we'll resend it.
Use the form below to contact us via Facebook (your query comment won't appear on Facebook itself unless you choose for it to). Please don't use this for download queries as we can't always match your Facebook profile with the email you used to buy the game.