Click here to buy the game
Here's what people have been saying about Casino Fatale:
"I just want you to know what a GREAT time we had with the Casino Fatale party! Thank you so much for ALL of your help in answering questions and making it work for our needs!
You guys offer a great product, and we are thankful."
Melissa S, USA
"Just a note of thank you. I bought Casino Fatale for my Halloween Party on Sunday and oh my god it was brilliant. I've never hosted or been to a murder mystery party before so was slightly apprehensive about how it would all work out but I needn't have worried the night went brilliantly absolutely everyone loved it and they can't stop talking about it, I made a slight change and set it in the 1920s I hope you don't mind. I am already being pestered about when I am going to have my next one. You've created a Murder Mystery Monster!"
Sarah Horan, Ireland
"Just to let you know what a fab time we had playing Casino Fatale this weekend – everyone was absolutely brilliant in their characters and the outfits donned by everyone were hysterical. As the host I was a little concerned how things would run, but I needn't have been, it all ran really well. Will be definitely getting another one of your games!"
Kirsty Gwynne, United Kingdom
"Casino Fatale was our first murder mystery. We had a wonderful time. Everyone loved being able to dress up for the night of high stakes gambling. Our guests had so much fun trying to solve the murders that happened that after the game was over, they wanted to continue to try to figure out who killed the other people! Needless to say everyone was impressed with the way the game was played and the fact that there are no scripts, giving everyone the ability to make the character who they wanted it to be."
Christie Neely, United States
"Everybody, 30 players had a great time with Casino Fatale, so did I… The game is really great, and people loved to play them all. No one had ever heard about or played any murder and mystery game before. Now people are asking me when will be the next one… [Paulo translated the game into Portuguese for his guests!]"
Paulo Gardolinski, Arte da Hora Arts Center, Brazil
"We used Casino Fatale as the evening entertainment for our staff holiday party. The game was played by 27 people, plus 2 hosts. All participants had to be 'in character' from the moment they walked into the party. Some of them became their characters a couple of days early! From all accounts, a good time was had by all. Takes a bit of organization – but it is well worth it. We did embellish with some real props – dollar store guns and knives (nail polish makes wonderful blood on a knife…); a bandage box became a first aid kit; a small vial filled with beads became poison; a 'diamond' pendant and an 'emerald' bracelet. A fun-filled evening of murder and intrigue! Thank you."
Kathy Collier, Canada
"We ran Casino Fatale for a Christmas party, and our guests are still talking about it a few months on!!"
Dorn Carran, United Kingdom
"We had a great time with Casino Fatale! Had a load of coworkers and some friends visiting from different parts of the country. I hosted as the barman and dealt drinks while the characters milled about. I also modified the rules to let people shoot from a distance (shooter tells host rock/paper/scissors in advance and the host asks the victim their response). Everyone throughly enjoyed the added intrigue! Thanks Freeform Games!"
Tom Britland, United Kingdom
"Last night we played Casino Fatale. It was so much fun. The plots were great and well mixed together. Everyone got so confused! Was great fun thankyou once again :)"
Terence Smith, Australia
"I just wanted to take a minute to thank your company for the quality products you sell. I recently purchased Casino Fatale for a Bond themed 30th Birthday Party and it was a HUGE success. Everyone who came said that it was the best party they had ever been to. Thank you for making it a success."
Clinton Pillay, South Africa
---
If you would like to tell us how your party went, please click here to send us your story.
Casino Fatale – a present-day murder mystery party game with a casino setting for 15 to 30 guests
"Casino Fatale was amazing. Best party ever!!!"
Jonita Van Wyk, South Africa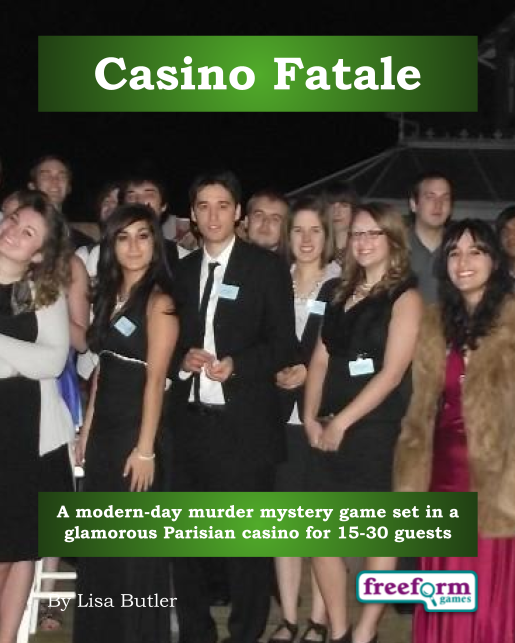 Recommended for ages 18+
Costs US$49.99
Written by Lisa Butler
Click here to buy the game
Casino Fatale is a murder mystery party game for 15 to 30 guests and one or two hosts – download the free introductory pdf file.
New edition – we've prepared a special new edition of Casino Fatale, which includes the former expansion pack.
Join us at an exclusive Parisian casino for an evening of espionage, crime, intrigue and murder. You will be in the middle of the action and it will be up to you to wheel and deal with the other guests. Can you achieve your goals, keep your secrets hidden and survive Casino Fatale? It's up to you.
Casino Fatale
On the banks of the River Seine in Paris is the Hotel D'Etoile, with a casino named the Casino Fatale. Rumour has it that the casino is connected to the mysterious underworld character 'Mr X'. No one seems to know exactly who the elusive Mr X is, or what he looks like – and there are many people who would love to know. Among those trying to find Mr X are Interpol, the local police, the local organized crime family, and the agents of several countries in which Mr X is believed to operate. Tonight, however, a charity auction is being held at Casino Fatale and it has drawn all sorts to the casino – playboys, starlets, maybe even a jewel thief… Who will you play?
At Casino Fatale you will discover the following:
Who is the 'Black Panther'?
Why should you be very careful with your jewellery?
Who killed scientist Dr Havelott, and where are his plans for a nuclear device?
Who is the mysterious 'Mr X'?
Can Donovan Jones really write poetry?
…and is the casino really up for sale?
Find out in Casino Fatale!
See stories and pictures
from Casino Fatale Read the
Paris News
Casino Fatale lasts for about four hours and is suited to an evening. It is often played over a meal – a finger buffet if possible to allow guests to circulate and talk in private.
"Our Casino Fatale party was great – thanks so much for your help! This was the first murder mystery I've hosted so I was anxious that it go well – anyway, fantastic night, definitely going to do another one!"
Daniel Hesford, Lancashire, United Kingdom
The free introductory pdf file contains an introduction to the game, a cast list of all the characters, and a copy of the Paris News – plus details of how to buy the game.
| | | | |
| --- | --- | --- | --- |
| | Includes rules for the use of poison. | | Includes rules for combat. |
These are the characters in Casino Fatale:
Alex Kirk – Rich playboy with a chequered past as a motor-racing driver
Andre Couvert – An innocent tourist in the casino
Anna Upanova – Mysterious Russian beauty
Armand Blanc – Police detective, assistant to Leclou and Bois
Ashley Bunsen – Physicist, assistant to the late Professor Havelott
Chris Rowan – Croupier at the casino
Countess Alice de Ville – Beautiful, wealthy widow and lady of leisure
Dominique Renard – Local business owner
Donovan Jones – Celebrated poet and man of letters
Drew Daniels – Sound engineer (part of the film crew)
Eva Goodbody – American freelance reporter
Felicity Phillips – Cabaret dancer at the casino
Freddie Leclou – Police detective inspector on the trail of jewel thief The Black Panther
George Neville – Director of the film crew
Jack Bland – Debonair, devilish and disgustingly handsome
Jo Knowall – Croupier at the casino, gossip and fence
John Smith – Rich tourist rumoured to be a millionaire lottery winner
Joss Woodrow – Camera operator (part of the film crew)
Lord James T. Burke – Sophisticated playboy
Lucia Venditti – Italian tourist, here on honeymoon
Matilda Burke – Younger sister of Lord James
Natalie Bois – Police detective, assistant to Leclou
Pat Bullitt – Ex-army security consultant / bodyguard
Ralph Anderson – Nightclub bouncer and professional hard man
Sabrina Devereux – Assistant to George Neville (part of the film crew)
Sam Riley – Casino manager
Sandy Stone – Journalist and presenter (with the film crew)
Selina Skye – Jewellery designer
Valentino Venditti – Italian tourist, here on honeymoon
Zara Zirconoff – Budding starlet
Number of
guests
Male
characters
Female
characters
Ungendered
characters
15
5
4
6
16
5
5
6
17
5
6
6
18
5
6
7
19
5
6
8
20
5
7
8
21
6
7
8
22
6
8
8
23
7
8
8
24
7
9
8
25
6
8
11
26
7
8
11
27
7
9
11
28
8
9
11
29
8
10
11
30
9
10
11
How Freeform Games Murder Mysteries Work
Casino Fatale is unlike many murder mystery games. Although the game starts with a murder, most of the characters have more important things to do than to investigate it. And the killing may not be over – it is unlikely that everyone will survive the remainder of the evening!
Casino Fatale is played just like a murder mystery game. You may be trying to solve the murder, but primarily you are (initially at least) concentrating on your own goals and objectives. Unlike most boxed murder mystery games, Casino Fatale lets you decide how to achieve your goals and thwart your enemies.
"I played Way out West at a friend's birthday. I thought it would be "the usual." It wasn't. Interactive, layered, and fun, I was inspired to host my own: Casino Fatale. I liked this game better, because the Casino Fatale characters weren't clearly good/bad – they were difficult to pin down/categorize, making the game more intriguing."
Veronica Griffin, Canada
On the evening of the game the guests are met by the organizer, the Casino Events Manager. They then receive their detailed backgrounds – including dark secrets, objectives and casino gambling chips. When everyone has arrived the host announces that the glittering evening and charity auction will now proceed. The fun then begins as everyone questions, bribes and blackmails each other. As the evening progresses they may even try to murder one another! Depending on what the players choose to do, there are several different possible endings, but finally everyone finds out how they did, and what secrets everyone else was concealing.
While Casino Fatale is set at a casino, it doesn't need blackjack or roulette tables to run. If you want to include these, we recommend opening them at interludes to ensure your players don't forget about solving the murder.
Recommended for ages 18+
We recommend Casino Fatale for those aged 18+ as it contains the following themes: gambling and the playboy lifestyle.
Extra characters
Sometimes you have too many guests and you need more characters. So we've written a free extra character for each of our games that you can add in, and some of our customers have created their own characters for their parties and are kindly willing to share them.
'Ginger' Roberts – freelance reporter in search of the Big Story (Any)
(by Freeform Games)
Roni Wei – pleasure-seeking tourist (Any)
(by James Cameron)
X Benedict – head chef at the casino (M)
(by James Cameron)
Please note that we haven't always tested these – and they may not tie in exactly with our games.
IMPORTANT – if you've bought the game, you can download the files for these characters from the download page where you got your main game files. Contact us if you need the link and password to get back to that page.
Purchasing Casino Fatale
Casino Fatale costs US $49.99. You can buy it from anywhere in the world. The price will be converted back into your own currency for you, at today's exchange rate.
IMPORTANT: please be aware that you are buying a game to download from our website, not a boxed game that we will send you in the mail.
After completing your purchase on PayPal, you'll be brought back to this website.

Don't close the PayPal tab, or navigate away!

PayPal might take some time to send you back here: please be patient. Buy

Casino Fatale for $49.99
Our payments are usually handled by PayPal, but you don't have to have a PayPal account to buy this game. If you prefer, you can just buy it with your credit or debit card in the normal way. You'll see that option when you click the button above.

IMPORTANT: if PayPal isn't working for you, or if you'd prefer not to use it, we have an alternative payment method – just click here to get payment buttons where you can pay directly with your card. These prices are in UK£.
"Thank you for a great site, fantastic games, good service and very quick reply. Keep up the good work." Ole Martin Brodwall, Norway
Cast Iron Guarantee
We offer a Cast Iron Guarantee on all our murder mystery games. If you're not completely satisfied with Casino Fatale then please let us know within 30 days and we will refund you. See our full terms and conditions here.
Trouble downloading? If you have trouble downloading the game files, please first check your spam folder. If you still can't find the download email, drop us a line at info@freeformgames.com with the name of the game and the email address you used to purchase it, and we'll resend it.
Use the form below to contact us via Facebook (your query comment won't appear on Facebook itself unless you choose for it to). Please don't use this for download queries as we can't always match your Facebook profile with the email you used to buy the game.