The Karma Club – a 1960s murder mystery party game with a hippy setting for 10 to 14 guests
"The Karma Club was the best one so far!"
Harriet Smith, United Kingdom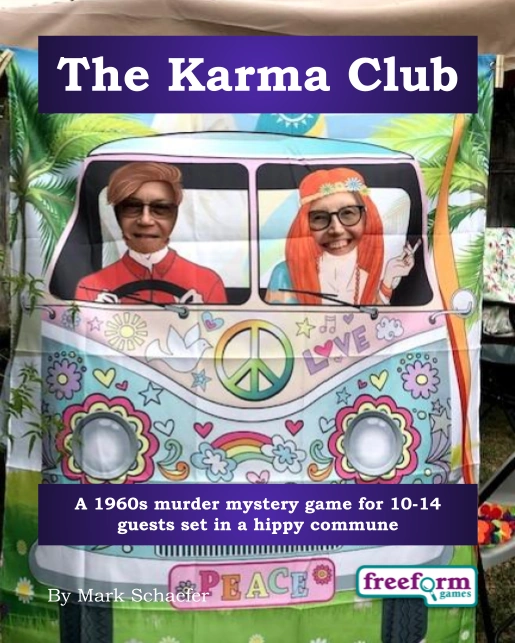 Recommended for ages 15+
Costs US$29.99
Written by Mark Schaefer
Click here to buy the game
The Karma Club is a murder mystery party game for 10 to 14 guests and a host – download the free introductory pdf file.
Join us in a thrilling evening of love, peace, music and murder. You will be in the middle of the action and it will be up to you to wheel and deal with the other guests. Can you achieve your goals, keep your secrets hidden and survive The Karma Club? It's up to you.
The Karma Club
The Karma Club is set in the lodge of the Karma Club commune in Wells River, New Hampshire. The commune has been hosting a sending-off party for their guests, rock band Marmalade Skies.
Marmalade Skies had been invited to perform at a 3-day rock concert in Woodstock. Unfortunately their tour bus has broken down. Unable to make it to the concert, they are spending the weekend at the Karma Club commune before embarking on a 5-month U.S. tour.
The tour bus is now fixed and in the morning Marmalade Skies resume their tour. Tonight is the chance for one last party. Unfortunately, it has been marked by tragedy - Marvin Stank, Marmalade Skies's manager, has been found murdered!
Break out your bellbottom jeans, wide belts, tie-dyed and paisley shirts - and join us at The Karma Club!
See stories and pictures
from The Karma Club Read the
Wells River Gazette
The Karma Club lasts for about four hours and is suited to an evening. It is often played over a meal – a finger buffet if possible to allow guests to circulate and talk in private.
The free introductory pdf file contains an introduction to the game, a cast list of all the characters, and a copy of the Wells River Gazette – plus details of how to buy the game.
| | |
| --- | --- |
| | No combat, no poison. |
These are the characters in The Karma Club:
Marmalade Skies

Suzy Dickerson: Lead vocals and Marmalade Skies' songwriter.
Lee Melvick: Lead guitar, the party-boy of the band.
Judy Stank: Bass, and Marvin Stank's widow.
Axel Maddox: Drummer, and prankster of the band.
Bobby Stank: Head roadie, Marvin Stank's brother.

The Karma Club

Abbot "Abbie" Rosen: Founder and leader of the commune.
Pony Noonan: Long-time member of the commune and something of a rebel.
Guinevere Stone: Commune member and mother of 18-month-old Sunshine.
Flower Mason: Commune member.
Snow Diamond: Commune member.
Moonbeam Baxter: Recent commune member.
Visitors and Townspeople
Sam Spears: Executive with Groovytunes Records.
Jackie Nichols: Local folk singer, opening act for Marmalade Skies.
Sandy McVee: Wells River citizen, avid Marmalade Skies fan, owner and sole employee of "Sandy's Memorabilia & Collectibles".
Number of
guests
Male
characters
Female
characters
Ungendered
characters
10
4
4
2
11
4
4
3
12
5
5
2
13
5
5
3
14
5
5
4
How Freeform Games Murder Mysteries Work
The Karma Club is unlike many murder mystery games. Although the game starts with a murder, most of the characters have more important things to do than to investigate it. And the killing may not be over – it is unlikely that everyone will survive the remainder of the evening!
The Karma Club is played just like a murder mystery game. You may be trying to solve the murder, but primarily you are (initially at least) concentrating on your own goals and objectives. Unlike most boxed murder mystery games, The Karma Club lets you decide how to achieve your goals and thwart your enemies.
On the evening of the game the guests are met by the organizer, Deputy Kozlowski, and welcomed to the Karma Club commune. They then receive their detailed backgrounds - including dark secrets, objectives and money. The fun then begins as they form alliances, blackmail each other, steal items and maybe even try to murder one another! Along the way they may uncover some of the mysteries of The Karma Club. Was this fateful collision of Marmalade Skies and the Karma Club a coincidence, or karma? Will Marmalade Skies recover and secure new management before the tour kicks off tomorrow? Or will they crack and disband under the weight of this tragedy? Where are the master tapes from the Rough Ride Home sessions? Is the Karma Club really the haven of peaceful harmony it pretends to be? What are the true identities of local bank robbers "Bonnie & Clyde?" Depending on what the players choose to do, there are several different possible endings, but finally everyone finds out how they did, and what secrets everyone else was concealing.
Recommended for ages 15+
We recommend The Karma Club for those aged 15+, as it contains the following themes: references to rock-and-roll lifestyle, infidelity and a child born out of wedlock.
Extra characters
Sometimes you have too many guests and you need more characters. So we've written a free extra character for each of our games that you can add in, and some of our customers have created their own characters for their parties and are kindly willing to share them. They are included in your download when you purchase the game.
Chris Champion – member of the Wells River Town Council. (Any)
(by Freeform Games)
Please note that we haven't always tested these – and they may not tie in exactly with our games.
Purchasing The Karma Club
The Karma Club costs US $29.99. You can buy it from anywhere in the world. The price will be converted back into your own currency for you, at today's exchange rate.
IMPORTANT: please be aware that you are buying a game to download from our website, not a boxed game that we will send you in the mail.
After completing your purchase on PayPal, you'll be brought back to this website.

Don't close the PayPal tab, or navigate away!

PayPal might take some time to send you back here: please be patient. Buy

The Karma Club for $29.99
Our payments are usually handled by PayPal, but you don't have to have a PayPal account to buy this game. If you prefer, you can just buy it with your credit or debit card in the normal way. You'll see that option when you click the button above.

IMPORTANT: if PayPal isn't working for you, or if you'd prefer not to use it, we have an alternative payment method – just click here to get payment buttons where you can pay directly with your card. These prices are in UK£.
"Thank you for a great site, fantastic games, good service and very quick reply. Keep up the good work." Ole Martin Brodwall, Norway
Cast Iron Guarantee
We offer a Cast Iron Guarantee on all our murder mystery games. If you're not completely satisfied with The Karma Club then please let us know within 30 days and we will refund you. See our full terms and conditions here.
Trouble downloading? If you have trouble downloading the game files, please first check your spam folder. If you still can't find the download email, drop us a line at info@freeformgames.com with the name of the game and the email address you used to purchase it, and we'll resend it.
Use the form below to contact us via Facebook (your query comment won't appear on Facebook itself unless you choose for it to). Please don't use this for download queries as we can't always match your Facebook profile with the email you used to buy the game.