Click here to buy the game
Here's what people have been saying about The Spy Who Killed Me:
"The Spy Who Killed Me is the third Freeform Game I've run, and I think everyone agrees – it was fantastic! The characters were interesting but simple enough to play, the plots were complex but not confusing, and the writing in general was outstanding. In fact, I'd even go so far as to say that out of the three games I've run, this was the best one yet! Heartily recommend!"
A Customer, United States
"The Spy Who Killed Me went really well! We used it as a reason to bring people back into town for a weekend that had moved. Everyone really enjoyed the evening, and were really getting into their characters, including some spouses that I never would have expected to get so engaged. One of my friends who really doesn't do anything like this know the answer to every mystery in the game by the end of the evening.
Everyone told me how much fun that they had and how much that they wanted to play the game again.
Thank you guys again for everything that you do!"
Aaron McKendry, United States
"We've already played most of the games you have in the 'suitable for kids' section, and my daughters wanted to do The Spy Who Killed Me next. We really enjoy your games. Kids really get into it, their bloodthirsty streak comes out early, and all sorts of unusual alliances are made! It rarely turns out according to logic, but they love it."
Fhiona Alsop, United Kingdom
"The Spy Who Killed Me was very enjoyable. Very good setup and plot. It was less of following the script, and more of a game of trying to figure out who was killing who. Which if anything made it more fun – 10/10!"
A Customer, United Kingdom
"Eight of us have played 5 or 6 murder mysteries before, the scripted versions around the dinner table, and I wanted something suitable for an evening with friends from church. We were about 15 originally, but I couldn't find a boxed version for that many… and thank goodness I didn't!!
While it's true to say that just about everyone was somewhat daunted about the information given them (myself included as the host!) our The Spy Who Killed Me evening was an absolute success! That finding the murder(er's) was one aim, the fact that everyone had different goals to achieve was brilliant… and I doubt very much that I will look for a scripted version again. Indeed… already people are asking about the next one ( nine hours after hosting it!) – so I'll be back here to download that… thank you for a marvellous evening!!!!!!!!! from 19 of us…"
George Cumberland, United Kingdom
"14 of us played The Spy Who Killed Me last night, and it was amazing! Everybody was in character, and each person had so many secret objectives to complete throughout. A few times, we had people running through the house shouting at each other for lying, poisoning, harming or killing each other! The most unlikely alliances were formed, and some characters were very good at keeping their secrets hidden, and diverting the blame to others! Thank you for such a fun night, the conclusion at the end was complex, but believable! At the end, everyone went round and talk to others revealing their info and secrets to others, and others were shocked at some of the characters secrets; things they had never even thought of! People are already asking for more!"
A Customer, United Kingdom
"We had a lot of fun playing The Spy Who Killed Me a couple of months ago. I've neither played nor hosted a murder mystery night, so I must admit it was all a bit of a steep learning curve! I look forward to playing some of your other games in the near future."
Charin Singh, Netherlands
---
If you would like to tell us how your party went, please click here to send us your story.
The Spy Who Killed Me – a 1960s murder mystery party game with a spy-infested setting for 14 to 18 guests
"The Spy Who Killed Me was very enjoyable and intricate enough to keep everyone involved."
Mary Narcum, United States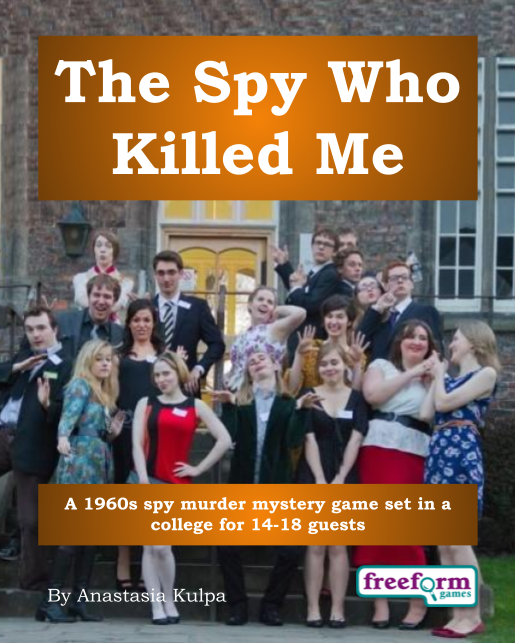 Recommended for ages 15+
Costs US$29.99
Written by Anastasia Kulpa
Click here to buy the game
The Spy Who Killed Me is a murder mystery party game for 14 to 18 guests and a host – download the free introductory pdf file.
Join us in a civilized evening of espionage, code-breaking, backstabbing, and graduating with honours. You will be in the middle of the action and it will be up to you to wheel and deal with the other guests. Can you achieve your goals, keep your secrets hidden and survive The Spy Who Killed Me? It's up to you.
The Spy Who Killed Me
Welcome to Maudlin College, an institution with prestigious roots and an even more promising future. As we are nearing the end of the last term of the year, it is time to celebrate a hard year's work – in the lab, the library, and on the water – at the glorious Summer Ball. Maudlin College's best and brightest have gathered for a evening of celebration recognizing the recipients of prestigious research grants, and academic as well as athletic scholarships, which will be renewed – or not – this evening.
It should be cause for celebration – but the evening is more sedate than planned; as the musicians arrived this evening, the Head Porter announced that Beth Garnet, one of this evening's student honorees, was found dead in her room. There are whispers about that Beth lost her life because of her involvement in espionage – if that is true, she cannot be the only secret agent in the college.
See stories and pictures
from The Spy Who Killed Me Read the
Oxbridge Oracle
The Spy Who Killed Me lasts for about four hours and is suited to an evening. It is often played over a meal – a finger buffet if possible to allow guests to circulate and talk in private.
"We loved The Spy Who Killed Me. It was much better than other, more scripted games."
Caleb MacDonald, Canada
The free introductory pdf file contains an introduction to the game, a cast list of all the characters, and a copy of the Oxbridge Oracle – plus details of how to buy the game.
| | | | |
| --- | --- | --- | --- |
| | Includes rules for the use of poison. | | Includes rules for combat. |
These are the characters in The Spy Who Killed Me:
Alex Tanner – Jan's assistant
Alicia Schleitwiler – an undergraduate academic scholarship recipient
Chris Morrison – an athletic scholarship administrator
Daniel Mason – an undergraduate
Doctor Aberhart – a dramatic music professor
Doctor Barnes – an abrasive physics professor
Genevieve Lyle – an undergraduate, coxswain of the rowing team
Jamie Carthart – an academic scholarship administrator
Jan von Capp – a research grant administrator
Jennifer Sable – a postgraduate student in physics
Jonathan Calder – an undergraduate and athletic scholarship recipient, captain of the rowing team
Margaret Ravenscroft – a postgraduate student in mathematics and academic scholarship recipient
Master Harris – the Master of Maudlin College
Nathan Saunders – an undergraduate
Professor Rosenthorn – a slightly reclusive economics professor
Professor Thompson – an eccentric mathematics professor
Sam Davidson – an undergraduate
Simon Feverfew – an undergraduate and athletic scholarship recipient, star of the rowing team
Number of
guests
Male
characters
Female
characters
Ungendered
characters
14
2
3
9
15
2
4
9
16
3
4
9
17
3
4
10
18
4
4
10
How Freeform Games Murder Mysteries Work
The Spy Who Killed Me is unlike many murder mystery games. Although the game starts with a murder, most of the characters have more important things to do than to investigate it. And the killing may not be over – it is unlikely that everyone will survive the remainder of the evening!
The Spy Who Killed Me is played just like a murder mystery game. You may be trying to solve the murder, but primarily you are (initially at least) concentrating on your own goals and objectives. Unlike most boxed murder mystery games, The Spy Who Killed Me lets you decide how to achieve your goals and thwart your enemies.
"I had a great time playing The Spy Who Killed Me!"
Brian (a playtester), Arizona, United States
On the evening of the game the guests are met by the organizer, the Head Porter, and welcomed to Maudlin College. They then receive their detailed backgrounds – including dark secrets, objectives and money. The fun then begins as they form alliances, blackmail each other, steal items and maybe even try to murder one another! Along the way they may uncover some of the mysteries of The Spy Who Killed Me. Who is a double agent? Who leads the secretive Holly and Oak Society? Who is a professional assassin, and who is the mysterious 'Elsie'? What is the secret of the cryptogram? Depending on what the players choose to do, there are several different possible endings, but finally everyone finds out how they did, and what secrets everyone else was concealing.
Recommended for ages 15+
We recommend The Spy Who Killed Me for those aged 15+ as it contains the following themes: two of the characters are rival suitors for the hand of another.
Extra characters
Sometimes you have too many guests and you need more characters. So we've written a free extra character for each of our games that you can add in, and some of our customers have created their own characters for their parties and are kindly willing to share them.
'Ginger' Roberts – freelance reporter in search of the Big Story. (Any)
(by Freeform Games)
Jordan Campbell – postgraduate music student. (Any)
(by Aaron McKendry)
Lee Hatfield – tennis-playing undergraduate student (Any)
(by Kathi Bonallo)
Perry Skeeter – reporter for The Times (Any)
(by Kathi Bonallo)
Quinn Wells – tennis-playing undergraduate student (Any)
(by Kathi Bonallo)
Riley Burke – postgraduate economics student (Any)
(by Aaron McKendry)
Please note that we haven't always tested these – and they may not tie in exactly with our games.
IMPORTANT – if you've bought the game, you can download the files for these characters from the download page where you got your main game files. Contact us if you need the link and password to get back to that page.
ALSO IMPORTANT – you shouldn't add too many of these characters in to your game as they haven't been designed to work together (unlike the main game characters). If you add in several, they may make your game chaotic and incoherent. You should probably instead choose a larger game. If you still want to add several extra characters (four or more), we recommend having an extra host to help.
Purchasing The Spy Who Killed Me
The Spy Who Killed Me costs US $29.99. You can buy it from anywhere in the world. The price will be converted back into your own currency for you, at today's exchange rate.
IMPORTANT: please be aware that you are buying a game to download from our website, not a boxed game that we will send you in the mail.
After completing your purchase on PayPal, you'll be brought back to this website.

Don't close the PayPal tab, or navigate away!

PayPal might take some time to send you back here: please be patient. Buy

The Spy Who Killed Me for $29.99
Our payments are usually handled by PayPal, but you don't have to have a PayPal account to buy this game. If you prefer, you can just buy it with your credit or debit card in the normal way. You'll see that option when you click the button above.

IMPORTANT: if PayPal isn't working for you, or if you'd prefer not to use it, we have an alternative payment method – just click here to get payment buttons where you can pay directly with your card. These prices are in UK£.
"Thank you for a great site, fantastic games, good service and very quick reply. Keep up the good work." Ole Martin Brodwall, Norway
Cast Iron Guarantee
We offer a Cast Iron Guarantee on all our murder mystery games. If you're not completely satisfied with The Spy Who Killed Me then please let us know within 30 days and we will refund you. See our full terms and conditions here.
Trouble downloading? If you have trouble downloading the game files, please first check your spam folder. If you still can't find the download email, drop us a line at info@freeformgames.com with the name of the game and the email address you used to purchase it, and we'll resend it.
Use the form below to contact us via Facebook (your query comment won't appear on Facebook itself unless you choose for it to). Please don't use this for download queries as we can't always match your Facebook profile with the email you used to buy the game.