Under the Big Top – a 1950s murder mystery party game with a circus setting for 12 to 15 guests
"I've been hosting murder mystery parties for years, but Under the Big Top was the first freeform I've tried and I LOVE it! Am planning another one in February for a group of 30. "
Alaina Robertson, United States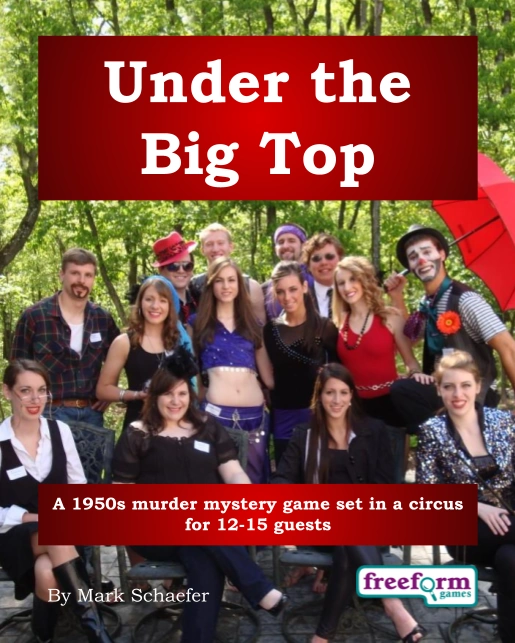 Recommended for ages 15+
Costs US$29.99
Written by Mark Schaefer
Click here to buy the game
Under the Big Top is a murder mystery party game for 12 to 15 guests and a host – download the free introductory pdf file.
Join us in a thrilling evening of betrayal, deceit, treachery and circus mayhem. You will be in the middle of the action and it will be up to you to wheel and deal with the other guests. Can you achieve your goals, keep your secrets hidden and survive Under the Big Top? It's up to you.
Under the Big Top
It's 1952 and Bo Bennett's Big Top Bonanza has reached Sarasota, Florida for their final show. With a successful nine month tour behind them, the performers and staff of the Bonanza are making plans for a restful and rewarding off-season.
As the curtain falls on the final Big Top performance, a select few gather in JoJo Bones' Exotic Emporium of Enigmatica (part of the Bonanza). To celebrate the successful tour, JoJo will host a night of revelry, food, drink and, this year, what JoJo has promised to be "startling revelations". Tragically, however, JoJo was killed last night. His body was found early this morning in the lions' cage, mauled by lions Gladys and Mountjoy. Since JoJo's body reeked of alcohol, preliminary reports are that he wandered into the cage in a drunken stupor.
But, the show must go on and the post-season party will continue – and so the selected performers and staff of Bo Bennett's Big Top Bonanza assemble to remember JoJo and celebrate the successful season. This may be their last chance to seal their fates for the future…
See stories and pictures
from Under the Big Top Read the
Sarasota Star
Under the Big Top lasts for about four hours and is suited to an evening. It is often played over a meal – a finger buffet if possible to allow guests to circulate and talk in private.
"Under the Big Top was the first that any of us did a murder mystery party and it was seriously the best party that I've ever had!! We all had said much fun. A great time!! Everyone went all out."
Shanna Tonelli, United States
The free introductory pdf file contains an introduction to the game, a cast list of all the characters, and a copy of the Sarasota Star – plus details of how to buy the game.
| | |
| --- | --- |
| | No combat, no poison. |
These are the characters in Under the Big Top:
Bo Bennett's Big Top Bonanza

Bo Bennett: Owner and ringmaster of Bo Bennett's Big Top Bonanza.
Marvin Mancuso: The daring high wire performer and juggler par excellence! A veteran and star performer of the Bonanza.
Burt Butler: The fearless and intrepid svengali of the beasts! Another veteran and star performer.
Dana West: Floppsy the Clown, our winning, whimsical and puckish prankster.
Dimitri Korchencko: Flyer for the Flying Korchenckos, gravity-defying, soaring hawk of the trapeze!
Vladimir Korchencko: Dimitri's brother, and catcher for the Flying Korchenckos, the mighty oak upon which Dimitri alights!

JoJo Bones' Exotic Emporium of Enigmatica

Stella Sue: Beguiling consumer and tamer of nature's most feared and destructive element – fire! (ie fire-eater)
Svetlana Yuri: The human pretzel, a mind-bending contortionist beyond compare.
Quinn Bones: The human pincushion whose body endures the points of needles, daggers and swords! (JoJo and Roxanne's sibling.)
Roxanne Bones: The Blind Seer will peer into your future and foresee your death. Do you dare? (JoJo and Quinn's sister.)
Mischa Korchencko: Astounding charmer of snakes, mesmerizing asps, rattlesnakes and copperheads! (Dimitri and Vladimir's sibling.)

Staff

Frieda Laing: Assistant manager and mistress of the rides and games of chance.
Alex Marbles: Our wizard of numbers (our accountant)

Invited Guests

Lt. Morgan Caine of the Sarasota Police Department
P.T. Connelly: Provider of edible delights.
Number of
guests
Male
characters
Female
characters
Ungendered
characters
12
4
4
4
13
4
4
5
14
4
4
6
15
4
4
7
How Freeform Games Murder Mysteries Work
Under the Big Top is unlike many murder mystery games. Although the game starts with a murder, most of the characters have more important things to do than to investigate it. And the killing may not be over – it is unlikely that everyone will survive the remainder of the evening!
Under the Big Top is played just like a murder mystery game. You may be trying to solve the murder, but primarily you are (initially at least) concentrating on your own goals and objectives. Unlike most boxed murder mystery games, Under the Big Top lets you decide how to achieve your goals and thwart your enemies.
"I couldn't help but think that I, as the host, was entirely unprepared for the Under the Big Top night. It seemed to me there was far too much to remember. Luckily, that wasn't the case at all, everyone really took to their goals and went fully for it. I kept having people tell me "don't end the game yet! I'm so close to achieving such and such goal." Even my shy friends picked up on it right away. It was an incredible way to spend my 30th birthday!"
Alyssa Stratton, United States
On the evening of the game the guests are met by the organizer, the Circus Hand. They then receive their detailed backgrounds – including dark secrets, objectives and money. Some are hatching schemes. Others harbor nasty and unbridled ambitions. The players can form alliances, blackmail each other, steal items and decide what they plan to do next season. Along the way they may solve some of Under the Big Top's mysteries. Who will be appointed the new Manager of JoJo Bones' Exotic Emporium of Enigmatica? What is the real story behind JoJo's death? All will be revealed Under the Big Top.
Recommended for ages 15+
We recommend Under the Big Top for those aged 15+, as it contains the following themes: several characters are romantically involved with, or interested in, each other.
Extra characters
Sometimes you have too many guests and you need more characters. So we've written a free extra character for each of our games that you can add in, and some of our customers have created their own characters for their parties and are kindly willing to share them. They are included in your download when you purchase the game.
'Ginger' Roberts – freelance reporter in search of the Big Story. (Any)
(by Freeform Games)
Denny McFly – stagehand and prop manager. (Any)
(by Kathi Bonallo)
Hoxie Trainer – apprentice lion tamer. (Any)
(by Kathi Bonallo)
Please note that we haven't always tested these – and they may not tie in exactly with our games.
Purchasing Under the Big Top
Under the Big Top costs US $29.99. You can buy it from anywhere in the world. The price will be converted back into your own currency for you, at today's exchange rate.
IMPORTANT: please be aware that you are buying a game to download from our website, not a boxed game that we will send you in the mail.
After completing your purchase on PayPal, you'll be brought back to this website.

Don't close the PayPal tab, or navigate away!

PayPal might take some time to send you back here: please be patient. Buy

Under the Big Top for $29.99
Our payments are usually handled by PayPal, but you don't have to have a PayPal account to buy this game. If you prefer, you can just buy it with your credit or debit card in the normal way. You'll see that option when you click the button above.

IMPORTANT: if PayPal isn't working for you, or if you'd prefer not to use it, we have an alternative payment method – just click here to get payment buttons where you can pay directly with your card. These prices are in UK£.
"Thank you for a great site, fantastic games, good service and very quick reply. Keep up the good work." Ole Martin Brodwall, Norway
Cast Iron Guarantee
We offer a Cast Iron Guarantee on all our murder mystery games. If you're not completely satisfied with Under the Big Top then please let us know within 30 days and we will refund you. See our full terms and conditions here.
Trouble downloading? If you have trouble downloading the game files, please first check your spam folder. If you still can't find the download email, drop us a line at info@freeformgames.com with the name of the game and the email address you used to purchase it, and we'll resend it.
Use the form below to contact us via Facebook (your query comment won't appear on Facebook itself unless you choose for it to). Please don't use this for download queries as we can't always match your Facebook profile with the email you used to buy the game.