Click here to buy the game
Here's what people have been saying about Way out West:
"I ran Way out West via zoom for a group of old school friends last weekend and it was so much fun! The players said it was one of the best evenings they've had all year. Thanks for a lovely evening."
Rosie Eaton
"Way out West Expanded was my first game from Freeform Games – but I will DEFINITELY be using your site again – nevermind that I know several people who are planning to use your games as well :)
It was GREAT FUN – I purchased this game to use for my 30th birthday party and it was a HUGE success. Everyone had such a great time – people were even trying to resolve character "disputes" over the next couple days! Several guests have told me that they want to do something similar for their own get-together. I've referred EVERYONE to your site :)"
Elizabeth Holthouser, United States
"Thanks so much – everyone at our party thoroughly enjoyed the complexity of Way out West. There were so many more mysteries to be worked on besides the murder and all members of the party enjoyed having so much to do. We never had a 'dull' moment! "
Lee Nelson
"Just wanted to email you all and say what a fantastic day we had Saturday night when we ran Way out West. We all had a blast, everyone dressed up and got into the spirit of things... Nearly a week on, we are still talking about it, and the photos have proved a great success! I am hoping to run another on New Year's Eve, so will probably email you at the time asking for help on that one!"
Kerry Walmsley, Preston, United Kingdom
"Way out West was a very good simple theme for people to obtain fancy dress and get into their characters – with no excuses of not being able to find a costume! This was our first attempt at a freeform game and I think it was very successful and was much more of challenge than a previous murder mystery game we played. Once people got over the shock of actually having to think for themselves they all got into it! No-one guessed correctly who the murderer was! "
Kim Loftus, United Kingdom
"Our Way out West party was a great success. My husband was the bartender and I helped. We had an adult playing Kate and 18 year old playing Christy and the rest were 11 and 12. They did great and were even trying to settle the land dispute the next day at school! "
Stephanie McLaughlin, Texas, United States
"Just wanted to say thanks. We held our Way Out West party last night and it was a huge success. Everyone had a great time and the characters worked out perfectly. Will check back every so often to see if any new ones come out as I am sure the group would enjoy another mystery at some point down the road. As for me, I have to rest up -- keeping track of everything has worn me out. I enjoyed the system and look forward to trying another one. Thank you for your help."
Bob Cantlay, Alabama, United States
"It was the very first time that I ever participated in any murder mystery game and it was great!! I hosted Way out West. People loved it and are asking for more :D !
The players were so creative! [Character X] was pretty smart, they got the cards and everything they needed to be all set. Then in the end [Y] and [Z] put the map together so they could find the silver lode, give money to [A] and they could buy the Range from [B]. It was awesome!!!!"
Klaudia Smith, Hungary
"We got the free version of Way Out West and wound up purchasing the Expansion pack. We bought it for our couples' class to do at church. It turned out so well, everyone had a blast and we are looking forward to doing our next one this year. You guys offer an awesome experience for a good price. We just purchased our next mystery for this year All At Sea and are incredibly excited to start planning it and getting it together :) Thanks!"
Jocelyn Pethtel, United States
"First we must thank you for the creative and all round FUN evening we had last night, hosting Way out West Expanded (kids' version) for 27 people!! My husband and I decided to host a murder mystery as an opportunity for peeps in our home group to get to know the church staff better – it was both hilarious and VERY successful.
"I am so glad I began my journey with murder mysteries playing a Freeform game. I have heard of many other more controlled or directed games. I doubt those will ever have the same attraction as the working out of a unique sequence of events, determined by the players!"
Jacobeth Whiting, South Africa
"We hosted our first Murder Mystery dinner game, Way out West, at our bed and breakfast two weeks ago for a group of friends. My husband didn't want to participate at first, but after a half hour of playing the murderer he had a great time. We're hoping to make murder mystery dinners a regular event at the B&B and really like the format and stories you've developed."
Wendy White, United States
---
If you would like to tell us how your party went, please click here to send us your story.
Way out West – a murder mystery party game with a Western setting for 10 to 24 guests
"We played Way out West on New Year's Eve and really enjoyed it a lot. I have flagged your website in my favorites so we can easily access you next year if not before. Thanks for all of your hard work on this game."
Jackie Vick, Minnesota, United States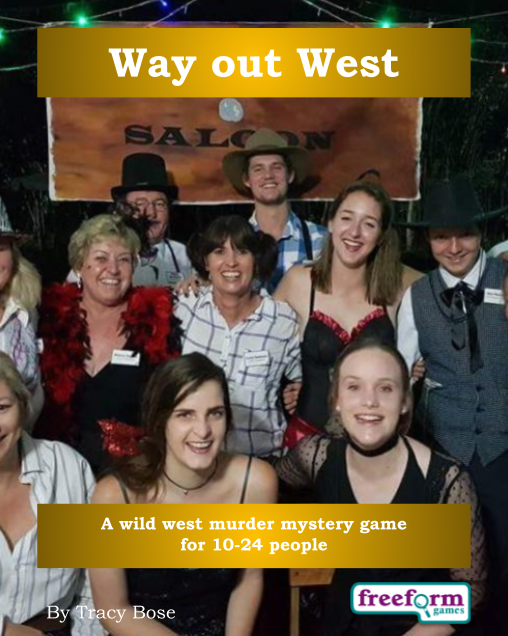 Recommended for ages 15+ (or 12+ for the kid-friendly version)
Costs US$29.99
Written by Tracy Bose
Click here to buy the game
Way out West is a murder mystery party game for 10 to 24 guests and a host – download the free introductory pdf file.
Kids' version – this game includes a FREE special version written for kids and younger teens.
Join us in a thrilling evening of scheming, intrigue and skulduggery. You will be in the middle of the action and it will be up to you to wheel and deal with the other guests. Can you achieve your goals, keep your secrets hidden and survive Way out West? It's up to you.
Way out West
It is the spring of 1884. America's west coast is slowly being populated with small towns full of settlers, coming to prospect for precious metals, set up ranches and run dubious saloons. Now the railway is coming! Cactus Gulch is one such small town. Founded 20 years ago, tonight it has a festive air as the townsfolk get set to start their 20th anniversary celebrations. Plus, the railway is coming! However, all is not running smoothly. Land disputes, disreputable card games, strange folk from out of town, and quarrels with the local Indians are all adding to a tense atmosphere…
See stories and pictures
from Way out West Read the
Cactus Gulch Gazette
Way out West lasts for about four hours and is suited to an evening. It is often played over a meal – a finger buffet if possible to allow guests to circulate and talk in private.
"Thanks for a great party – definitely recommend Way out West to friends!"
Mel Woods, London, United Kingdom
The free introductory pdf file contains an introduction to the game, a cast list of all the characters, and a copy of the Cactus Gulch Gazette – plus details of how to buy the game.
| | | | |
| --- | --- | --- | --- |
| | Includes rules for the use of poison. | | Includes rules for combat. |
These are the characters in Way out West:
Able Blane – The town's reliable sheriff
Blaise Sadler – Aging saloon owner
Christy Martin – Storekeeper from out of town
Clem Parham – City slicker, Mid West Rail rep
Dan Fairweather – Slow and honest deputy sheriff
Doc Faraday – Notorious gambler
Elijah Entwhistle – Travelling preacher
John Paulson – Town's much-revered judge
Kalamata Kate – Young bar waitress
Lucy Calhoun – Zeke's daughter, young woman, complete tomboy
Mel Easton – City slicker, South West Rail rep
Runs Like a Deer – Indian woman
Slick O'Hare – Scruffy ranch hand for hire
Three Feathers – Revered Indian shaman
And here are the extra characters that you get if you purchase Way out West Expanded:
Etta Johnson – Local schoolmarm and newspaper gossip
Frederick Lloyd – Wealthy English mining investor
Marco the Mesmerizing – Travelling stage magician with a secret agenda
Maxwell Jebediah Adams – Town drunkard and ne'er-do-well
Minnie Mae Adams – Former Sunday School teacher with hidden depths
Ol' Barr – Reclusive fur trapper and friend to the Indians
Robert Barnaby – Shy young legal clerk
Ruby Sapphire – Flame-haired singer, notorious beauty
Soon Li – Chinese migrant worker, in a heap of trouble
Widder James – Grande Dame of the ladies in Cactus Gulch
Number of
guests
Male
characters
Female
characters
Ungendered
characters
10
5
3
2
11
5
4
2
12
6
4
2
13
6
4
3
14
6
4
4
15
6
5
4
16
6
5
5
17
6
6
5
18
7
6
5
19
9
5
5
20
9
6
5
21
9
6
6
22
9
7
6
23
10
7
6
24
10
8
6
How Freeform Games Murder Mysteries Work
Way out West is unlike many murder mystery games. Although the game starts with a murder, most of the characters have more important things to do than to investigate it. And the killing may not be over – it is unlikely that everyone will survive the remainder of the evening!
Way out West is played just like a murder mystery game. You may be trying to solve the murder, but primarily you are (initially at least) concentrating on your own goals and objectives. Unlike most boxed murder mystery games, Way out West lets you decide how to achieve your goals and thwart your enemies.
"We received your game, Way Out West, and had our party last weekend. It was a huge success. Everyone went all out on their costumes and the game flowed smoothly. Thanks for your great customer service!"
Lisa and Anthony Perez, Oregon, United States
On the evening of the game the guests are met by the organizer, the Bartender of the Silver Dollar Saloon. They then receive their detailed backgrounds - including dark secrets, objectives and money. When everyone has arrived the celebrating starts, but it is immediately disrupted by a shocking announcement. The real fun then begins as everyone questions, bribes and blackmails each other. As the evening progresses they may even try to murder one another! Along the way they may solve some of Way out West's mysteries. Where is the map to the recently discovered silver lode? Who owns the land that the railways are desperate to get hold of? Why are the Indians threatening to rebel? Why is a pack of cards so important? Why is the preacher so sinister? Finally, the game concludes and everyone finds out how they did, and what secrets everyone else was concealing.
Recommended for ages 15+ (or 12+ for the kid-friendly version)
We recommend the adults' version of Way out West for those aged 15+ as it contains the following themes: one character is an alcoholic and saloon madame. (This content is not present in the kids' version.)
Extra characters
Sometimes you have too many guests and you need more characters. So we've written a free extra character for each of our games that you can add in, and some of our customers have created their own characters for their parties and are kindly willing to share them.
'Ginger' Roberts – roving reporter (Any)
(by Freeform Games)
Alex Gables – freelance reporter (Any)
(by J. Yu)
Jay Sidwell – stable hand. (Any)
(by Rosie Eaton)
Please note that we haven't always tested these – and they may not tie in exactly with our games.
IMPORTANT – if you've bought the game, you can download the files for these characters from the download page where you got your main game files. Contact us if you need the link and password to get back to that page.
Purchasing Way out West
Way out West costs US $29.99. You can buy it from anywhere in the world. The price will be converted back into your own currency for you, at today's exchange rate.
IMPORTANT: please be aware that you are buying a game to download from our website, not a boxed game that we will send you in the mail.
After completing your purchase on PayPal, you'll be brought back to this website.

Don't close the PayPal tab, or navigate away!

PayPal might take some time to send you back here: please be patient. Buy

Way out West (10-14) for $29.99
Buy

Way out West (10-24) for $39.99
Buy

Way out West Expansion Pack

(if you already have Way out West (10-14) and want the extra ten characters)

for $14.99
Our payments are usually handled by PayPal, but you don't have to have a PayPal account to buy this game. If you prefer, you can just buy it with your credit or debit card in the normal way. You'll see that option when you click the button above.

IMPORTANT: if PayPal isn't working for you, or if you'd prefer not to use it, we have an alternative payment method – just click here to get payment buttons where you can pay directly with your card. These prices are in UK£.
"Thank you for a great site, fantastic games, good service and very quick reply. Keep up the good work." Ole Martin Brodwall, Norway
Cast Iron Guarantee
We offer a Cast Iron Guarantee on all our murder mystery games. If you're not completely satisfied with Way out West then please let us know within 30 days and we will refund you. See our full terms and conditions here.
Trouble downloading? If you have trouble downloading the game files, please first check your spam folder. If you still can't find the download email, drop us a line at info@freeformgames.com with the name of the game and the email address you used to purchase it, and we'll resend it.
Use the form below to contact us via Facebook (your query comment won't appear on Facebook itself unless you choose for it to). Please don't use this for download queries as we can't always match your Facebook profile with the email you used to buy the game.