Welcome to the Freeform Games murder mystery party newsletter!
Hi,
Welcome to the latest issue of our occasional newsletter! In this issue we have an exciting new game, as well as more lockdown tips and suggestions:
A brand new murder mystery party game, The Food is to Die For!

Guidance for playing our games online

Mass murder!
Enjoy!
Mo and Steve
---
A brand new murder mystery party game – The Food is to Die For!
It's been a while since we released a new murder mystery game, and this one has been in the works for quite some time! But now the time is right. The Food is to Die For was written by Anastasia Kulpa, who also wrote the terrific The Spy Who Killed Me for us.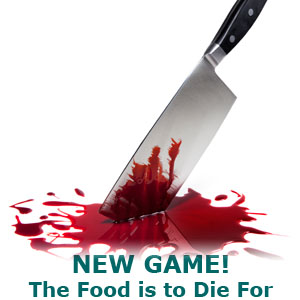 At The Food is to Die For, Pierre Baudelaire's restaurant changes names faster than playboys change girlfriends. Nobody cares though, because the man's a genius, and makes food that is absolutely to die for. Everyone just called the restaurant "That place at the end of Maple" for years, until Pierre decided the joke was hilarious, and changed the restaurant's name, formally, to At the End of Maple.
Whatever the name, this is THE restaurant in town—where anyone who's anyone is seen dining. Celebrities, politicians, philanthropists, foodies, they all wait and wait for than chance to get a table. Tonight is a special night—C.J. Charles, the most discerning and respected restaurant critic in the business, is dining here and will write a review.
Most of the staff came in at 10 this morning to make sure all the preparations were in order, and took a break between 2 and 6pm, in time for the dinner service to start.
When they arrive in the evening, though, Pierre is sprawled on the floor of his kitchen, in a puddle of beet soup and blood—dead. Pierre was a gifted chef, but he made enemies. Who hated him enough to kill?
The Food is to Die For is for 12–15 players, and it costs $29.99. It's designed to be played face-to-face in the regular way—but we've included guidance for using it online with the players in separate locations, if that's what works better for you at the moment.
Just click here to find out all about it!
---
General guidance for playing our games online
With over eight months of lockdown under our belt, we and our customers are starting to get used to running our games online. So in addition to our two online games (Death in Venice and Reunion with Death) we have also now created some general advice for hosting our games online which we are including with all purchases.
Lord and Lady Westing's Will online: Ryan used some of Discord's features to run one of our more complex games, Lord and Lady Westing's Will, online. You can read about that here.
Reunion with Death and Death in Venice - Kelly's Story: Kelly in Michigan shares her story (and some hints and tips) about running our two online games Reunion with Death and Death in Venice.
Hosting and Playing Death in Venice: When we realised that it's possible to both host and play Reunion with Death and Death in Venice, Steve (one half of Freeform Games) decided to try that with Death in Venice. He wrote up his thoughts here.
Casting tips: Our tips for using a Google Form (or Microsoft Form) to cast your party.
Using Discord: Steve used Discord to run both The Karma Club and Death in Venice online. It can be very flexible, and Steve explains how he set Discord up (and some of the pitfalls).

---
Mass murder
More from Kelly in Michigan, and this time she tells us about the end-of-game mass murder that occurs when she throws a murder mystery party.