"You make really great games. My friends and me are fond of mystery murder games and tried quite a number of them, and yours are the most interesting and elaborate ones :)" Lyubov Sharonova, Russia
The certificate logos beside each game's name 12+ 15+ 18+ show the game's age suitability. Where a game has two certificates, that means there are two different versions of the game. See our page about recommended ages for more details about age suitability of our games.
Our kids' party games
We also have these games for kids younger than 12:
| | |
| --- | --- |
| | Trick or Treat – Gangs of monsters are competing to see who's the scariest, in this Halloween party game for 8–24 monsters, aged 8 and up (there is also a non-Halloween version of this game) |
| | Monster Mash – Gangs of monsters are competing to see who's the scariest, in this themed party game for 8–24 monsters, aged 8 and up (there is also a special Halloween version of this game) |
| | Pirate Island – Take part in the annual Pirate Games and quest for treasure in this themed party game for 8–24 pirates, aged 8 and up |
Buying our murder mystery games
"Freeform Games offers what I call First Class Customer Care! I have been overwhelmingly happy (and even shocked) with the extremely helpful assistance you provide in choosing a game that is a perfect match. You quickly and clearly answered all my questions from start to finish. Thank you for making this purchase a memorable one!" Tammy, USA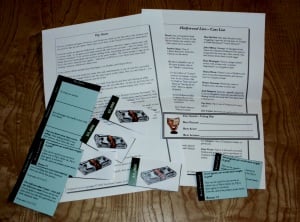 Here's an example of a typical character pack printed out
You can buy our games with a credit or debit card, with a PayPal account, or with a cheque or International Money Order:
Paying with a credit or debit card or with a PayPal account
Choose the game you want to buy, and click on one of the 'Buy now' buttons. You can buy in US dollars or UK pounds, as you prefer – no matter where in the world you are yourself. The price will automatically be converted into your own currency. You'll be taken to a secure server and asked to enter your card details and authorize a payment to us. Click on the 'Continue' button after your payment has completed, and you'll then be taken to a download page where you can collect your game immediately. We'll also automatically email you the password and location to get back to the download page, in case you don't want to pick up your game right away.
"Thanks for being so understanding. I definitely will be purchasing another game here soon." Teresa Bradley
Our payments are handled by PayPal, but you don't have to have a PayPal account to buy our games. If you prefer, you can just buy it with your credit or debit card in the normal way. You'll see that option when you click the 'Buy now' button above.
"As I've always said you guys are great!!!! You think of everything! You've found a loyal customer in me!!" Doris Arnett-Gary, USA
Paying by cheque/IMO
You can also buy your game with a cheque or International Money Order, made out in UK pounds, if you prefer. See our payment details page for how to do that.
"Many thanks for all your help in my questions. Thanks for your good wishes for Saturday's party. Look forward to trading with you again." Sue Garrod
IMPORTANT: please be aware that you are buying a game to download from our website, not a boxed game that we will send you in the mail.
Guarantee
You can read our terms and conditions here. You'll see that we offer a no-quibble money-back guarantee. If you don't like this game, we'll refund your payment, no questions asked!
(We ought probably to add that this doesn't happen very often. Most people think our games are pretty good…)
Privacy
We're fed up ourselves of having our email addresses given to spammers, or being bombarded with an eternity of junk by a firm we bought something off once, and we're pretty sure most of you are too. So we have a very rigid and simple privacy policy, which goes like this:
we will never give any of your details to anyone else;
unless you explicitly ask us to, we will never contact you again after you've made your purchase, apart from a follow-up satisfaction survey;
if you do opt-in to our mailing list, all we will ever do is send you occasional information about our products;
we will hold the minimum detail about you possible.
Our data policy is fully in compliance with the UK Data Protection Acts 1984 and 1998 – see the UK Information Commissioner's site for more details on what this means.
No-quibble full refund
If you're unsatisfied with the game you buy, for whatever reason, just request a refund within 30 days and we'll happily refund your payment in full. (Not many people take us up on this offer!)