Pirate party tips
We have two pirate themed murder mystery games (A Dead Man's Chest and Davy Jones' Locker), and we also have Pirate Island, our pirate party game.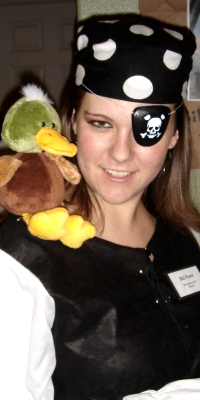 Here are some tips suitable for any pirate party.
Bumbo - Authentic Caribbean drink during the era of piracy
While researching grog, Escher0 came across Bumbo and reports: According to Wikipedia here: Bumbo was popular in the Caribbean during the era of piracy, largely because it tasted better than Royal Navy Grog. Pirates and short-haul merchantmen did not suffer from scurvy as often as British sailors, largely because their voyages were shorter and their diet included plenty of fresh fruit and vegetables. This meant that citrus juice could be dropped from the grog recipe, and sugar and nutmeg sweetened the mix.

So not only was it supposed to be tastier, it was actually the authentic drink for the setting of the game!

There are countless recipes for bumbo but with some more research, we settled on this one:
2 oz Amber Rum
1 oz Chilled Water
2 Sugar Cubes (brown or cane)
Sprinkle Cinnamon
Sprinkle Nutmeg

We had some trouble getting the sugar to dissolve and we wanted to make a whole bottle of Bumbo so we boiled some water, measured it out and dissolved the sugar, cinnamon and nutmeg. Once it had cooled, we added the rum (we used Captain Morgan) and stuck it all in the fridge overnight. Since bumbo doesn't take ice, it should be served slightly chilled. So right before the party, we took it out of the fridge and put it out. It did not last long. We made one bottle but should have made two, it was such a hit.

Hope this helps you add a dash of authenticity to your party and I'll see you on the high seas!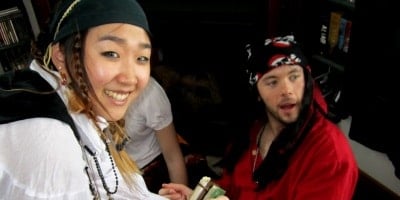 Similarly, jollirog reports: When we did A Dead Man's Chest a friend taught me how to make 'Dark and Stormy Nights' and it sounds like the flavour might be similar. This was absolutely delish, but be warned it doesn't taste alchoholic!
1/3 fill a jug with crushed ice.
Add quartered limes (I used 3, but use to taste) and crush in with the ice to release the juices.
Add several measures Morgan Spiced Rum (again to taste - ours tended to get more generous as the evening wore on!)
Top up with dry ginger ale.
Enjoy (I certainly did!)
Have you tried playing one of our games without using abilities?
If you have tried playing one of our murder mystery games without character abilities, you can contact us via our contact form, or via our Facebook page, or by posting in the Facebook Comments below.