Your murder mystery party stories
We love hearing your stories about our murder mystery games!
Here's a selection of stories – if you've enjoyed one of our games, please let us know via the form at the bottom of the page.
People all over the world have hosted our games! So far we know about: American Samoa, Argentina, Australia, Austria, Belarus, Belgium, Brazil, Brunei, Bulgaria, Canada, Cayman Islands, China, Cocos Islands, Croatia, Cyprus, Czech Republic, Denmark, Estonia, Ethiopia, Finland, France, Georgia, Germany, Gibraltar, Greece, Guinea, Hong Kong, Hungary, Iceland, India, Ireland, Isle of Man, Israel, Italy, Japan, Jersey, Kenya, Kuwait, Latvia, Liechtenstein, Lithuania, Luxembourg, Macau, Macedonia, Malaysia, Mali, Malta, Mexico, Micronesia, Mongolia, Namibia, Netherlands, Netherlands Antilles, New Zealand, Norway, Oman, Papua New Guinea, Philippines, Poland, Portugal, Romania, Russia, Senegal, Serbia, Seychelles, Singapore, Slovakia, Slovenia, South Africa, Spain, Sri Lanka, St Helena, Suriname, Sweden, Switzerland, Tanzania, Taiwan, Turkey, UAE, Ukraine, United Kingdom, United States, Zambia and Zimbabwe. If you're in a country not listed here, and you've run one of our games, we'd love to hear about it!
Which game would you like to see stories about?
---
"I recently hosted A Heroic Death for the 3rd time, having previously hosted several of the company's other games over the years. The reasons I love this game in particular are that its high-stakes superhero storylines and superpowers make it different to the other games I've hosted and the murder mystery difficulty is pitched well. This last time I used a smart speaker to make most of the announcements, which worked really well."
Philip Wilson, United Kingdom
---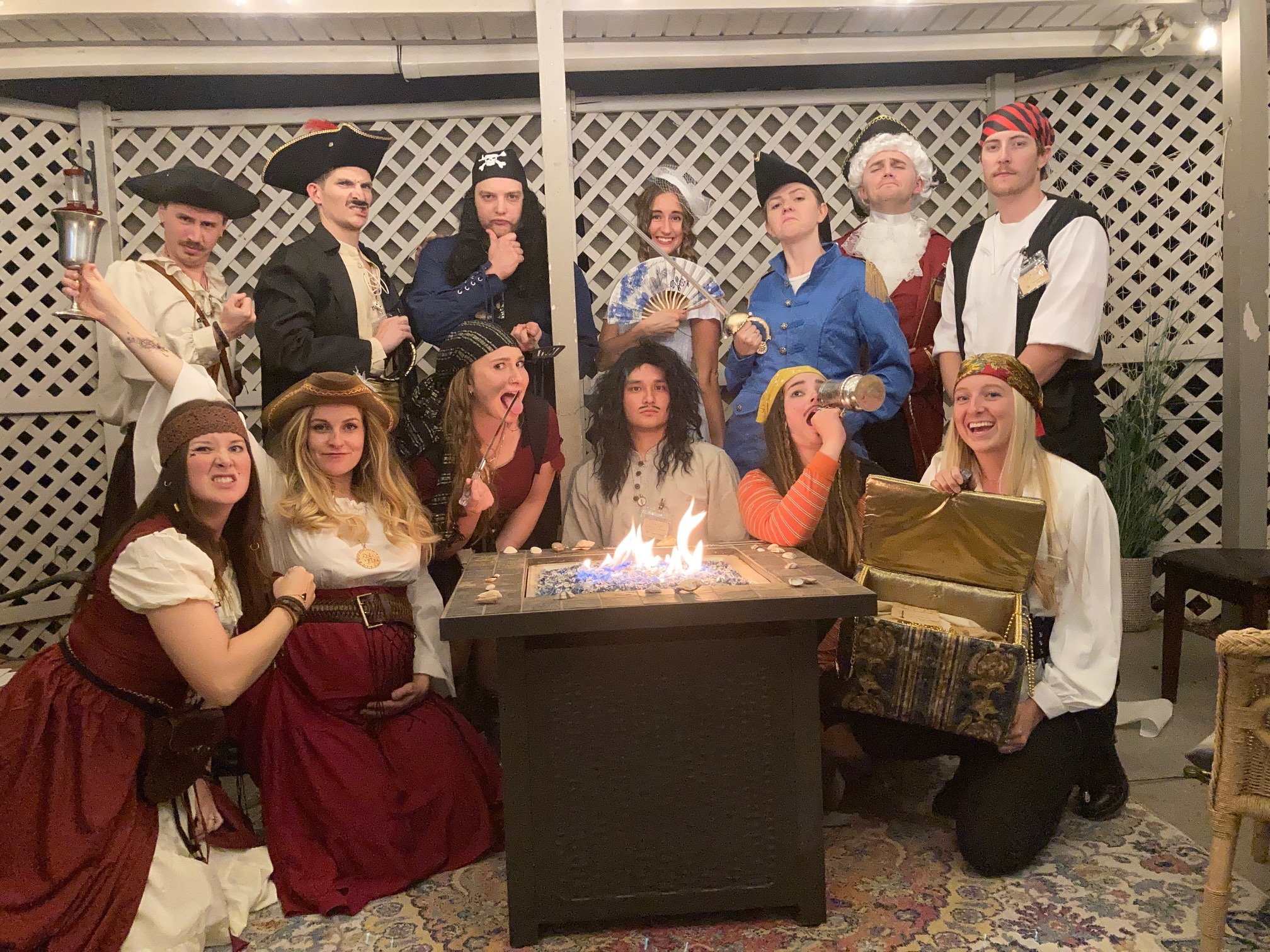 "We loved A Dead Man's Chest! It was my first murder mystery and I hosted! Many of our guests had done murder mysteries before and they all said this was one of their favorites. The game was fun and ran smoothly. I really love how these games are written so that each individual can make the character their own. We've decided to make it an annual Halloween party to do a murder mystery. The hardest part is deciding which game to do next!
Click here to see more photos"
Jazlynn Steed, United States
---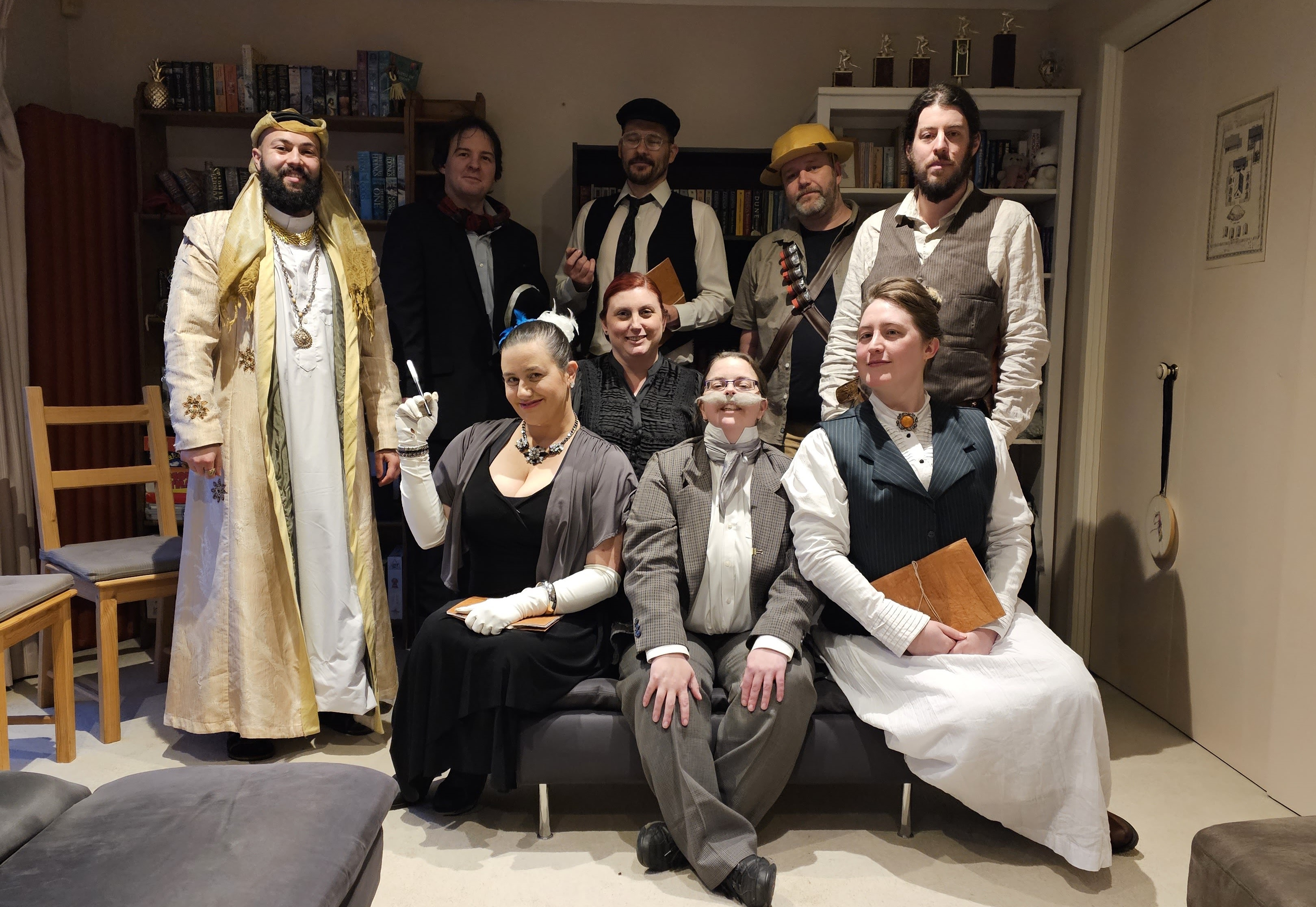 "I sent in a story almost 15 years ago as we had done Court in the Act for my 21st. Since then I did Davy Jones' Locker for my 30th and now Curse of the Pharaoh for my 35th, and I am still hooked all these years later!
This time around we had a whole new cast of people playing, and everyone had a blast enjoying Egyptian finger food like falafels and koftas, and scheming all night long. In the end, many of us were foiled in our goals, but I think we enjoyed it nonetheless.
Super looking forward to the next one!!
Click here to see more photos"
Kellie Rose, Australia
---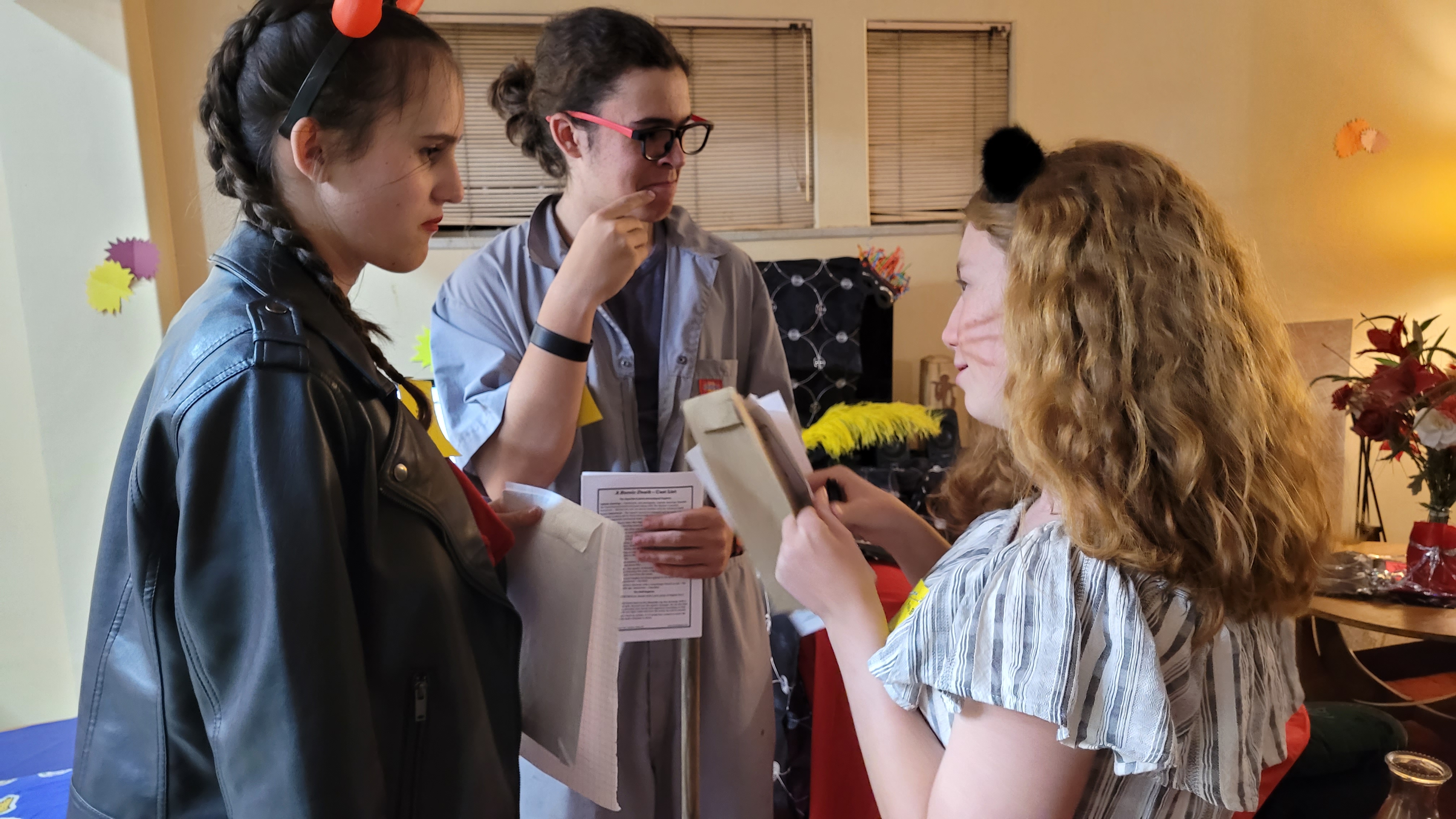 "We had an awesome evening playing A Heroic Death! It was my daughter's 17th birthday party. This is the 3rd freeform game we've played and we love them (we are in Zimbabwe). Such fun for everyone!
Click here to see more photos"
Lorraine Shaw, Zimbabwe
---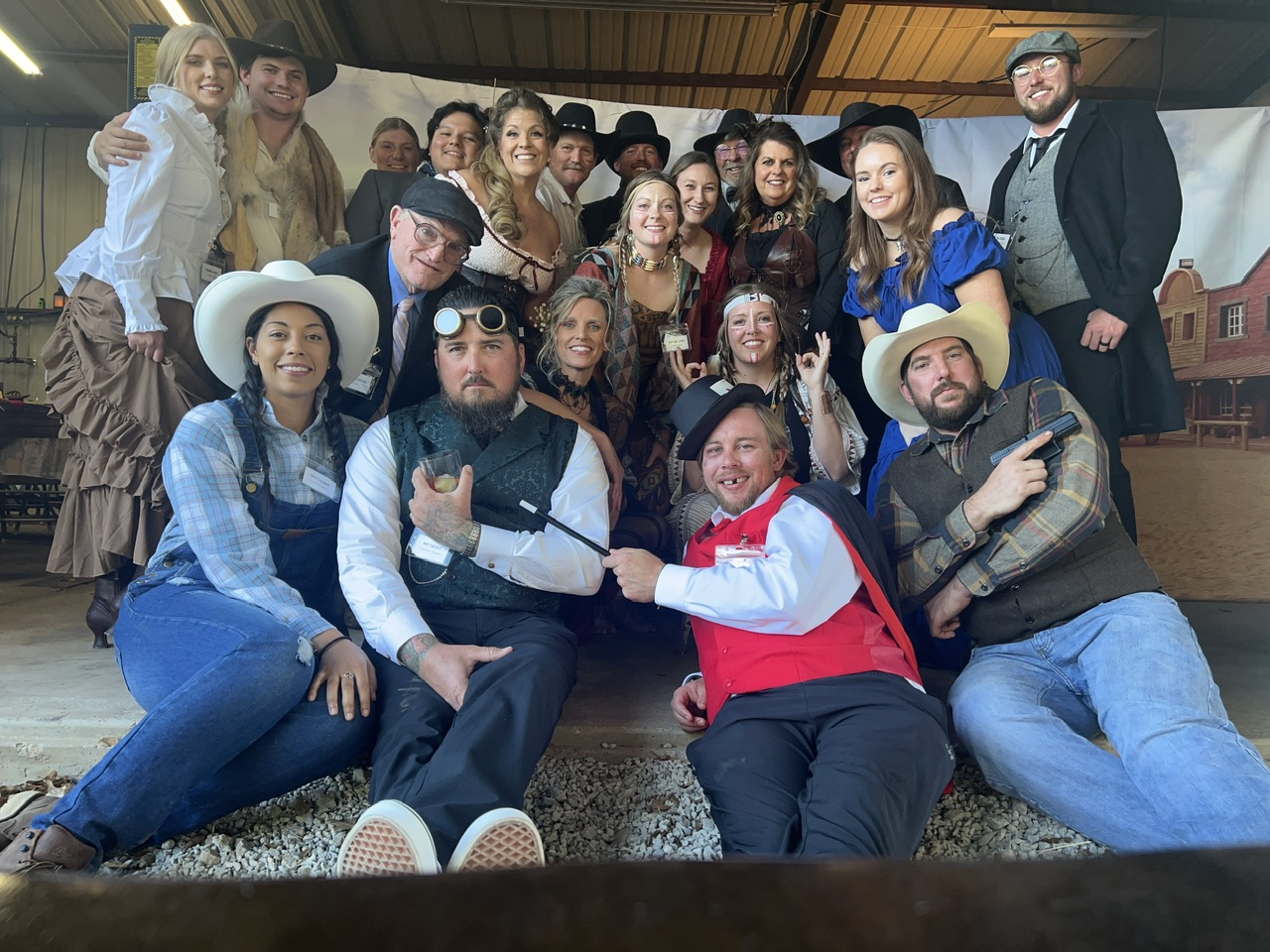 "We have enjoyed sharing murder mystery games with family and friends in the past, but our guests have made comments about having to read all night with box games – and one said maybe we can find a western!
I went on the hunt for a western and found your Way out West, which allowed us to interact with another to create a production, versus the scripting in other mysteries. This murder took place not only in a western scene but at the silver dollar saloon and we had just added a bar to our home which was a great fit for our rowdy bunch who really immerse themselves in the role they've been casted for. There were challenges, moments of passion and excitement, swindling, dealings, an arrest tor two, and even a shootout at high noon! Our bunch had an amazing time on this murder mystery night – I will continue to do our murder mystery hosting through this company!
I do recommend sending character details ahead of time, if your murder mystery, guests are used to either box murder mysteries, or never played at all.
Click here to see more photos"
Laura Breeding , United States
---
"I had a great time running Death on the Gambia for my 30th birthday recently! It was simple and smooth to run, and all my guests thoroughly enjoyed it despite being new to murder mysteries. The story and characters are very much over-the-top, but playing characters who are a bit cliché can be fun!
Thank you very much for producing these great games. We are looking forward to trying out more of your games soon!"
Nicolas Francart, France
---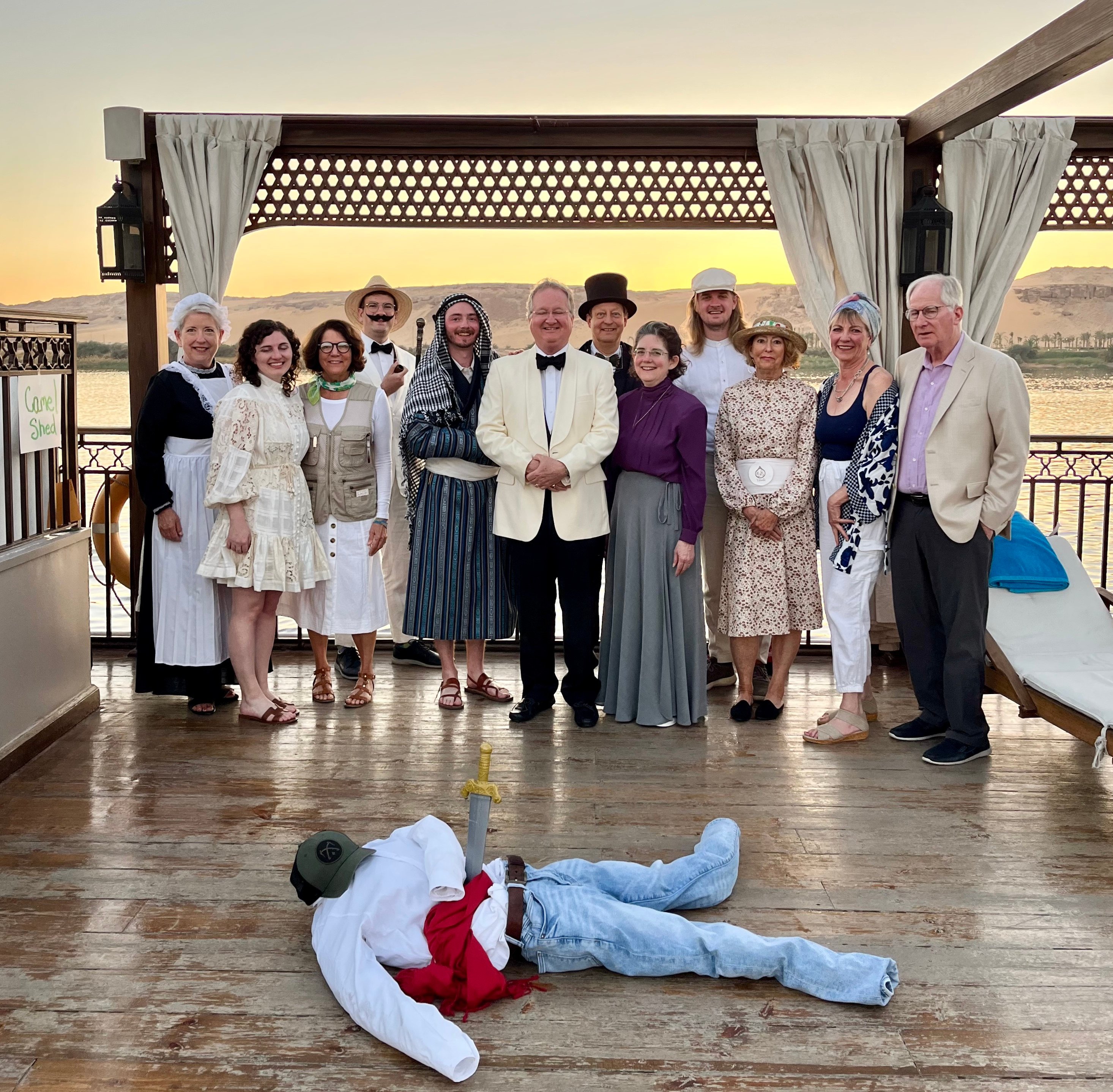 "We had THE best time with Curse of the Pharaoh [on an actual Nile riverboat cruising past the Valley of the Kings] – several guests look forward to playing more of your games!!"
Caren
---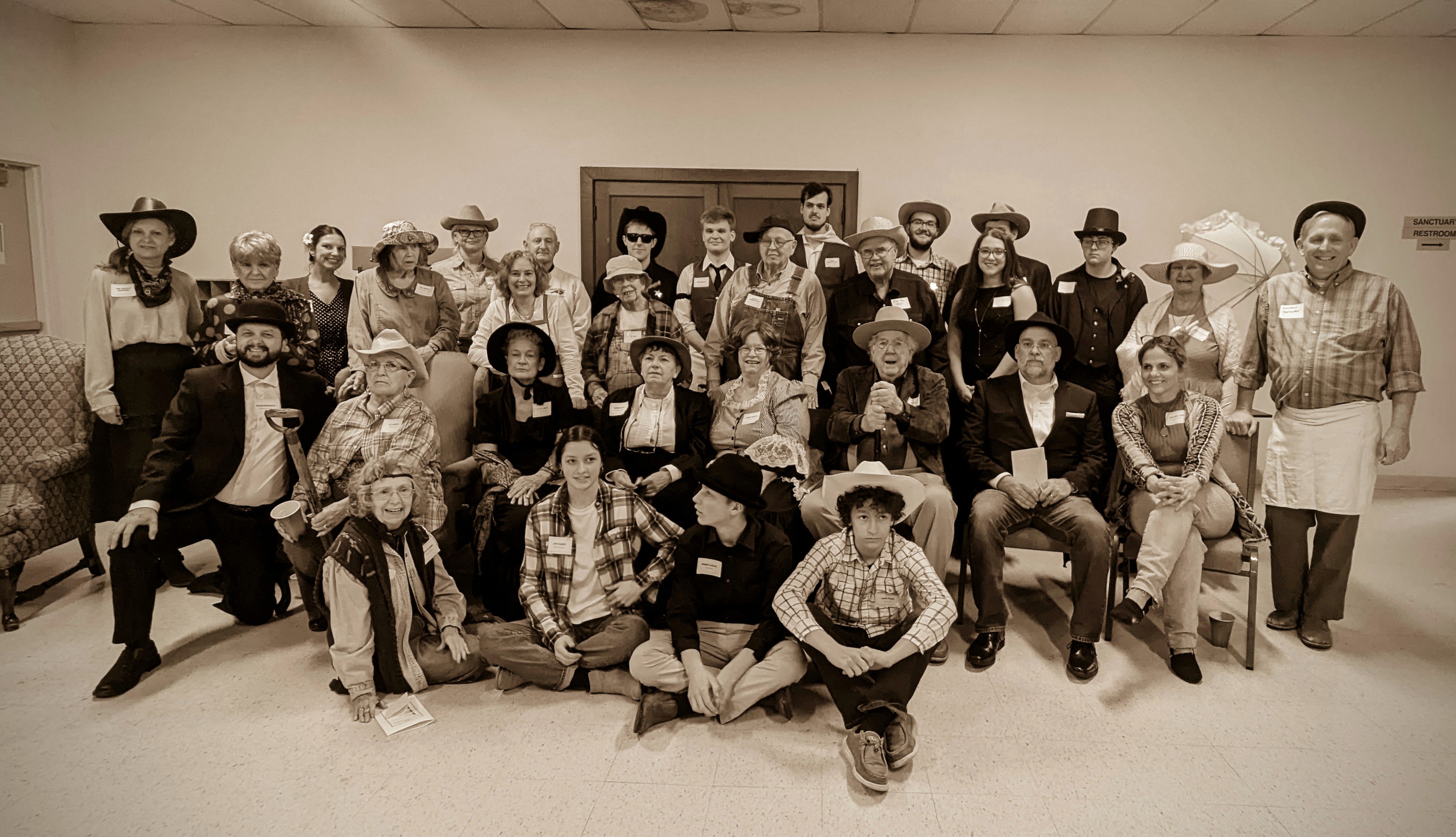 "We played Way out West as a fundraising event for our son's trip to Europe with other youth at our church. It was a fabulous time! We used all 27 available characters and there were plenty of townsfolk who came as spectators. We were surprised how quickly the characters jumped into action. There was plenty of drama and everyone got into their characters! We followed the recommended timeline in the instructions for planning, which was very helpful. Folks at our church are already talking about which we'll do next! Thank you for creating such an interactive, fun game."
Rachel Foyst, United States
---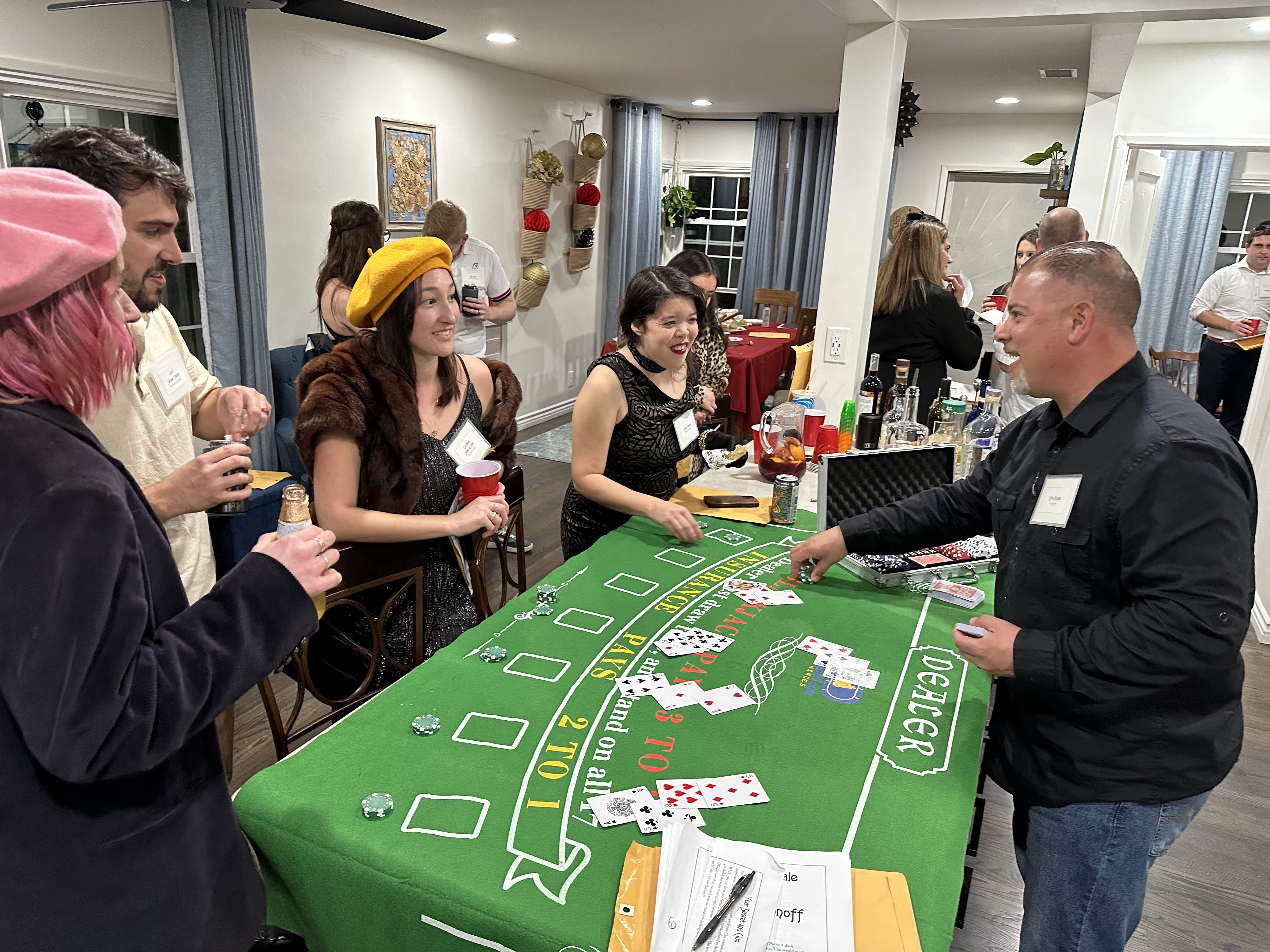 "We had a wonderful time celebrating a 30th birthday with Casino Fatale! The hosts even provided a professional quality blackjack mat and Chris Rowan was dealing blackjack throughout the night!"
Andrew Boydston, United States
---
"Click here to see more of Alice's photos from Court in the Act"
Alice Mottola, United States
---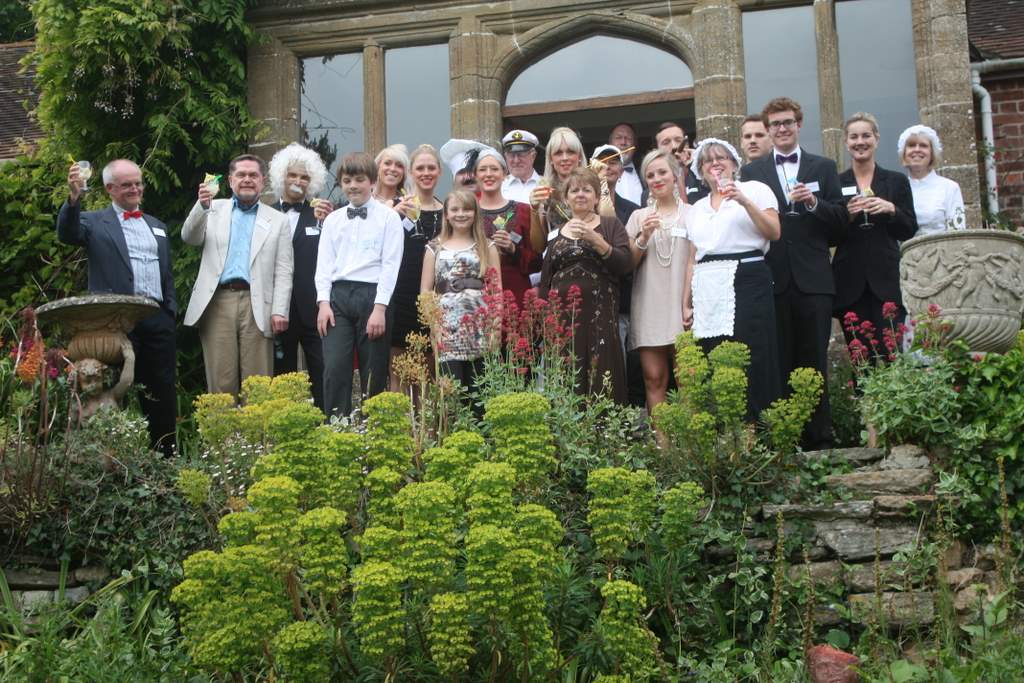 "We recently hired a big manor house as a family for a week away.
As one of the 'activities' we purchased your game Murder at Sea to play one night, and delegated my niece Becky to be in charge.
From your list of games we choose this one, as it was in period with the house, it gave us an excuse to dress up and we needed a game for 23 people.
We had a great night and would like to thank you.
Click here to see more photos"
Carol Strevens, UK
---
"A sell-out night in the local pub! Couldn't believe how much everyone got into Way out West – and every detail was covered. Well worth the money, thanks for a great game. We had some fabulous costumes and real character participation!"
Karen Wallace
---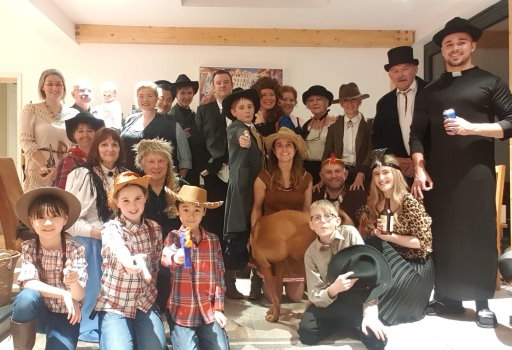 "See here for photos by Alex, including their wonderful hand-crafted game materials."
Alex
---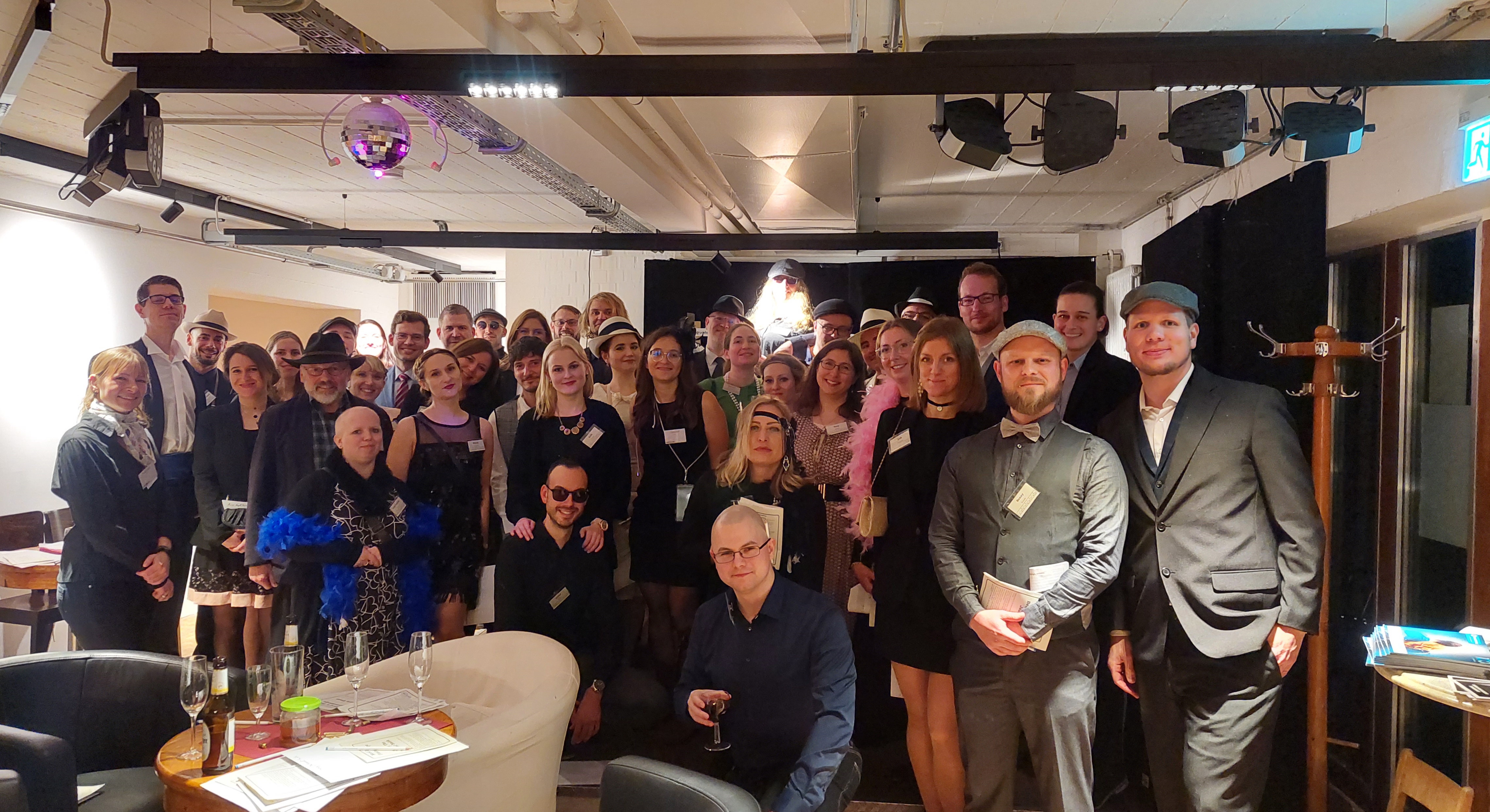 "Sönke Busch of Lympselon Krimi Events recently used Mord in der Flüsterkneipe (the German translation of A Speakeasy Murder) to raise over €3,000 for the Weisser Ring (White Ring) charity that supports crime victims in Germany. Click here to read more."
Sönke Busch, Germany
---
"Hollywood Lies was a smashing success! Thank you so much for the quick response and making such an awesome game :) I have also done your A Speakeasy Murder a few years ago, but I think I enjoyed this one more because of: 1. Every character was gender neutral, it made casting much easier and more fun! 2. The end goal of producing a movie was so fun for everyone involved (especially since they didn't know coming in) There was great depth and so much going on, everyone was well pleased with how the night went and felt satisfied with having played :)"
Brayden Lans, USA
---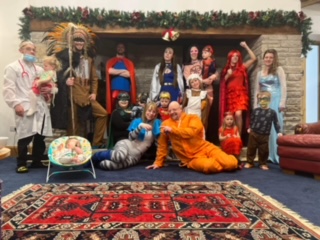 "Debbie Townsend sent us her A Heroic Death photos, which she hosted for a Christmas family gathering in a Welsh manor. She writes, 'It was a fantastic evening's entertainment!' Click here to see her photos."
Debbie Townsend, United Kingdom
---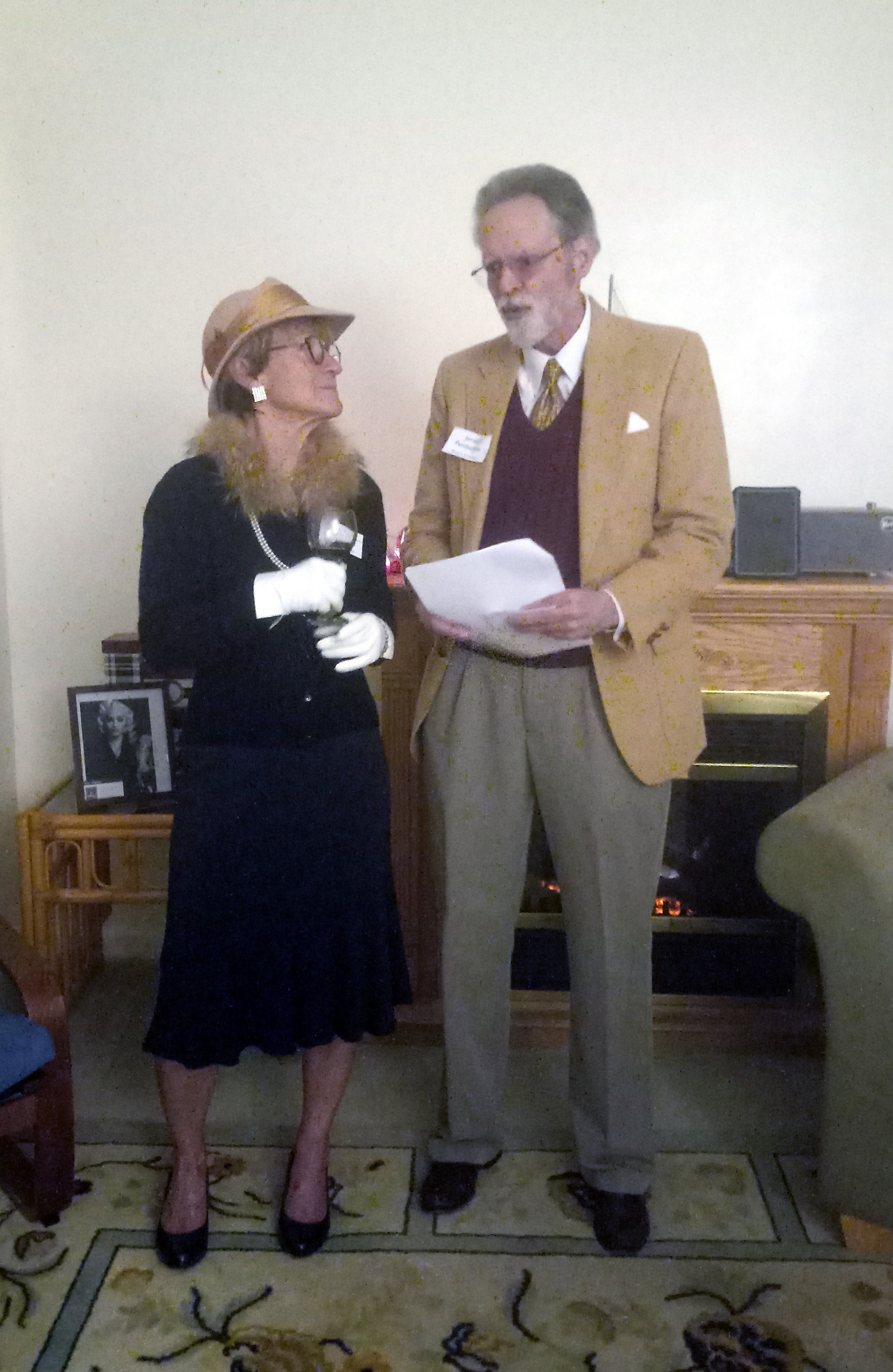 "The Night Before Christmas was a great way to kick off the holidays with a Christmas party. The guests (cast) really enjoyed the experience. The game was fun, involved everyone, and the subplots became more interesting than who actually done it! The recommendations on your website for how to host/play a murder mystery were critical to success of the event. I had never hosted one, and my guests had never played one either. Thank you!"
Holly Graf, United States
---
"We hosted Way Out West on October 29th and it was a big hit. Everyone totally got into their parts and dressed up very, very well. So much fun! We are looking forward to the next one!"
Merle Nicholson, United States
---
"We played A Speakeasy Murder at our nudist park, which gave members a chance to dress up for a change. Ha! Well-done start to finish! The killer turned out to be one of our residents who is on the autism spectrum, and believe it or not, NOBODY figured out who it was! And everyone had a BLAST! Repeat customer for sure."
Stuart Antrim, United States
---
"Last night, we hosted a party with A Speakeasy Murder for our 20th anniversary and we had the BEST time. We have friend groups that don't all know each other and this was the perfect way for people to mingle with people they don't know. Everyone got into character and did a great job. Because this was my first time hosting a game like this and it was so large, I had two friends help me cohost and we divided up the tasks. All in all, it was a great time. Thank you!"
Dina Mancini, United States
---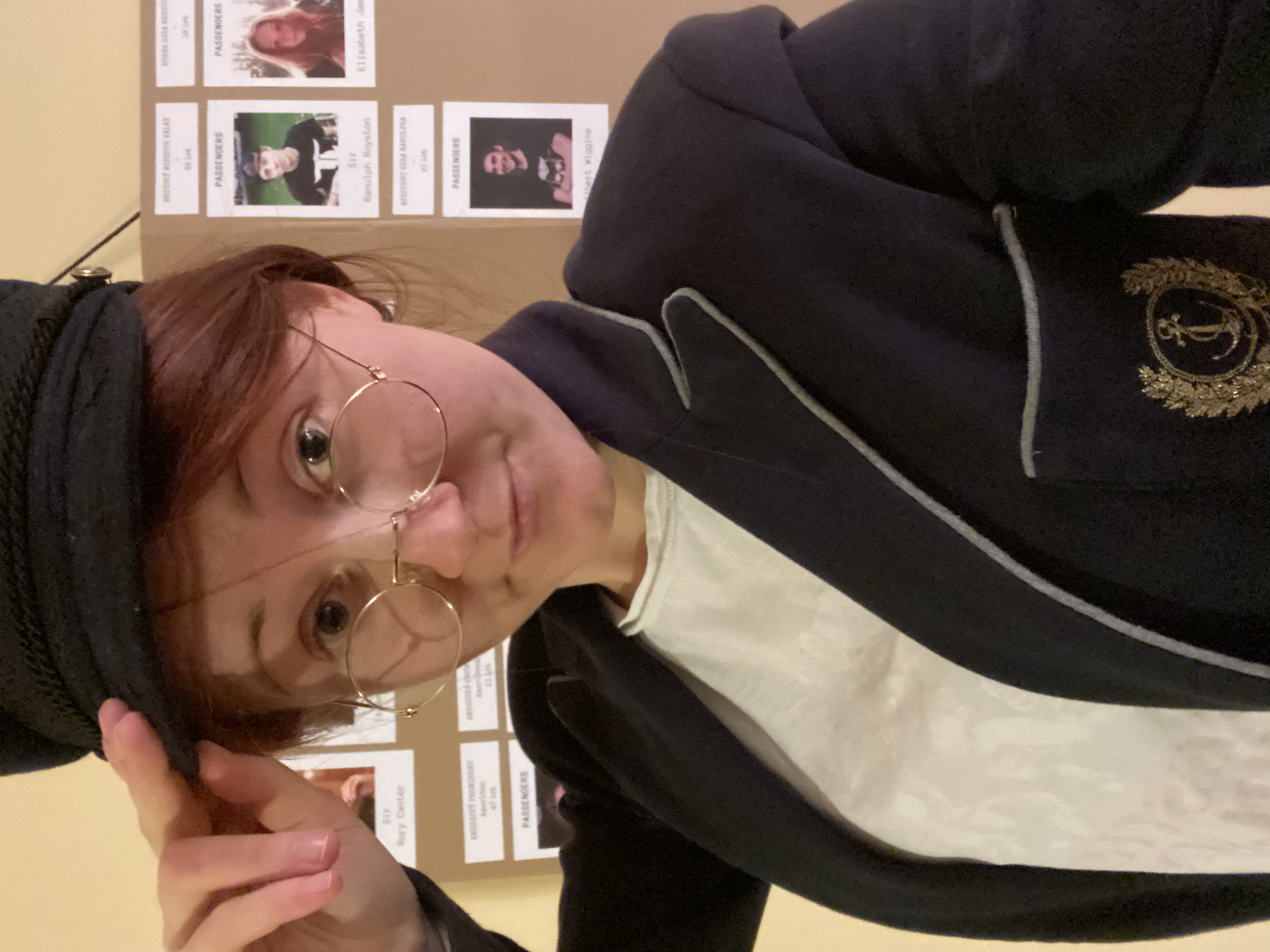 "Thank you so much for your games. I discovered you last year, and Murder at Sea was the second game I hosted. I was bit worried if people will like the atmosphere of 1914 and being divided as crew and passengers, but it has been a blast!We had 25 players playing and I think that was ideal, now I'm planning A Speakeasy Murder and I'm aiming at a similar number. These bigger games are bit different because you usually don't know everything that is going on and it's fun to see the faces at the end of the game when someone is telling the others what were his/her goals and they are like, "Whaaat?" I didn't even know this plot was in the game," yet they still enjoy their storylines.My recommendation for any game, but especially these bigger ones if you are playing with people that don't know each other, is to print photos with names of the characters they are playing. I had the passengers on one sheet and the crew on a "captain's cabin" that I made. It was worth the time, and people used it often - it made the game run smoothly."
Michaela Mrázová, Czech Republic
---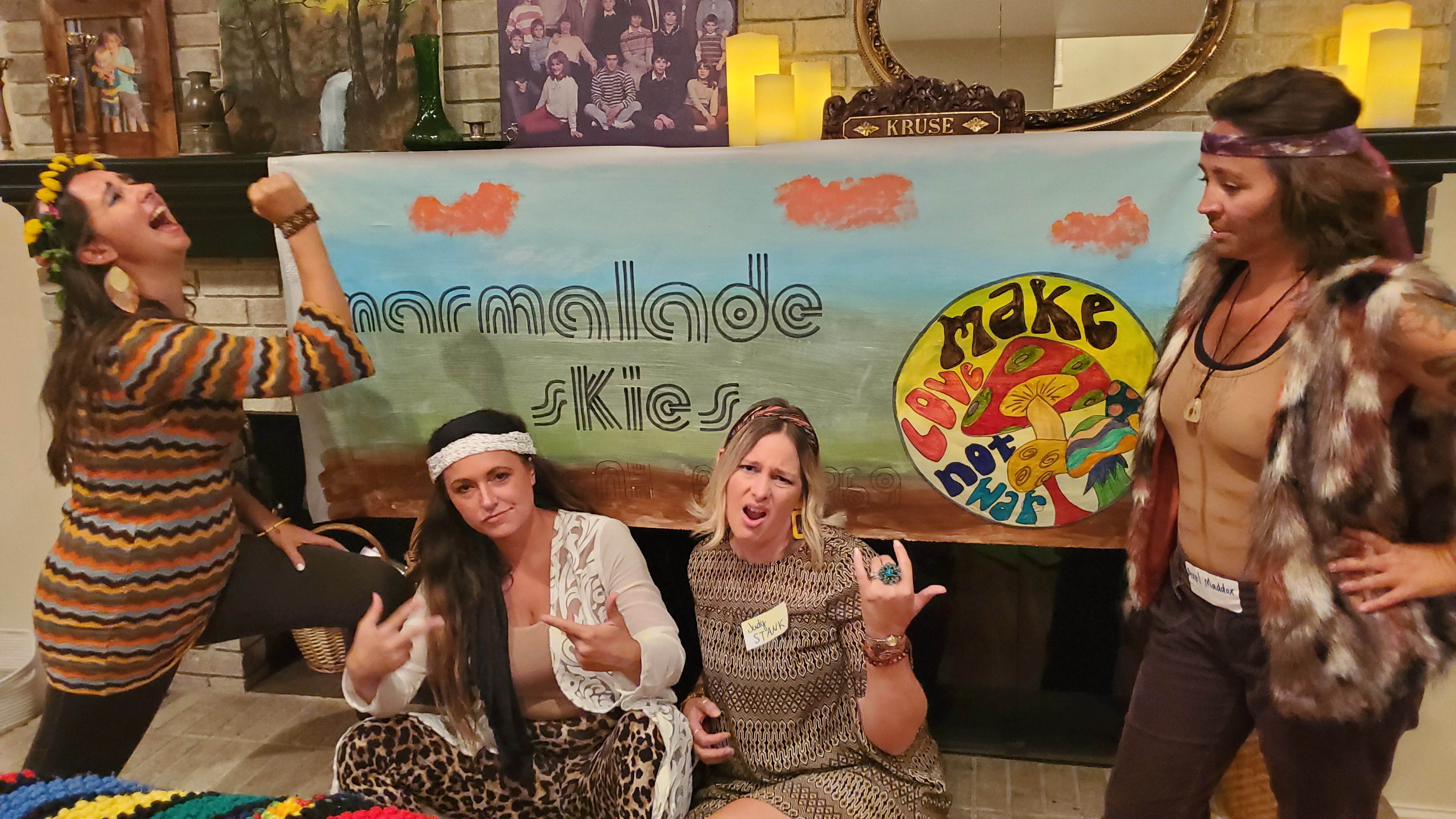 "We had the best Karma Club party. It was an all girls party, and it was so fun! Everyone dressed like their characters, brought some candy cigarettes, and made food and drinks in the 60s. "
Melissa Covert, United States
---
"This isn't about just one game. I've been running your games at three different gaming conventions for several years now. I have to adapt them a bit to work as a 4-hour slot at a convention with people that have never met before, but no-one has ever gone away unhappy.
I started with Way Out West just to see if the concept worked and it was a huge hit. Since then each year I run a different game. I've run A Will to Murder, Curse of the Pharaoh, and Spellbound, which just had its final game this past weekend, and I just downloaded A Dead Man's Chest to prepare it for the next circuit.
I just had to let you guys know that you are doing a spectacular job at crafting well written stories that not only work at home, but can turn strangers into friends at public events!
Ok, I do have one story that stands out.
During one play through of A Will to Murder, the entire game stopped to watch when [redacted] discovered their [redacted]. Their fight (in character) was phenomenally outrageous and I am dead sure that if someone had been walking by outside, they would have called the police to report it!
Ok, that's all. Keep doing what you do!"
Robert Lamm, United States
---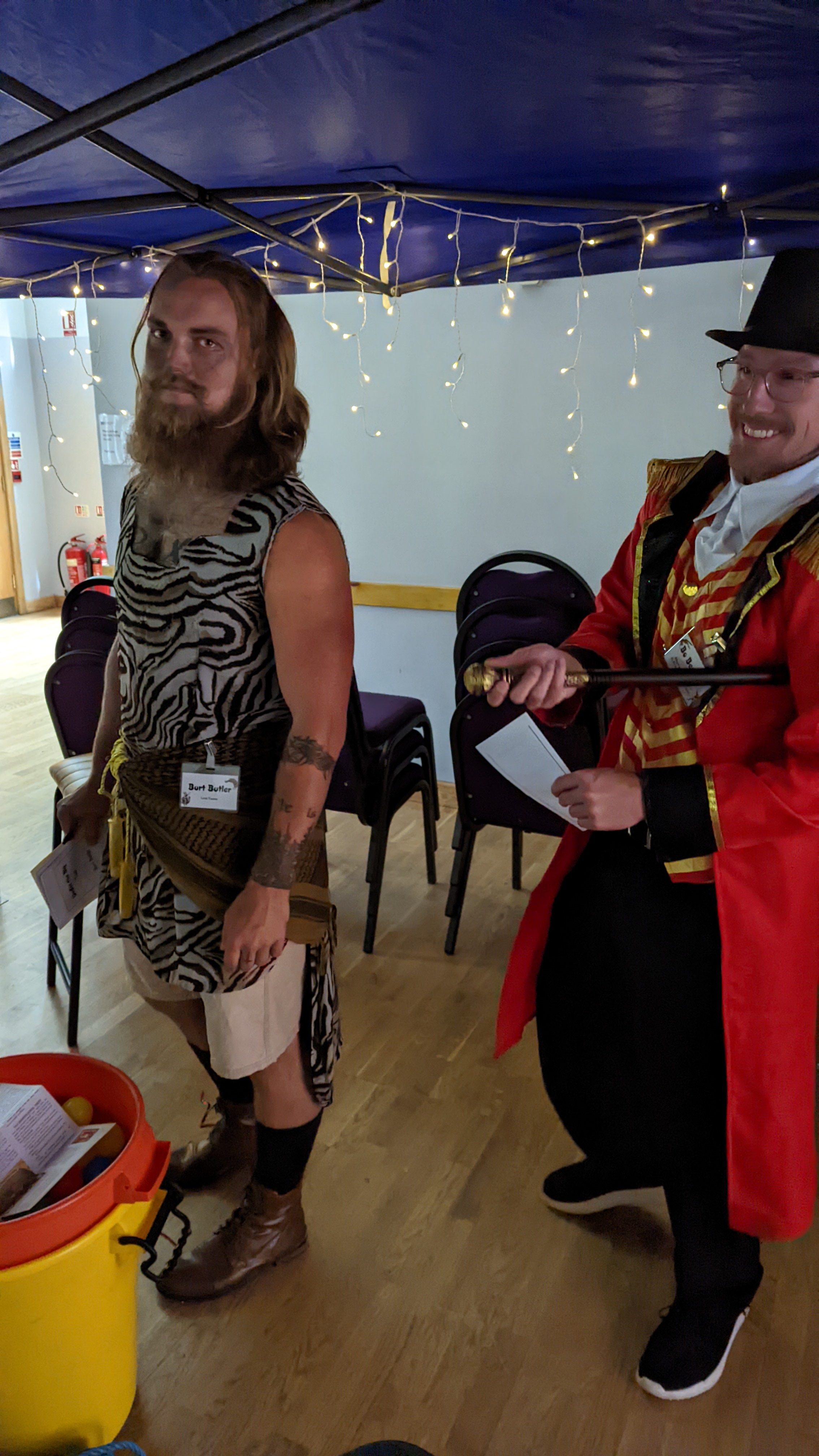 "We ran Under the Big Top as an end-of-year party for our staff. Only one of the group had every done a murder mystery party before, but everyone came in costume and really committed to their characters. A few were surprised by the amount of information in the character packets at first, but once they had 15 minutes to digest it all and figured out how to follow the 'suggested first steps' prompts, everyone absolutely dove in to their characters and goals. There were marriages, divorces, re-marriages, secret plots to frame other characters, items being stolen left right and centre, you name it. We couldn't get people to quiet down at the end to actually hear the final solution because they were having too much fun sharing all their own secrets and plot points.
As the host I was kept pretty busy answering questions and letting characters bounce their theories and ideas off of me. For the missing characters not in the game I let players send 'telegrams' through me and I would write a little message on paper and give them a 'response' 5–10 minutes later. I even had one player asking me to send a telegram to a CSI lab to run fingerprint and blood samples, so I had fun creating some extra ad-libbed messages about their strange requests. All that to say, thankfully I had a 2nd helper to hand out snacks, make popcorn, and refill drinks as the game progressed.
We had some kids' gym parachutes we used as colourful wall hangings, put on a Spotify circus playlist and used a lot of fairy lights and balloons to set the circus vibe.
Love how intricate and free-form these murder mysteries are and how they create a lot of room for drama that players can dive in to- yet it's incredibly easy to set up and run as the host by following all the steps and check-lists in the info packet. Thank you!"
Jared Bredeson, United Kingdom
---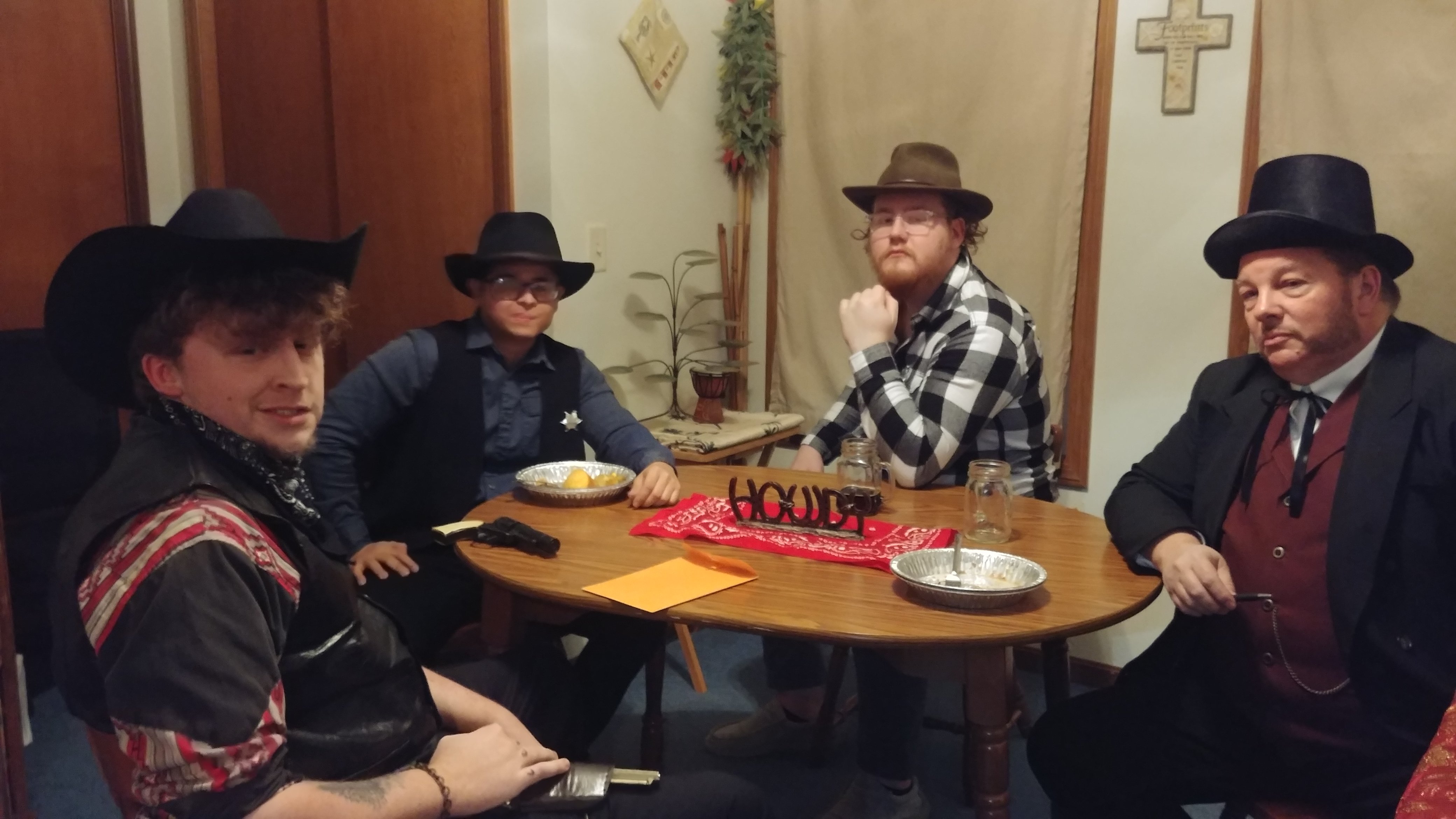 "Earlier this year we played Way Out West. You can't go wrong with a western!! What a great evening!"
Melissa Midcap, USA
---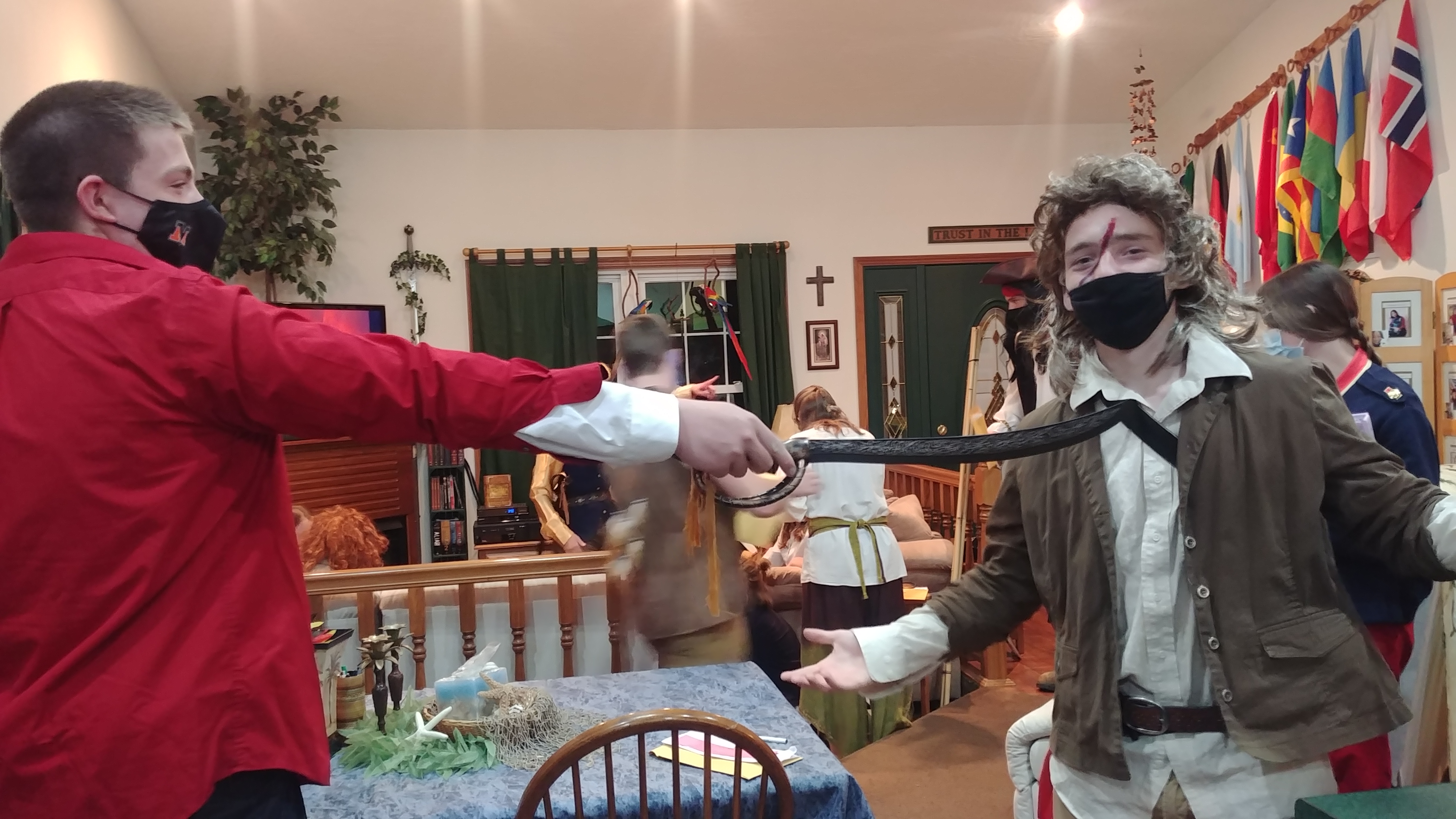 "Covid canceled the fourth quarter and exams for the end of the 2020 school year and affected how we did things in the following school year. My administration agreed to allow me to host the mystery dinner exam April 2021, as long as masks were worn and no food was served. To continue to allow the poison crucial to A Dead Man's Chest ('El Cofre de un Muerto'), I substituted stickers. The player needed to tell me they were going to poison someone, then get close enough to put the sticker on the victim without getting caught. Not as cool, but good enough. Despite the obligatory changes, the students were thrilled to be allowed to have this party as their exam.
Being pirates, there was a good deal of fighting. For each fight they posed for a cool picture, then settled the duel with the roll of the dice. I'll include a couple of those also. Poor Salamanca ended up being sacrificed to the volcano! She had annoyed enough people that no one came to her rescue and the natives threw her in! I am happy to report that they did a great job overall and got good grades on their exam!
Click here to see more photos."
Melissa Midcap, USA
---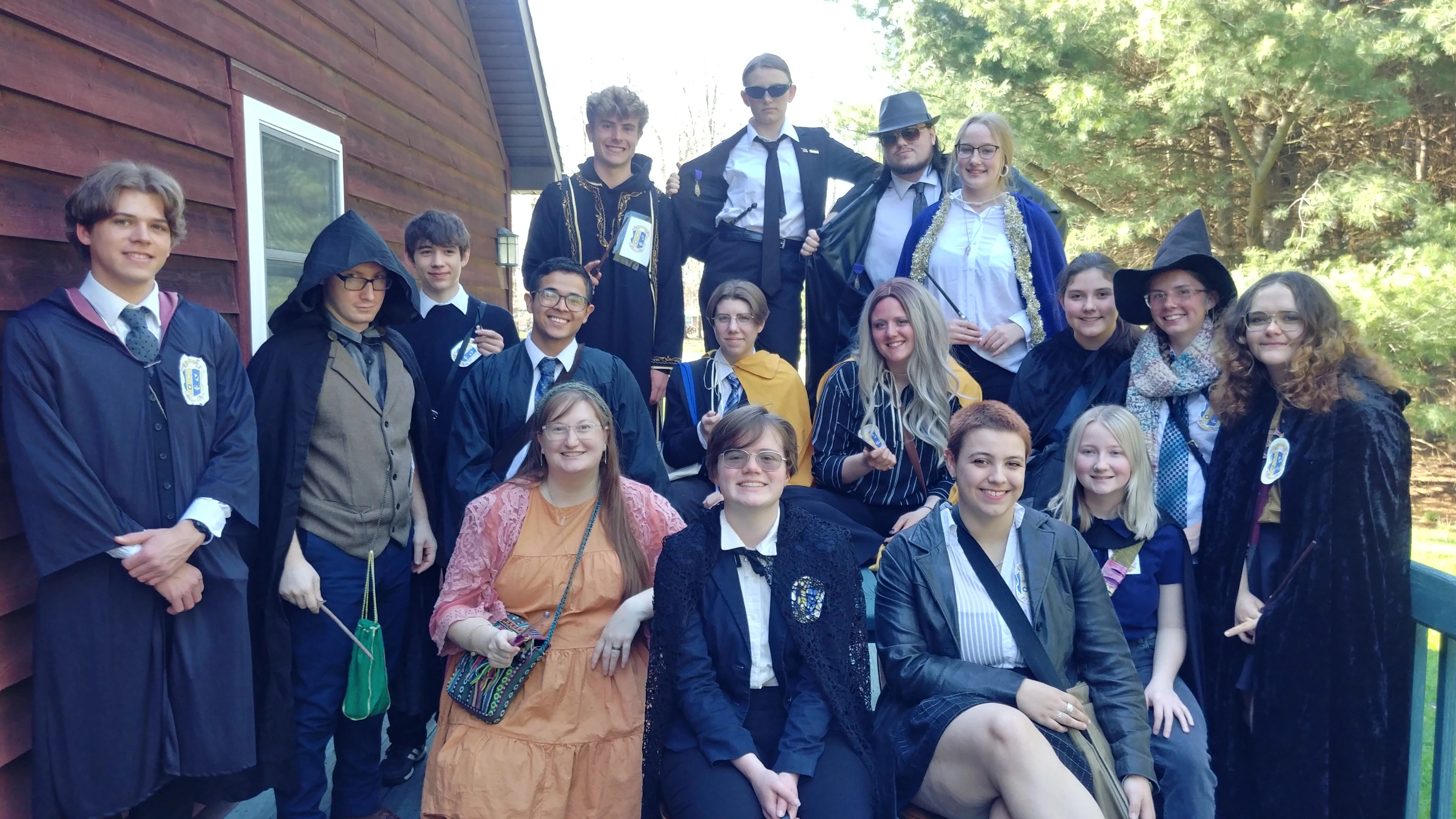 "This year (2022) we were allowed to have the full dinner/game for the final exam for my upper-level Spanish classes. So, Spanish 3 and 4 had an absolute blast with Spellbound ('Hechizados').
The casting worked out perfectly! The professors were my Costa Rican international college student, a Spanish teacher friend who was a former student, and another former student. The two officers were students who graduated a couple of years ago and missed their mystery dinner because of covid – they were thrilled to come back from college and play! All of the student characters were played by my students and it was their final exam. Spellbound is so much fun!
Here's how we handled fights for this game: My husband created a hierarchy of three spells. We had two velvet bags, each with slips of cardstock having the spell names on them. Each drew, and the higher spell won (like rock-paper-scissors but with spell names).
The students did well on the conversation part of their exam. When we get back to school (and after they have had time to yell at each other for deceptions and offenses committed during the game), they write me an essay (in Spanish) about the evening from the perspective of their character. That's always an interesting read!
Thanks again for some great games!
Click here to see more photos"
Melissa Midcap, USA
---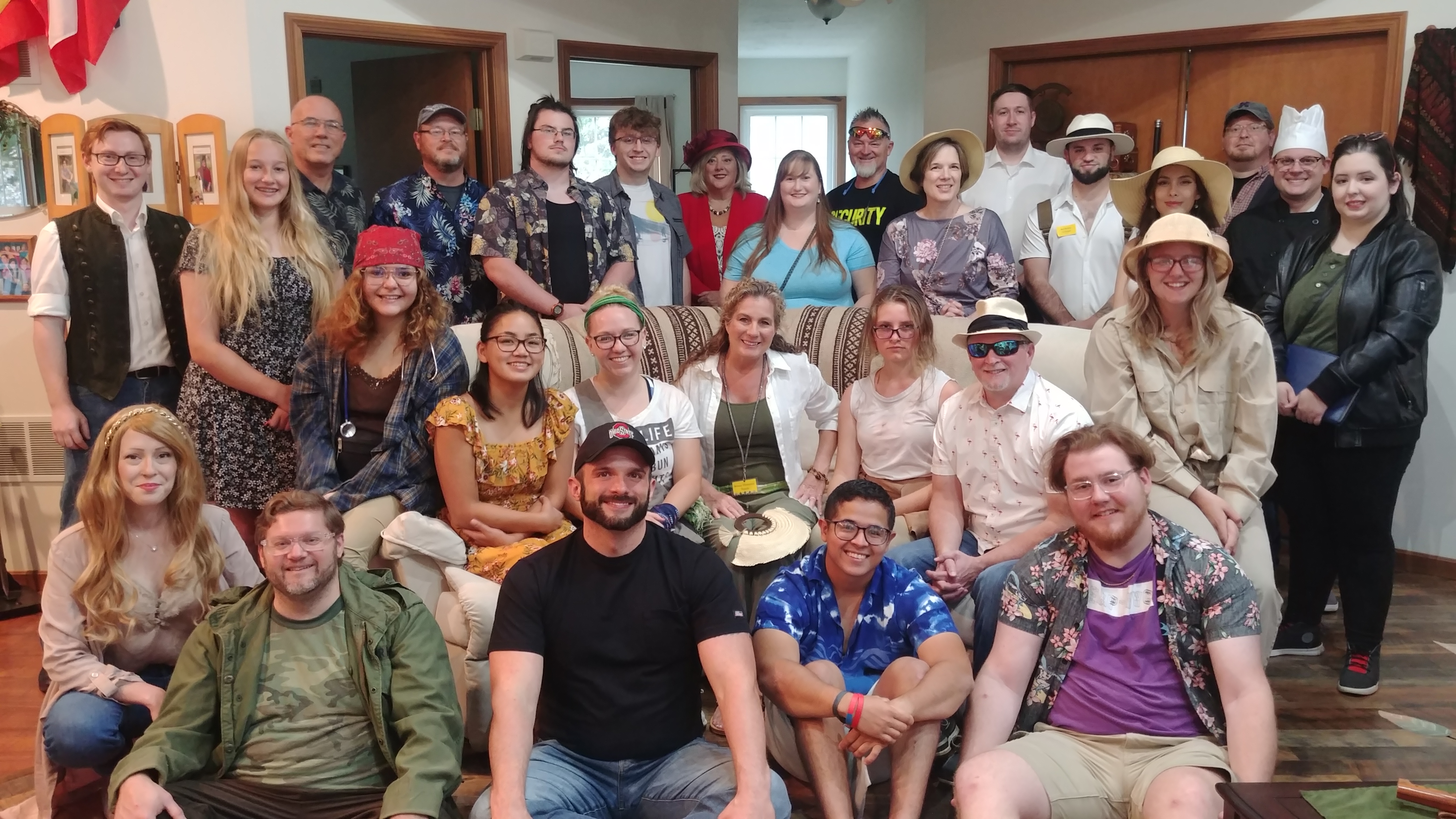 "Finally finally finally, after three or four failed attempts over a couple of years, we finally got enough people at the same time to be able to play The Reality is Murder in Oct2021!!
We had been having good weather that week, so we were going to include the deck outside as part of the playing area and even grill outside as part of the dinner. BUT, the weather turned lousy that weekend and we had to keep it inside. There was a chef in the game, so the guy who caters these for us took the part and had fun with that.
We always look for creative ways to settle duels within the theme of the game. So – survival skills! This time we numbered a bunch of corks and put them in a wooden box. Feuding players used small knives from Costa Rica to stab at the corks. The higher number would win. There were two of each number to allow for a possible tie.
We loved that in the middle of the game we went "live on the air" for a scheduled show. Very nice touch. It was crazy getting that many people to be available on the same date, but we are glad it finally worked out.
Fun fun fun!!"
Melissa Midcap, USA
---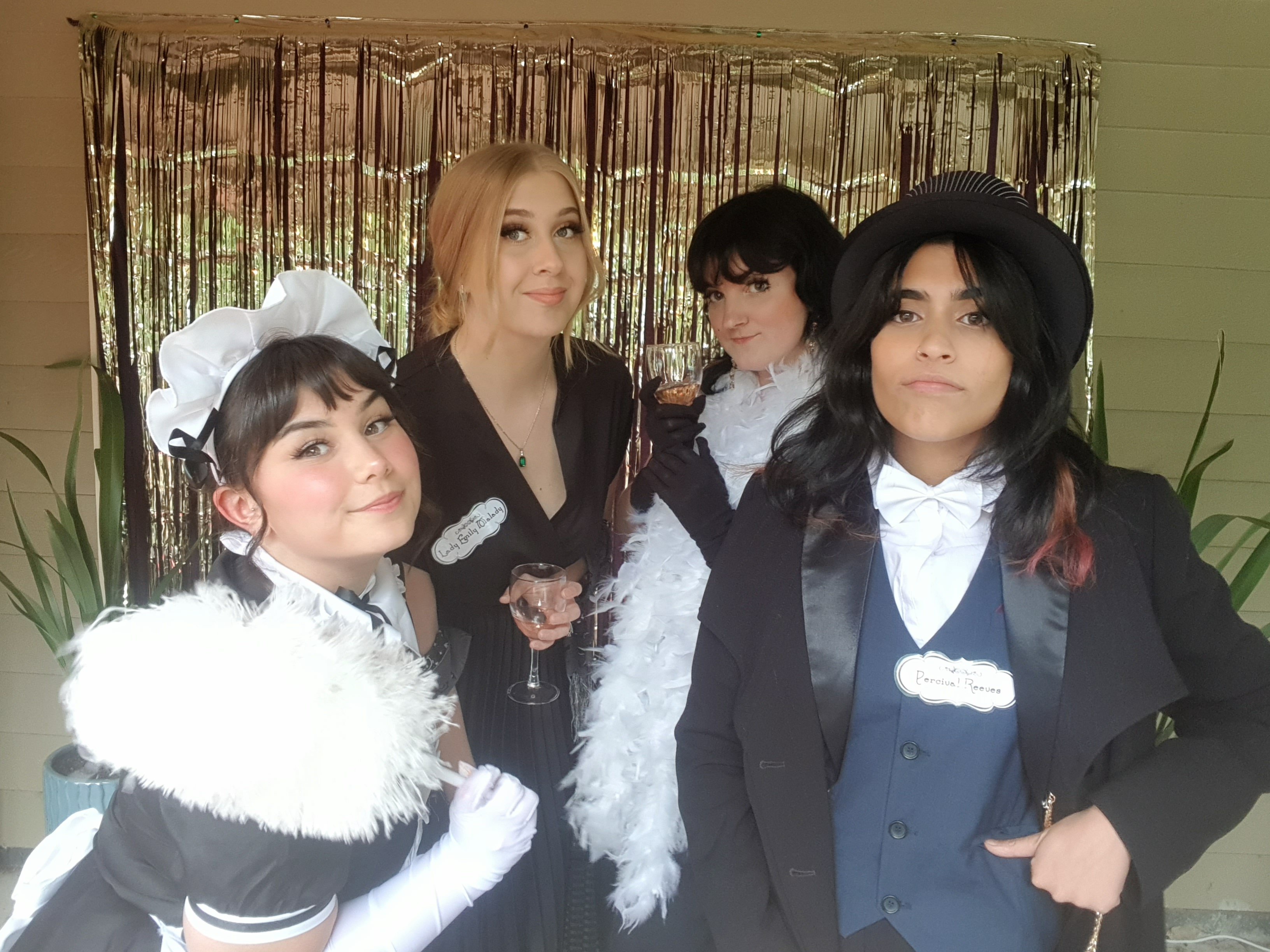 "Firstly, for anyone who loves to decorate/make-stuff/organize-things... Host a Murder Mystery Party. Death on the Rocks was the BEST fun just being the host.
I was very worried about how much my friends would actually want to participate, especially due to the amount of reading they had to do to get into the game. But I was so mistaken. Everyone got really into their characters, wore some awesome costumes and EVERYONE could not stop talking about it and how much they wanted another one for months!
No-one figured out who the murderer was, but walking around and hearing the accusations and fights breaking out about it was hilarious!
I am finally ready to start planning my next party, and am in the process of trying to choose one!"
Grace Ferrari, Australia
---
"Dazzled to Death was the perfect game for the perfect evening! Everyone was 100% in character, investigating and murdering each other. We had a wonderful time! We played this with my friends, ranging from 14–16 years old, and with enough organization and explanation we played it perfectly! It was surprising just how much they enjoyed it! No one had ever played a murder mystery game before except for me, and now they're all asking me when the next one will be. Thank you so much for making this possible!"
Agos B., Argentina
---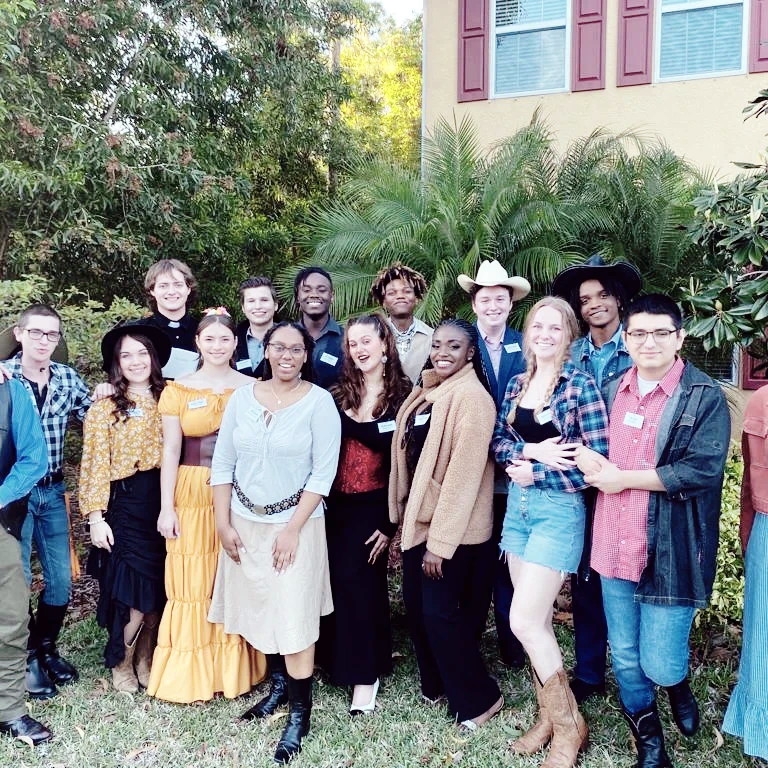 "For a 19th birthday party, Way out West Expanded was the best. This was everyone's first time playing a mystery dinner and they were asking for the next one as soon as it was over. Thanks. You have earned a repeat customer."
Daphne Sajous
---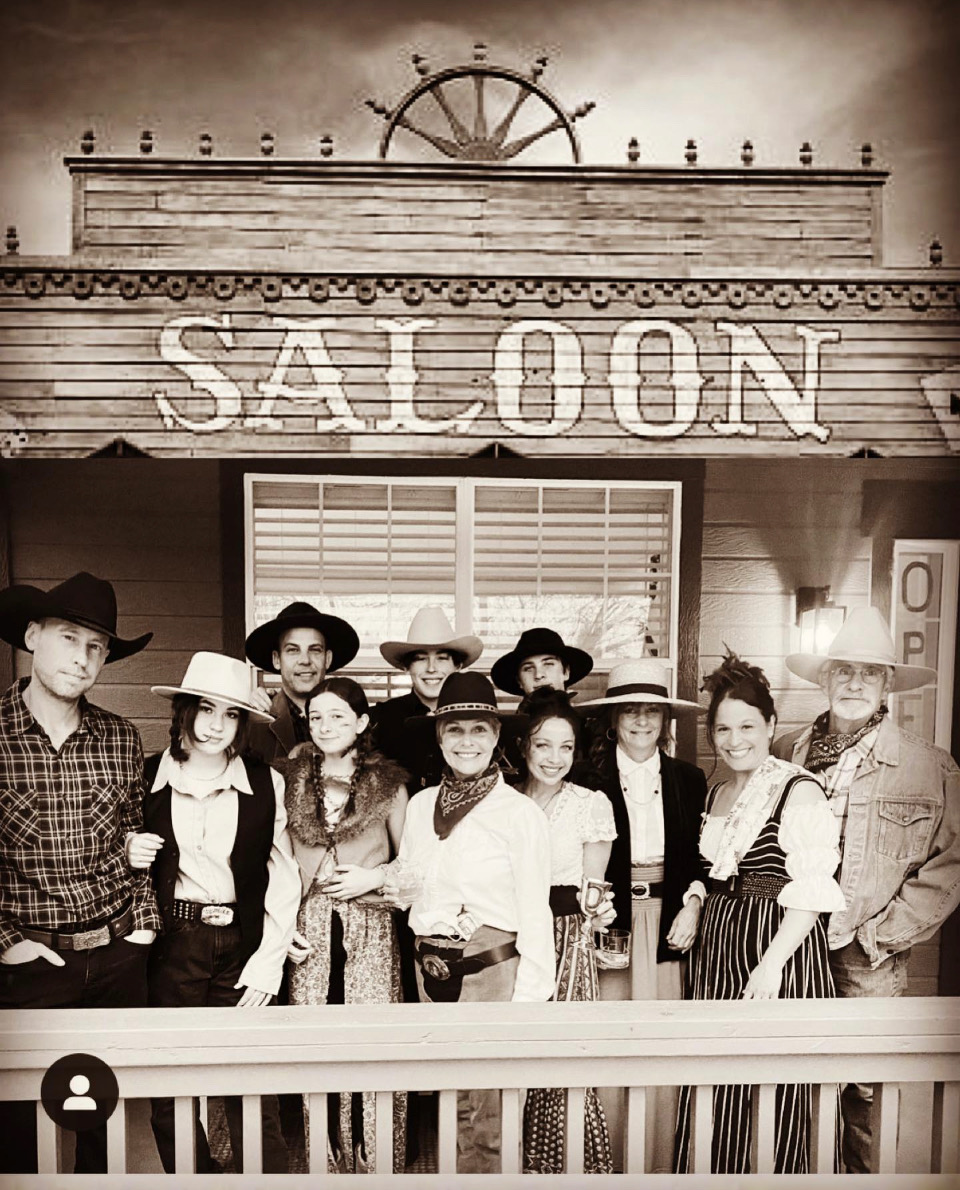 "Our family played Way Out West last night, and we had a blast! It was so much fun. I only gave myself 4 days to plan this. I have never participated, much less hosted a murder mystery before, and so I was incredibly grateful to you for answering all of my questions efficiently and expeditiously. I will be purchasing from you again for my next game! Thanks again! "
Tyler, United States
---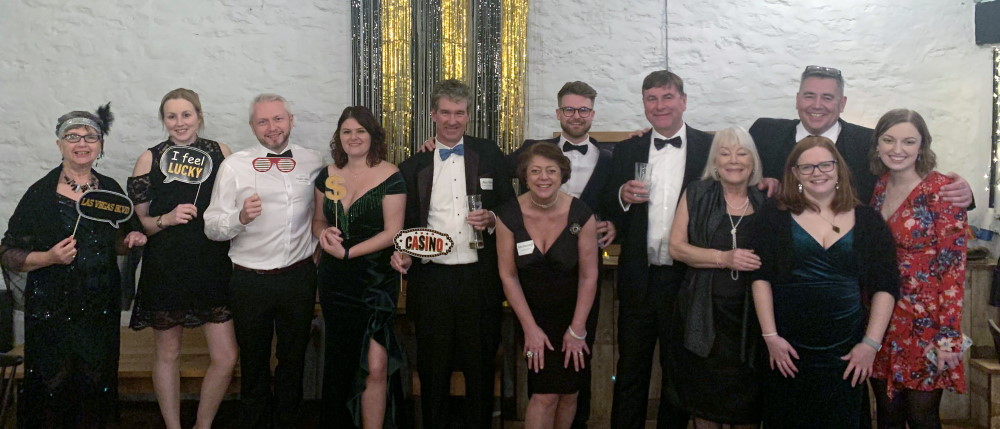 "I got Casino Fatale as something different for our company's annual party. I have never attended one myself never mind hosting! So the amount of paperwork to read through was quite overwhelming. However we had to delay our party (I had ordered the game 2 months before needing it), so this gave me even longer to keep chipping away at it and re-reading.
I chose Casino Fatale as I knew some of our team don't enjoy dressing up and I figured it was a fairly easy style to dress to. In the end, only one person didn't dress up at all, most wore lovely dresses or dashing dinner suits etc.
I posted out the invitations and character sheets about 2 weeks prior, in shiny gold envelopes with a Top Secret sticker sealing the envelope closed. On the night smaller matte black envelopes held their name badge, notebook and pencil and cash and ability cards etc.
We initially had 18 players coming plus myself and another as host, but on the night only 13 came, and just myself as host, so our fabulous venue events manager and the barman stepped up and took on a character too! They had been most excited about the murder mystery party ever since I booked their venue, so it was a bonus for them to be able to join in too :D one of the characters also changed last minute to become casino manager as that was one of the people who couldn't come.
We had two 'main characters' missing, but as the 4 that didn't come were so last minute I only changed the one for casino manager. The game still seemed to run ok without those 2 characters though.
I was so nervous about hosting this, I just couldn't get my head around how it would work. But once the game started (I had to give a nudge after reading the intro. Off you go start quizzing each other!) it started to flow much more easily. And my side was becoming clearer on what I had to do and in what order etc.
No one seemed to know about the fighting though, only one person asked me about it the entire night, and no one mentioned poisoning either. But reading the character sheets it is only vaguely mentioned, so I think a bit more detail and attention to that element on the character sheets they get sent out prior to the party would be useful and generate a bit more excitement and deviousness!
[Fighting and poisoning aren't necessary for everyone to enjoy Casino Fatale. They're an available option rather than an essential element - Freeform Games.]
On the whole, it was very much enjoyed, I had people coming up to me through the night saying they were having so much fun! I had everyone arrive at 6, 30 mins to go through their notes if needed but also for general chit chat as it was different sites of the company coming together do people haven't seen each other for a while.
The game started at 6.30, at 7.30 our buffet food was brought up and I paused the game for 40 mins (out of character), bit more time for general chit chat, then restarted the game at 8.15, actually ran to 8.30 but not too bad. We finished around 9.30 as some people were wanting to go home and it was slowing down.
I did feel the revelation of the murderer fell a bit flat. But as I say I've not done one before so not sure what I was expecting. I'm sure we will be doing another one though now we've all found our feet. Thank you!"
Clare Wilson, UK
---
"I just wanted to let you know the party with Death on the Gambia was a gas!
My players were very positive about the use of Spatial Chat. They were able to "move" around freely and many of them even successfully eavesdropped. I used rpsgame.org for the rps challenges, and WhatsApp for communication between the players and myself. The players used WhatsApp to share image files of their items/secrets/clues.
Despite it being online, all players found it to be really immersive and had a great time. "Even more fun than expected" they said and some of them are experienced (role)players.
For pickpocketing I used an Excel sheet in which I had an overview of everyone's items. If someone obtained or lost an item they'd let me know. I rolled a die if the pickpocketer was taking something at random. I let the pickpocketer and pickpocketed know what they gained/lost via WhatsApp.
For poisoning I ruled that the poisoner had to be in relatively friendly conversation with their victim, as offering food/drinks wasn't possible online. Note – SpatialChat was set up with three rooms – Deck (a picture of a riverboat), Starboard Accommodation (four doors, each with the name of a passenger) and Port Accommodation (four doors, each with a passenger name)."
Mirla Schaeffer, Netherlands
---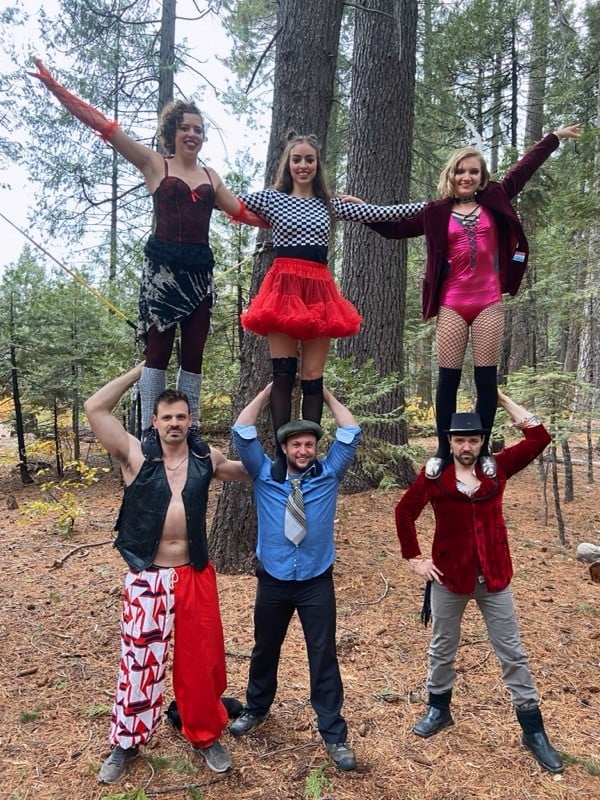 "I hosted Under the Big Top with a full cast of characters at a campout full of acrobats. I've hosted other murder mysteries before, but never a freeform game. I like freeform better – it has more room for participants to improvise and get creative. We had many murder mystery first timers and all had a blast. As a first time freeform host, I reviewed the materials twice and felt prepared. We played over 4 hours and that was a perfect amount of time to play. Some felt rushed and others were able to finish their goals. I loved how all the storylines intersected and goals were at odds with one another. Even though the host doesn't get to play, I had a blast listening in on everything that was happening and giving bits of advice to push players onto more interactivity. I'm already planning my next freeform party!"
Alaina Robertson, USA
---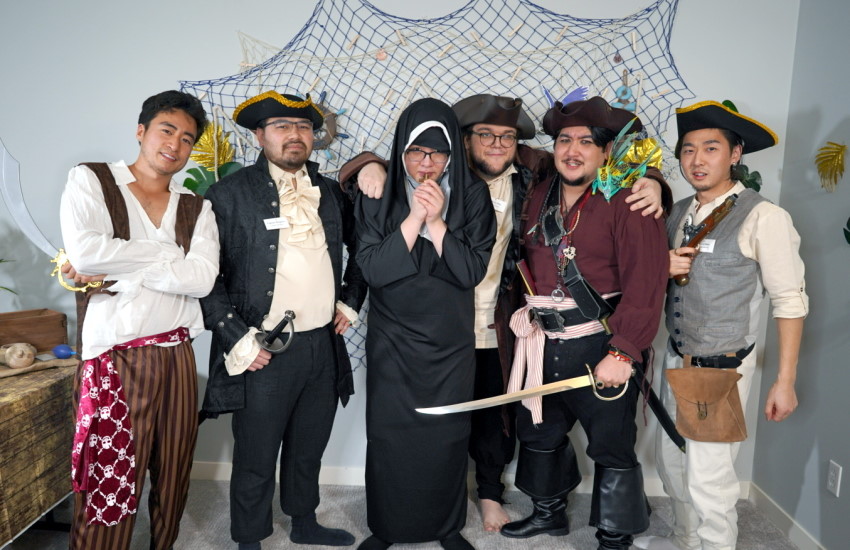 "We did Davy Jones' Locker for Halloween and everybody dressed up super well!!!! We had so much fun playing, this was our first go at a murder mystery night!"
Theda Lee, United States
---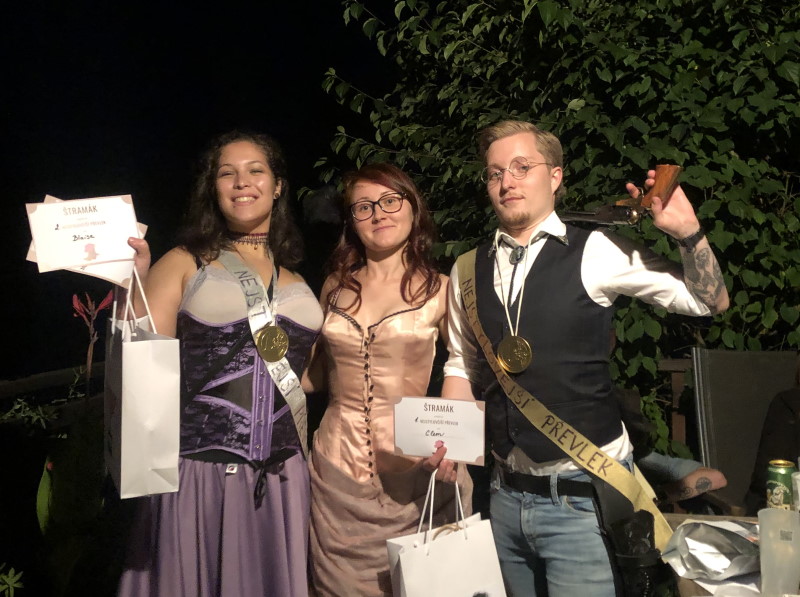 "THANK YOU SO MUCH FOR YOUR GAME!!!
I was a bit worried about it because nobody (from our friends) had ever played this game before and we didn't know what to expect. I'm very extra with everything and I love planning events so I knew it will be okay from my side of organiser (the bartender) and from my catering. I wasn't sure to what degree are some of my friends able to play their persona because not everyone from the group knew each other and I didn't play any roleplay game with most of them.
My boyfriend knows how extra I'm with all this and he knew I'll have a nice wild west dress so he bought some revolver and many other nice details for his character (Clem). I was expecting that most of the people from our group will have a cowboy hat if anything at all because we are group of young people and I know they are not spending much money on unnecessary things… but boy, was I wrong! I almost cried when everyone came dressed up.
At the beginning I wanted them to stand up and just say a bit about themselves so everyone can remember who is who (although I made a revealing picture for every day as shown below). Again, I was expecting they will just say "I'm Mel Easton and I represent…" but my boyfriend's twin who was playing Elijah came first and started preaching super loudly :D After this, everyone made a great entrance because this broke the ice.
The game went great as well and everyone was asking when we are playing again and that they want to play the biggest game you've got and that they are owing me a game where I'm a playing character as well and so on… whole evening turned much better than I expected and I think we will be remembering this night forever!:)
I also made some welcome drinks and gave away funny presents after the game.
Thank you for an absolutely great time, we are looking forward to playing next game from you!
Possible tips for other people: I made a Facebook event which was used as a platform to communicate about the game and also a reminder so everyone was counting with it (that was my biggest fear... that someone won't come.)
I made public a Cactus Gulch Gazette and Rules of the game + I sent a questionnaire there which helped me to match the people with characters (they answered me questions about the characteristic etc which they wanted to play, it helped a lot!)... then 3 weeks before the game I sent everyone invitation with the name of their character and 2 weeks before they got the full character sheet with everything else in the same folder so it was easy for them.
17 days before the game started, I put a picture with cowboy hats to that page and then I revealed one person each day. It was fun and also made start of the game easier because most of them knew who is playing the character they want to speak with.
I've also prepared a photobooth for us and a welcome drink with their faces so they knew where to sit. And I made a wanted poster for everyone so as they were walking around the house, they could find their face and it made the atmosphere better. It was fun!:)"
Michaela Mrázová
---
"My oldest daughter's high school cancelled its 'girl ask guy' dance this spring due to COVID. We decided to scale it down and privately hosted a murder mystery dinner party. Dazzled to Death was a great game. We had 12 players and they all loved it. None of them had played a murder mystery before, but I had done several. By far, this was the most fun version of the genre that I have ever seen.
The game was well paced and full of intrigue. I would recommend the game to anyone who is adventurous enough to try it. Lots of fun."
Jonathan Jamieson, United States
---
"We played Way Out West on Halloween this year and it was a blast! I've been to murder mysteries before, but none this involved. I loved how much autonomy each of the characters had. We all had a blast and had to laugh at some of the strange things that came up… smuggling from jail, a marriage for money and a lot of back stabbing!"
Aquilla, United States
---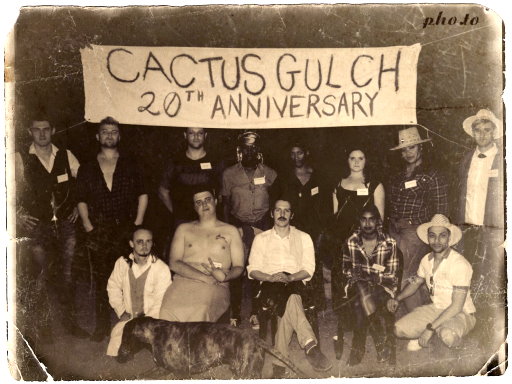 "Thank you for providing the free copy of Way Out West. This compelling wild-West themed murder mystery is fantastically written. Our guests fought passionately for their goals and invested in their characters' stories as (truly if it were their own lives they were living!)."
Ricardo Vaccaro
---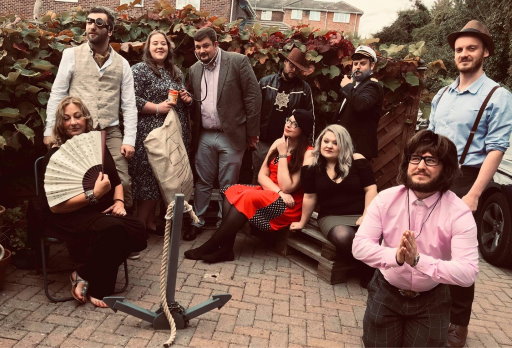 "We decided to host a murder mystery event in honour of friend coming to visit. After reading some reviews on the website, we decided to take on Death on The Gambia. This was the first murder mystery for the majority of guests, however it was easy to follow and everyone had a great evening.
We had 10 guests/players (including myself who played Captain Ironheart and the Deckhand) who all got fully immersed into the game, complete with fancy dress. I made a few extra props for the event which helped set the aesthetic including a homemade anchor and other nautical items, Gambian flag and posters/news articles of events from the time. I also made a playlist of songs from the time period which helped people get into the swing of it.
Although I mainly used the card items provided during the game, I did make a few practical items that players could use including replica passports (I requested pictures of the players ahead of time and put these next to the passport card information) and vintage looking travel papers. I found it useful to send the character booklets out ahead of time which were emailed to players in advance. I provided a hard copy of this information on the day along with 'hand luggage' (small pencil cases) for each player to store their items and money which people kept as souvenirs.
It took us a good couple of hours to complete the game with most people successful in their goals. We suffered a few casualties in the beginning and a couple of deaths as we approached our final destination. After the game ended, each player took turns explaining their story and what they accomplished and we voted on 'Best Costume' and 'Best Acting' with the winners being presented with a trophy. Overall, everyone had a wonderful time and we will definitely be doing another in future!"
Rich Noakes, United Kingdom
---
"We played Happy Birthday R.J. for new year's – and here we are, eight months later, still talking about it and planning our next event! Everyone had an absolute blast and this activity made our new year's one for the memory book. I've done a few murder mystery parties through other companies and they don't even come close. The complexity of these games adds so much and yet it's no more difficult to play. It really makes sure all the characters are fully engaged and have a goal, regardless of whether they think they could be or know the murderer. "
Leighanna Folger, United States
---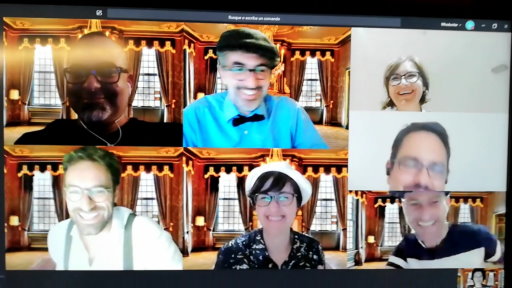 "We played Reunion with Death (with Microsoft Teams) and it went very well. Everyone had a great time!"
Helena Mas, Germany
---
"We played Death in Venice on Zoom. People would take turns speaking with other players for 5 mins at a time. There is a way to set the time limit in Zoom's breakout rooms. Since we had an odd number of people, the one left over would hang out with me, or take a break.
I forwarded the info to the person who was making announcements on Facebook. They read it aloud. I also had it on a share screen. I think this was the first time the announcements were all on schedule…
We didn't do our normal awards ceremony. But we did have a rousing debate at the end over who the killer was. It was a good time.
Thanks for helping us maintain some level of sanity during these trying times."
Kelly Wittman, United States
---
"I have hosted at least 8 in-person Freeformgames murder mystery parties, so I was excited to do a virtual one for once! I used Zoom for Reunion with Death, had everyone change their screen names to their character names, while I changed mine to Hotel Manager and used a generic hotel logo. The game was SO fun! Everyone had a great time, and is still talking to me and each other about it! The 2.5 or 3 hour game time was daunting to people at first, but I told them it will go so fast it will be over too soon, and they all agreed afterwards, and in fact wanted it to go on longer! For Zoom, the 'breakout rooms' was clutch. I could hop into the rooms to offer support at their request, and also I could broadcast messages to everyone no matter what room they were in. Overall, I am VERY satisfied, and they all keep asking me when the next one will be!"
Rob Newbold, United States
---
"We've played Reunion with Death twice – I hosted for some of our regulars and for my daughter and her friends (800 miles north of us). It was well received by both groups. I had been concerned that a lack of items, special abilities, and combat along with less social interaction would make the game dull for veterans, but some of them actually preferred this format for a puzzly whodunit. They were able to keep all of their notes organized in front of them during the game. (Normally, we provide envelopes for them to keep their stuff (which sometimes gets dropped), so it's not as accessible when roaming around a house – especially if you're holding a glass of wine in the other hand.)"
Mark Rickert, United States
---
"What a great way to do a murder mystery without anyone having to leave their home. We loved Reunion with Death. We have done many Freeform games in the past and we were really excited to try an online version. We had a mix of seasoned players and newbies and from several different states. We had a few concerns on how this would work online, but it did! We played on google hangouts and used a Facebook group chat where we were able to change the names to our character names. Private chats were happening by text, messenger, and phone calls. It was great. Once again a great story and a great game! "
Mike Munoz, United States
---
"Hosted Reunion with Death on the weekend and it was an absolute blast!
Had some technical difficulties as some people couldn't access Google Hangouts properly so ended up doing a last minute switch to using a main Zoom chat which was always active and then for individual conversations people broke into Facebook Messenger and could just mute the Zoom chat as they wished. It worked really well and everyone had a great time; feedback from one of my friends who has done a few conventional murder mysteries said she loved it and felt it was so much more high pressure than usual which was great. As a host I found it much easier to gauge people's interest and changed up the timing of things a bit if it felt like people were hitting dead ends. All in all another successful murder mystery! Thanks a heap."
Terence Smith, Australia
---
"I have hosted several Freeform games over the years and they have all been smash hits. I usually host a game in the Spring, and I was feeling down about having to skip this season when up popped a notice about Reunion with Death, and its ability to be played remotely! I am hopeless when it comes to computer skills, but the instructions for how to host this over google hangouts were so simple and clear, I had no problem setting up the rooms and sending out links. For most Freeform games I give myself a month to put together the guest list and gather up materials, but with this game I didn't need to worry about printing out anything, and since babysitting and travel weren't a concern for the guests it was possible for me to host the party practically the day of purchase! I will admit I was skeptical – and I actually had many guests admit to me that before the party they had many misgivings about how the whole thing would go down, thinking there may be too many tech issues, worrying about how the switching between rooms would work, and believing the remote nature of the whole thing would detract from the experience. But everything went smoothly, and I'm still receiving calls from the guests telling me how much fun they had.
One bonus from the host's perspective I'd like to bring up: this game demands much less from the host than any of the other Freeform games I've played. The lack of items and abilities requiring host participation meant I wasn't constantly being called over to help with those things, so really all I needed to do was watch the time for when to send out the various announcements. This meant I had much more freedom to bounce around rooms, eavesdropping on conversations and watching my friends get into their characters. I love hosting these games, but this made for a fun change of pace. It almost felt like sitting down to watch a play, and it was easily more entertaining and better acted than several movies I have seen recently!
Thank you for continuing to provide such great experiences. Y'all's games never disappoint, and I'm looking forward to hosting many more over the years! "
Kristen Hanneman, United States
---
"Thank you to Freeform Games for their help in making Casino Fatale work for a group of 30+ people! We do a murder mystery every year and everyone says this was the best we've done so far!"
Mandy Mallott, United States
---
"Hosting a Freeform Games murder mystery party has become our yearly fundraiser. Last year, we hosted A Speakeasy Murder with our neighbors and friends and raised close to $2,000 in one night for one of our local charities. We're hoping to do the same this year with Casino Fatale. Just wanted to let you know that we think you guys are fantastic, your writing and creative concepts are amazing, and that you have a bunch of loyal fans across the pond."
Marisa N, USA
---
"We had a wonderful time tonight deep in the heart of the Cold War with The Spy Who Killed Me. We had a large group of about 20 who were a mix of teens and adults. Some were new to murder mysteries, and to others of us this was old hat – but this was all of our first time with Freeform Games. I liked the multiple goals and hidden agendas. It was a little too advanced for our newbies, but the rest of us had a blast. There were many unplanned deaths and intrigue filled the room, all together a very fun time."
Wayne Parker, Federated States of Micronesia
---
"The murderer totally got away with it…
We played Lei'd to Rest with 12 characters, including Ginger but leaving out Ned. Perhaps that led to some confusion or missing clues, but overall it seemed to work. There was less fighting than I expected (except for Jack, who got laid flat twice, and totally deserved it); perhaps we are just a peaceable group.
Ginger gave some really good feedback, writing: 'The characters were really interesting and different, which was great. It felt easy to get engaged because the characters were interesting to talk to. The plot itself was great and had MULTIPLE plot twists that we didn't see coming. I wished we could have played for longer! It really didn't get old.'
Thanks for a very memorable New Year's Eve!"
Chuck Cooley, United States
---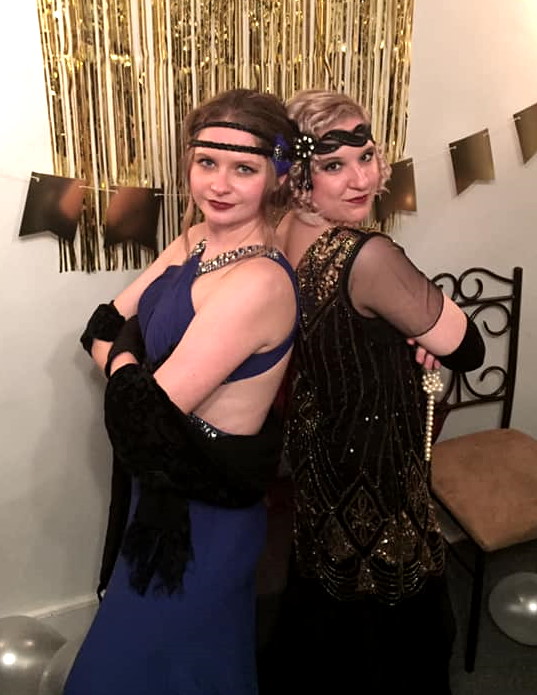 "We had a blast with A Speakeasy Murder! We played it on New Year's Eve 2019 to kick off the 20s, and I think we picked the best way to spend it! Because most of the guests were planning on being there until midnight, we should have let the mystery go on a little longer, as most of the guests were being very cautious with their actions (this being everyone's first Freeform Games mystery). But it still turned out very well, and almost everyone expressed interest in doing another one!
the guests had a lot of fun pulling their costumes together! And they really enjoyed each carrying their own secrets. It was so fun to watch them comparing their secrets at the end, and each in turn being scandalized by their friends' secrets. I followed the advice I found in Freeform Games' casting tips, and tried to cast guests who were already friends as the closest associates in the game, and so we had some lovely rivalries between the singers!
It was an extra boon that we had guests who were interested in performing – Lola killed her song 'Whatever Lola Wants Lola Gets' at the beginning, and Sugar gave her a run for her money with 'At Last My Love Has Come Along', in which she danced with Linguini. It was amazing to see how the guests played their characters! Of the 23 guests, Benny and Velma stood out as the most hammy (especially together), and at one point Velma even fake-slapped Benny for revealing her past in front of Tillie and Pickles! It was a hoot to watch!
It was also amusing that early on, Kit revealed his true nature to Mayor Trelawney, and the Mayor was quite game to try and work together to decipher the mysterious map, through unscrupulous means. I think the most successful characters were the ones who took the freeform nature of the mystery to heart, and were coming up with creative ways to bargain with other characters. All in all, this mystery was absolutely brilliant, and we are eager to play more Freeform Games!"
Christina Gass, United States
---
"A Speakeasy Murder review and suggestions:
What an incredible game! By far the best murder mystery I've ever hosted – this is so perfect for my group of friends who are big board gamers or LARPers. Everybody had plenty to do so it was a really engaging night! Nobody ended up correctly guessing the murderer, who did an awesome job with their role and everybody else was so shady.
In the other murder mysteries I've done I think it would have been pretty disappointing if nobody could figure out the murderer correctly, but given that there was so much else to do and people had other goaIs to accomplish, nobody minded that they couldn't figure it out.
I had 15 players (supposed to have 16 but one backed out day of so I didn't have Tillie but I did have Reno) and I think that as just one host, that's all I could manage. Any more people and I would have needed another host. My night was the perfect amount of busy for me, I always had things to do, but nobody was waiting for me to help do anything.
There are a few things I would change if I did it over again, but this is pretty nitpicking, overall I wouldn't change much because it was such an awesome game.
I would start officer Pilkington off with an item that would help him restrain people to arrest them – like handcuffs. Constraining people was pretty hard so I might do something to make that easier. Or I might give players suggestions on how to be creative with that to begin with because they had a hard time. That's more player error though.
I would add in more rules for how ghosts work. I decided on the fly that since they could still talk to people that they could share information up to 10 minutes before their death. That way if the murderer wanted to hide the body, they couldn't just tell everyone who murdered them. I also had them just discreetly write ghost on their name badge. That way people talking to them may or may not realize they're just a ghost. This worked well enough, but without having more detailed rules it was a little clunky. Our ghosts still had a fantastic time continuing to play so I'm really glad that was a mechanic.
Reno's character was a pretty interesting one to have. I think their ability to cleanse the wicked is a bit OP/unrealistic/ruins other people's game play. On the fly I changed it so that if you were converted it just meant that you couldn't choose to drink any more alcohol and did need to try to help Reno, but you didn't necessarily immediately support prohibition: that way, the players who were converted early on could still work on their own goals. I think another way you could change that is to have no conversions before happy hour.
Another thing I would have done was clarify for the players before the start that there may or may not be multiple guns in the game. Apparently a lot of my players thought that if they came across any gun, then that gun was the murder weapon used on Scabface. That was mostly a player error. Another big player error was that Sasha forgot that they could decode the map, they thought they needed Bobby to do it who wasn't in the game. This caused a lot of frustration for everyone chasing the lead and thinking that there were no players in the game that could help them (Lola died right after happy hour so she was out).
I loved the horse race mechanic. Somebody in my game early on picked a random horse to spread a rumor about, and it happened to be the actual winner of the horse race! So everybody wanted to bet on the winner and Sammy ended up not trusting anyone including Stan, since it seemed crazy that everybody could know the winner. That being said, Sammy had a hard time finding time to do anything other than deal with people trying to bet. This was a pretty difficult character to play and my player did a fantastic job – but I would note that you need to give it to somebody very good at multitasking. One way you could change that is by making it so that bets can only be placed at certain times, there could be an announcement for that or it could happen only before happy hour.
I checked in with my players throughout the game to see how they were feeling about the difficulty. If some people were struggling or finding things to easy to the point of making it far less fun for them, I would give them a little guidance, drop or take away helpful items, or change things up.
10/10 would play again!"
Monique Swirsky
---
"I would highly recommend getting a Freeform Murder Mystery Game. The material provided in well thought out, and there are lots of articles and resources online with tips and tricks on hosting a murder mystery party.
Snow Business was my first time hosting a murder mystery party. Everything went smoothly, now I can't wait to tackle one of the bigger parties.
The best part of Freeform Games is that the guests really determine how the game will unfold. They can be as creative as they want to be. My guests loved it."
Matthew, Canada
---
"Saturday night we ran The Reality Is Murder. We had a group of 27 people playing roles, a team of three running the game, and someone assigned to be the photographer. We could have gotten away with one or two people running the game but we need the extra people to tally votes and grade the trivia quiz we include. We also included "photo bingo" to make sure we had plenty of photos.
Our crowd was our usual mix of regulars with a few new people thrown in. As the primary person running the game, I found that the players (both new and old) were very involved in the game. We had far less people asking for help than we had in previous games. The players just went with the flow.
As far as casting went, for the most part I let people pick their own roles. The only role I made a point to cast someone is was Britney Thompson. She should be played by someone who is able to speak well to a group and get the crowd going. Our Britney was played by a former karaoke host. She did an amazing job! She was the highlight of a great night.
One of the awards we give is called the "Random Award". Players vote on the person who added something special to the evening. For the first time we had a six way tie! I take this as a sign that people were engaged and involved. It made my night.
Reactions from the guests who have played before were "This was the best one yet." Our newbies, who really didn't know what to expect, were also generous with their raves.
Gather your friends and have a great night!"
Kelly Wittman, USA
---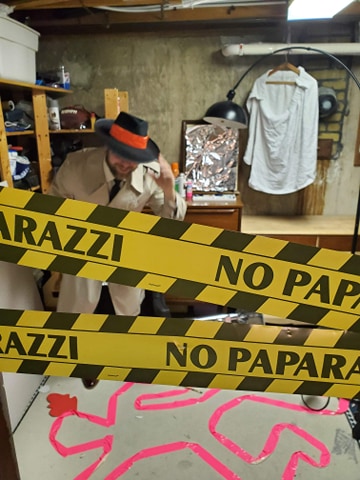 "This was my first attempt at a Murder Mystery game, and I came across Freeform Games from the good reviews.
We chose Bludgeoned on Broadway. And everyone (all new players) loved it.
Once everyone got comfortable with their characters it was an all-out blast to observe as the Director. Such a fun experience setting up props, and reading plot and characters. And easy to run even as a first-time host.
I cant wait until we plan another!!!"
Dan Grant , Canada
---
"I downloaded the free version of Way out West and could convince enough people to play among my friends. Most of them don't have very much experience with roleplaying expect Dungeons and Dragons. So everyone was curious and a bit tense at first. But once we started everyone got into it and it was a blast! We had a lot of fun and it is just the day after we played but I am already planning for the next one! :) "
Jaap De Boer, Netherlands
---
"I purchased Way out West online from Melbourne Australia and was very pleased that link came immediately and no issues opening files. The game was very clear in setup and explanations, and provided lots of helpful ideas on how to host for small and large groups. Staff were quickly responsive when I sent a query via Facebook messenger and really helpful and personable with my questions. I would thoroughly recommend this company for a great night of entertainment with friends/family and look forward to purchasing another game to play."
Natasha, Australia
---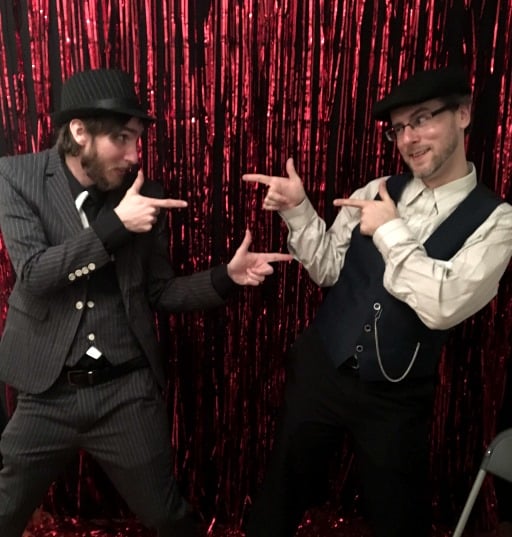 "My guests had a blast at A Speakeasy Murder. The costumes were great. We had a full house including Ginger Roberts. I strongly advise allowing plenty of time in advance to pull everything together. You should have at least two doorkeepers (we had three) because they will be very busy. If possible assign someone to be the party photographer because you don't want to miss out on getting picture of people in their 20s finest."
Kelly Wittman, USA
---
"I hosted Lei'd to Rest and all of my friends said they had a ton of fun! This was my first time hosting and playing Freeform Games, and it was a fantastic experience. I was a little concerned about my shyer friends, but everyone enjoyed their character. I also think Lei'd to Rest was a good introduction to my friends who haven't experienced any multi-hour puzzle-like games. Items are important in Lei'd to Rest, so as a host, I would stress and remind folks that you can loot items if you knock someone unconscious. A lot of my friends were also really focussed on decrypting Project Caulfield, so I had to add clarity in the middle of the game that it wasn't necessary that they decrypt the contents. My friends ended up not finding the murderer, and if I were to host this again, something I'd do next time is add a rule that you can only pickpocket someone you've walked by in the last minute because it became too difficult to find Project Caulfield with all of the uninformed pickpocketing. Thank you for the great writing and game!"
Wendy
---
"I hosted a New Year Way Out West party (Jan. 2019)! The guests had never done a freeform game before and some were hesitant. But they went all out with costumes and threw themselves into their characters. It was a great evening of fun! We had lots of arrests, shootings, stabbings, and lots of secrets and clues being shared and hidden. Everyone had such a great time they can't wait to do one again and are eager to use their skills and abilities more liberally the next time we play."
D Loewen, Canada
---
"Way out West was the first time I have used a FreeForm game. It was very successful. I have done a murder mystery every year for about ten years. One of the players said they thought this was the best one. I made little purses out of bandana prints for the ladies. Inside were all of their cards and directions along with a pen for taking notes, The guys got a bandana with and envelope with their cards. We had cowboy stew for dinner at the stagecoach stop. We had pitchers of drinks at the bar. Everyone came dressed in costume and they were absolutely fantastic! There were prizes at the end for the best dressed and best player as well as those who had the most correct guesses. I have great photos of the various players and the happenings throughout the night."
Sandi Smith, United States
---
"Everyone had such an amazing time with Way out West! We're already talking about which game to buy next. Days later we're still getting calls and messages about how much fun it was."
Jaclyn Fernandez, United States
---
"We got the Way out West game for 14 people. We actually had 15 people and used one of the extra free characters. What a blast! Everyone had a great time. We sent the character sheets two weeks before the event so everyone had a chance to read up on their characters. Many still had to look at their sheets throughout the night. We decorated our house into a saloon and let the party begin. It was so easy. I will say if there is one thing we will do differently in the future is we will probably use two hosts. There were a lot of questions and guidance that the bartender had to give plus try to hand out the drinks. But other than that (which was small) it was great. "
DeWayne Reeves, United States
---
"What better thing to do for Halloween than throw a murder mystery party!? My fiancée and I wrangled 33 people to participate in Murder at Sea at our home. It could not have been more fun – the costumes, people sticking to their characters, the chaos of everyone trying to kill each other at the end, even Patrick Malloy got in on the action trying to smite people with his Bible. This was an extremely positive experience and I will definitely be putting on another party in the future."
Christopher Sewell, United States
---
"Just to say that the Hollywood Lies party was a great success as our end of season party for staff and volunteers. As the host, it was quite a lot of work(!) and I made sure that everyone was given details of their character a week before the party. On the night everyone dressed the part and got into character right from the start! Perhaps the most fun part was the three scenes acted at the end of the evening - just hilarious. I have to say that for all the preparation involved, the party itself was a huge success, and thanks to you and your team for the layering of a great story. I'm not sure anyone worked out who the murderer was!"
Karen Manton-Cook, UK
---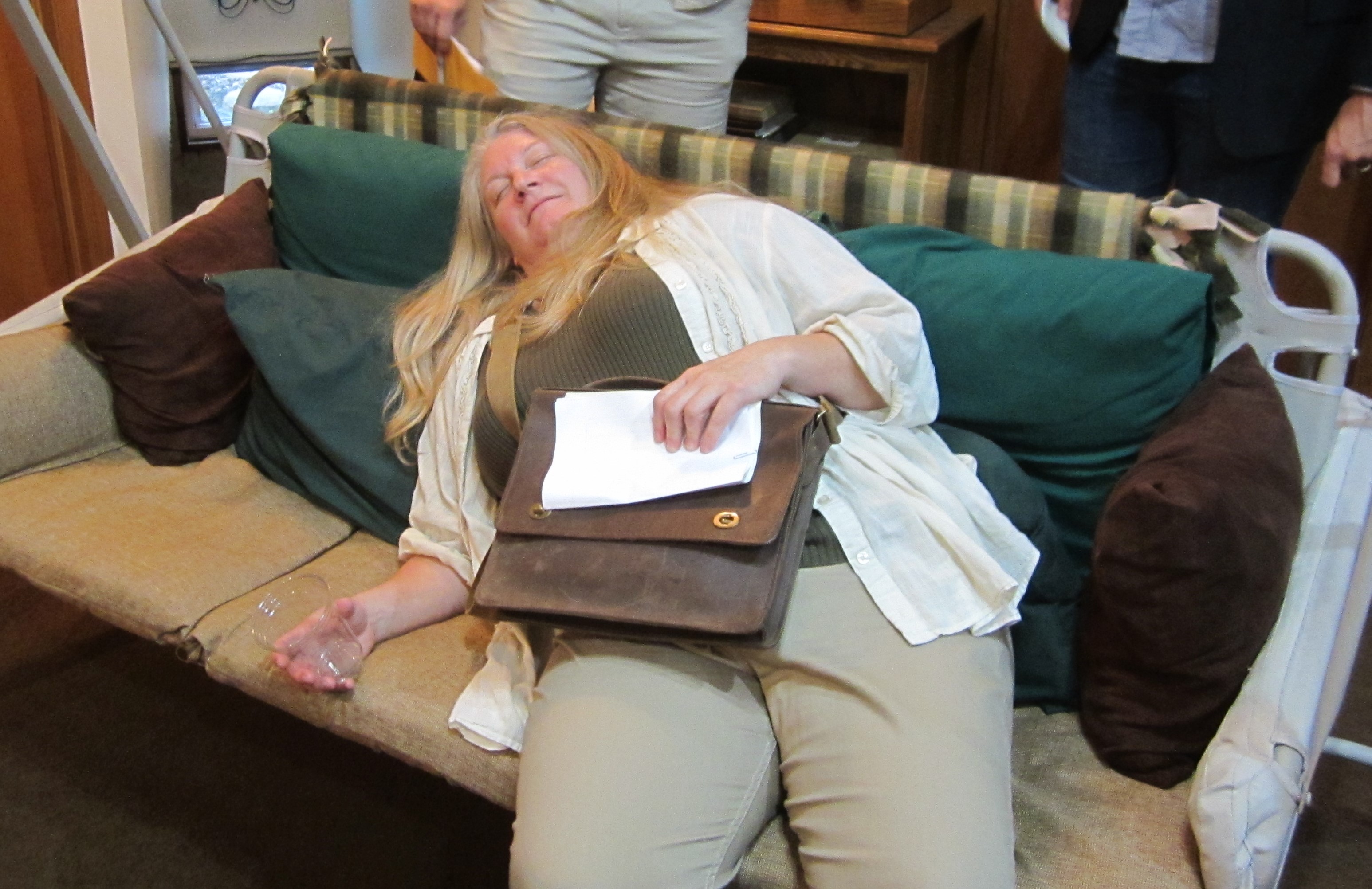 "We had a blast hosting Curse of the Pharaoh last night! The difficult plot was challenging fun for our veteran players, but the newcomers still had a great time as well. A couple of the more entertaining aspects of this particular game (don't want to give a spoiler here) unfortunately did not get to play out, so I think in the future for this one (this is the second time we've done this one) we will provide some additional playing time if certain things don't happen.
After researching games from Egypt, we chose to use Mancala to determine the outcome of duels. We had a board set up in play as decoration, then had a bag of additional Mancala stones with assigned point values. Players drew three stones (white=1, green=2, blue=3) and the higher number won.
As always, everyone had a great evening, and we are ready to start planning the next one!"
Melissa Midcap, USA
---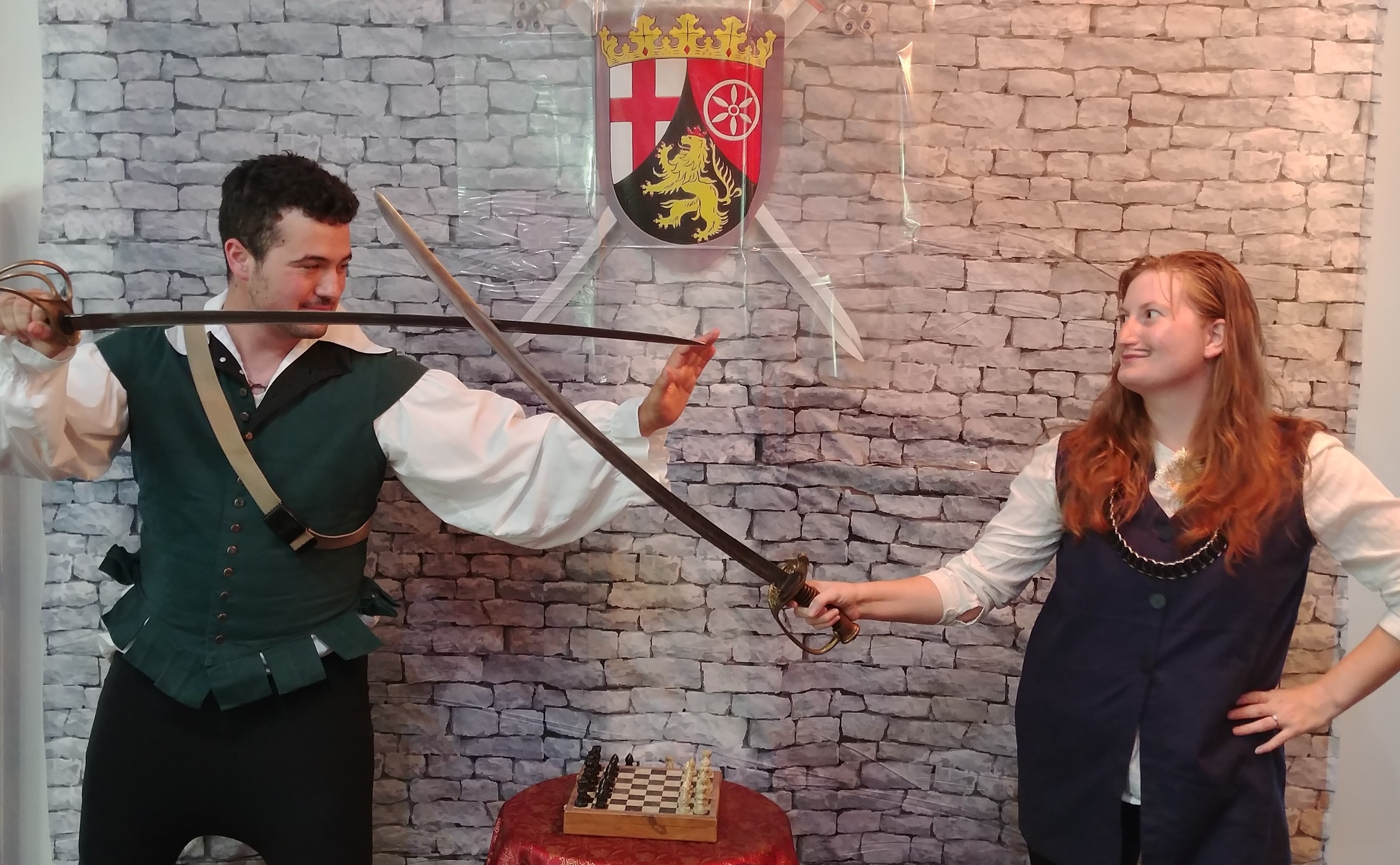 "Hey! We played Court in the Act July 2017! Some of our players really go all-out on their costuming! We love it!!
For our duels, instead of rock/paper/scissors, we try to find something that fits into the theme of the game. We allowed the players to pose with swords for pictures (if that was their character's weapon), but then decided the outcome with chess pieces. A chess board was set as part of the venue. The bottoms of the chess pieces had tiny pieces of post-it notes attached to the bottom, which were numbered. The dueling parties would step up to opposite sides of the board and when told to do so would each lift a piece of their choice. Higher number won the duel.
We run a game about twice a year. We have a few seasoned veterans who play with us every time, and also have some who have never played before. And never has it happened that everyone already knows each other, so people always make new friends! It's a nice mix and makes for a great evening. Congratulations to your writers and everyone else who works on these!"
Melissa Midcap, USA
---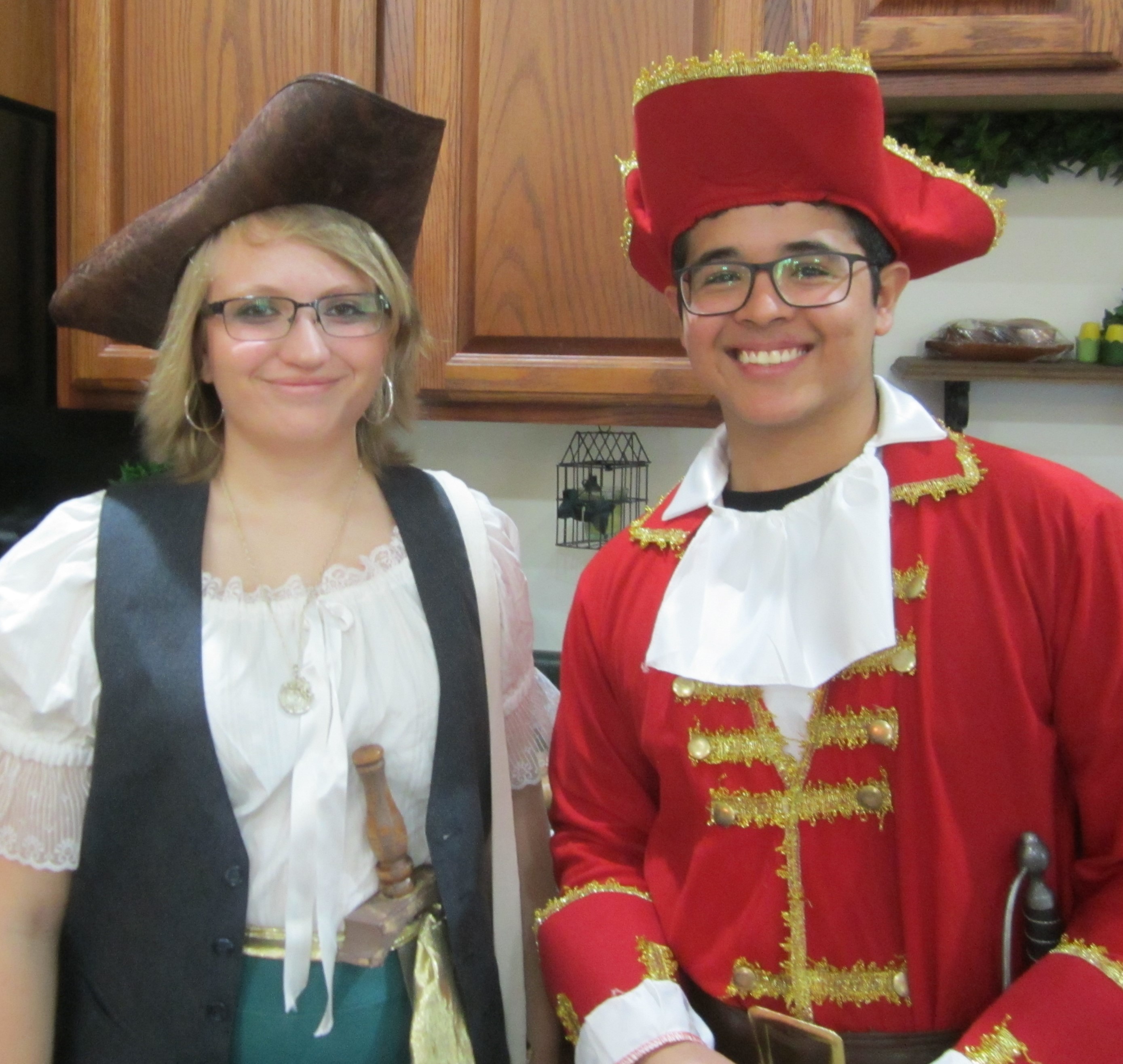 "Hey there!! It was a crazy day running A Dead Man's Chest as a Spanish exam for both lunch and dinner (48 players total), but it was also a lot of fun. The students had a great time and rose to the challenge of playing the game for three hours with no English. I'm happy to say that everyone received either an A or a B on the final exam! (There was also an essay part to the exam, during which students had to write about the evening from the perspective of their character.) During both sessions I had some native speakers and a couple of other Spanish teachers as some of the characters, to add to the challenge for my students.
For our "duels," we let the players pose with swords (my husband collects swords) for some cool pictures, but then the duel is settled by the roll of the dice. Instead of rock/paper/scissors, we try to find something that fits in the theme of the game. Since they play the dice game in the Pirate movies, we use dice for this game.
Thanks again for some great entertainment opportunities!
Click here to see more photos."
Melissa Midcap, USA
---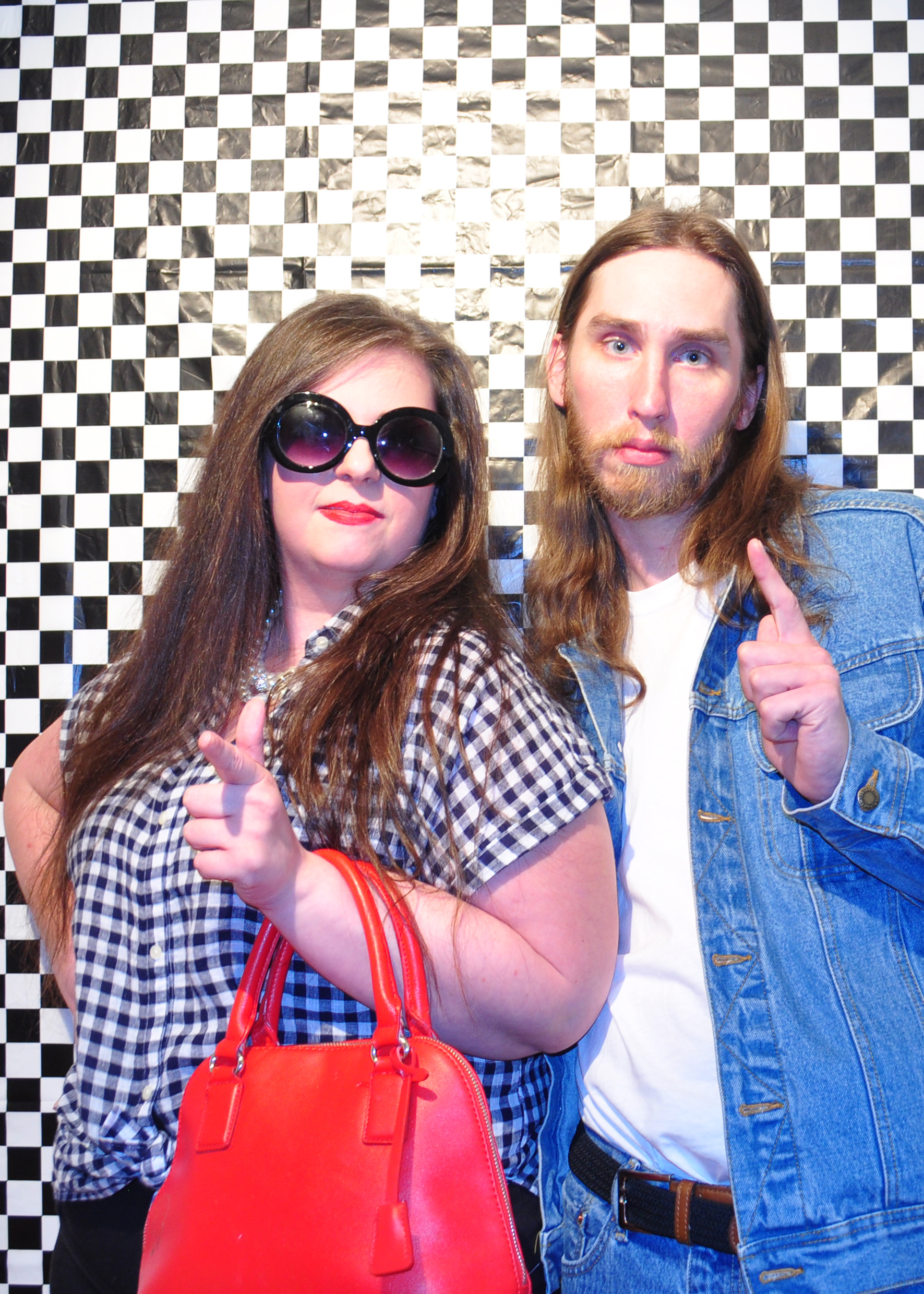 "Last night we ran Murder On The Dancefloor. This was our first time giving the character info at the party. From my point of view, I loved doing it. It made everything run smoother with changing roles. Most of my guests said they would have preferred to have it a few days in advance. There were also a few things that were missed because people didn't have the time to absorb everything. I am going back to giving the info in advance.
Allowing people time to read and absorb everything, threw off our timing. Many of our guests are very serious about knowing all they can about their roles. They wanted more than the half hour I allotted. The murder mystery part ended up going until well past midnight. The actual party lasted until about 4am, with people still debating things that happened. To me, that is a sign of success.
Our signature drink was Honey Bourbon Lemonade. It fit with the teens (the lemonade) and the fact that the story takes place in the US (the bourbon). My co-host winged putting it together. Tasting it as he went along until he thought it was right. We will be making it again soon.
Overall, Murder on the Dancefloor was a huge success. People were engaged debating the finer points long after the murder was revealed. The 1950s theme allows for fun party background music. The costumes are easy to do. One of my favorite parts of the evening was the dance off. Those who danced put on a great show for those of us who didn't.
I love that many of the larger mysteries we have done have a 'talent break'. We added our own hula contest when we did Lei'd To Rest. The movie portion of Halloween Lies was hysterical. When we finally get around to throwing Casino Fatale, we are thinking about adding our own talent show break.
I can't thank you enough for your wonderful mysteries. I have a great time running them. My guests look forward them. It is a fun time for all. "
Kelly Wittman, USA
---
"Wow - what a great party! We just finished A Dead Man's Chest with a mixed-age group of moms and kids for my daughter's 12th birthday party. A lot of surprises, even for me as the host! This kit is really well written, there are so many different directions things can go. One area where we could have used more direction was the capturing of pirates. Captain Overy simply attacked them (helped by amazing luck at rock-paper-scissors!!!), but the governor had neither a weapon nor a special ability, and couldn't figure out how to accomplish her goal. We were also unsure what should happen after the arrests… What were the authorities supposed to do with the captured pirates for the rest of the party? I just winged it, and we ended up with not one but two daring rescues where rival ships banded together to save their captured comrades! In the end, Captain O subdued some and persuaded others and managed to capture the Fury, but the majority of the pirates escaped with the treasure on the Scurvy Knave.
Overall a fantastic party! Two pieces of advice for future hosts: 1) Casting is key! Reliable and confident people in the main roles make everything more fun. 2) The discussion boards! So very many good ideas there to make the party even better.
Thanks again for a fantastic product and a great time :-)"
Nancy B, United States
---
"Hello from Tanzania! It occurred to me that we should let you know that over the past five or so years, we've either hosted or attended a number of your games. To date we've enjoyed:
1. Curse of the Pharaoh
2. Bludgeoned on Broadway
3. Way out West
4. Murder at Sea
and we're attending A Speakeasy Murder this coming weekend. You've got a niche cult following among some of the expat and broader community here in Dar es Salaam – we're big fans!
Some friends of ours also hosted a Speakeasy Murder a few months ago in Ethiopia, if you want to add that to your list of countries.
Keep up the great work!"
Simran Bindra, Tanzania
---
"We had 25 of us down at Fat Stan's Speakeasy for A Speakeasy Murder. It was hysterical and outrageous. We were all blown away with the effort that each of our guests put into their costumes and characters.
People at first were worried about memorizing their characters but after some cocktails and questioning everyone loosened up and had a grand ol' time escaping and planning more debauchery.
Truly one of the greatest nights of my life, a party we will never forget!"
Darah Salmaggi, United States
---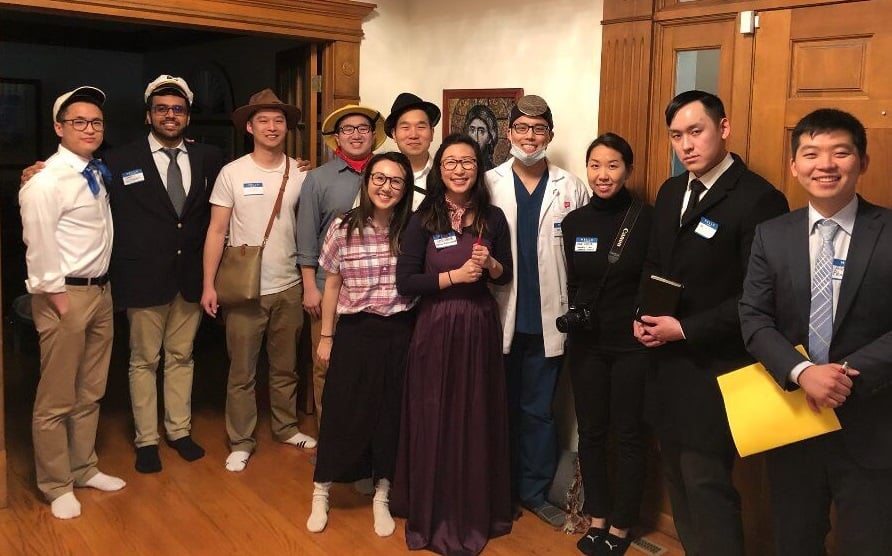 "I wanted to say that Death on the Gambia was a huge success. We love your games and we are hoping to do another in the summer!"
Joseph Kim
---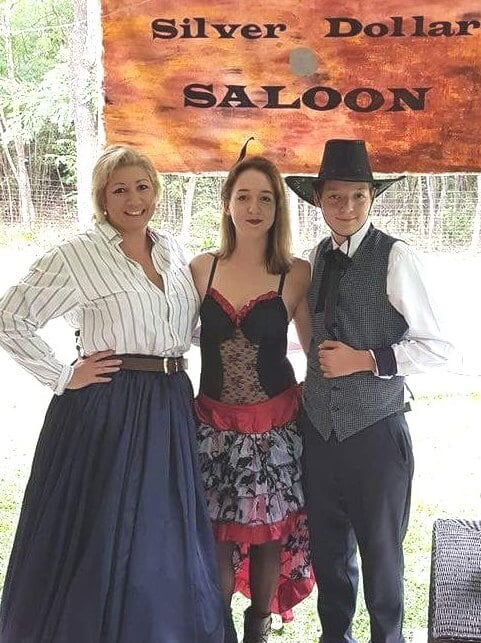 "I tried my first freeformgames murder mystery evening, Way out West, in December 2017.
We live on a farm on the outskirts of a town in Zambia. Our community is a melting pot of nations… South Africans, Zimbabweans, Australians and a good few Brits in the with locals.
We are blessed with lovely weather and were able to host the evening on our veranda, which spilled into the garden! We had quite a feisty bunch who wanted to pinch, poison and shoot. Thank heavens I had a barmaid assistant to handle all the rock paper scissors challenges.
90% had never played before… And those who had, said they had never actually finished one! Well this time we did finish, and it was super fun, really entertaining and everyone made me promise to do another in the new year. Hence Hollywood Lies happening soon!
Thank you to you and your team for fabulous entertainment!"
Jacqui French, Zambia
---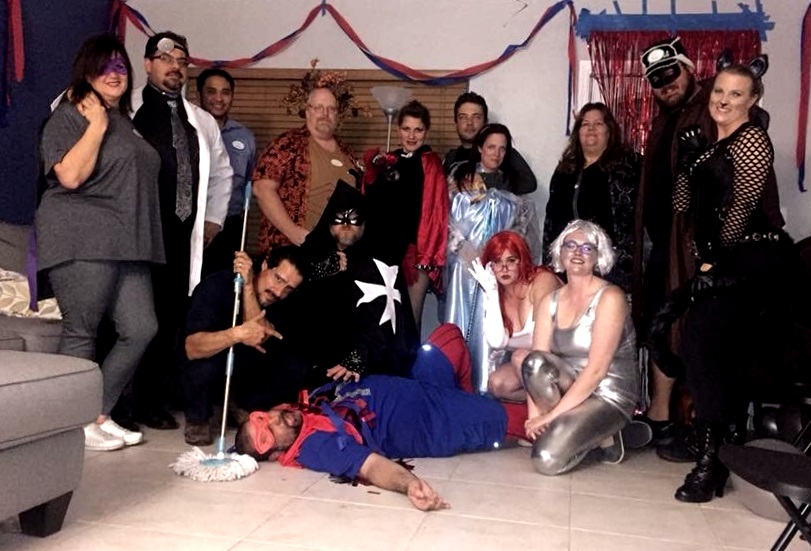 "For my husbands 40th birthday, I really wanted to celebrate big. A friend suggested looking at Freeform Games, as she has used you in the past. We are all huge geeks so I knew A Heroic Death was the one for us. I played the HOST and my husband was Captain Amazing! This game was so easy for first-time murder mystery players (and HOST) it all went so smooth and everyone really got into their characters. We played it as Captain Amazing!'s 40th capture of ReptoMan and it worked out so well! We decorated the house with streamers and banners, but had some of them 'falling down' as it is the day after a party. I set up a table with name tags and envelopes for each character and they could come to the HOST with any questions before the game started. I had finger foods and food in the crock-pot so people could still eat and move around. We played with all the characters plus 2 extras you can download. I would suggest if you are playing with more than 10 people, and you are not experienced with murder mysteries, to have a HOST's assistant. I was able to handle it with 14 people, but sometimes the player had to wait until I could help them. No One figured out who the murder was, and only a few 'side' missions were figured out. At the end when I revealed everything, everyone was rolling on the floor and playfully calling each other names, I take that as a great sign! This game was so much fun for everyone, and really smooth to play, I will purchase a Freeform game again, in fact, I can't wait to put another one together!"
Janae Martinez, United States
---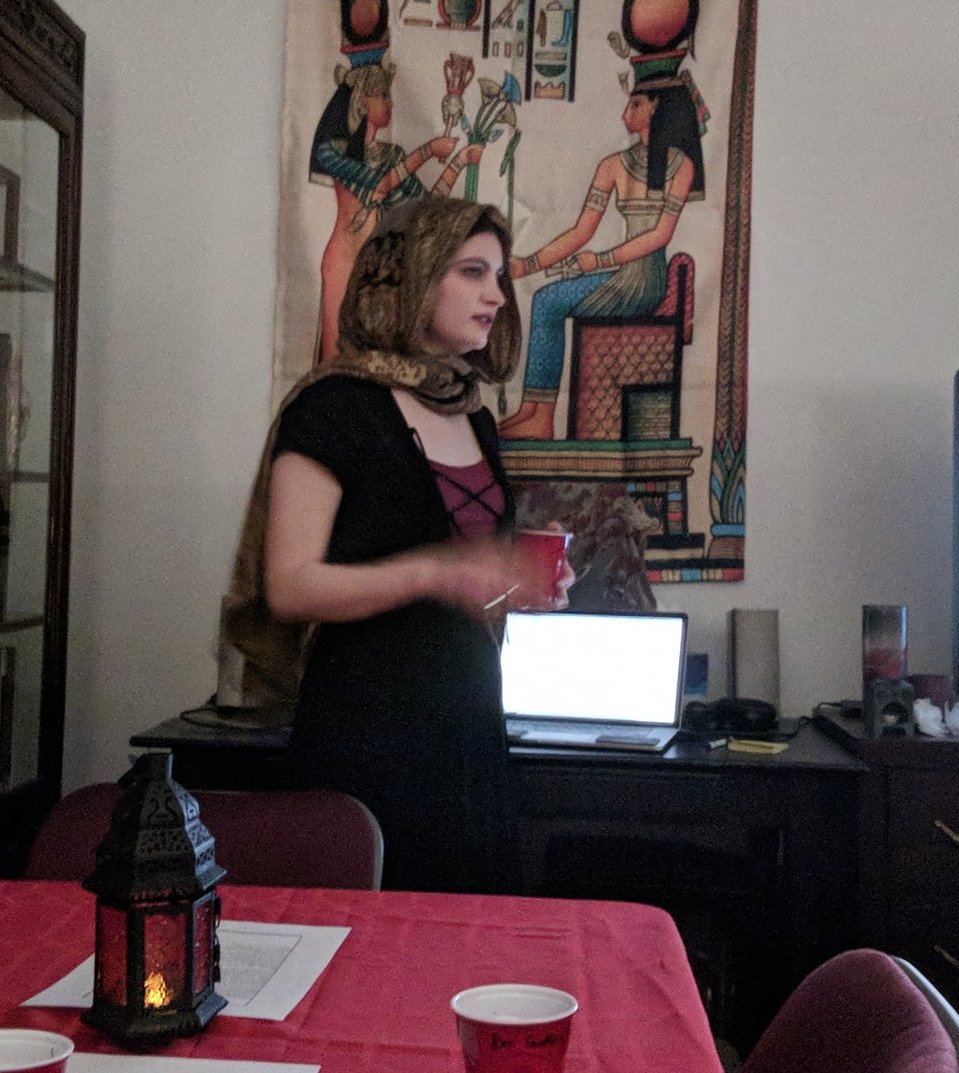 "I ran Curse of the Pharaoh last weekend. It was amazing!! All the guests loved it, and I'm incredibly excited to do another one. I was curious to see if maybe the game would be a little too complex, but it wasn't at all. The detailed, sophisticated character descriptions and clear, interesting objectives got people invested in their characters to a degree I haven't seen with other games I've done in the past (and this is my seventh murder mystery party, but my first from Freeform). As the host, I also had a blast running the game. I loved going around helping people murder and pickpocket. I'm not switching back to another murder mystery company until I've done all your games! :)"
Alice Mottola, United States
---
"I LOVE murder mystery parties but haven't done one in years, mainly because I remember it being a lot of work to put one on in the past. My boyfriend and I started throwing the idea around a few weeks ago when his aunt offered to let us use their cabin up in Midway, Utah for a weekend. In the end, we decided to do it – but it turned out our guests only had a few days' notice. I was nervous that it might not work out, but everyone committed and showed up in costume ready to go! Even though Way Out West is very involved and has lots of moving parts, it was surprisingly easy to pull it all together in a few days. We were able to pull it off and it was a BLAST! Our guests are still telling me how much fun they had during our party and we are planning to do another one in the next couple months because we all had such a great time!"
Kelli Dougal, United States
---
"Last night was our Halloween Lies Party. It was the fourth Freeform Game I have run. They are always a hit. The dress code was black tie to casually creepy, with anything in between. We kept the décor simple; our guests were the true decorations. We do a signature drink for the evening. The Blue Hawaiians we did for Lei'd to Rest were a hit, so I made the same drink but swapped orange Curacao for blue to keep it on theme. When I was assigning roles, most guests were a bit leery about creating a 'movie'. We ended up having three movies. They were the highlight of the night. Each one was funny and clever. This game seemed to run faster than the others I have played. I am not sure if it was because the game seemed easier that most of our guests have attended previous events. The party was a blast. Once again Freeform Games came through with a great mystery! We are looking forward to the next one in January. Right now we are thinking about doing Casino Fatale."
Kelly Wittman, United States
---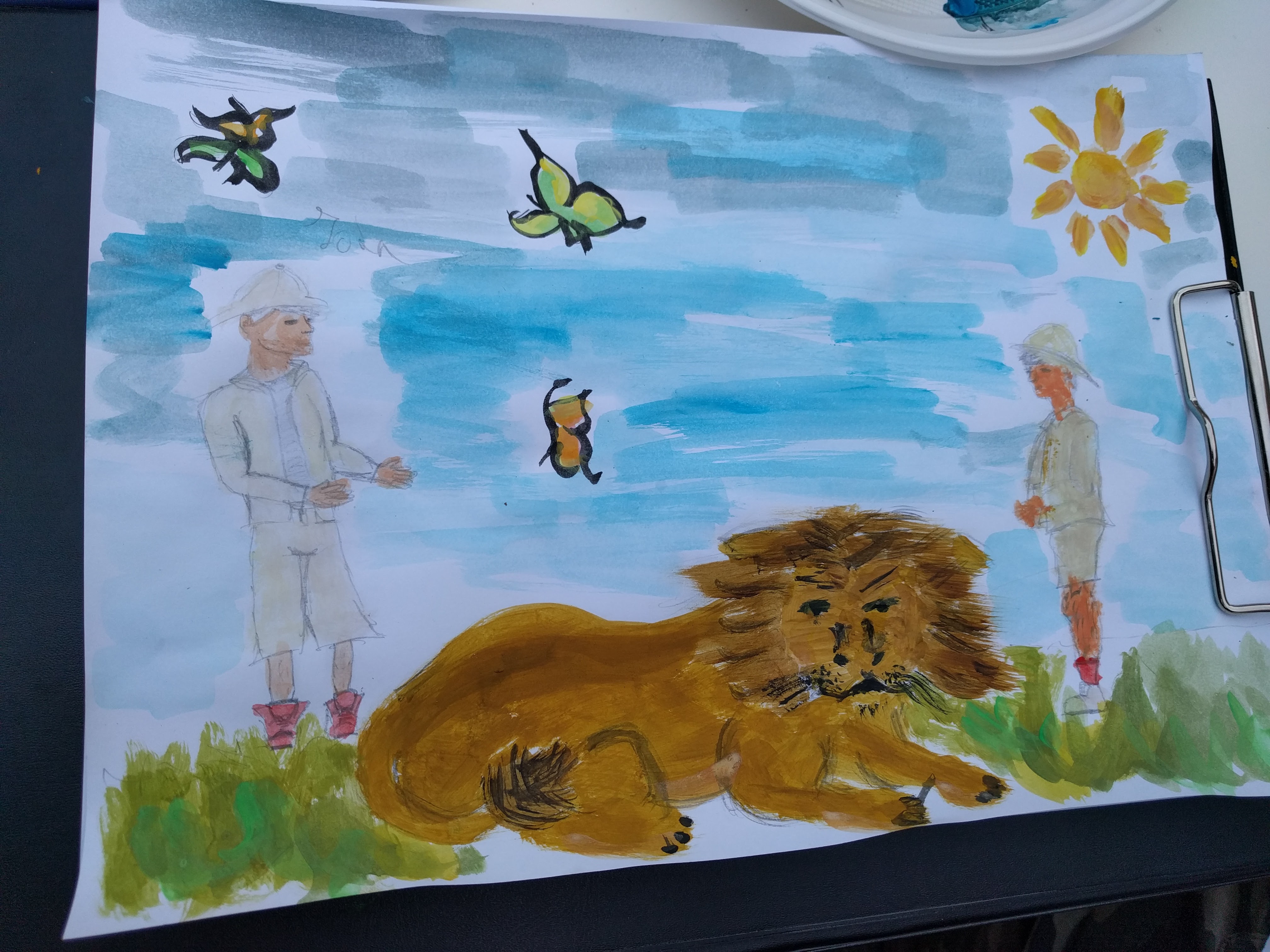 "This run of Death on the Gambia must be the 8th or 9th time we hosted a Freeform game for our students and we will never go back to traditional murder games. Even before we started the air was thick with theories and schemes, and the players were ready to take on anything. Since the Christabel was tightly run by captain Sam, the first part of the journey went very quiet, although some guests misplaced certain valuable items. There must have been something in the air in Mansa Konko, because after leaving there the guests got restless. Much to my surprise, with Bathurst in sight there were no casualties yet, mainly because of clumsy gun-handling and effective use of medikits. In Bathurst one guest succumbed to river fever and Dexter met a nasty German surprise stepping ashore. Luckily we can remember him through the painting of the famous French artist Marie Renard, who included him in her masterpiece 'An African Safari' which she painted during the trip on the Christabel."
Mark Tinnemans, Netherlands
---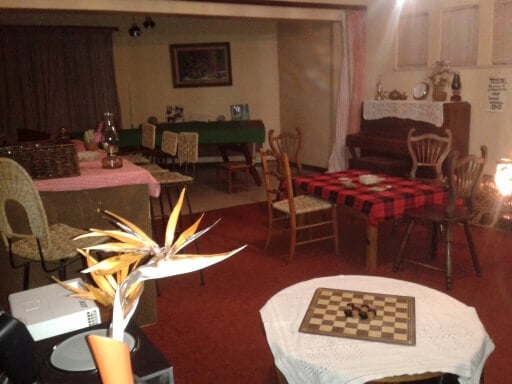 "Our bar with alcohol free as the young people don't drink, so we found recipes for Mocktails and mixed all sorts of fun coloured drinks for them! The only alcohol was a bottle of champagne at midnight (which was only half finished!)
I used our dining room sideboard turned backwards to make the bar and borrowed some bar stools, and we used paraffin lamps and candles to add ambience. I used coffee tables as bar tables with crates around for low seating. I turned the one corner of the room into a quiet zone where folk could have more "intimate" conversations (a good joke, as it was always pointed out when people went to sit there!) It helped to have the entrance hall as part of the playing area as a small space people could talk privately ("outside" the saloon doors!)"
Lorraine Shaw, Zimbabwe
---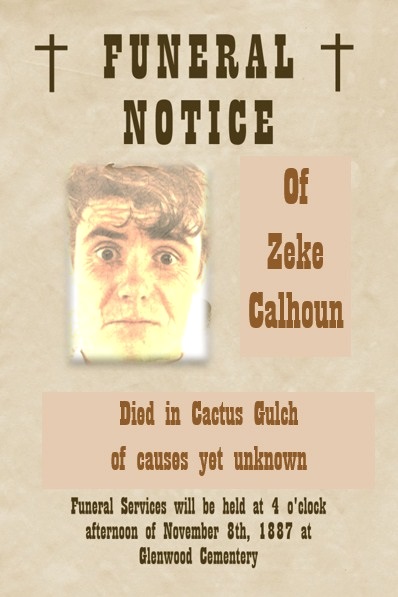 "Thank you so so so much for Way out West – we played it for my daughter's 18th birthday celebration in Zimbabwe! We had the most awesome of times and everyone got into character so well and the game played out perfectly! My husband and I ran it – he was the Bartender and I was looking for a job (either as a sober bar tender or a good time gal!!) We had the most fantastic bunch of young folk and they all are raving about it. We are hoping to do another one in the not so distant future, so will definitely be recommending you! You guys are awesome! Thank you so very much!"
Lorraine Shaw, Zimbabwe
---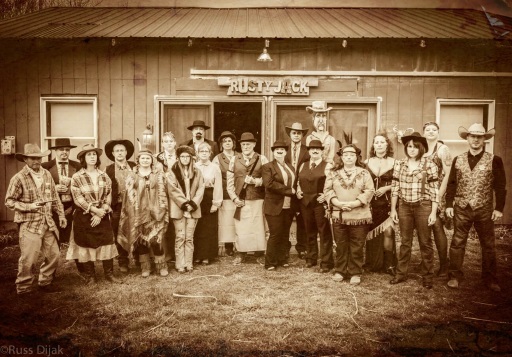 "We had a terrific time. If I had to offer one piece of advice, I'd say tell people at the very start to begin using their abilities. At the very beginning, it was slow, because no one was sure what they should do. Once we got rolling, it was outrageous fun. "
Irene Bain, United States
---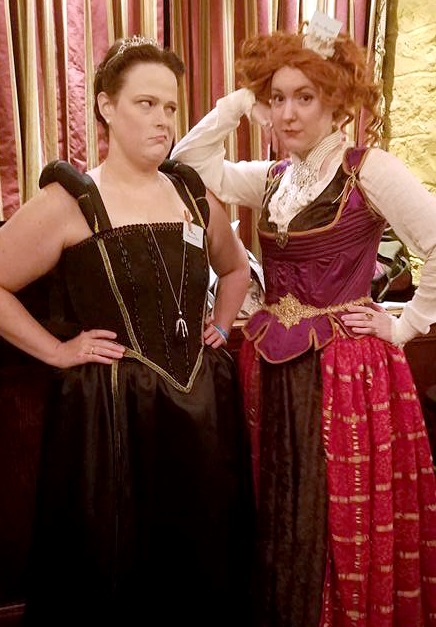 "I hosted Court in the Act (my 6th Freeform Game) for my birthday last summer, to riotous success. Many members of our cast of 18 had not played one of your games before – though a few were veterans – and most had not even met before that night! Nevertheless, everybody got right into the game and had a lot of fun. The last fifteen minutes was a maelstrom of duels and marriages and more duels. Almost half of the cast ended up dead; so many so that we had to sequester them to the corner so everyone could tell who was still in the game! Through all that, the bartender – innocently talking to everyone the entire night – was the only person who guessed the murderer, and she promptly demanded that she be hired to tend bar for the next time! The time period of this game is one of the more difficult ones to costume for, but most of the cast work in the theater, and they really delivered."
John Jennette, United States
---
"We played Way out West in Indian Territory (Oklahoma, USA). It was truly a hit – everyone went all out on costumes and came to dinner 'in character'. You have a great product – we are about to buy our second game."
Jason Stewart, United States
---
"We had 22 people playing Way out West Expanded until one decided not to play and left. That was fun filling in for the person. The host must be very flexible and hopefully some of your guests are equally flexible. The remaining players had a fantastic time. Most of the characters were really into the role. We had a few additional murders. They were a rowdy bunch, with some great costumes!"
Jill Danner, United States
---
"We love hosting parties and needed something new so first we tried the store-bought box games and while it was fun… we felt there was NO creativity and we basically read from a script and it was impossible to guess the culprit even when everyone had all the information. So the next time I did an internet search and found your site and saw the free game Way out West and since there was no risk decided it wouldn't hurt to try for our Halloween party!
I had a fun time planning it and more fun being the host! And all our guests had a blast too! There was a bit of a learning period for about 30 min while everyone was a bit apprehensive to do something and trying to figure everything out but once they did, we had a hard time getting the game to end because everyone was having so much fun! Some of our guests didn't know each other but this game made it so it didn't matter and everyone could still have fun!
We did that game last year and since then, everyone keeps asking when we are doing another one! So now I'm back to your site to find a new game to do for our New Year party! I'm so excited and you have so many to choose from!"
Alyse Wilkins, United States
---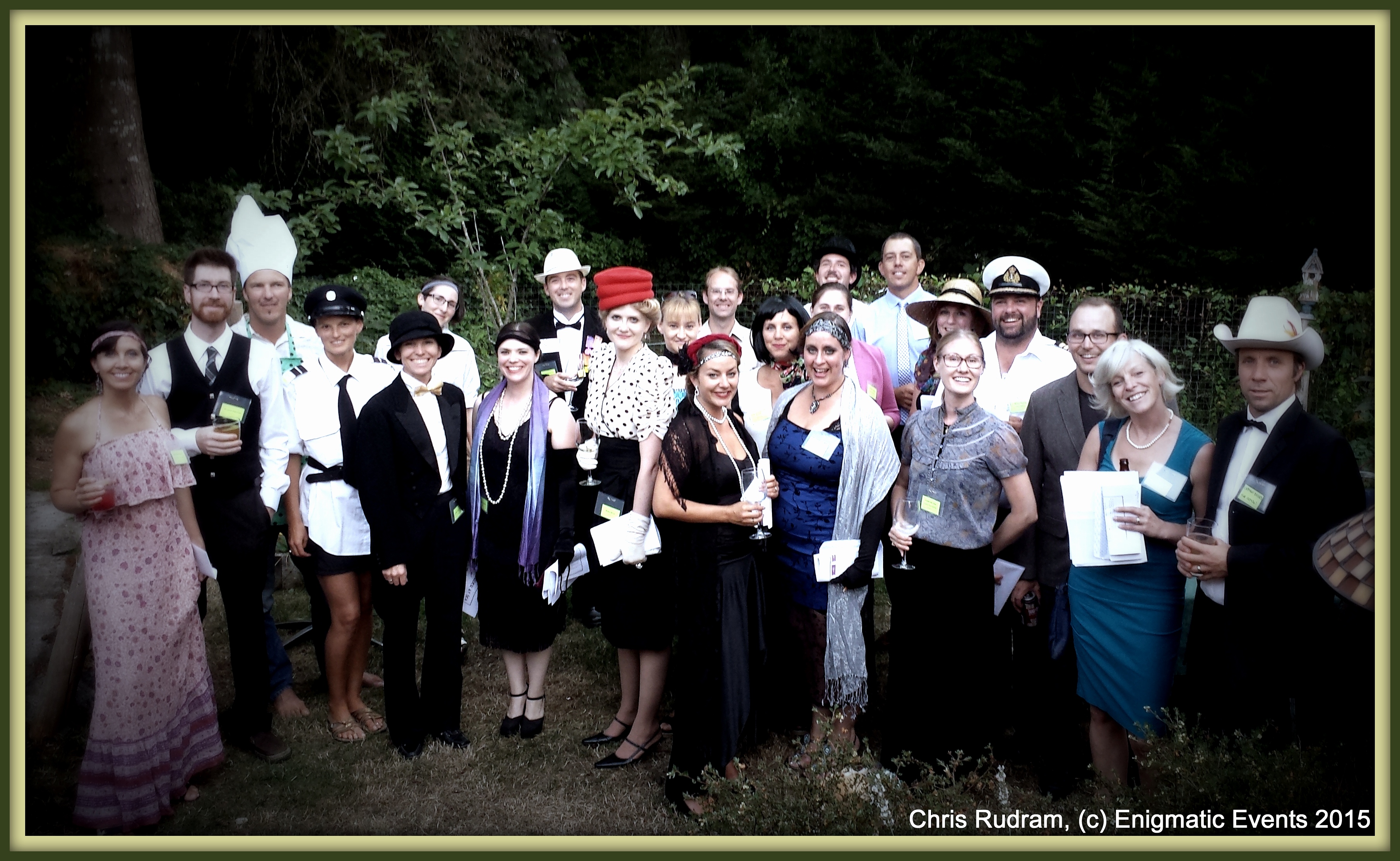 "Ran Murder At Sea on Friday night for a group of 23 and had a great time. Lots of talking right of the bat and much time was spent manoeuvring by the players to get the ship in the right direction, and their favoured officer crew sorted. The second half really stepped up the intrigue, with several plots coming to an (almost) deadly conclusion.
I hope to run this one again before the end of the year… there's a really nice rhythm to the game, and some great dress-up and acting opportunities. And everyone has motivation to solve the murder!"
Chris Rudram, Enigmatic Events, Canada
---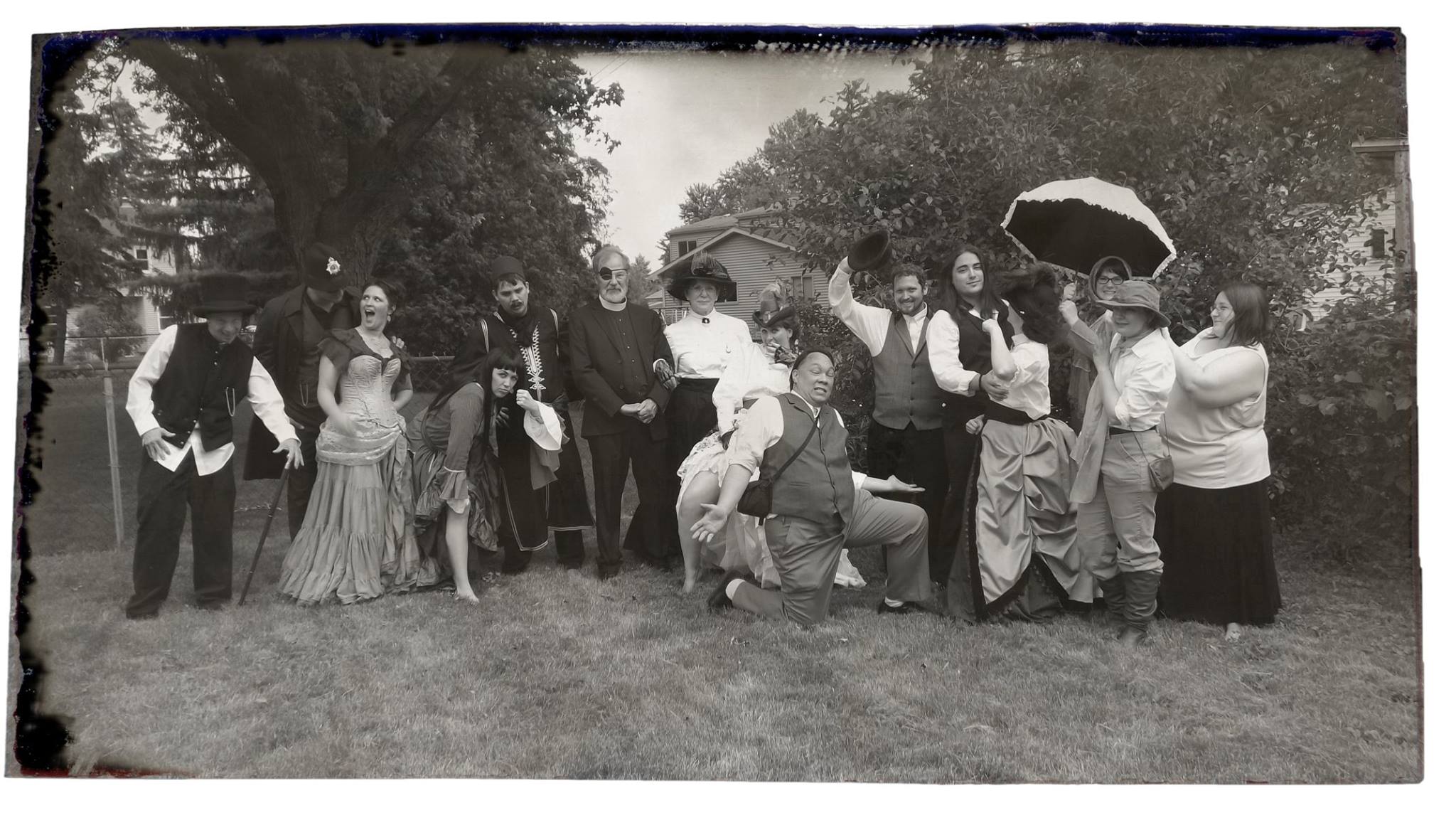 "We LOVED Curse of the Pharaoh. I have done a few different types in the past and this is the most interactive one I have played. I am going to be using this brand from now on :) The only problem is that now all of my friends want to do use the same brand and I am worried you might run out! "
Christine Cleland, United States
---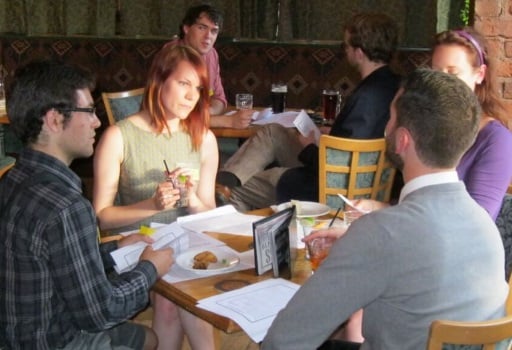 "Had fifteen players, none of whom had done anything like The Spy Who Killed Me before. They had a blast, and got into the plot very well. The murderer hid for a while, as they was so sure they'd get caught early (only two people fingered them, and one knew from their character sheet), Simon Feverfew played his caddish role to the hilt, and Master Harris kept it all together. They didn't use abilities or items for a long time, and I was worried they hadn't understood it. Nope, all of them spent 30 minutes or so just talking and working out who the characters were… the last 15 minutes ended up in mass poisonings, a gun fight and a blow dart attack."
Chris Rudram, Enigmatic Events, Canada
---
"Thank you so much for what your company does! Hollywood Lies is going to be my 7th game from your company, and every time, whether I have been a player or a moderator, I have had a truly wonderful and memorable experience. I bought my first game, Casino Fatale, back in 2011 after searching for months on the Internet for a murder mystery that wasn't like the scripted box games I had played before. Every since I found your site I haven't even thought about looking anywhere else. Everyone that I share your games with always has such a good time and they are always willing to come back for another one. This most recent game will be the second with my coworkers, and as I said people had so much fun the first time that word spread quickly throughout my office and I have had so much interest in this one."
Aaron McKendry
---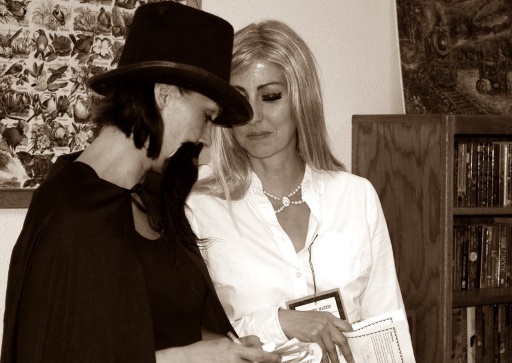 "Being from a small Nebraska town we don't have many opportunities for this style of entertainment. So I decided to host a murder mystery night, after researching many options I kept coming back to Freeform Games! I loved the idea of a game that does not have a scripted feel and one where the night and entertainment was only limited by what we could imagine. So Way Out West was our first taste of a murder mystery. No one in our group had ever done one so we had no idea what we were in for, the most fun we could have! I can say that I seen sides of my friends last night that I never knew existed. I ended up with the Expansion Pack because we had so many people want to join in the night, we even had two people who seen us setting up at our location that wanted to join in our murder mystery. Once everyone arrived we knew we were going to have to change a few people's characters since we had a few who at the last minute called to cancel, but everyone stepped up and we had no hitches. I ended up taking their original characters to the bar with me and when someone needed to interact with them I assumed those characters. This allowed us to keep all the plots flowing smoothly. Some of the high lights from the night include our high dark shoot out in front of the saloon, and [a particular character]'s numerous trips to our jail's holding tank. At the end of the night we decided that this was going to become a twice a year event for us since everyone had such a great time! In fact we even had a couple pull up as we were setting up for the evening and ask what we were up to then ask to join in with us! Thanks for helping us make some great memories."
Cindy Fischer, United States
---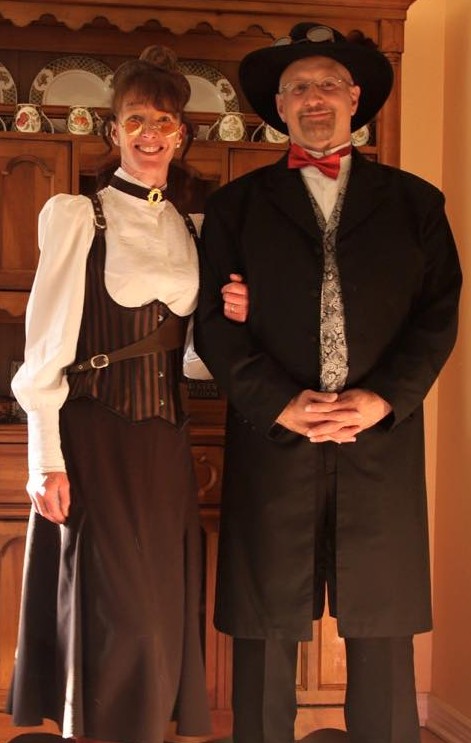 "For our 4th game from your company, we decided to change it up a little and did Steampunked costumes with Who Shot the Sheriff. Using a mix of newbie players and few that have played all 4 games, we once again had a truly memorable event. Facebook has been blowing up about it and some of the players kids have posted how cool their parents are because they do fun stuff like this."
D Bo, United States
---
"The Spy Who Killed Me was an epic night! What we enjoyed the most was that you could play the game on varying levels, depending on how you interacted. Some people never even got into the spy storyline and wondered why people were killing each other over school scholarships!"
Loralynne Krobetzky, United States
---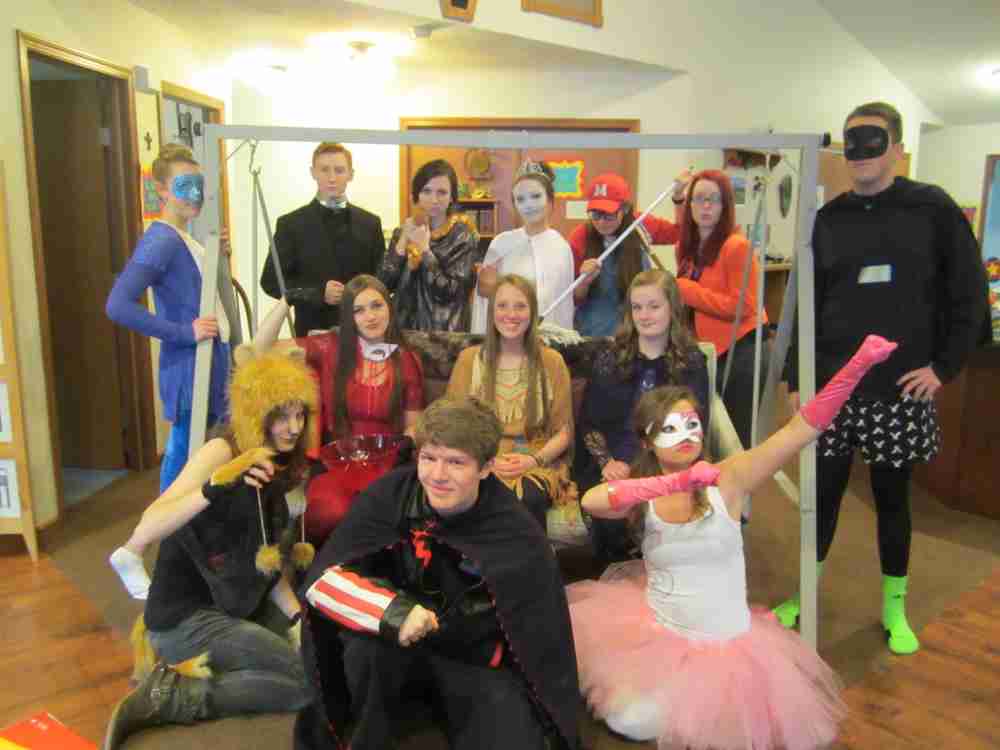 "We love your games, and I actually just used A Heroic Death this past weekend as the final exam for my Spanish 4 students!! It was great! I didn't have time, of course, to translate all of their packets into Spanish, but they played out the whole evening with no English!! I was so proud of them! Tomorrow they will do the other half of the exam – writing an essay in Spanish about their character and accomplishments (or failures!).
I did this last year as well with A Dead Man's Chest. One of my students summed it up after the party as he said, "That was the coolest exam EVER!"
Kids are already asking me what the theme will be next year, haha! Thanks to your writers for a great evening!"
Melissa Midcap, United States
---
"Last February we decided to do our 10th wedding anniversary and found your games. We had a group half British , half Flemish (Belgians). Quite quickly Casino Fatale seemed to be ideal, seeing the setting in France in our Château and the option of the Expanded version. And we used all but one of the extra characters.
On arrival, together with a welcome gift bag and two glasses and a mini bottle of champagne, the two envelopes per couple lay on their beds. Some of them well filled with props! We bought some toy guns (go off with a bang!), I used my old duster as microphone, we made notebooks filled with information according to the person: info about casinos, casino bills, gave an old book, I gave one of my nice Shakespeare books as booklet for Donovan Jones (got auctioned and now they don't want to give it back as they paid too much money for it tsss) , I even looked up several poems so Donovan could spout loads of them.
We asked our guests to dress up for a vintage dinner and dance party, the night of the game was the night after that, so suddenly everyone decided to dress up for that as well… My husband bought a grey Indian suit online to give a special effect coming down the big staircase of the castle on the music of the Great Khali followed by the stabbing noise of the well known horror film…
We started the game at 6 pm with a finger buffet and thought afterwards everybody would go to bed, yeah right that was just the start of a very long entertaining evening ! Mind you we never saw any of the food we were quite busy! Everybody had fun and the end was hilarious with bodies everywhere as you can see in the pictures. They all had massive fun and just want us to organize another party, forgetting our finances :-)
I feared cheating with our group as I mentioned to you, but no way: they all checked each other to see whether they ticked off their abilities. They were all worried as they never played it before and all thought they wouldn't be able to do it. Well, that wasn't the case: even my shyest daughter-in-law found out everything and bribed people!!! Amazing.
People were stunned we got it online and that quality! Well done it is really good and you know everybody said we could play it again knowing what we know now it would go twice as well… yeah right I can imagine :-)
Really well done a lot better than we ever expected! Michael said if he had to do another one it would be sublime! We don't even know how the stories went on, there were so many plots and dealing going on you won't believe it! They all lied and cheated, double-dealed – I've never seen my friends and family go bonkers like that :-) Fun fun fun all of them enjoying it and having a great time! We can't thank you enough!"
Birgit Hogben, France
---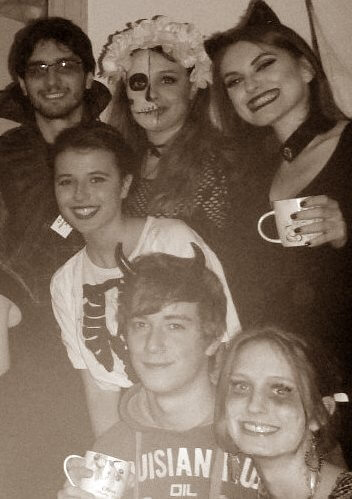 "I decided to throw a Halloween party for my 21st birthday and searched on Pinterest for ideas when I came upon Halloween Lies. I instantly decided that this is it and ordered it. Since my native language isn't English I knew I'll have to translate the game into Slovenian, and your staff was really nice and helpful and sent me the original files so I could do that more easily. I notified everyone a month in advance so that they would save the date and started translating. I also bought skellies and designed money for the game (all the props were "real"!)
Everyone was really excited for the game and dressed up accordingly for the occasion. The age of the participants ranged from 17–23 and we had all the roles in the game taken! When the game started I could not believe how fast everyone got into their character and I loved watching everyone mingling and chatting and whispering and blackmailing! We had some hilarious moments and even though this was the first murder mystery experience for everyone (including me) it went really well! The movies were great and overall atmosphere was awesome!
Afterwards people constantly commented what a great time they had and that those 3 hours practically flew by, some even said it was the best party they've ever attended (and that means a lot, coming from 20ish year olds that already partied a great while!). I can honestly say that this was my best birthday yet and I hope to repeat this experience for my next birthday (with one of your games of course!)
Thank you very much for your great work and I would recommend your games to everyone! (I already had some people asking me where I got the game, when they heard rave reviews from the participants!)"
Eva R., Slovenia
---
"Casino fatale went spectacular, all in all everything worked amazing!. The ' bad guys' won, and a lot of new people who never played before had an amazing time. Thanks again Freeform for a spectacular game, a spectacular experience and for enough twists and turns. By the end of the night we had our chief villains attacked on every side yet they still won! It was intense!!!!!!!!!!"
Krzysztof Wisniewski, Canada
---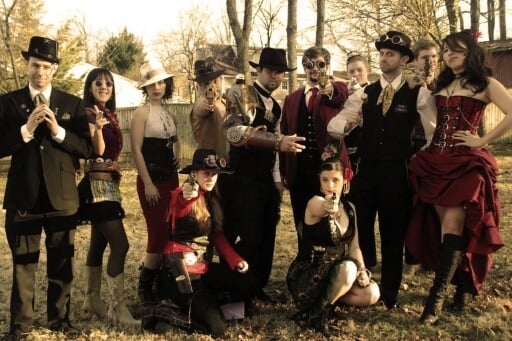 "I hosted my first murder mystery party earlier this year in March and EVERYONE had a blast! We did put a little twist to the theme by making it a Steampunk Wild West – which everyone got into!
A lot of work went into hosting my first party – finding the right game, casting, decorations, props, costumes, music, and even changing the furniture layout of the rooms! Finding an appealing game that was both free and interesting for my group of friends took some time, and luckily came across Freeform Games' Way Out West. My friends and I play a lot of board games together and FFG's format of each character having special skills, goals, and the possibility of additional player death suited our group perfectly! My co-host provided the location and the deliciously southwestern themed grilled food – some of which he slow roasted for 8 hours! For Music, the 3 hour playlist started with historical songs that transitioned to modern 'western' songs as the night went on. Everyone put a lot of effort into their costumes and acting too! Prizes were also awarded to best acting, solving the murder or eluding capture, accomplishing all their goals, and best costume.
Since the party wasn't strictly scripted, I had no clue what was going to happen, but the evening was filled with energy! People are still talking about the party today, half a year later! Even inspired others to host their own murder mystery. Everyone (except one person) used their powers, so there was a lot of stealing, eavesdropping, and gossip to get information. In addition, a lot of people were thinking outside the box in order to get their goals! Throughout the night there were a lot of secret meetings and deals made, and back stabbing – especially by one particular person. [Details removed to protect the unwary :-) – FFG]
Everyone had a great time! People especially loved the freedom that the game provided, and that what they did as a character had an impact in the game. My friends just had a murder mystery this past weekend using a different company due to a special half price discount. They had fun, but they all agreed that the one I hosted using Freeform Games was better!"
J Yu, United States
---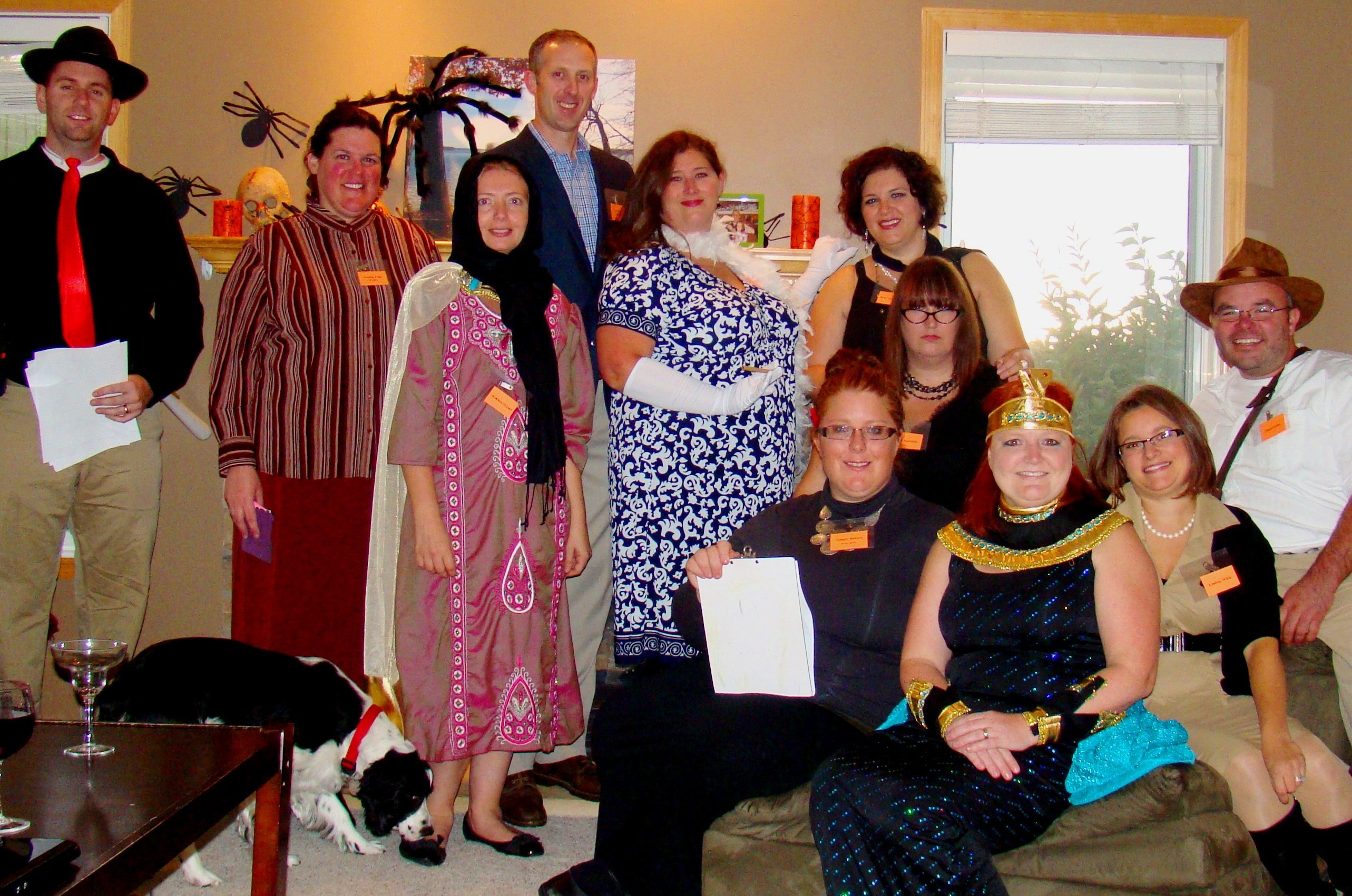 "What a fantastic night!! I purchased Curse of the Pharaoh for my 36th birthday party and had soooo much fun. I am looking forward to playing it again with another set of friends and family. I played up the plot and dig for 3 weeks prior and have been receiving requests to play in the murder mystery even before our first run.
For all of the item cards I went to ebay and purchased the actual items to make things much more interesting and fun, much more difficult to hide an item when it is bigger than a card. We had artifacts being stolen, traded, and sold all night. We also included the character Ginger Roberts who became quite an integral part of our mystery and the blue pen was the hottest item to possess.
This was our first murder mystery and yet we were easily able to get into character and enjoy the night!"
Angela Frankosky, United States
---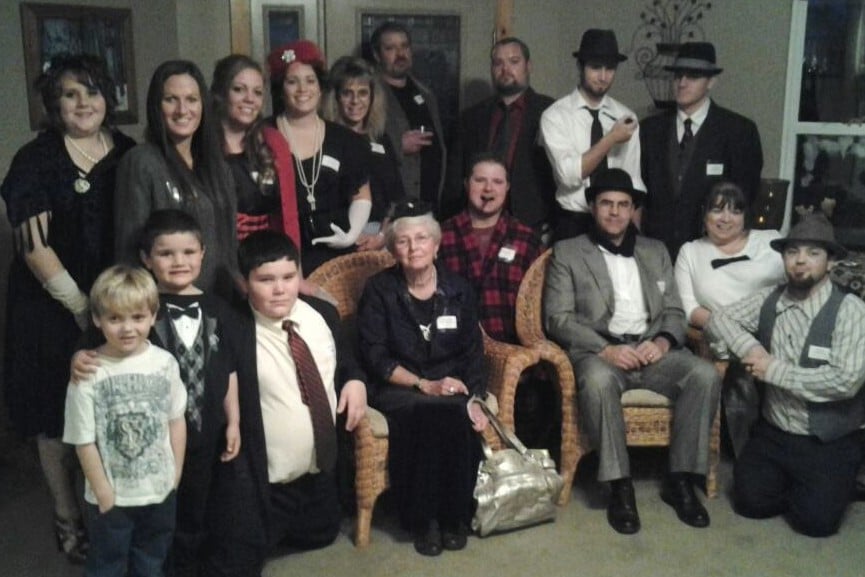 "Our family is usually pretty stuffy, even when it comes to family functions. We like to have fun, but not necessarily get out of our comfort zone. When someone suggested we do a mystery dinner (Dazzled to Death) instead of our traditional costume party for Halloween, we weren't really sure how it would turn out, but everyone got into it and we all had a great time. We are planning to do another mystery game this October."
Tyler Walker, United States
---
"Our annual summer party this year was a 'Shoot-Out at Sassafras Hill' aka Way Out West. (Our house is named Sassafras Hill.) Six weeks in advance, we asked everyone to reserve the day. One month in advance, we had them confirm for sure!! Then two weeks in advance, we sent out parts so they could begin to craft their costumes. Then five days in advance, we sent out the menu, and reminded them of the start time & provided directions. In the meantime, after reading all of the cool and amazing ideas everyone shared, we began construction: saloon bar, saloon swinging doors, jail, telegraph machine, hot baths, signs, printing parts, envelopes, wanted posters – the works! We used our deck, because that many people need space to move (there were about 30). Everyone arrived and immediately had their photos taken in front of the saloon doors' vignette (bales of hay, table, sign, etc.) and nibbled appetizers until we all gathered for a group shot. Then everyone went inside to eat & get their packets. Then we began to play!! I was amazed how quickly people began to be poisoned, secrets stolen, shoot-outs arranged, and just how stinkin' FUN everyone was having!! The stagecoach arrived, and we cut the cake, caught our breaths, and went back at it again! The bartender (host) had tons of fun! The sheriff arrested a 'Wanted Man', and came to collect his reward. We weren't quite prepared for that, so he gave him an I.O.U.! Although we played the adult version, there were lots of kiddos who attended. I thought there must surely be a reason for an adult versus children version of the games, because our kids (11, 12, & 14) did great! In fact after the solution was read, we voted on best interaction. It was one of the kids who won!! We gave 1st & 2nd place prizes for best dressed female and for best dressed male, and a prize for best interaction. I had a cake specially designed that read 'Happy Anniversary Cactus Gulch' with a red '20' on top, cacti, horse corals, blue skies, and red bandanas – HUGE hit! We expected someone to end up in the bathtub (horse trough) we had specially placed at the entrance, but it was never used – just added to the ambience. We have done other murder mystery dinners, but this one went several steps beyond the others. It included abilities, props, secrets, potions, poisions, cures, goals – how cool! I felt a bit like a master puppeteer who had created a toy, wound it up and let it go! Everything ran smoothly, and we have talked about it for weeks. Thanks so much for the super game!! My sister is always so jealous that we have such fun parties. I suppose she just needs to come to you, eh?"
Debra Hulsey, United States
---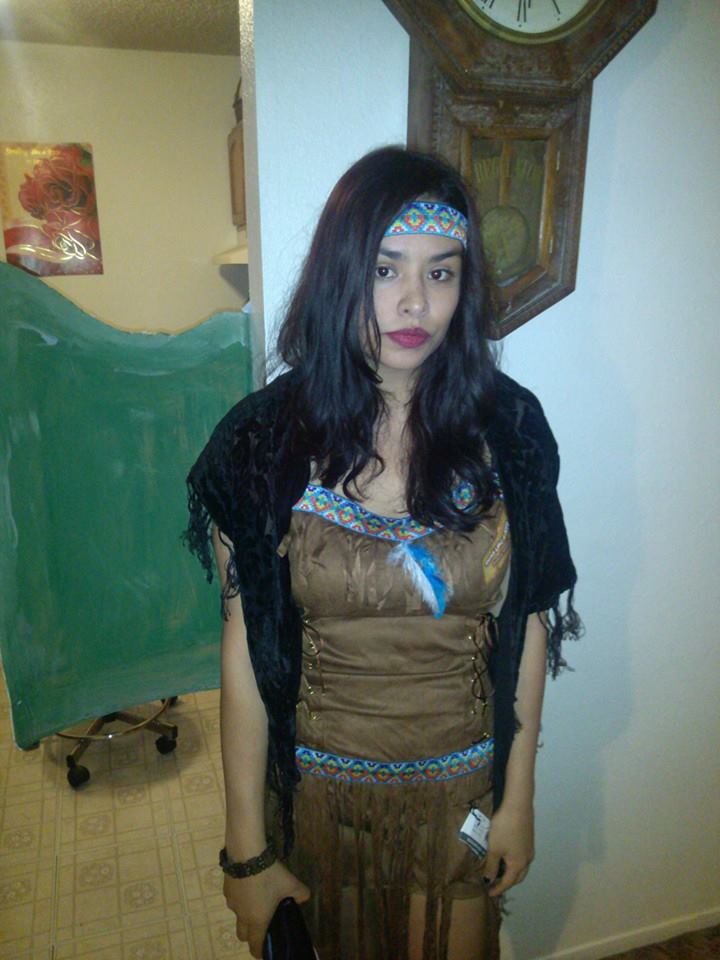 "We had so much fun playing Way out West that we decided to do this every month. we also ordered the next game already.
We are just miles from Lincoln County where Billy the Kid became a legend so this was right up our alley as far as a game to play.
We decorated the house with faux bar doors made out of foam board and borrowed painted cow skulls to hang as well as authentic 1880s antiques like lanterns and tobacco tins. We hung tools from the ceiling over the couch in one room and called it the goodtime lounge. I made chili stew and served it in cups so it was easy to eat.
Costumes were mandatory and everyone went all out, since there was a prize for best costume and everyone is very competitive.
The game went nothing like I thought it would, but that's what made it fun!"
Mike Munoz, United States
---
"We had another fantastic time with one of your murder mystery parties! This time, we did All At Sea. This is a fabulous game when you have a large group playing. I thought the way the food table was decorated was very clever. They used plain white paper with SS Libertania lettering on it as the table cover to put food on. They used posterboard to make the smokestacks and set a plate with dry ice on top of each smokestack. Thank you for a wonderful birthday party!"
Becky Pruitt, United States
---
"Death on the Gambia was a really fun game and all the guests had a great time. Surprisingly everyone stayed in character throughout the game (although when we stopped 'overnight' we ate our food out of character)"
A Customer, United Kingdom
---
"Curse of the Pharaoh went brilliantly! It was a great game and went really well, people got involved where they had previously unsure of taking part in a murder mystery! I was also able to adapt the timings slightly as everyone was having so much fun in the beginning section, and it didn't affect how the rest of the game played out."
A Customer, United Kingdom
---
"A Dead Man's Chest was great fun and enjoyed by all, especially the 3- and 4-year-olds who dressed up as pirates and were given pirate-themed colouring activities and little jobs to do."
A Customer, United Kingdom
---
"Everyone had a great night with Way out West Expanded. Guests were a bit timid at first but towards the end, there were deals, more attempted murders and extreme cases of pickpocketing taking place all over the place!!"
A Customer, United Kingdom
---
"Just wanted to say thank you for a fantastic game in Curse of the Pharaoh. I had a party with different invitees who didn't all know each other – work friends, school friends, partners etc, so I was a bit nervous about whether everyone would mingle. It went so well – everyone got really into the game (despite pretty much everyone admitting they weren't keen on attending a murder mystery party) and they had such a good time that I've been asked to host another one soon! So thank you!"
Katie, United Kingdom
---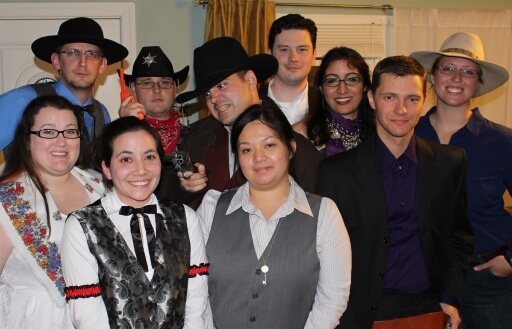 "We recently hosted our very first murder mystery party. Way out West was chosen in part for our party size and in part because the theme sounded fun. It was fantastic!
The materials and instructions were clear and made the game easy to play. Our guests really got into it and everyone dressed their part!
We especially enjoyed the freedom that the setup provides (i.e. no scripts). [A very funny example was included here, but we're not showing it because of spoilers!]"
Cassandra Povio, United States
---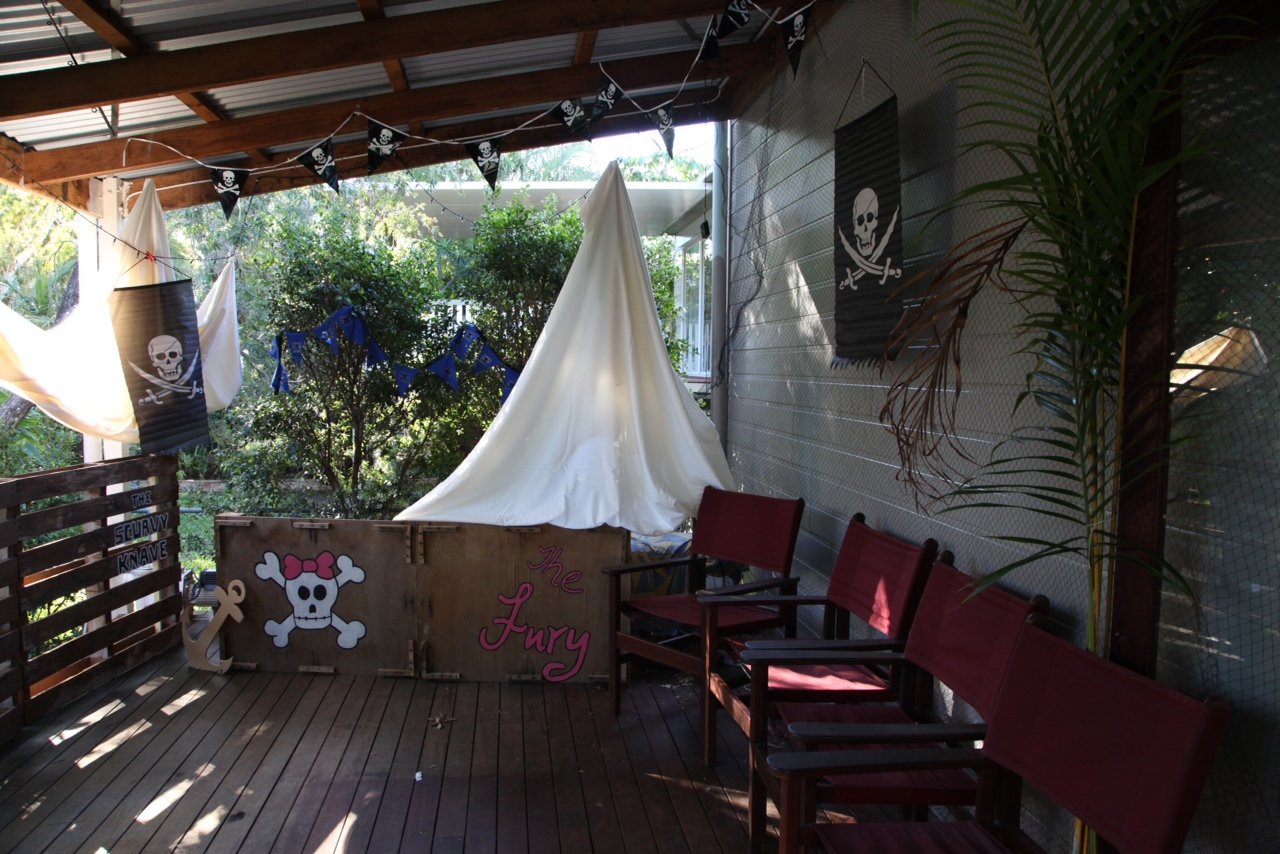 "Wow what a night! We had 16 people who all kept in character and the twists and turns in A Dead Man's Chest were fantastic. Everyone seemed to have even roles and the more we played to more fun we had!
We love the fun of putting the costumes together from local op shops. The decorations for the party were old pallets and sheets and palm leaves cut from trees. You don't need to spend a lot to make it look fabulous. Just a bit of imagination!"
Justine Smallwood, Australia
---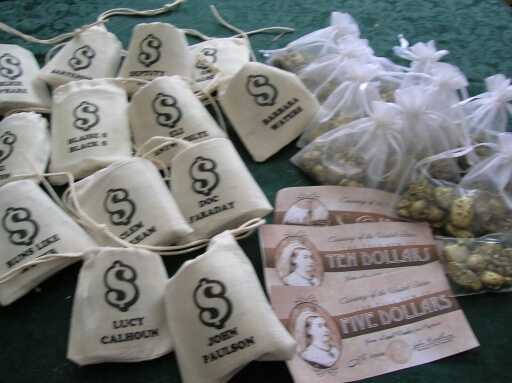 "This past weekend we hosted our first murder mystery game, Way out West, for 13 newbies ranging in age from 12 to over 80! It was an incredible evening of constant laughter, family, friendship, great costumes and wonderful memories.
Although your customer support was absolutely excellent with every question and concern answered within hours… we found the rest of the site just as helpful. The tips, comments and suggestions from other hosts and players, as well as the pictures gave us so many ideas and answered so many questions, we had almost as much fun preparing for the game as actually playing it!
We started our decorations outside to ensure our guests had a great first impression of the evening (most were a little nervous… not quite sure what to expect).
The Saloon took over the living room, with a few tables for individual conversation, a stage, player piano complete with pre recorded music, and casino corner and another area for the telegraph office. Our kitchen became The Stew Pit Restaurant for a "help yourself when you're hungry" bowl of Chuck Wagon Stew (kept in the slow cooker) with all the fixings and of course a dessert selection… very simple but tasty.
Through the saloon doors you walked down the "street" of Cactus Gulch where you could stop in at the Sheriff's Office/Jail, Boarding House or Mercantile for a private conversation. We added lots of humorous printed posters to all the walls and of course every guest found a wanted poster of themselves along with a new alias and a silly crime in the sheriff's office. We made chocolate cigars filled with Kalhua fudge and wrapped them in gold foil, complete with cigar band, for the saloon to hand out in honor of the celebration.
Guests arrived and were welcomed in character, and after pictures, received their character kits. After a quick review of the kit contents, rules and a Q&A (like I mentioned, we were all newbies), Zeke's death was announced and the laughter began.
It was an excellent mystery with enough twists and turns to keep everyone, young and old, entertained, but not confused. At the end of the evening, everyone was a winner because we all had such a great time!
Thank you so very much for making this bunch of newbies very, very happy we did this… and eager to do it again!"
Deb Scott, Canada
---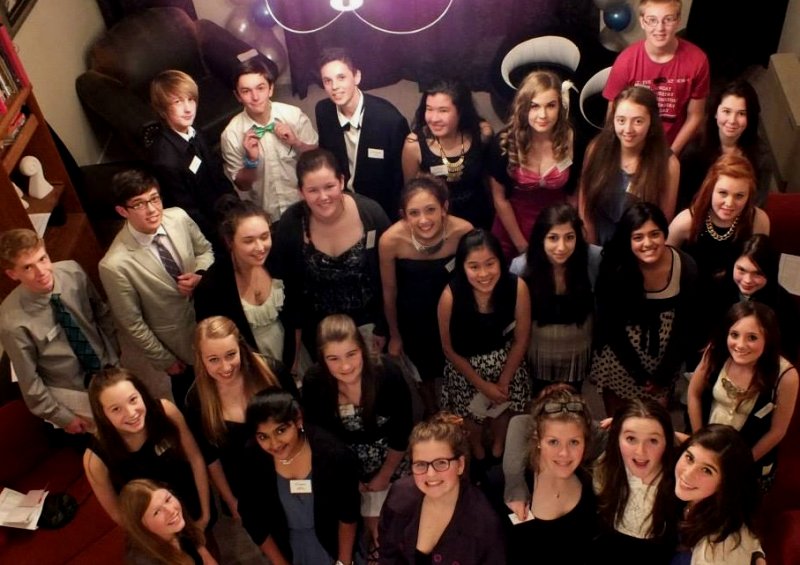 "For my 15th birthday me and 30 of my friends played Hollywood Lies and it was honestly one of the best nights of my life! The game was so fun and everyone got really into it! I was a bit apprehensive about how my friends would react to acting out a character but it was wonderful! Everyone loved and it and people are still talking about it a year later! Thankyou!"
Sienna Packer, New Zealand
---
"We had a great time with Arabian Nights and wanted to thank you for this :)
It's really a game that is a lot harder on the hosts than Casino Fatale (which we played a few years ago). Even though it's best to not play Arabian Nights as your first murder game, and there were a lot more requests for both Genies (2 hosts is actually necessary…), we had loads of fun as we were a lot more into the game. From every corner of the room people were screaming "we need a Genie, here!" :)
We will definitely be playing more of your games in the future :)"
Tessa, Belgium
---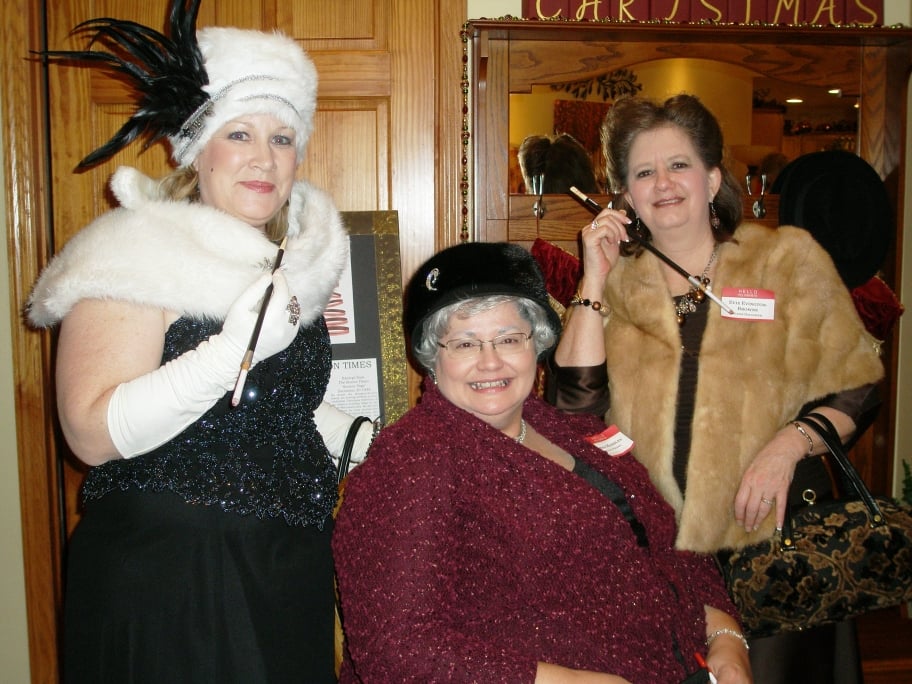 "I'm writing to tell you what an amazing time we had on New Year's Eve playing The Night Before Christmas! Early in December I was searching the internet for a fun game to play with a large group of people for a New Year's Eve party I was planning. That's when I came across your site. After spending time researching your site, I ordered the Murder Mystery and began having a blast reading and planning for this event!
None of our guests have ever done anything like this before, but everyone had so much fun, I'm still hearing rave reviews! I posted the pictures that were taken (we had a photographer) on Facebook with many shared pics and comments.
We ended up having extra guests and used all the extra characters you gave. We even had 2 extra people that we had help us and take pictures. EVERYONE loved it, even the photographers. They can't wait for us to do another one; I'm thinking maybe this summer.
I made props for many of the items. I made two identical dazzling diamond necklaces; I had two identical lockets and typed "forever friends" on a tiny bit of paper for the inside. I bought a stuffed monkey, put a diaper on it with a hole for the tail to stick out, I had a fountain pen, a magnifying glass, I created an FBI badge and just happened to have a picture of the person playing that character added his pic on it, then laminated it, I had a painting of a bosomy woman and made 2 extra copies for the Madonna of Generous Endowment, I used tiny glass perfume testers for the poison and created checks for Rose and Beryl on my computer. I had almost as much fun planning for it as I did the night of the event!
I just wanted you to know what a great job Tracy Bose did writing this play. Everyone was amazed how many sub-plots there were behind the main plot! If all your Murder Mysteries are as good as this one, we can't wait to do it again!"
Shannon Janssen, United States
---
"A Will to Murder was the first murder mystery game I've hosted and the first one that my group of friends have ever played so not only did we not know what to expect but it was also a learning experience. Despite that, it was a GREAT night of fun!! The night wasn't even over and some of us were talking about doing another one. There was lots of scheming and plotting going on… two people got poisoned and one actually died at the end of the game. As the host, it was entertaining to watch people get into character! I did add and tweak some stuff to the game. Later, when we were all swapping stories and I told what I added and tweaked, they were glad I did. All in all, this was great fun and I think you've got another group of people addicted to these murder mysteries!!"
Denise Knebel, United States
---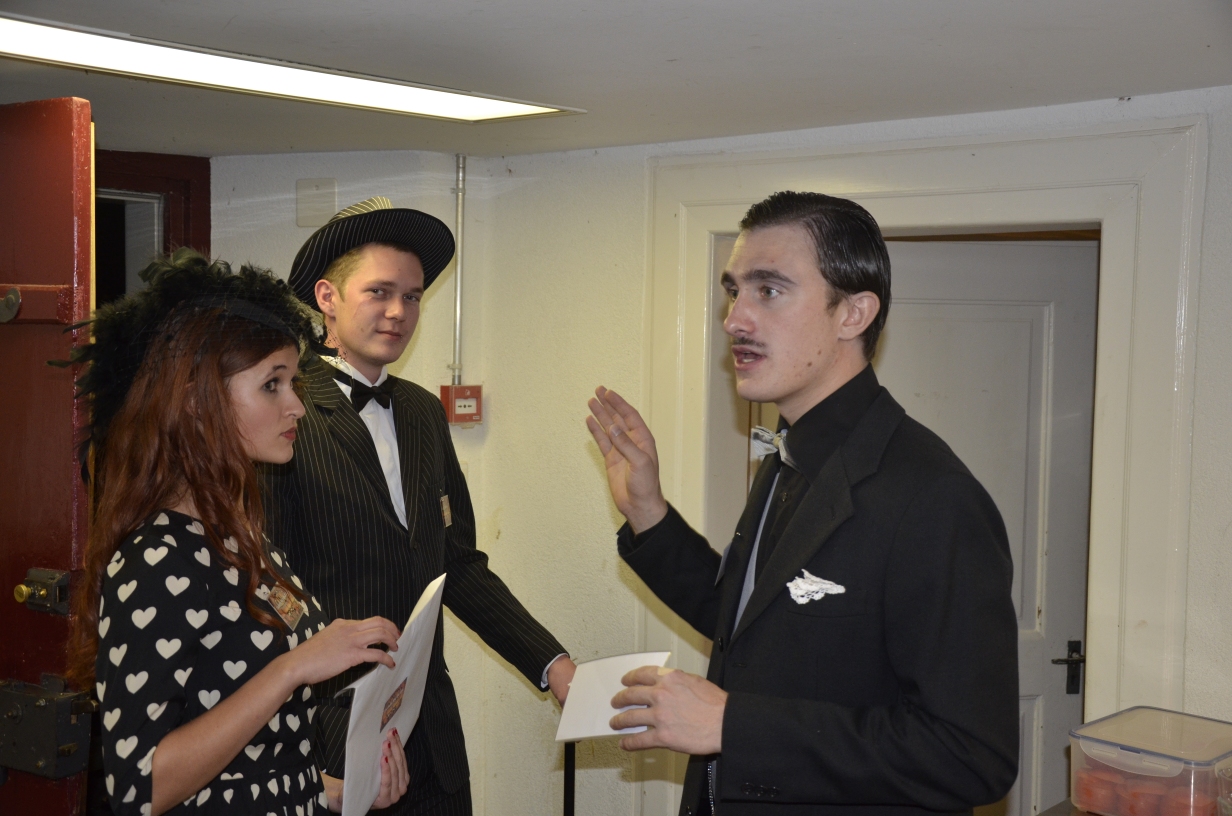 "A few weeks ago my father hosted a Casino Fatale murder mystery game for me and around 26 of my friends from our local YMCA. It was great fun and we were really enjoying ourselves. The hunt for Mister X and the stolen diamond was very thrilling and kept us (especially me as the Police Detective) breathless for hours. All the players were between 16 and 22 years old and everyone got really into it. It was easy understandable and we were in our role pretty fast. Greetings from Switzerland as well as my father Peter Dünki."
Dimitri Dünki, Switzerland
---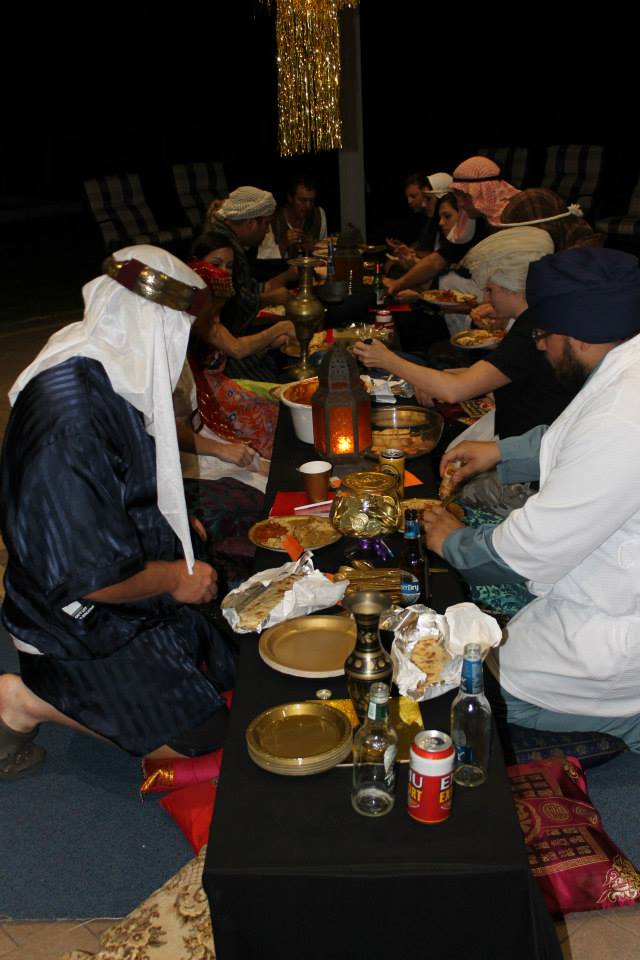 "Just wanted to say thankyou for the Arabian Nights murder mystery game! We had a really great time and everything went fantastic. Everyone dressed up and the evening was a huge success."
Tenele Robins, Australia
---
"I had such a wonderful time going to the Arabian Nights game. I have never been to a murder mystery before and had the time of my life! Everyone there looked so authentic! All we needed was a few camels in the driveway! Thanks so much for inventing such a wonderful game. I will definitely add this to one of my favorites."
vickie young, United States
---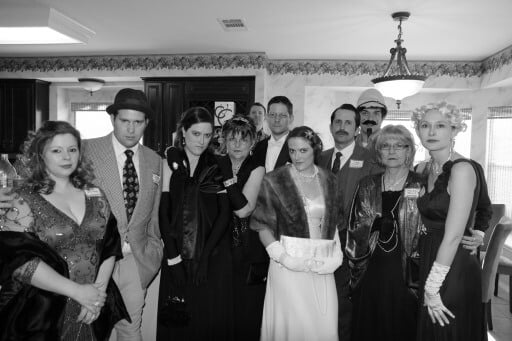 "We played Lord and Lady Westing's Will for my husband's birthday party! I've played four of your other games and LOVE them… as always, the game was a huge hit.
We liked that there were several mysteries to solve besides the murder, such as who was Mr. Flynn. It's good to have extra bits to keep people asking questions and talking. I also loved the pickpocket ability and the poison abilities, where the players don't know who did these things to them. The twist where [censored!] was a nice touch. Who doesn't love a good plot twist!
Thank you for a magnificent birthday party! "
Becky Pruitt, United States
---
"Murder mysteries have now become an annual event on my birthday this year – and Hollywood Lies is the third one we have played. I have to say, I think it is my favourite so far!! (And I didn't think anything could top Happy Birthday R.J.) Everyone had so much fun and got really involved in the films at the end – what a great night!! Thanks again for a fantastic game!"
Jennie Dixon, United Kingdom
---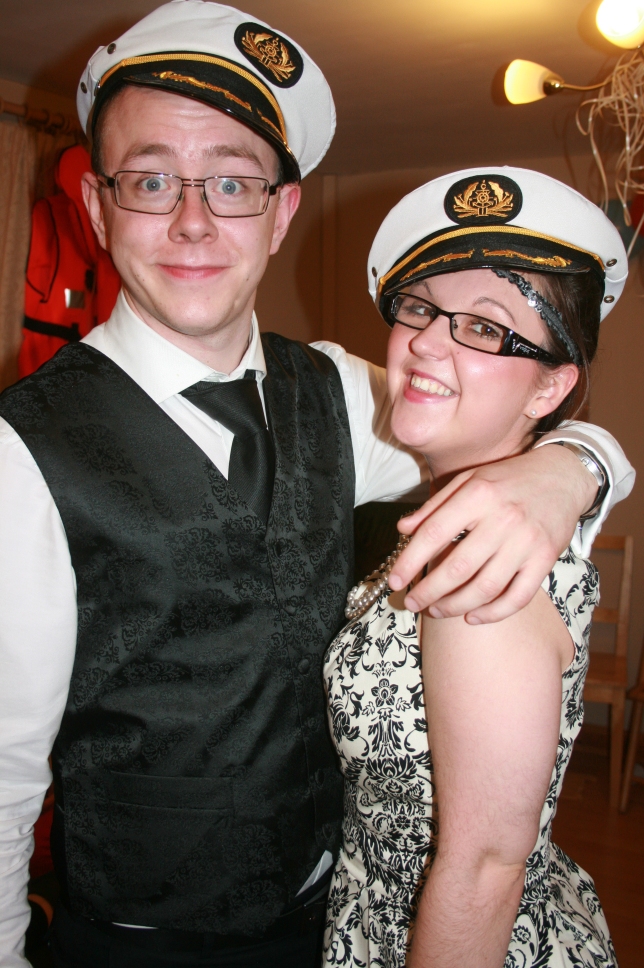 "I just want to say a huge thank you for All at Sea. Wonderfully written. We had such a great time. I hosted it for my 21st birthday and all my guests loved the story line. It was a great success, thank you!"
Lucy Toleman, United Kingdom
---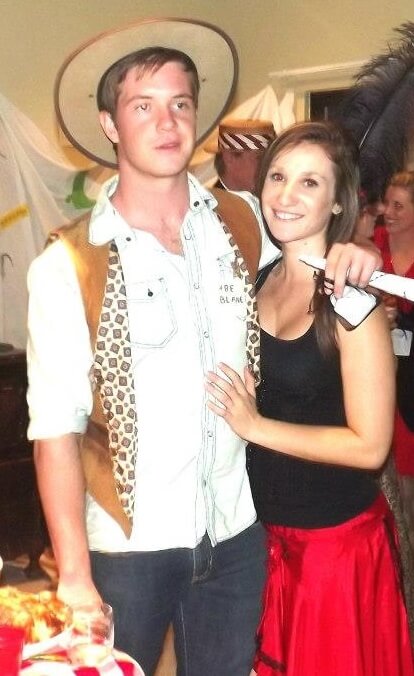 "We had our Way out West Expanded murder mystery on 9 March 2013, and with all the errors and little bit of confusion, we had the most incredible time. Everyone dressed their part, and everyone played their part: and I believe that this is actually what makes the murder mystery game successful. Everyone loved it – we were all first-time players."
A Customer, South Africa
---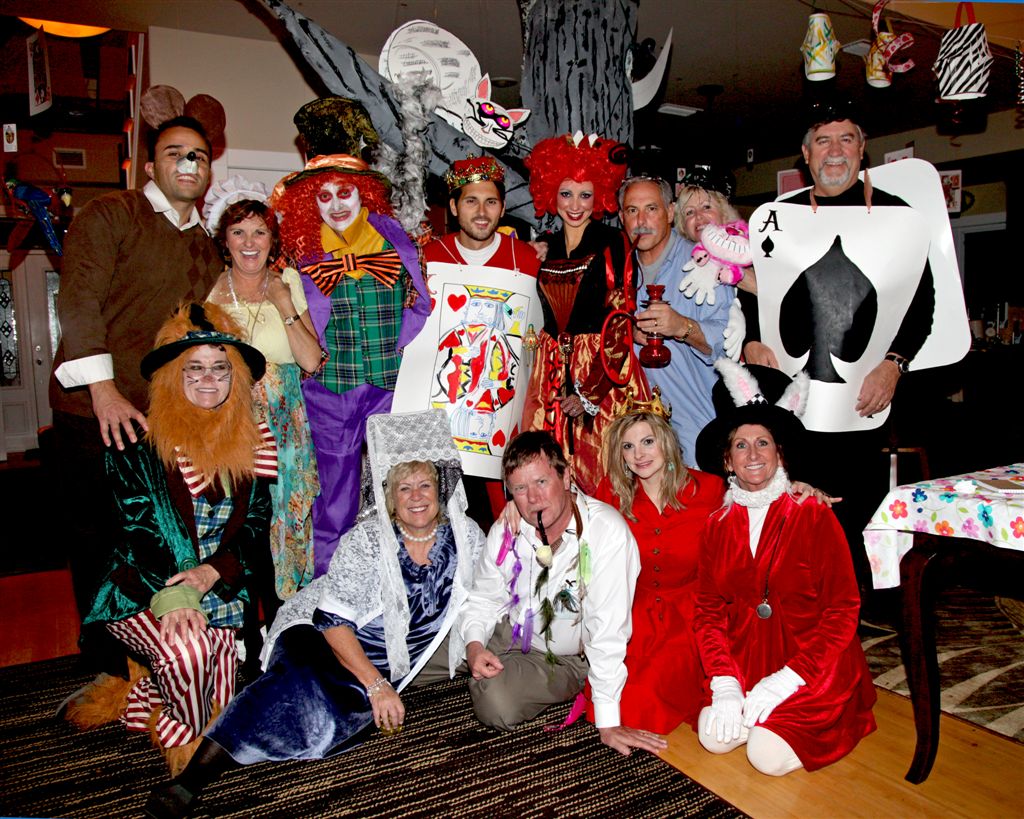 "We did Murder at the Mad Hatter Tea Party [using a customized version of Dazzled to Death] over the weekend. Everyone had a fantastic time. This is the third murder mystery I have auctioned off for our local Humane Society https://www.facebook.com/St-Joe-Bay-Humane-Society-144306812252766/. Several couples have attended all so far and complimented me that this one is the best."
Jill Davis, United States
---
"We had an absolute blast playing Davy Jones' Locker last night for my 18th birthday party, thanks so much for writing such a well plotted game. There were countless double crossings, attempted murders, restraints, plundering of unconscious bodies, and some very loyal defence of allies! However, some of the characters did become more prominent than they perhaps should have been from their character sheets, with one taking over the ship with the permission of the Captain, as well as possessing all the weapons in the game and all the treasure co-ordinates. I think murder mysteries bring out the megalomania in people! Just a few tips on decor and music; I bought two large pirate flags to hang on the walls (despite it not actually being a pirate ship…) and also stuck the Tortuga Gazette up around the house. Music wise, we listened to a lot of 'tavern' music from RPGs (there are some good compilations on Youtube), and of course the Pirates of the Caribbean theme! I also had a video of waves lapping a shore on the television which added further atmosphere. Again, thanks for such an excellent evening."
Lily Coulstock-Cockeram, United Kingdom
---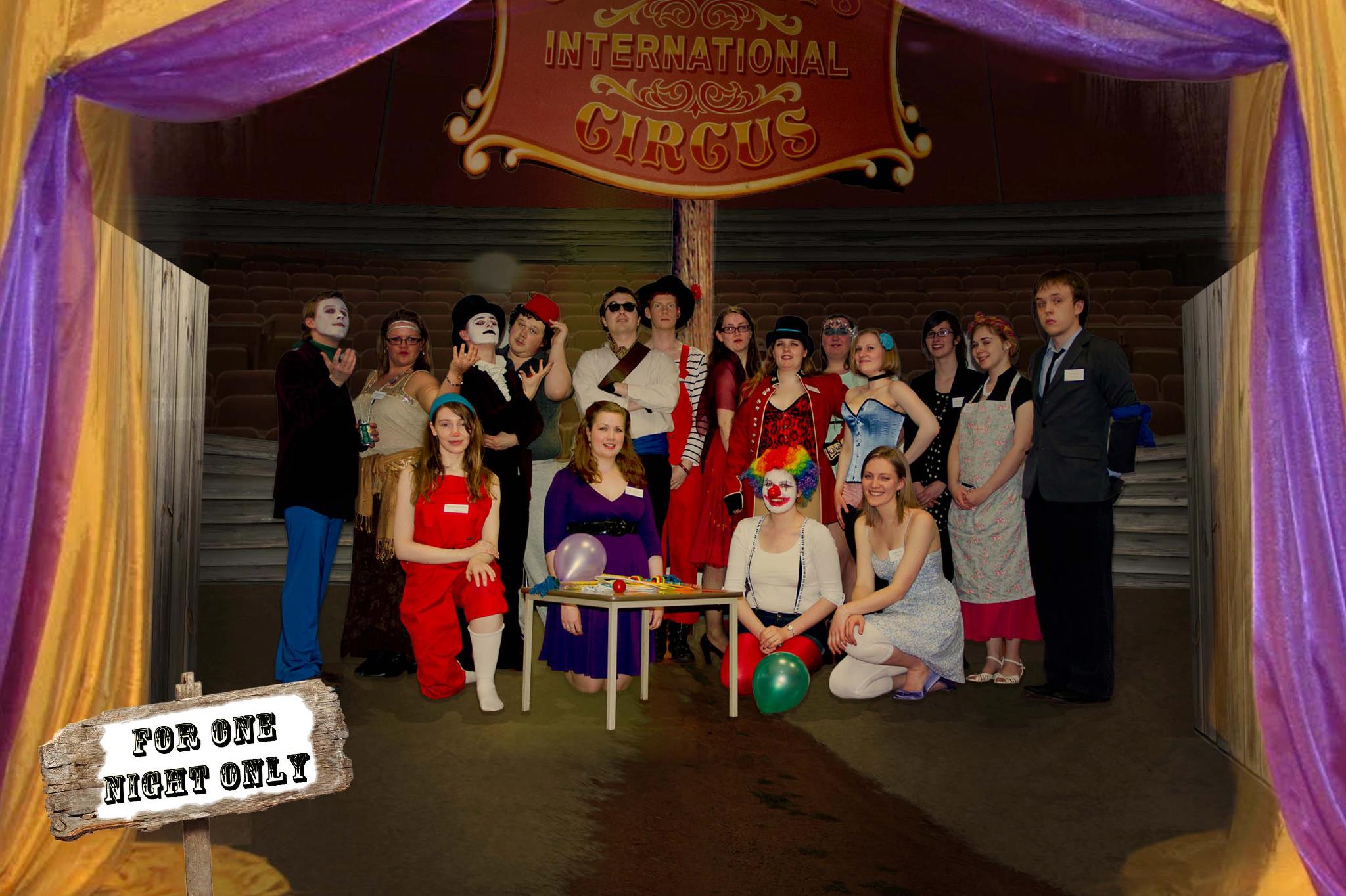 "Another great evening thanks to Under the Big Top, everyone got very into character and there were some great costumes. Can't wait for our next murder mystery."
Jessica Murray and the York St John drama society, United Kingdom
---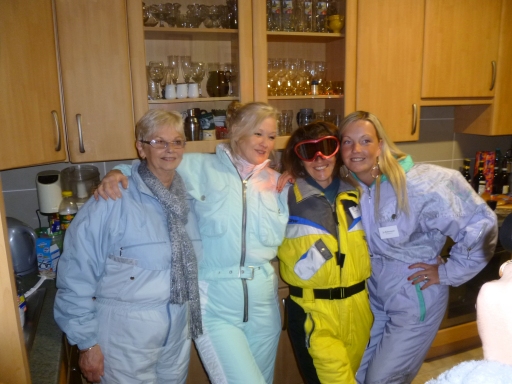 "We played Snow Business last night, and had a great time. The weather was unseasonally warm, and everyone turned up in their ski kit. Some people had never met each other; before but within minutes they were all in character. Lots of great photos to remember the night!"
Annie Higham, Germany
---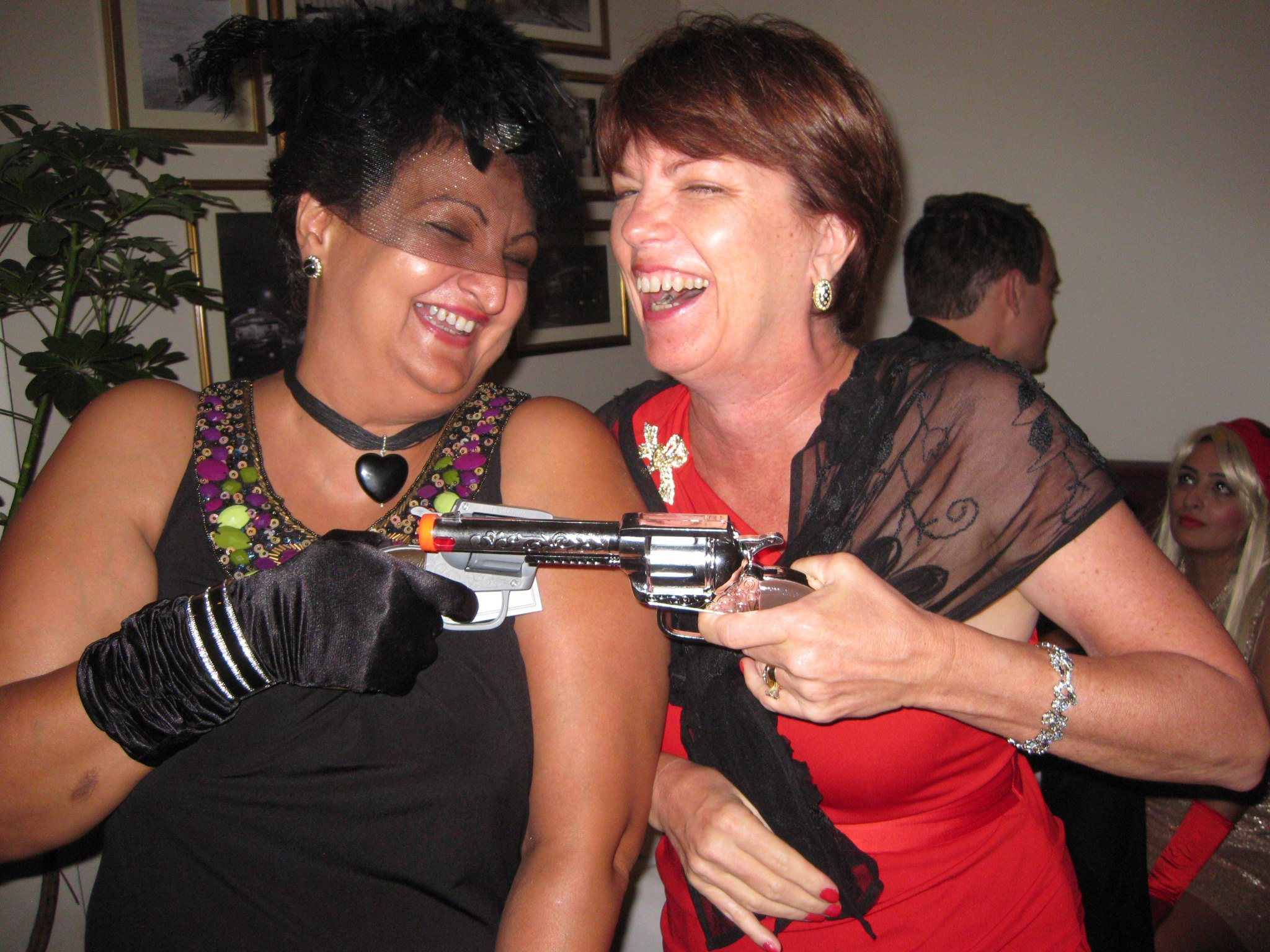 "Happy New Year to all at Freeform Games! We had a fantastic night on New Year's Eve thanks to Casino Fatale. We staged the game at Brasserie Gavroche (aka Hotel d''Etoile) with a real Parisian Chef and a real Parisian Casino Manager. We even played a recording of background sounds from a real casino to add extra authenticity. We had a blast. Thank you!
Click here to see more photos"
Bev Postma, Singapore
---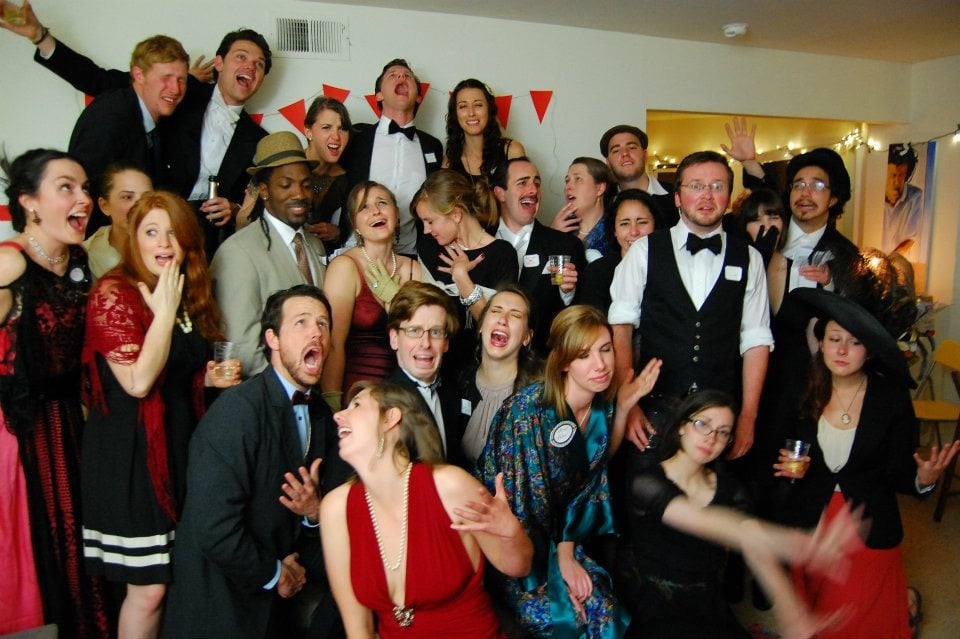 "I purchased All At Sea earlier this year and used it for a Titanic themed murder mystery dinner. It was, as all my friends say, the party of the century!"
Haley Nielsen, California, United States
---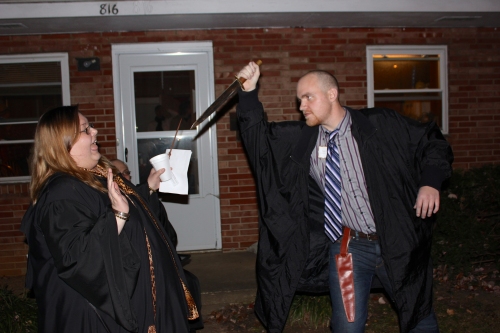 "Spellbound on Sunday was an immense success!! An exciting afternoon/evening of scheming, betrayal, intrigue, plot twists, magic, and mayhem! I don't think my neighbors were quite prepared for all the folks running around in cloaks and robes hurling spells at each other, or lurking around corners!
My players are already clamoring for a sequel! If you haven't tried one of Freeform Games mysteries (or if you have, and are looking for another), Spellbound comes with the highest possible recommendation that I (and my players) can give!"
Nathanial McConnell, USA
---
"What a BLAST! I hosted , (& played a role – which was hard) – on a 7 day cruise – I originally planned to spend 2 nights playing the game, but it was such a hit, we expanded to 4 nights! Everyone had a great time – players from age 30 to 90! We met for cocktails before dinner to play & then continued into dinner a few nights. I sent everyone their invites & character info ~ 3 weeks before the cruise; they weren't allowed to share any info, (even to spouses!) – When we boarded the ship they each received a 'packet' with info about the other characters, etc – I even made door posters with their characters, etc – (which other passengers also enjoyed!). I would definitely recommend Freeform Games, in fact, our "cruise group" has insisted we make this a tradition for all of our future cruises…"
terri E, United States
---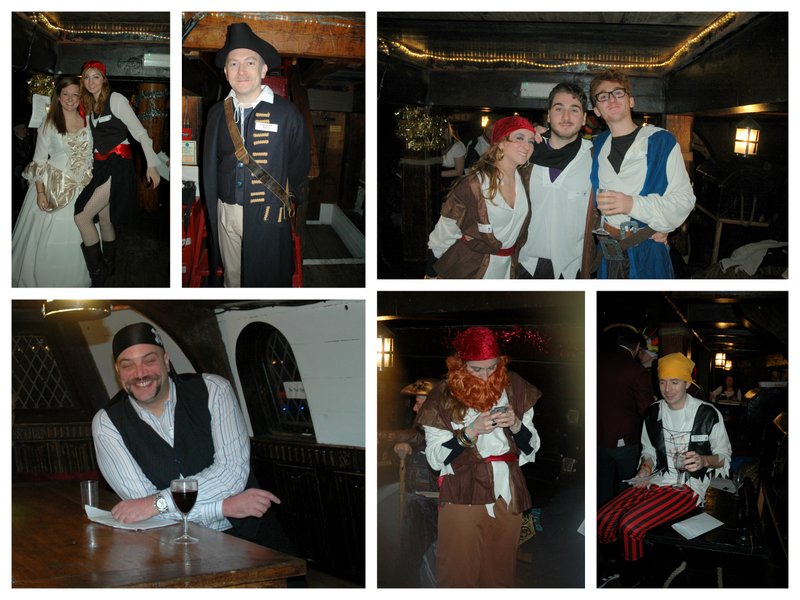 "A Dead Man's Chest was an excellent game, and everyone really got into being ruthless pirates or their noble adversaries. The flexible system is great as you can change the set-up according to your numbers, and there is something for everyone, from advanced scenery-chewers to first-timers and younger players! "
Julie Winnard, United Kingdom
---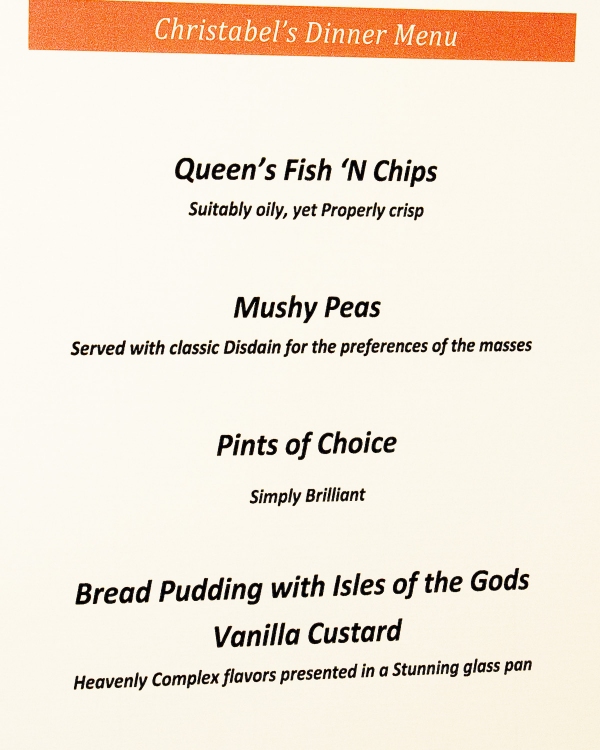 "Death on the Gambia was fantastic, with great item cards and costume opportunities. It was our first Freeform game and blew the scripted games we had played previously right out of the water! I sent out full character descriptions ahead of time and I think that helped the game get off to a fast start. The game progressed just as designed with the most aggressive and murderous attacks happening near the end. We had one successful restraint, one attempted poisoning, one flesh wound, and two murders. Most people did well with their own goals and the subplots. We had Fish and Chips, Mushy Peas, and Bread Pudding for dinner. One word of warning. As Host, I tried to play another role and help my older mom with hers. The Host was busy enough just supervising Rock Paper Scissors, etc, so I think that was too much for one person. Lesson learned. Next time, I'll just Host. "
Carol Blackard, United States
---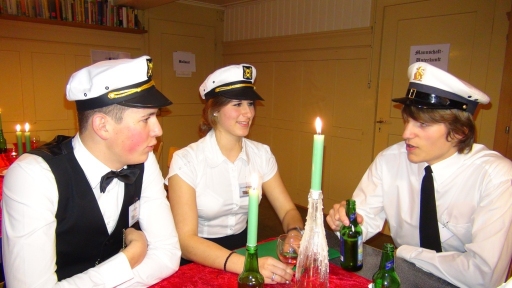 "Last weekend I played All at Sea with 20 teenagers, aged 16–21. As with all your games, it made a lot of fun. I can only recommend your games."
Peter Dünki, Switzerland
---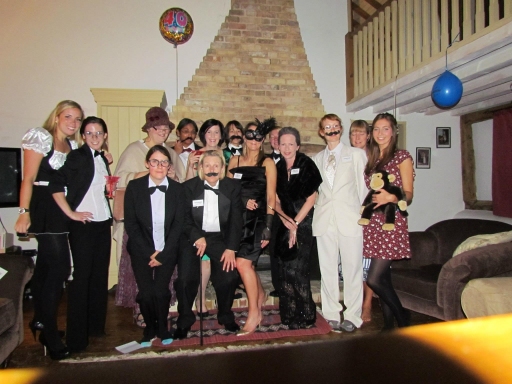 "Can I just say… I ran Dazzled to Death on Saturday night and it was fab! We had such a giggle all the women dressed as men was hilarious! One lady said she has done 3 before but this was the best by far! I have spread the word and the fantastic price."
Caz Glitherow, United Kingdom
---
"My son decided he wanted a mystery party for his 13th birthday. That led me to Freeform Games. We did Way Out West – the kid version. It was super easy to host as a bartender. The kids, ranging in age from 11–13, took to the game and played their parts beautifully. We even had some surprise results. Our party has inspired a couple of others to do a party as well. Thank you for an excellent product."
Corian DeRoza, United States
---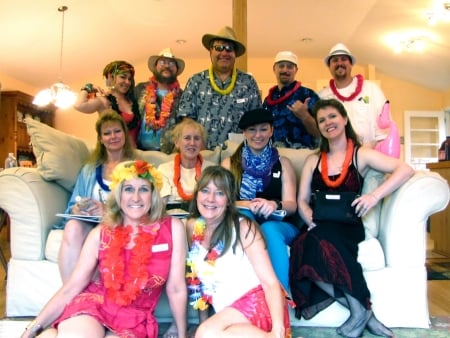 "We used Lei'd to Rest for our first event of the South Denver Freeform Role-Playing Group, a group under meetup.com. It went off fantastically and has really set the stage for our future meetup events. We plan to use one of your games again very soon."
D Bo, United States
---
"Hosted Casino Fatale for my teenage daughter's birthday. We rented craps, blackjack and roulette tables and a group of our adult friends manned the tables as well as "bartended" for the teen group. It was amazing! My daughter's friends are now hounding us about our next party… almost a year later!!! Everyone had a great time, especially the murderer, who managed to luck out of 3 "attacks" before finally being apprehended, and the kids had a blast trying to weasel details out of their fellow casino-goers. What fun!"
Kelsi Neill, United States
---
"Curse of the Pharaoh has been one of the best Murder Mysteries I have ever done! I Hosted this one and everyone loved it. It gave enough freedom for everyone in the room to be able to do whatever they wanted and yet stick to their own goals. There wasn't much scripted or things that I had to do except answer questions and keep an eye on the main characters and what they were doing, but it was a blast and keeping the guests entertained was all the work of the game! :D Thanks Freeform Games!"
Greggory Miller, United States
---
"I hosted Casino Fatale this weekend and it was absolutely fantastic! I was very nervous about hosting the party – having never hosted or played a murder mystery party before – however it went brilliantly! Only two of my guests had played a murder mystery party before, so everyone was very excited, albeit slightly confused at first. The group attending the party were all teenage girls, but those playing guys loved their parts! The evening was fantastic, and culminated nicely with a dramatic death of a character. The material provided was excellent, and despite my worries of people getting bored, everyone got into character and loved the whole evening.
Already people have been asking me when the next one is going to be! Thank you all so much for the wonderful game!"
Catherine, United Kingdom
---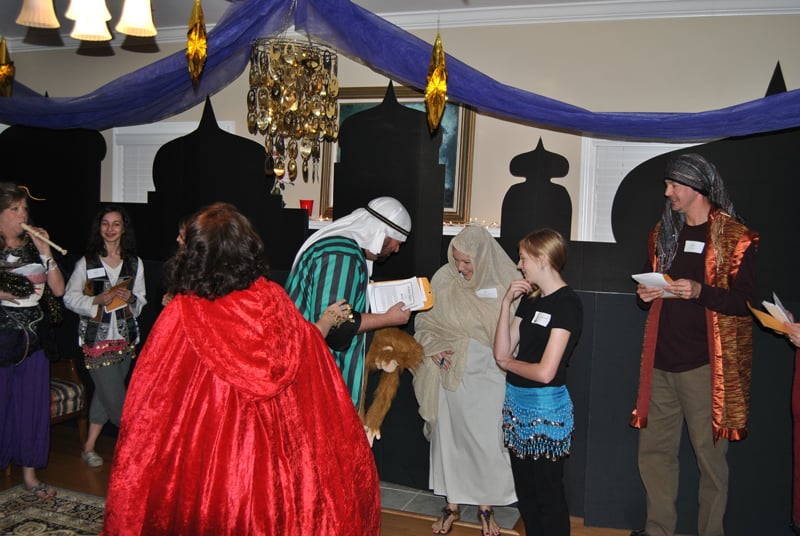 "I'd never hosted a murder party before, but my sister has done several. She convinced me to do one, and we chose Arabian Nights because we thought it offered ample opportunity not only for great costumes but house decorations as well.
With a little help from family and friends, we transformed the inside of the house into the marketplace, complete with date trees and tents. It was so much fun.
One recommendation I have: The Genie/Host is VERY busy. There were several times I was overwhelmed with having to moderate attacks between players. Make sure you have a good helper. I enlisted my daughter and niece who were too young to play parts to be the Genie's minions. They did a great job running errands and helping the game run smoothly.
My friends are still talking about how much fun they had and the party was back in January!"
Beth Allen, United States
---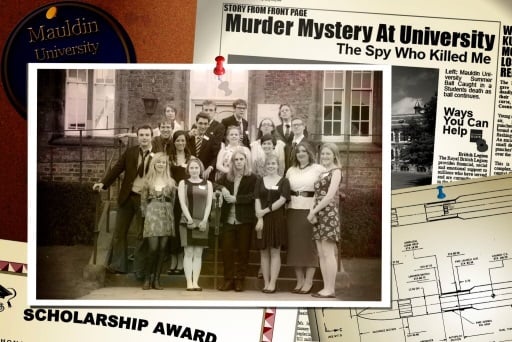 "Thank you so much from all of us, everyone had a great time playing The Spy Who Killed Me and everyone is asking when the next murder mystery will be! Nothing happpened as I had expected, but that all added to the fun, and everyone's shock at the end revelations were hillarious! Thank you from all of us."
Jess Murray – and the York St John drama society, United Kingdom
---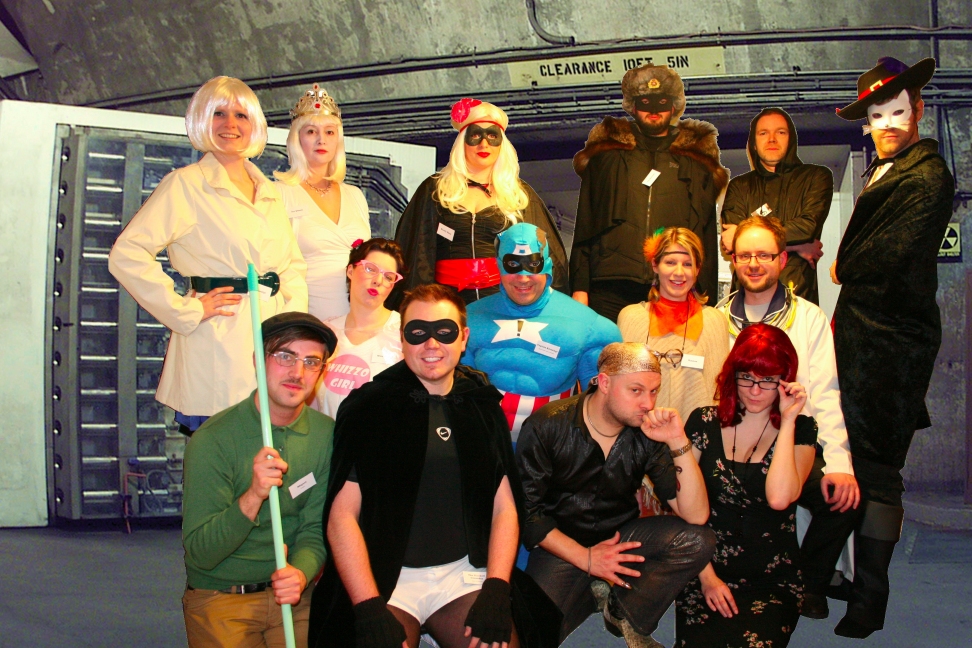 "I hosted A Heroic Death on Friday (my 40th birthday). I think this is the sixth of your games I've either hosted or been a guest at over the past seven years. It was interesting to compare to the others I've played - Death on the Gambia, Death in the Fast Lane, Casino Fatale, etc – and I applaud your writing/plotting as even now the stories feel different – not just a re-skinning. The superhero characters/archetypes in Heroic Death are very good for fancy dress although practically it is trickier to get a superhero costume than a costume for Casino Fatale (or maybe it's just that my wardrobe has more formal wear than capes and masks).
Overall everyone had a great evening, although buffet food was barely eaten – people were far too busy. Most people agreed afterwards that they could have done with a bit (or a lot) longer than the 3 hours we had. If your games were to have a 'complexity' rating this is one I would not rate as 'beginner' in my opinion. This isn't a bad thing at all as it means it is suitable for groups who have done games before and are familiar with the basic mechanics. Overall, I was very pleased with A Heroic Death – thanks again for a clever, witty and – most importantly – fun game!"
Andy Jenkinson, United Kingdom
---
"Just held Bludgeoned on Broadway for my 17th birthday, and it was fantastic! I was a bit concerned early on because two of my friends had dropped out; one due to illness and the other due to travel difficulties in the evening as snow was forecast (and it really did snow; a lot) There was some panicked phonecalls asking friends to swap roles but luckily people were happy enough to change. My two brothers stepped in as characters as well, and my sister was my 'assistant director.'
At the beginning I did an exercise where each character had to describe themselves to the rest of the group, which worked well as people figured out who they were supposed to like and who they didn't. We then got on with the game, with people picking it up a lot more quickly than I expected. As the game progressed there was a lot of running around rooms as the Director and Host to try and pickpocket, deliver the goods, listen in on conversations and speak to a growing line of people! So don't feel the Host role won't be as fun as being a character; it's also hilarious to hear the conversations your friends are having.
The most memorable parts of the evening were probably when there was a literal fight on the stairs between three people to destroy a piece of evidence, the detective being accused of being 'corrupt' and tied up after he arrested an innocent person for one of the crimes, and a literal witch hunt (loads of people cornering one person) of one of the characters accusing them of a crime!
It was also fairly amusing to watch how wrong everyone was at the dénouement at the end, and their shock at the correct answers being revealed. 'If I had ten more minutes I could have accused them and I would have been right!' was a common cry (as I sped the night up a bit as some parents were worried about the snow and came early; I wouldn't advise this. I did the game in around two and a quarter hours rather than three, and it would have given them more time to finish their goals had it been three hours).
The general consensus was that the game was awesome and there was a lot of questions about who would host the next one! Thanks Freeform Games for an awesome 17th! Pictures to be sent soon."
Lily Coulstock-Cockeram, United Kingdom
---
"Casino Fatale was a total success! I had 22 guests in my home. Every single person has called me to say how much fun they had!! thanks for all your help!!"
Natalie Bohbot, United States
---
"I downloaded Casino Fatale on a Tues. and had the party the following Sat. night. It took a few days of organizing. I was worried about how it would go since I had never even been to a Murder Mystery Party. BUT it is absolutely true that you can pull off the party and everybody will have a blast!! No worries just enjoy!! I will definitely be hosting another party. Thank you for being such an informative, organized business!!"
Michele Roberts, United States
---
"Way out West was really fun. I've hosted two murder mysteries in the past (before I found this site) and, while it was a fun dinner with friends, everyone commented on how stiff the scripts were. It's also much harder to plan a sit-down party – it limits the number of people I can have and means preparing a number of different courses. This game flowed really well and everyone got into it – really getting into character and going with the flow – making alliances and backstabbing and having lots of fun. By the end of the evening, I had more than one friend ask for the website so they could also host parties. Way out West suited the number of people I had and it was a theme that seemed easy to put together for the party I was having (low key, pot luck event that would be easy to decorate for). It was also a theme that I knew all the guests would have an easy time dressing up for, without going crazy trying to find a good costume."
A Customer, Israel
---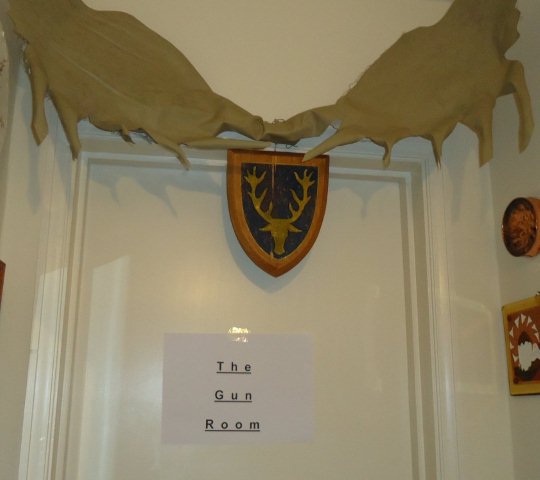 "Well, it's done ! I seemed to be permanently scouring my"notes" to check "what next", but everyone was very tolerant! And I have never heard such a wide variety of accents – often from the same mouth!
Food, I'd researched for that period and it seemed to herald the arrival and much use of Campbells condensed soups so recipes frequently contained them in casseroles – so we had Chicken a la 1948, cottage pie and macaroni cheese for the veggies; desserts included American Brownies, made from scratch, but which never set so needed to be spooned out into cups, rather than cut into 32 triangles as the recipe required!
I slept for 9 hours straight last night – never happens! – and now I don't have to think about anyone's night before Christmas, except my own!
Thank you so VERY much for your amazing support and quick responses to my emails."
A. V., Hampshire, United Kingdom
---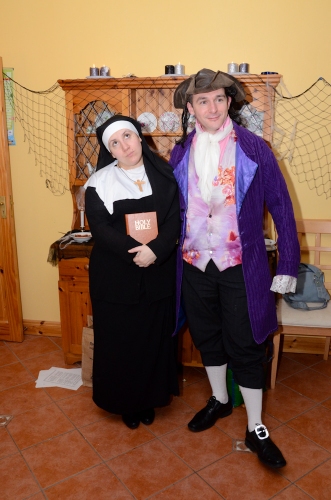 "We just had our Davy Jones' Locker party last night and it was a BLAST!!! We had never done a freeform style murder dinner, and I doubt our group will go back!! Thanks for writing such a great game!!"
Seth and Jen Deibel, United States
---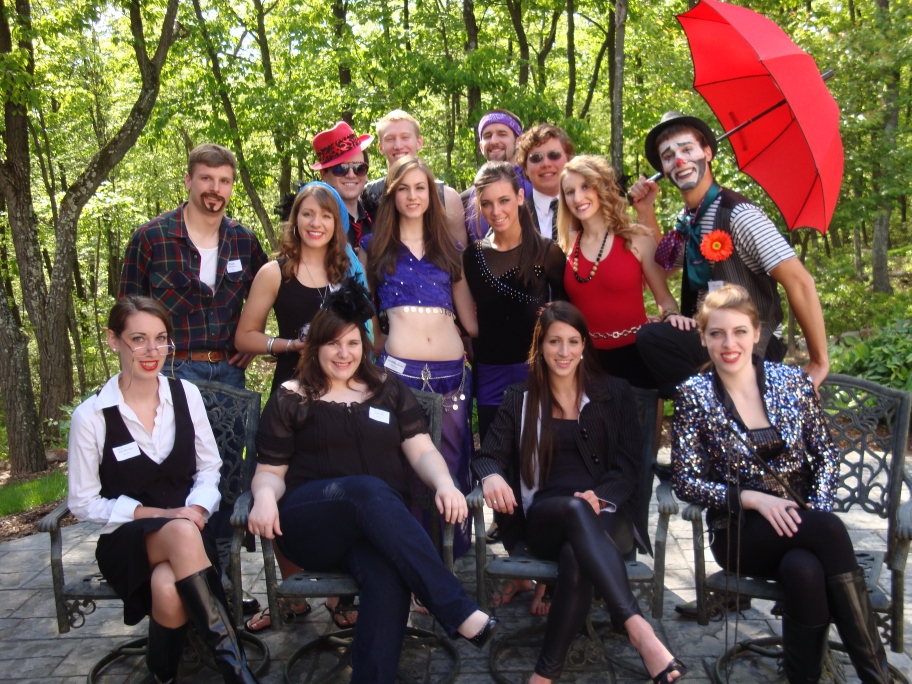 "I started hosting murder mystery games a few years ago, and most recently I've done Death on the Gambia and Under the Big Top. My friends and I agree, your games have been the most intriguing, most delightful, and most successful of all our murder mystery parties. Now we budget in an extra two or three hours to thoroughly enjoy all of our gossiping, plotting, two-timing, and back-stabbing! It's the side plots that truly make your games. Everyone isn't just staring at the ground, magnifying glass in hand, searching for murderous footprints. They're maneuvering a complex web of secrets and connections, buried pasts and devious ambitions, free to approach any issue in the manner they feel most beneficial for their character's particular gain. In fact, you could take out the murder and still have a great time! Freeform Games is my go-to for the highest quality murder mysteries."
Tatyana Rasmussen, United States
---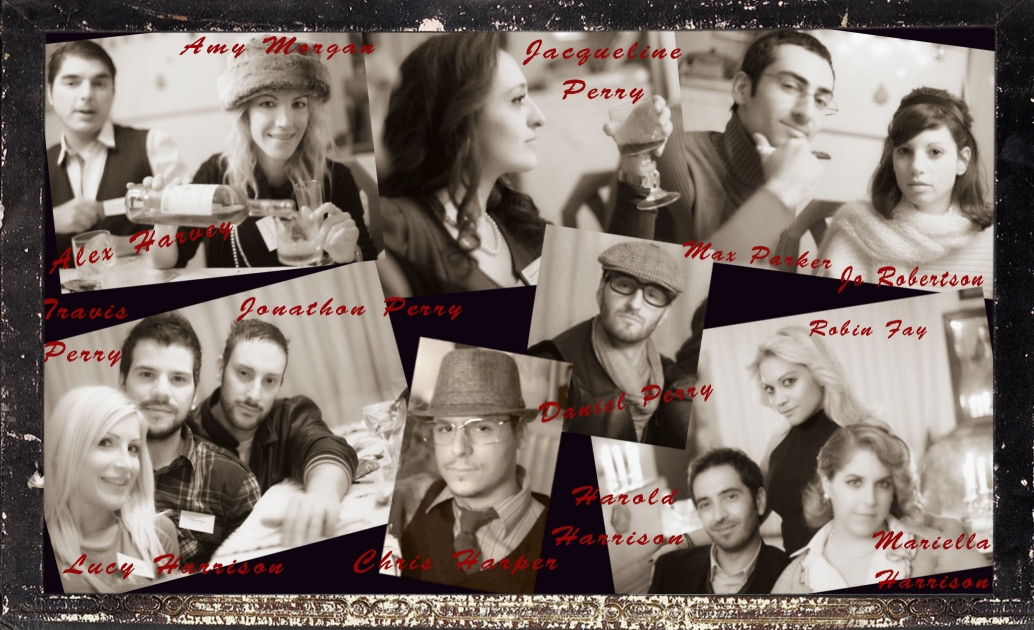 "We did some Snow Business in Chalet Flaubert, two days ago. We would have sent feedback earlier, but we were still discussing about the game! Everyone had great time, really enjoyed the subplots and delved into the characters. The story gave us the opportunity to create an impressive environment of the chalet, with stage props and music (We used the fifties era). Really great experience, though it was our first serious mystery party game. Thank you!"
Nicholas Nikolakopoulos, Greece
---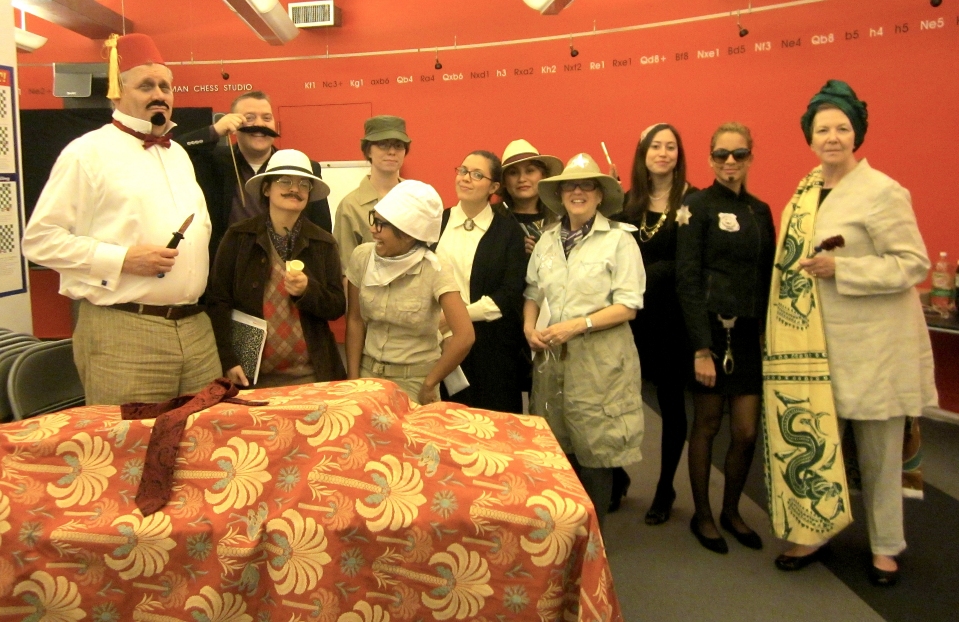 "We had a lot of fun with Curse of the Pharaoh yesterday – everyone tried their best with their Britishaccents!"
Ronald Boocock, New York, United States
---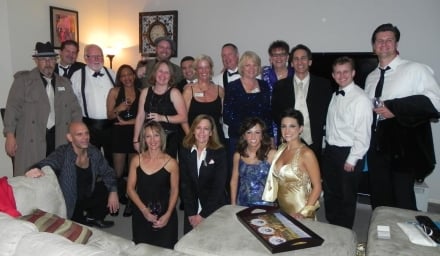 "Just thought I'd send along the group shot from our Casino Fatale party, which took place this past Friday. All of the guests had a great time, and they're looking forward to the next murder mystery!"
Jim Cook, United States
---
"Although it was so stressful to plan, I think it was because no one had ever played a game like All at Seabefore. However, despite people dropping out last minutes and a few main characters ended up being missed out, the plot was detailed enough that it really didn't matter… People use their own initiative and it ends up being better than you could have expected! Strongly recommend that you buy one of these games, worth every penny. Did it as a surprise birthday party and it was so much fun, even as the host!"
Jaz Sawdon, United Kingdom
---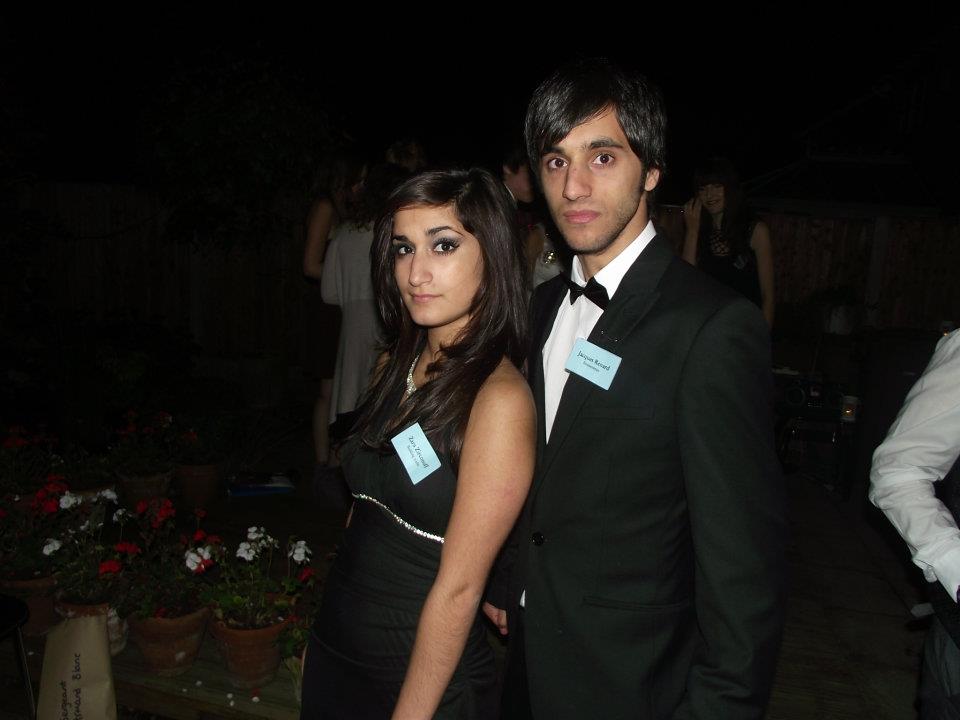 "We did Casino Fatale for my 18th and it was great fun! I was so lucky because we had unseasonably warm weather and decided to host most of it in the garden. We lit it up with lanterns and fairy lights and we really did feel like we were on the banks of the River Seine! There was lots of different side plots so everybody felt involved. It was cool to watch all the different stories unfold and everyone looked fabulous!"
Francesca Consiglio, United Kingdom
---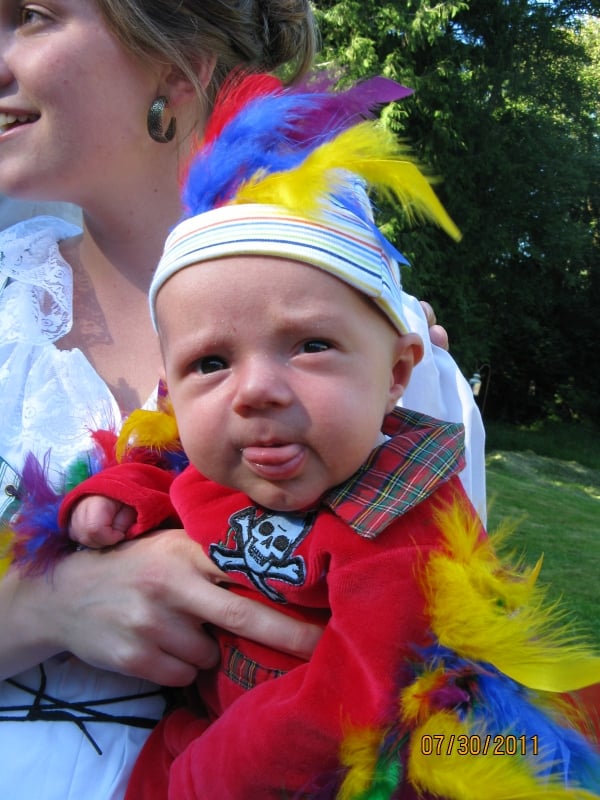 "We have been attending and hosting murder mystery dinners for many years. A Dead Man's Chest was by far the most complicated as a host to run because of all the additional features but that is also what made it unique and fun. Guests, including my husband, thought they had it figured out before the game only to find that there was a lot more happening with the individual goals.
Our theme for the night was of course never trust a pirate, or islanders or anyone else present on the island. For the actual treasure hunt I put together riddles that led to various areas of the yard and the next clue, only those given the start by the 2 original characters could hunt. This added to the drama of finding the treasure.
We chose to go with island decorations and food; which included the roasting of a whole pig, grilled seafood, fruits and Caribbean sides.
My guests are already asking what Freeform Games will have for us next year!"
Bonnie Berry, United States
---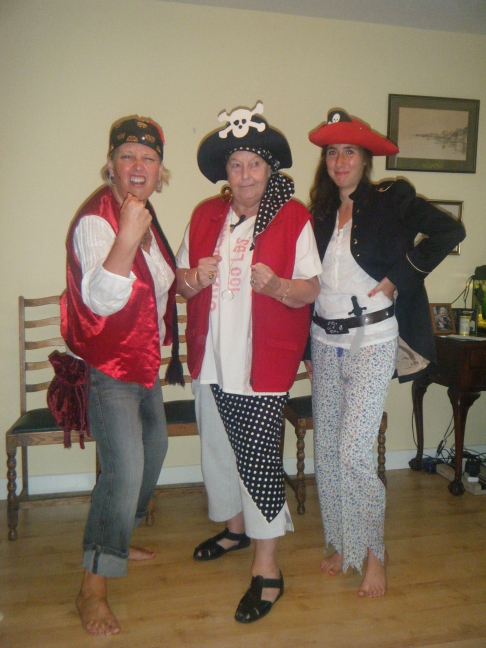 "It's the morning after one of the most fun evenings we have had as a family! We are all together for only one week, and as soon as A Dead Man's Chest ended last night, there were calls to play another one before the week is over!! Thank you so much for all your help, we really had a fabulous time. Everyone threw themselves into their parts and all mysteries were solved by the end of the night. We will definitely do this again!"
Mary-Cait, Ireland
---
"Casino Fatale was wonderful. Amazing teenage party idea! All the kids 'raved' about the party afterwards, as they did last year with Dazzled to Death. Complex intricate plots, and many of them! Most parts could be as major or minor as the characters who played them chose to 'play' them. A fantastic night. Totally exhausting, but smooth-running and a fantastic experience for both the kids involved and for us!"
Mette Jongeling, Australia
---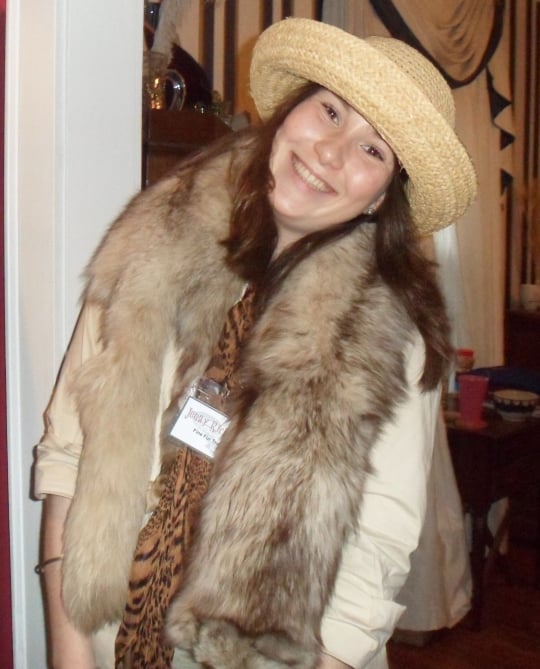 "The theme of Death on the Gambia really appealed to my wife and I. The props sounded great (poisonous spiders, antidotes, etcetera). We also were interested in a summer weather game, where we could dress in costumes and not be hot and uncomfortable. What could be more perfect than Death on the Gambia as a setting! We had not yet played a Freeform game before. This was our first. But, we had played three other murder mystery games from two other companies. Death on the Gambia was ultra enjoyable, it has great complexity and interaction between the characters. I cannot say this type of game is for everyone. It takes a lot of care and time to really put on a great party. My wife really enjoys putting things together for family and friends and doesn't mind spending hours and days and weeks slowly compiling all of the things necessary for a great party (things like, food, props, costume ideas and decorations). But as far as actually being the host of Death on the Gambia, I would say there really isn't too much you need to keep up with once the party begins. My wife and I both acted as joint hosts (we both played Deckhands) this worked out beautifully for us!"
James Barnes, United States
---
"We would definitely like to try more, and our guests agreed that Dazzled to Death was great fun."
A Customer, Australia
---
"Casino Fatale was a blast! Everyone had a great time, and I was busy and interactive as the host."
Jonathan Gilmour, United States
---
"Everyone really enjoyed this year's murder mystery, Casino Fatale, and are already looking forward to next year's!"
Taylor Reece
---
"The second half of Death on the Gambia saw a lot of deal making, deception, bluffing, trickery and blackmail and the denoument saw a lot of suprises."
Brian Hoare, United Kingdom
---
"Davy Jones' Locker was very fun for teenagers!"
Deborah, United States
---
"Casino Fatale was a great ice breaker and everyone enjoyed the fact that they chatted to all the guests including those that didn't take part in the murder mystery. We hired 2 casino tables which gave a very authentic feel to the party. This ensured that all guests were entertained for the evening."
Ann Hallam, United Kingdom
---
"I guess the setting of Casino Fatale ticked a number of boxes simultaneously
- It was a distinct setting that first-time players could relate to. They might not have understood much about how such games work but they had a clear and evocative idea of what a casino was, what to wear etc.
- I liked the fact that we could have fun with the decoration, costumes etc in a silly wayso no one felt intimidated (which might be the case when playing for the first time, especially as half the guests knew almost no one there)
- We could also make an effort to make it simultaneously stylish (EG: bow ties, party dresses) to create a great atmosphere that they could feel excited by, so it became more of an experience than simply a game at a party.
I must say, the materials were excellent, particularly in the way they were written from the perspective of someone wanting to run the game. They managed to communicate the benefit of your experience running these things without ever being presumptuous of the reader's knowledge or patronising for their lack of. I tried very hard to create an experience for everyone, EG: themed posters on the walls, the two performer characters actually did two performances, a dedicated and decorated gambling room, the casino's "jazz lounge" with subdued lighting and just enough background music to make it a good place for a private conversation without being overheard. (BTW, a microwave makes a perfect prop for a safe!)"
Chris Lloyd, United Kingdom
---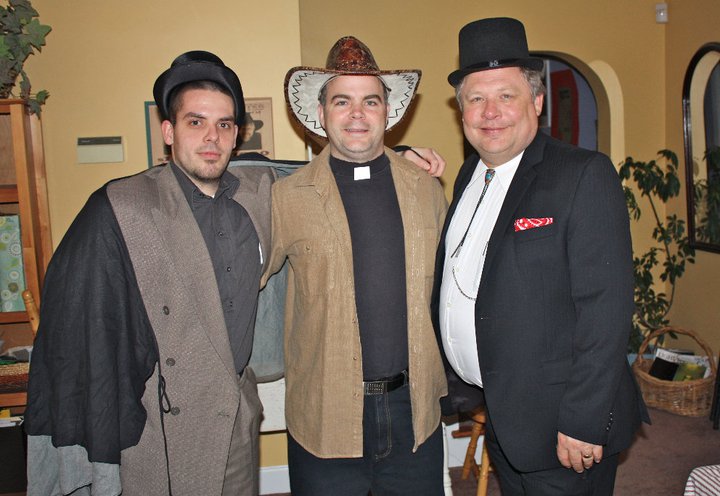 "As the events coordinator for our brand new church, I am constantly searching for unique ideas to help bring people together. After reviewing several Internet sites I selected Freeform Games and purchased the Way Out West Murder Mystery (expansion pack). It was my first experience with a murder mystery. I was very impressed with the organization of the game, the instructions and plot lines. Our church folks really got into the whole experience and thoroughly enjoyed themselves. Thanks again for providing such a great resource for social events!"
Leslie Hunter, United States
---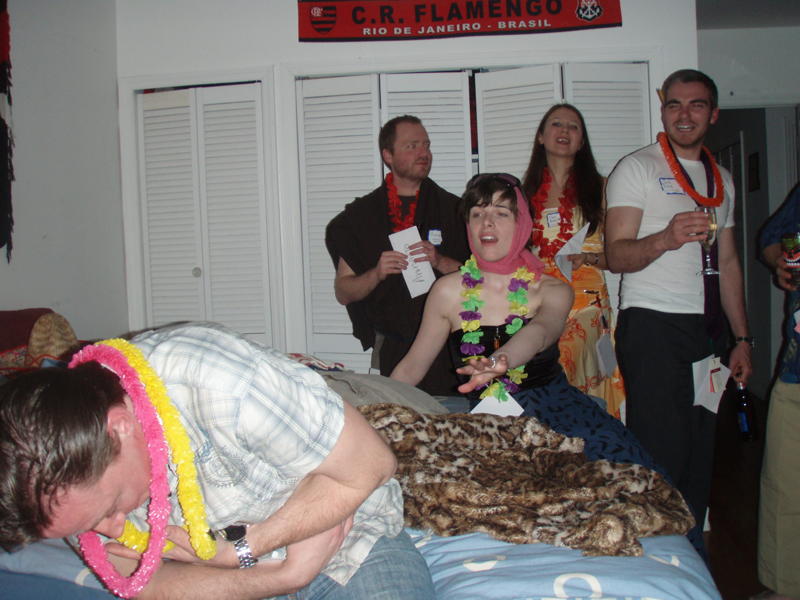 "I hosted Lei'd to Rest last weekend. It was first time for me or any of my guests to do the murder mystery game and everybody LOVED IT! Even people, I thought, might be too shy to enjoy it fully, surprised me by being totally committed to their characters (after I served a couple of Blue Hawaiians). The hardest part for me was to make people come, coz nobody was really sure what to expect and they were suspicious if the game was too complicated or had too much stuff to remember. But it's neither! That's the beauty of it – you don't really need any experience or preparation to play. I got the decorations and made everybody wear tropical shirts. I also send all of my guests the first page of the description of their character (I suggest everybody to do it, especially for the "virgins", because it takes at least half an hour to read the character and get all the details of ability and items cards and you don't want your guests to get too confused before the game even begins). At the end I couldn't make people stop. At the end we sat down and everybody pointed at the killer and told their goals for the game and if they reached them or not, so all secrets and all plots became obvious. Nobody guessed the murderer right though… But it still was so super fun! Thank you, Mo and Steve, for those games!!!"
Yana Khomchanka, United States
---
"Dazzled to Death was wonderful! We all had so much fun!"
A Customer, United States
---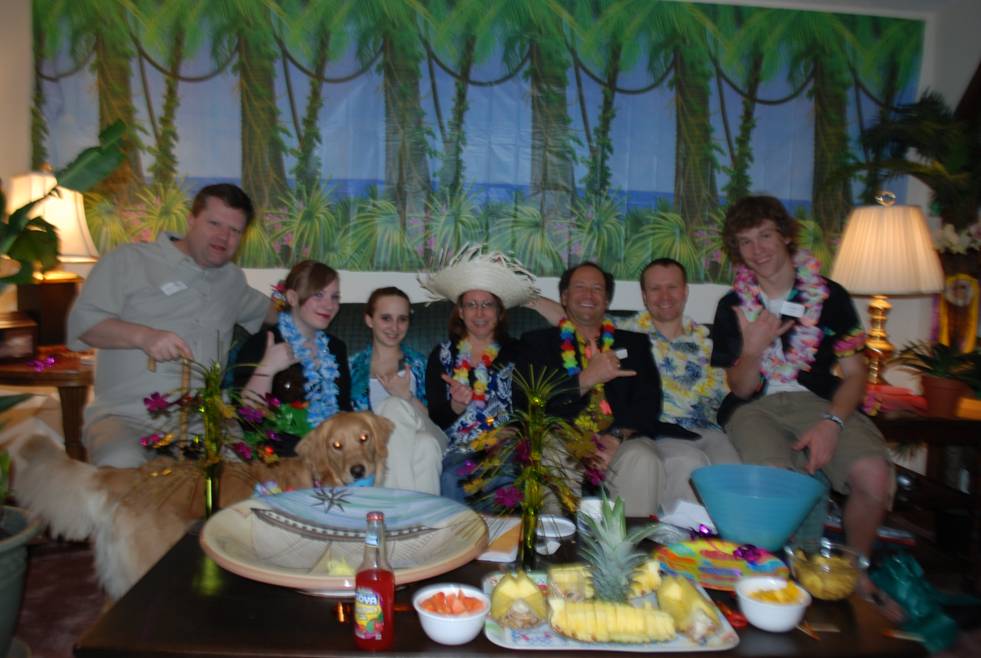 "Played Lei'd to Rest last weekend with six friends and myself as the host. We all had a blast. There were a few attempted murders (one successful) during the game and that really added to the excitement. It was the first mystery game for most of the guests. We can't wait to do another. Hosting instructions were easy to follow and the format left enough open to interpretation to keep people guessing."
Paul Weiss, United States
---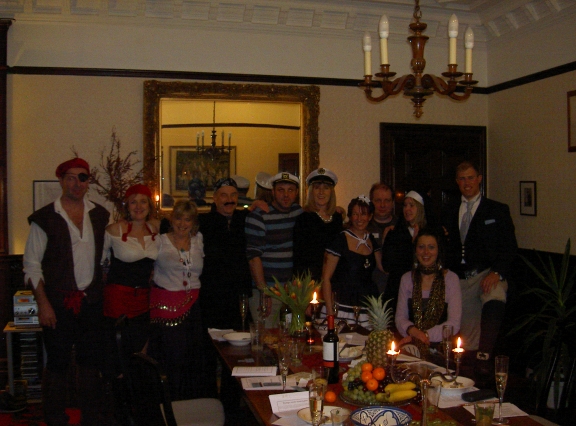 "Our first freeform, and compared to usual murder mystery games, Davy Jones' Locker worked really well. We had great fun – a mutiny, captain tied up and a nun who failed in a mock fight, collapsed to the floor and was licked 'awake' by the dog! "
Rowan Norrie, United Kingdom
---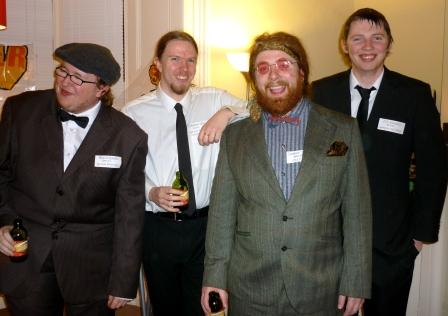 "I just thought I'd drop you a line with some feedback and photos from our recent session of Casino Fatale!
Firstly, I'll just point out that the night was a big success, thoroughly enjoyed by all and I would recommend it to others. But that goes without saying really, as you can't expect any less from Freeform Games!
We had 21 guests, plus me (the host), so we used up all of the characters and added Ginger Roberts too. I tweaked Ginger's character sheets a bit to make him reporter for the 'Fatale Flyer' – the casino's weekly newsletter, which put him under the employ of Sam Riley and made him a little more involved in the game. (I also changed the 'Paris News' sheet to be the 'Fatale Flyer' and tagged 'edited by Ginger Roberts' at the bottom.)
We managed to cram all 22 people into my teeny tiny one reception room-one bedroom-one bathroom flat, which was quite a challenge but worked out fine in the end. We spread the furniture out to create as much floorspace as possible. I played the role of barmaid and set up a bar in our kitchenette – serving only the finest French cocktails of course! I also put out a bit of 'finger food' – French baguettes, cheese, mini pastries and the like! We had a poker table and a roulette table, and the two guys playing croupiers Joe Knowall and Chris Rowan got right into character tending the tables, without any prompting from me at all!
We are a large group of friends who regularly hold murder mystery parties. We often buy from Freeform, and also write our own too, so everyone present was really involved, putting on dodgy French accents and taking the storylines to new places!
This was a really great game and a fun evening. Thanks again for all the brilliant work you do."
Kay Fretwell, United Kingdom
---
"Hollywood Lies is a great product, we'll definitely be using you again!"
Ben Putt, United Kingdom
---
"The kids had a wonderful time with Hollywood Lies, and really got into their parts! It was fun to have the kids get all dressed up for the party. My daughter will always remember her 16th birthday party!!! Thank you!"
A Customer, United States
---
"We've played a few of the "Murder Mystery Party" 8-player games. This was was definitely more free-form. This one got us out talking to different people and made lots of different things take place at once instead of a single group-think conversation like the "Murder Mystery Party" brand games. We liked the dynamics of Curse of the Pharaoh better."
Mark Jarrell, United States
---
"Who Shot the Sheriff went really well, when I used it for a large childrens party – they were around 11 years old, so needed perhaps a bit more encouragement. I sorted this by writing bit-part characters for the parents / adult friends who were staying whose sole aim was to help their named characters.
It suited our needs, my daughter liked the theme and it seemed different. The kids really got into their parts (as did the parents!) and it flowed well."
Emily Barrell, United Kingdom
---
"Casino Fatale was our first murder mystery game, but definitely not our last!
It was brilliant. We had it on the 27th of December (a Monday). A dull day normally just after Xmas everyone had eaten and drunk enough. This was just something different. It was really a fab night and everyone made an amazing effort. I did wonder how it would all work at first glance but once I got into it it worked brilliantly. I was in two minds whether to give out the full character sheets before the night because it is alot to take in but I'm glad I never because people will have talked about it. It was the talk of our town and still is."
Elaine MacMillan, Spain
---
"Just wanted to send a warm thank you! I had purchased A Dead Man's Chest for a New Year's Eve party at my church, and everyone loved getting into character. We had an absolute blast! You were kind enough to answer several of my questions ahead of time, which helped a lot, and I appreciated having the ability to read the game through in advance to make sure it was suitable for my group. I've hosted other murder mystery events in the past, but having played a "freeform" game, I won't go back. It was so much fun for each person to roleplay a character and have goals/conflicts of their own in addition to solving the murder. It made for a lot more interaction! We loved it!"
Emily Hendrickson, United States
---
"I just wanted to let you know that we had a great time with Death on the Gambia on New Year's Eve. We've played a few conventional murder mystery games before but we all agreed that your type of one was more fun. There were plenty of murders by the end of the night! Some people did get very confused but that didn't stop them having a good time, and others were frighteningly good at stealth, deception and trickery! We'll certainly recommend your games to others."
Becca Hoyle, Glasgow, United Kingdom
---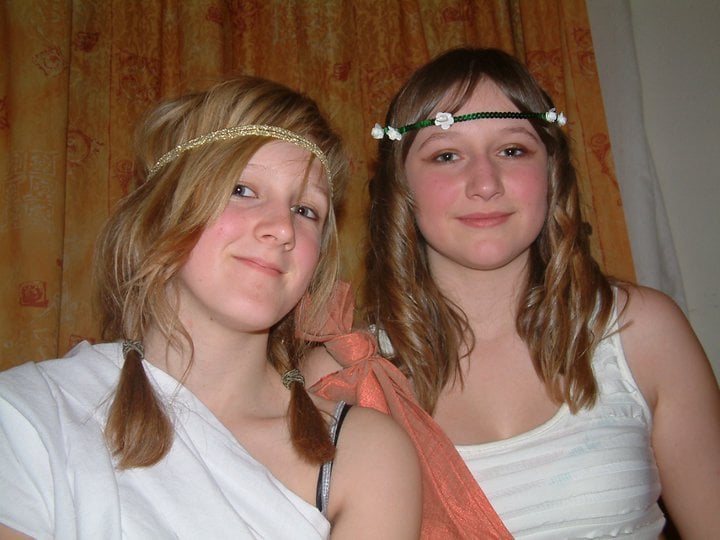 "Yesterday I hosted my first Murder Mystery, Bludgeoned on Broadway was nothing short of fantastic! Everyone really got into it and had a brilliant night. Alliances were formed against Communism, and deals were made to destroy items! People really used their imagination to complete their goals! Our murderer was very clever and made an alliance with another character and was the first to complete her goals, a prize was given at the end of the night for playing so well! We had an interview room for the detective that worked brilliantly and our theater bomber made a deal with Bruno to help one another to gain certain items. Our detective made his own goal to collect all nine scripts and used clever ideas to persuade people to use their ability cards for his own gain! Harold and Lana ended up against one another and turned against each other to try and win their goals. The game was so easy and so fun to carry out, we had to make some changes to characters as the snow made it hard for people to get there, but your amazing info sheet really helped me to solve the situation in such a short amount of time! Here are some pictures of the party as we had the best night ever! And I've been asked to host another "who'dunnit" for Christmas. Thank you so much as you really helped me to have a brilliant party to be remembered for some time!"
Zoe Butler, United Kingdom
---
"By popular request I have just purchased my second Freeform Games murder mystery. The first, Hollywood Lies, was a huge success. Although I'd hosted Murder Mystery evenings in the past, this was firstly, the most ambitious (34 guests all well into their roles and costumes), and secondly, the most enjoyed. Everyone was so busy wheeling and dealing and producing their playlet that they forgot about the murder! However, we got back on track and one sleuth deduced the correct answer. Great fun – looking forward to Jan 2nd for our Casino Fatale night. Thanks so much."
Lynda Wearn, United Kingdom
---
"Hello again guys. Just to say thank you, once again, for a very enjoyable evening. We hosted Casino Fatale at the local restaurant and it went down a treat! All the suspicion and intrigue was great! My friend, Phil, who played Donovan was really funny – just randomly stating small poetic verses! An additional death really livened everything up and it was the first time (so far) that one of the men actually won the whole game! It's now 3-1 to the ladies! Thanks again! Here's to the fifth…"
Nick Eccles, United Kingdom
---
"This was my first time hosting a murder mystery party [Death on the Gambia] and it was such a blast. I emailed invitations with everyone's characters a few days before. People got so into it and our costumes were all amazing… I was impressed, it's not easy to get a group of 20-somethings to role-play! The game took us over 3 hours, but everyone was so surprised at how fast the time went by, there was so much to scheme about. Thanks! Will definitely use Freeform Games again!"
Haley Nielsen, United States
---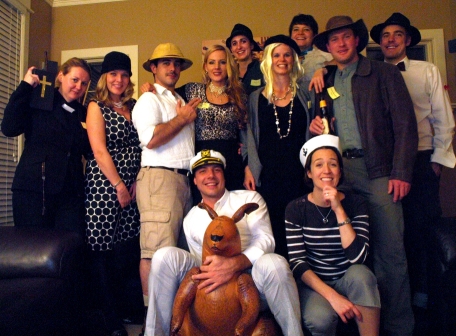 "The [Death on the Gambia] game on Saturday went very well, we had so much fun. I am glad that I took the time to work on the props as it was so funny to see everyone going through the books to see which one it was or to see people trying to hide their cameras etc… I have attached a picture, it was at the end of the game, we had a debrief and they all enjoyed that as well… Looking forward to the next one!"
Estelle Goodchild, Canada
---
"Bludgeoned on Broadway was a wonderful game, all the guests had loads of fun! I liked that the host had a more involved role – I usually end up hosting instead of playing, so that is something that I appreciate. I love Freeform Games, I definitely recommend them to others!"
Amanda McLeod, Canada
---
"We just played the game Dazzled to Death and what a blast!"
Anne Gregory, United States
---
"When my 17 year old told me he wanted a surprise party for his birthday (with 3 days notice) I didn't know what I was going to do. I got online & found A Dead Man's Chest & knew it was what I needed. I threw a "surprise" get together with family, to throw him off, & called/emailed/facebooked all his friends with the real party info. Once I got RSVPs, I realized I had more people than characters, & panicked until I found the additional characters & downloaded all of them. I couldn't get my credit card to go through & it locked me out of the system the night before the party, so I enlisted my oldest son as an accomplice. He helped me download & print, etc. I don't recommend throwing it together at the last minute, but it was necessary to keep it a secret from a nosey 17 year old, and it worked out fine. I didn't assign characters (although I recommended a few). I just let the guests choose an envelope at random from the male or female stack. After handing out all the parts, I had a couple of parents chicken out & ask for a part from the extras, in case they wanted to leave & pick up their son later (which of course they didn't) so I got stuck playing 2 parts (Quintus & Salamanca), as well as hosting. It worked out OK, though I was busy. I only had one person ask for any information from either of my characters. I didn't get any treasure or pearls, but I did get a pardon for Quintus, which was good because he was not the cook chosen by the combined pirates. (One too many insults of Blaise's cooking.) Early in the game Alice Tremain accomplished her goal of uniting the characters. Information flowed freely. If one of them knew something, they all did. The rest of the group felt left out before the night was over. So I had to be creative & stir up the others in mutiny against her. She even had Capt. Overy on her side (he of course supporting his new wife). Captain Overy & Elizabeth got married in the 1st half of the game. There was an announcement inviting everyone to the wedding (by one of the captains, I think), to which Rev. Plumpton replied that if a wedding was going to happen she was going to perform it. Sir Percival said "No you're not young lady!", & dragged her off. Later they snuck off & had a private ceremony performed by Cassinga. Cassinga was determined to sacrifice all the foreigners to the volcano, even after it was placated, & eventually was thrown in herself, although I allowed everyone the 10 minutes to be rescued, & all were. I don't think anyone died, although there may have been one or two. Our healers (Sawbones, Madame Zuzu, Cassinga) were on top of things.
When I made the final call for votes & 10 min. to wrap things up, Alice Tremain said, "Why do we need to vote? We've already got that decided?" Of course, you should never trust the word of a pirate. All the captains voted for themselves. Saucy Nancy & Don Inigo got the ships with the help of the natives, so very few people left the Island. Don Inigo had been saying he wanted to stay on the Island. Surprise! When I called for the last 10 min. to wrap things up, no-one knew who killed Captain Flint, or who El Cuervo was. By the time the votes were counted, almost everyone knew. We had a great time!
A friend offered her house for the game & we had it in her backyard which was beautifully landscaped, with street lights, privacy fence & a firepit. It would have been better, from a lighting standpoint, to have handed out parts in advance. The characters may have been more fully developed too. However, considering that some people got sick & cancelled at the last minute, & some of the parents that RSVP'd refused to participate, it worked out well this way. Also it would have been better to have had safety pins or plastic name badge holders. The tape didn't hold well, & with the low lighting everyone was hollering out names to accomplish their goals. Several comments were made about wondering what the neighbors were thinking about shouting out "Captain Overy". Unfortunately, I forgot about pictures until a few people had already left, but I got one good group shot, with those that were still there. We may have more opportunities soon, though, because several people said they'd like to host a murder mystery party soon. I gave them all your website. "
Karen Williams
---
"We really enjoyed A Dead Man's Chest, and I have recommended it to a few people – they thought it sounded very fun. Thank you!"
A Customer, United Kingdom
---
"Hollywood Lies was a fantastic game for our 14 year old daughter and her friends, who really took to playing their parts and playing the game. It really kept her and almost 20 of her friends busy and having a very fun time for the entire party, with interaction between her varied friend groups. Our friends have even said that we "have set the bar too high" for the next parties. Thank you!"
Michael Dinga, United States
---
"Who Shot the Sheriff was the second murder mystery game we have had this year (after Lei'd to Rest) and I must say it was awesome and just as much if not funner than the first. Everyone had great fun getting into character and the final plot twists at the end had everyone shocked. It was great fun and thanks again for writing such great murder mysteries with interesting characters and storylines."
Terence Smith, Australia
---
"What a night! One of the guests happened to live in a 30s colonial house stuffed with African artefacts, and letting us use it really made the [Death on the Gambia] night. It had several staircases, "secret" rooms and a great veranda, which we used as the deck. Everybody was scheming all over the place, but, alas, there was only one death. All I can say is, bring on the next!"
Jamie Cherrington, United Kingdom
---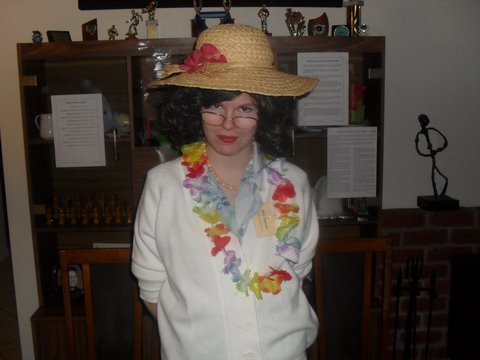 "For my 15th birthday party we ran Lei'd to Rest and before the event everyone was very excited. Everyone turned up looking great as everyone dressed up and the house was decorated to look like a real Hawaiian beach resort. All my friends had a blast! It was so much fun and by the end of the night everyone was getting right into it and scrambling around to find last bits of information to try and solve not just the murder but the countless other mysteries as well. The plots were very well thought out and everyone since has been talking about the party and can't wait for the next one. This was the first murder mystery I've had and already people are asking when the next one will be. It was great fun and I would highly recommend Lei'd to Rest to anyone as it was so much fun and funny to see everyone getting involved in solving the case and the story was excellent. Thanks for such great work and we will definitely be running another one sooner rather that later as it was so much fun. Thanks for a great time!!!"
Terence Smith, Australia
---
"I did Dazzled to Death for my 14th birthday party and everyone loved it! It was really cool having lots of goals and secrets and everyone got really into it!! This mystery is really fun… full of puzzles, suspense and lots of scandalous secrets!! I highly recommend it – and it is appropriate for early teens onwards (we had a 10/11yr old playing too)! Thank you so much for making these games… they are really creative and extremely exciting! Everyone has a major part! It was the best birthday party I've done!"
Gemma, Australia
---
"I really did enjoy the A Heroic Death evening. It was great fun dressing up and getting into the spirit of things – thanks for letting us play test it!"
Peter (a playtester), United Kingdom
---
"A Heroic Death was fantastic – I really enjoyed it! There were snacks etc around but I was far too engrossed in the game! We then spent quite a while chatting about it afterwards. I'd certainly do another one in the future. The dressing up was a fun aspect as well."
Helen (a playtester), United Kingdom
---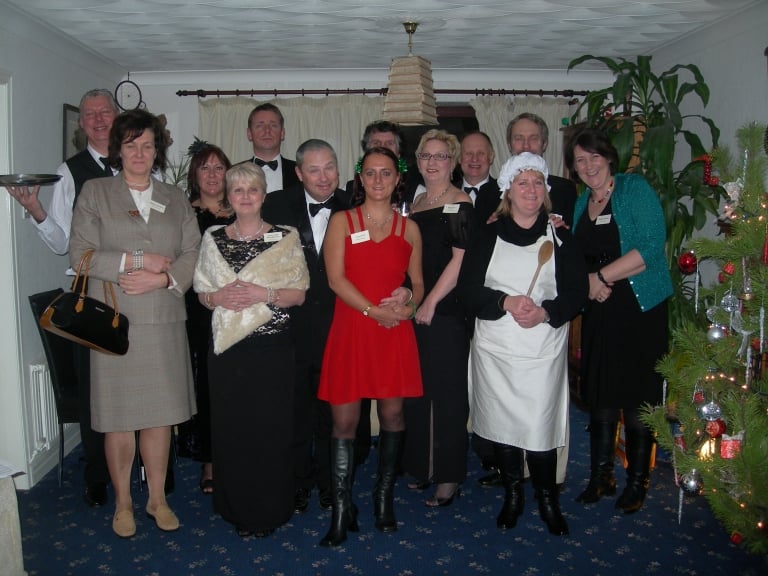 "The Night before Christmas was the first 'whodunnit' night that I had attended, and it was initially a daunting task thinking about how to organise everyone/everything. The information sent in the pack was, however comprehensive, and the evening went off brilliantly. Everyone really enjoyed themselves (although they didn't all guess the murderer correctly), and they all want to know when the next one is going to be! Of the people who attended, a couple had been to other similar evenings, but yours was rated as the best, due to the level of interaction and improvisation involved. Many thanks for a great night!"
Chris Higginbotham, United Kingdom
---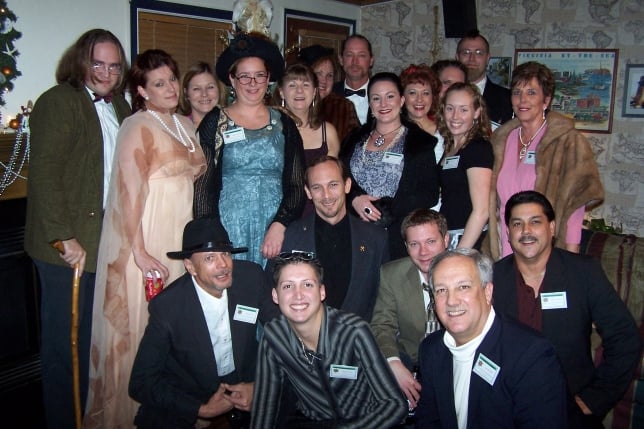 "This is the fourth Freeform Game that I have hosted and the second time that I have run The Night Before Christmas. This motley crew is getting their feet wet in your Murder Mysteries and has a ball. We used the extra characters and half of the cast had played one of the Freeform Games before and the other half was getting their first taste. The House was decorated, with lots of period holiday music setting the atmosphere. The night ended in hilarious fashion with "Evie E-B" throwing herself to the floor in despair crying "Daddy, do something" as "Great Aunt Priscilla" decided to… [censored to preserve a game secret! – Mo & Steve].
Like the other games that I have run, everyone left the house asking when the next one will be run… Your games are great, I've run this one twice, plus A Dead Man's Chest (had to write 15 extra characters due to high interest, I don't recommend 40 person casts) and Casino Fatale with the expansion pack to give this new group a taste of what your games are all about. Thanks for your eye to detail and support. We will be doing one of these every couple of months."
Jeff B., Portsmouth VA, United States
---
"Have to say A Heroic Death was a great game and I really enjoyed the character. All in all much fun was had, thanks again!"
Colin (a playtester), United Kingdom
---
"Thanks for a very enjoyable game!"
Jane (a playtester), United Kingdom
---
"Myself and friends had a blast playing The Karma Club. Everyone really enjoyed dressing up for the Hippie Theme. The game itself is nicely balanced and everyone has a number of very different goals which means that there are very strong interactions between all the players. An interesting element is that for some of the goals a larger group of players is required to cooperate to achieve the goal and since they all have other goals that are sometimes competing it makes for an interesting time. The final outcomes of the game were really funny and no-one managed to work out who the real murderer was."
Margaret, Durban, South Africa
---
"We have been playing Freeform games since my daughter turned twelve. We have played Lei'd to Rest, A Dead Man's Chest, Way Out West, Hollywood Lies and this year Casino Fatale. They are without a doubt the best games ever. The kids always have a wonderful time and beg us to host more parties. Anyone who has not tried this for a teeenager's birthday party is missing out on the easiest, most fun, party imaginable. We will continue playing Freeform Games until my kids go off to college. Thank you so much for continuing to create new games."
Jill Getchell, United States
---
"My friends Dan, Susan and David hosted a Death on the Gambia party and we had a great time. Because of the number of people we had, we added characters of our own and changed a few genders. We printed our own Gambian money and travel papers and played 1930s music in the background. Some of the attendees saved the money as souvenirs. As a group we plan to do one of these every six months."
Greg Box, Texas, United States
---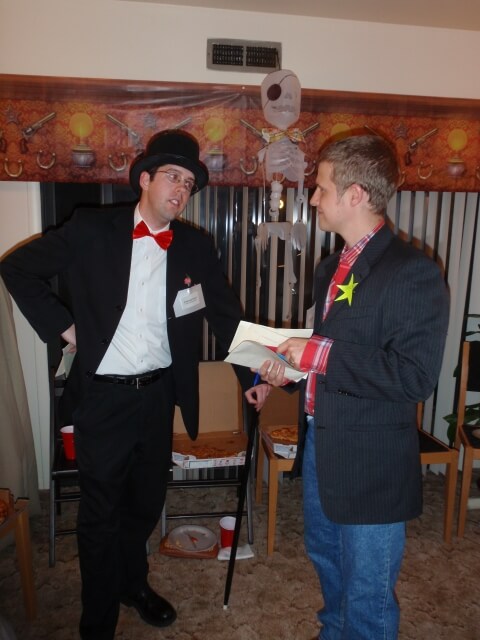 "What a great night! After years of hosting murder mystery dinner parties, the Way Out West party was by far the best yet! We had gun fights galore (prizes for the first to die and for the best gunslinger) and some pretty interesting scheming and backstabbing. It was great! As one guest said, " . . . I wanted to let you know that we had a great time: thanks for hosting! We've done a fair number of murder mysteries, but I really liked the setup of this one, especially because it's not so scripted. On our way out, my husband said that we should cheat and buy it when we move somewhere else (yes, he liked it that much)."
We can't wait to order another game this year."
Kimberly Menssen, United States
---
"Great game [Death on the Gambia]! After losing his gun, the doctor strangled someone with his stethoscope and we had a 5-person shootout in the kitchen, bullets flying but no casualty (yet...)"
Mark Tinnemans, Netherlands
---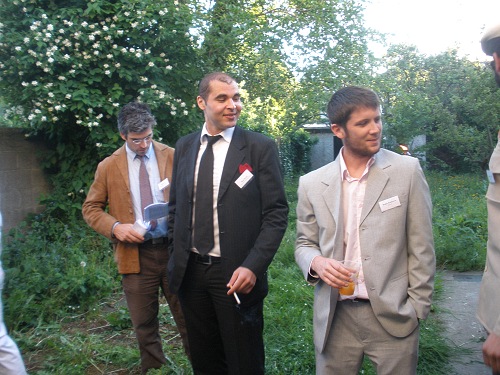 "I ran Casino Fatale last month and I can say that the scenario is definitely solid and efficient.
In order to promote roleplaying over abilities, I divided the number of uses of all cards by two (rounding up and down according to my feelings)and distributed them only when the party was going well, starting with the ones that struggled the most. It helped them to get back into the game and kinda refreshed the game. (I had given the defensive ones from the beginning though, for obvious reasons.)
Changing the ability system raises additional challenges: for the host, keeping an eye on the flow of the game and be ready to distribute the cards as he sees fit. That means one more thing to do during an already busy evening ... And for the guests, having less cards to rely upon brings more roleplaying, but can be harder for inexperienced players.
I had planned to get my housemate as Jacques Renard, since he was almost certain to be present. Key word here being ALMOST :( He had to cancel two days before; family emergency. Since most people had seen their roles and were pretty much ready for it, I could only recast Sam Riley as Jacques and convert Sam Riley into a non-player character and act him myself. While I would not recommend it except as a last resort solution, it turned out OK. We lost a bit of the plot about [something] but kept the bulk of the story going. A few other cancellations occured, but they were expected and we were able to deal without them as they were minor characters anyway.
I had one blackjack table running, which was definitely a plus for the party, but I highly recommend getting casino chips for this, as [Character A] made himself a lot richer by sneaking paper chips into his pockets, and that would have been a lot harder with plastic ones (I was supposed to get some but they were all the same color so I could not use them in the end).
Thanks for the scenario, I would definitely recommend it."
Maxime Courtot, Ireland
---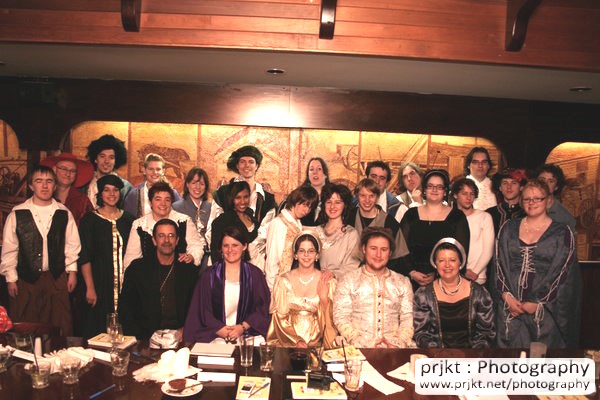 "I just ran Court in the Act for my 21st birthday, and it was a huge success! Even characters that had no clue of what they were doing were busy watching the duels and confrontations of those more comfortable with their characters. Only one death occurred (surprisingly, it wasn't the Queen!) but plots and blackmail ruled the night! Our murderer stayed completely under the radar and not a single soul guessed – too busy with courtly intrigues I suppose!! Thank you so much for a fun game that all present enjoyed. We look forward to hosting another!
Click here to see Kellie's Court in the Act photos along with her photos of Curse of the Pharaoh"
Kellie Vickers-Willis, Australia
---
"We've just finsihed playing Happy Birthday R.J. last weekend and the night was very interesting to say the least! Everyone who came was dead excited and couldn't wait to get their teeth into their individual goals and objectives plus solving 3 crimes…
We did have an eventual winner in the woman who played Dolly Douglas which means the girls are beating the boys so far after playing 2 years worth of freeform murder mystery games. Girls 2 Boys 0!
When the victim (who I won't mention here as to not spoil it for the rest of you) was killed we created a great scene in doing so. The lights were turned out, birthday cake lit, candles blown out and then bang! A shot in the dark, the victim falls to the floor clutching his/her chest, fake blood oozing between their fingers! HEHE! Not to mention the innuendos about horses!
So thanks once again for a great night and see you next year! "
Nick Eccles, United Kingdom
---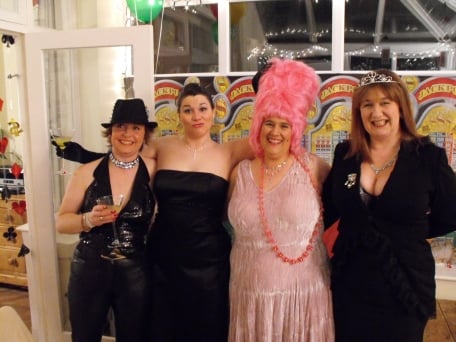 "Thank you once again for providing us with an amazing storyline & fantastic product!! We have just had our second Murder with you & Casino Fatale did not let us down. When I first saw the many storylines I was amazed that you could provide something so complex & I thought everyone will just be confused, but it was so well written that the evening flowed beautifully. I loved the control I had as host compared to the other ones we've done! My decisions were law!! The power didn't go to my head it just made it so much easier to have fun! We had two more attempted murders, & Zara exerted some serious womenly charms on all the men present. The spies & detectives looked like a heavy mob circling the room & successfully solving most of the clues. My guests felt so pleased that most of them solved at least one of the mysteries!
My guests wore amazing costumes! I've never seen the men look so smart in their DJs & all the women looked stunning in evening gowns.
I decorated the conservatory as a bar & we served cocktails all night. The dining room was the Casino set up with roulette & blackjack. All food was French, along with some very dodgy accents!! Our inspector completing his outfit with a "peep"!!
We will be back for more."
Elaine Hartley, United Kingdom
---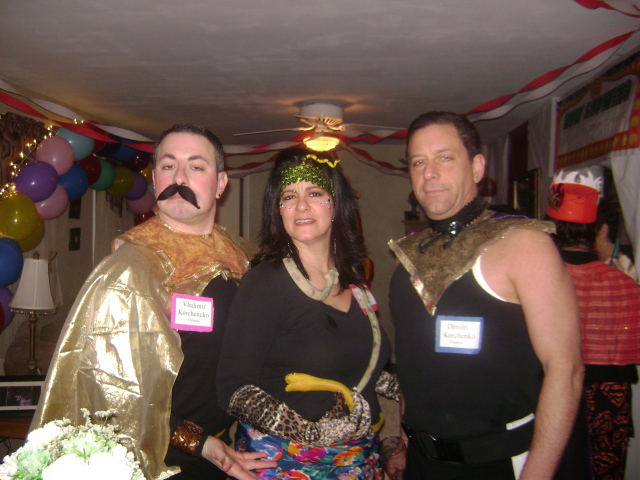 "We had a wonderfully funny time last night at Under the Big Top. I have to say that some of the costumes we saw were not only imaginative, but wildly funny. I am so proud of all of my friends who went out of their way to make the evening a success.
Many of them expressed concern that they would never be able to learn all the information they were given ahead of time, but the party ran quite smoothly. The laughs never stopped and continued well into the wee hours of the morning. We just couldn't stop.
We used a white plastic tablecloth roll alternating with rolls of red wrapping paper on the walls to make it look like the inside of a tent. Rolls of red and white crepe paper went from the corners of the room into the center of the ceiling for the roof. We had a balloon arch, curtains hung in doorways, and balloons everywhere. It looked super and the decorations certainly added to the fun."
Debi, United States
---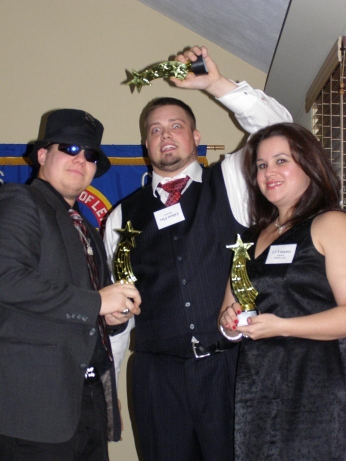 "We just finished Hollywood Lies, and I thought I'd give you some feedback about how it went.
Everyone had a GREAT time, and I'm sending you the pictures that we took. Here, I'll describe what I did as a setting:
We had it in my father's union hall and decorated one of the walls with a Hollywood scene. We had a podium with a microphone also. I used Big Band sounds for the back ground music and had that playing in Windows Media player, while I used a 'cocktail party chatter' sound effect set for repeat on Real Player (So that I could play both at the same time. I didn't have time to mix them together like I usually do.)
I couldn't find any Oscar looking trophies, so I went to Party City and got these $4 gold trophies shaped like shooting stars. I custom made the voting slips with the picture of them, as well as the item cards, so that people knew what the trophies looked like.
Once it was over, we had an awards ceremony where people that weren't involved with the movies presented awards. After the votes were tallied, I wrote the winners on paper and put them in envelopes so the presenter could open them and call out the winner. The winners gave a thank you speech, in character, and then stepped down.
At this point, I gave my girlfriend one to read, but inside I put the phrase "WILL YOU MARRY ME?" and when she opened it I got down on one knee and proposed. THAT was fun!! Everyone cheered.
Anyway, it was REALLY fun!
A lot of people solved the murder, but the detective didn't. She tried really hard, and was stuck between two people, but guessed wrong.
All in all, I would say that it was very well made and everyone walked away talking about the evening, and emailing me to ask me when the NEXT one will be! So kudos to you and the writers for another job well done!"
Rob Newbold, United States
---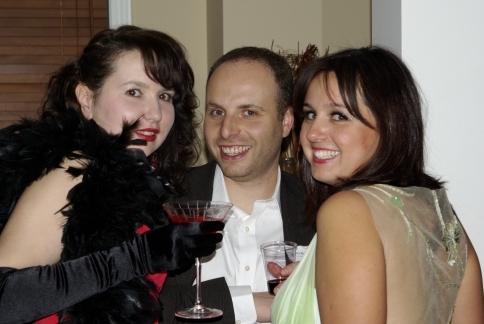 "Casino Fatale was really a HUGE FUN! A lot of people were telling that they would remember this evening for ever :-) Nobody had an experience in this kind of games, including me, a host (6 months pregnant at the date :-). (Actually there were THREE pregnant women involved in the game. And all of them enjoyed it and appreciated a little FUN break with friends on the middle of long, expecting period:-) It was a Birthday Gift to my husband. and he enjoyed it fully! For a long time after the game, the players were discussing all possible strategies and solutions, trying to replay and to rewind the game. It's difficult to hold an attention of 30 adult with different interests, but in this case, it was a piece of cake! Especial thanks to the creator of the game. That was fabulous and I would highly recommend it to anyone who is in the search of breaking usual routine of outing parties: drink, eat, dance :-)"
Nataliya Chabanyuk, Canada
---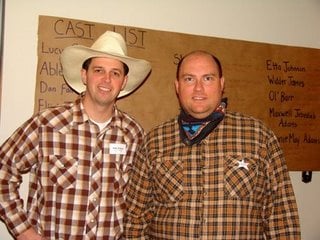 "We did Way out West Expanded with our extended family between Christmas and New Years. It was fun. We spent two days decorating - we even made working saloon doors from cardboard and threw a giant sheet over the Christmas tree and made it a teepee. My husband was the host. He procrastinated cutting everything out, and was very stressed the last few hours before the game. It took a very long time to cut out everything and stick it all in envelopes. In our game, everyone thought that the Sheriff was evil. Everyone was trying to kill him. Poor guy! The Indians were poisoning everyone, and nobody knew where the poison was coming from. Everyone was running around blaming their allies. All they knew was that the Indians could heal them - so the Indians got everything they wanted. I got to play Ol' Barr, a crazy old trapper who was friends with the Indians. Supposedly the voices of spirits talked to me. Everyone thought I was crazy, and only the Indians knew I was mostly sane. Nobody figured out the solution to the murder mystery. One of the characters who knew the truth was poisoned, and the Indians told him that if he told what he knew, they'd heal him. He told everyone the answer to the murder mystery, but everyone thought he was lying and let him die. We were shocked when we found out it was the truth!"
Lisa Perez, United States
---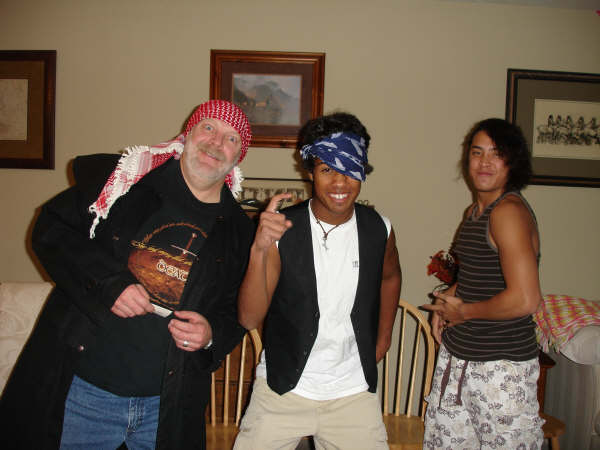 "We are already planning on hosting another muder mystery party this summer. I could go on and on about what a hit A Dead Man's Chest was with our guests. We had people ages 15 to 50s, some from our church group, and the game was appropriate for everyone. There were three things we will do differently next time. 1) I assumed everyone actually READ the information I sent ahead of time. Next time I would send just enough info for them to acquire the appropriate costume, and then REQUIRE everyone to sit and listen as we read the newsletter and instructions. Half way through the game I found myself explaining plot points to guests that were in the newsletter they did not read. We had too many engineers in attendance who do not believe in reading instructions - not a good idea with this game! 2) Next, we plan to give bits of information to characters as the game progresses, instead of giving them everything up front. Some people seemed overwhelmed with trying to absorb and use all the information at once. (Such as, hand out the secret at the beginning, then 15 minutes later, give an information card, etc.) 3) Finally, we had guests who arrived in full theatrical costume, totally in character. Others were more tentative. I plan to break up the cast into major and minor characters, and assign them carefully. Saucy Nancy was fabulous, and Cassinga was so realistic, she scared Hayapitl, who ran away from her the rest of the game. But Black Jack was lost, and when he discovered he could kill people, he did so randomly, and without any sense of plot.
Other comments - we planned to use our upstairs and downstairs, but two couples had to bring their little kids. We made them roving cannibals, and they entertained themselves pretty well, but the adults were scared to go downstairs for fear of being eaten. We plan to host the next party in summer, when we can use our backyard and deck. Also, people wanted a realistic set, such as an area representing each ship, etc. This party took a lot of planning, and I could have done even more, but it was definitely worth it. People were asking when the next party will be, before they left! Most of our guests only knew some of the other guests. This game is great for a group of people who do not know each other. I definitely recommend your games to anyone who asks. This was the first murder mystery party I have hosted. It was possibly one of the least expensive parties I have hosted, too! The cost of the game, a few decorations, and a potluck meal - it was cheaper than hosting a BBQ, and much more fun! "
Cathy Dilts, United States
---
"We hosted Hollywood Lies for our daughter's Sweet 16 birthday party. She wanted to do an Old Hollywood theme where everyone dresses up. We rented a venue and had a buffet meal so the kids could mingle. We played big band and swing music and decorated with the "dazzled to death" theme in mind... diamonds of course!!! Because our daughter is in the Drama club at her high school, we knew this would be a big hit. 24 of the Drama students attended, they had such a good time and said it was the best party they have attended and they want to do one again very soon... for New Years!! With the thoroughness of your games it will be no problem, the hardest part is deciding which game to play!! Thank you so much for making my job easier."
Dee Reed, United States
---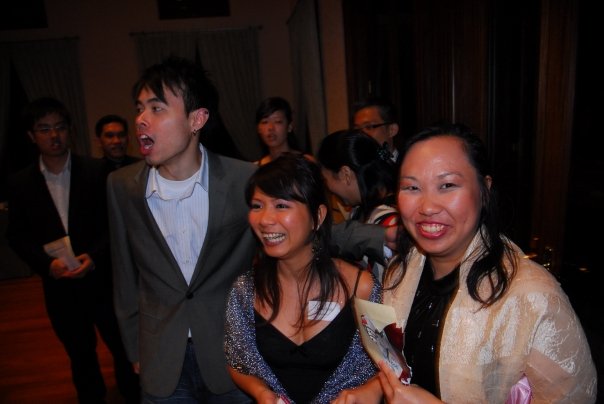 "My friends and I had such a blast with Dazzled to Death. They were mostly impressed at how professional the whole set up was. From the e-invites, to the character packs, to the ability and item cards. But most of all, the storyline was so captivating."
Faith Toh, United States
---
"My daughter wanted to do a Murder Mystery Game for her 14th Birthday Party so she searched the web and came up with a couple of choices for me to view. I chose to buy The Night Before Christmas with Freeform Games, kids version, and it was a fabulous hit!
I had never done a Murder Mystery Game before so I had no idea how it was going to turn out. I was worried that the kids would be confused or not willing to participate but I was completely wrong. They took to it pretty fast after I handed out their character packets and that's when the laughs started... they also took to moving around the house in pairs while they questioned each other for clues & answers. (I'd find them giggling in the laundry room or pantry for example..) it was all great fun and there was a lot of improvising as we went along. Half the time I wasn't sure what I was supposed to say or do but I would either "make it up" as I went along or show the character my cards depending on if I wanted that character to know all my secrets, etc.
I would recommend this game to other Moms & Dads wanting to host a party for their teens. (We had 12 teens attend, ages 13–14.) They all dressed up in nice clothes (boy, I wasn't sure my daughter was going to be able to convince them not to wear jeans! but it worked) We had loads of finger food throughout the game and we even stopped at one point (prior to Aunt Priscilla's announcement) to sing Happy Birthday and light the cake. "
Valerie Delzer, United States
---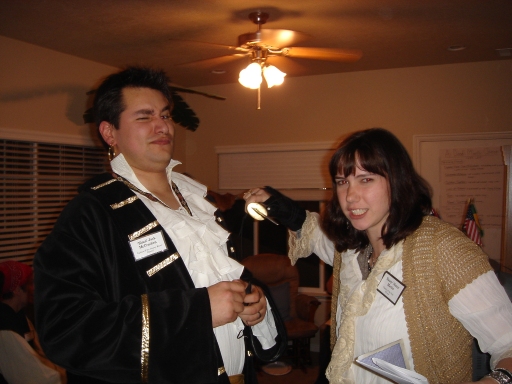 "We played A Dead Man's Chest on Friday, and it went really well. In our game, the Indians and the Colonials joined together. They even got some of the pirates on their side. They closed off an entire room as their 'office' and there was a huge line of people waiting to get in and talk to either the Indian Chief or the Governor. They were an unstoppable force, or would have been had the pirates not gotten to the treasure first. Nancy and Alice found the treasure, but they must have told someone about it, because the next thing they know they've been robbed by everyone and they have nothing, not even weapons. However, Nancy was still the most popular pirate captain. All the pirates wanted to be on her side, except Sawbones, who was with Black Jack. Nancy ended up getting wounded in the last 3 minutes of the game. No one would heal her, and none of her pirates had any pickpocketing abilities left. Nancy died, and Black Jack ended up with the second ship. Hal Overy had the other one. Even though Hal Overy got the ship, he didn't capture many pirates. Sir Percival had given out pardons like candy. The only one without a pardon was Billy Pistol, who also happened to have the Black Spot as well. So, poor unlucky Billy Pistol was captured. The Spanish didn't play much of a role in our game. No one liked them. (They all thought they were evil!) Everyone (both Captains, the Indians and even the English were trying to keep Elizabeth away from the 'evil' Don Inigo who wanted to marry her. They all practically forced her to marry Hal Overy, so she couldn't marry Don Inigo. Elizabeth wanted to be a pirate, and tried to convince Hal Overy that they could both be pirates, but it didn't work. That's okay, she decided she was pretty happy where she was when 15 of the 21 people ended up voting for Hal Overy. Everyone has been calling and e-mailing me asking where I got the game. My sister and brother-in-law are already planning to do one with all of us during Christmas break. I don't think I'll ever go back and play the boxed scripted versions. They're not nearly as fun!"
Lisa Perez, United States
---
"I ran All at Sea as a cocktail party last Saturday night for my 33rd birthday. I had a cast of approximately 40 people and it was total chaos!! (in a good way) I had a few drop outs at the last minute so ended up running the game with odd extras and missing a couple of key characters i.e. David Whitlow and Albert Wiggins. But it all worked out okay.
People really got into the theme! Eldon Dunlop (dressed as the Monopoly man) was the director of Dunlop plastics and gave out condoms as calling cards with "Dunlop Plastics - to protect and serve" stickers stuck on the packets. [Censored] was shot at point range by [Censored]. [Censored] then came back as a dissatisfied sprit, possessed [Censored] who bribed [Censored] to kill [Censored] by attaching cheese to [Censored]'s high-heeled shoes and setting a rat with explosives tied to its back loose on the ship.
As I said total chaos! And total fun, thanks for a great game. "
Esther-Amy Bate, New Zealand
---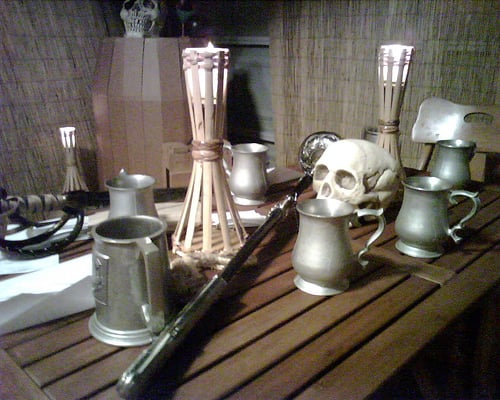 "I literally did hours of research on the internet searching for the perfect murder mystery game and I settled on A Dead Man's Chest because of the interactive nature of your games. What a great choice it turned out to be! Hosting the party was a ton of fun and all our guests had a absolute blast. Here's the blog and photos from the party. Thanks for providing a great game at a great price!"
Richard Russell, United States
---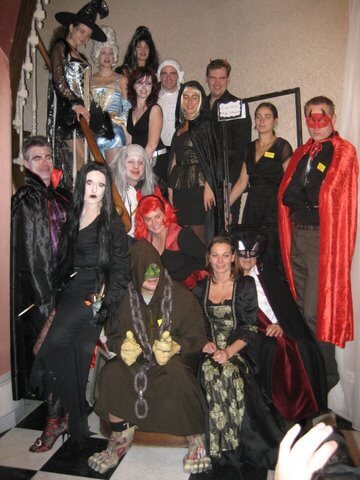 "I thought you might like some pictures of our recent playing of Halloween Lies (on the occasion of a birthday party). It was great fun – astonishing amount of malicious gossip generated between the players as the game evolved. We did the 'film acts' after the ending of the game – and they were an absolute hoot."
Peter Rhodes-Dimmer, France
---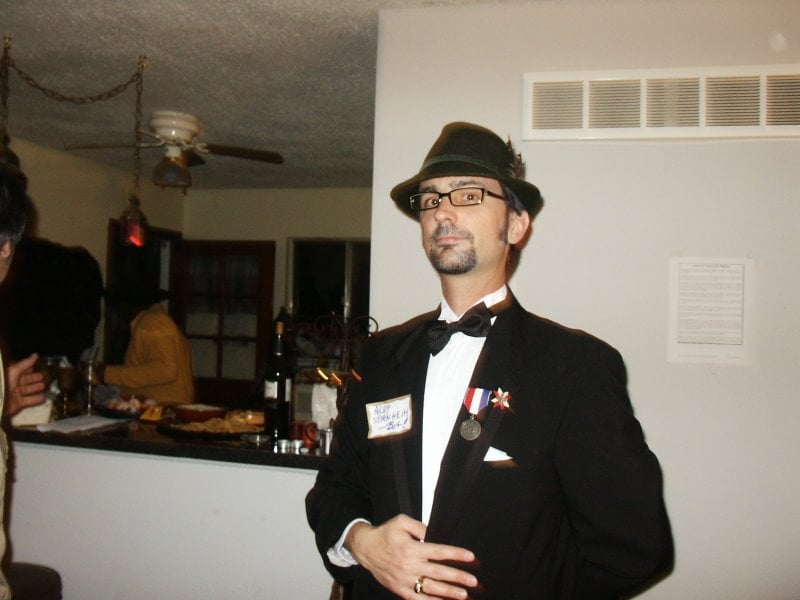 "Some of the great fun [in Curse of the Pharaoh] is in the later discussions, when everybody realizes just how close to failure they might have been at any moment, opportunities for advancement lost - based on the wrong person in the wrong place at the wrong time, or information coming out too late, finding a secret about a player or thing that you have no real need for... (or DID YOU? Did you sell the info? Trade the info to an interested party for something you might need? Was it knowledge about something illegal? Did you run to the cops? Try and blackmail?)
I gotta say we're going to try more of the games from Freeform Games, because this one was awesome, and going in with a little more experience will make the next even better."
Databob, United States
---
"Our first murder mystery party - a 14th B/Day party for my daughter. We found this very complex and had some difficulties working out what the money was for etc! The multiple endings defeated us - we had to simplify this. So not the best choice by me for a group of 14 year olds with no experience. However, despite all this they all had an excellent time, really got into character and made a lot of effort with their costumes. The evening was a great success and they all want to do it again! In short - we will be back for more and will make a better choice next time. My daughter was delighted that her party went so well. Thanks."
Audrey Todd, United Kingdom
---
"What a spectacular success!
I arranged this game for my partner's 40th for a small group of 12 (not everyone knew each other). It began at our house (for pre-dinner drinks and briefing) then we walked down the road to a small Asian restaurant for a banquet dinner.
I gave all the guests lanyards on which I had hung their items and ability cards (and had sent out their character info some days before). One late cancellation meant that I had to kill off Katanga (poor Katanga was unfortunately eaten by ferocious crocodiles whilst stopping to admire his reflection when dropping anchor) and recast that person in the role of Gabe Schwartz (but he still had a couple of days notice to prepare). The guests came dressed in character, complete with props -- I did not specify costuming, but let them dress up as much as they wanted. Very impressive effort by all.
The restaurant was forewarned of our intentions with this game, and was graciously accommodating. People milled about, spilling onto empty tables, hiding in corners and mingling around the table. It was very relaxed and people forgot they were in a public place. Other patrons watched us like we were a TV show, absolutely enthralled, some even asking questions.
The entrée was eaten buffet style, with people moving about freely, and the stop in Mansa Konko was declared as the mains started to arrive. Telegrams were exchanged then. When the main meal was over, it was all on. Alex evaded spider bites 3 times from Marie. Gabe ended up our only victim, as a revenge killing, for stealing the rubies from Connor just as a buy was about to go down.
No one talked about anything but the game for duration of play -- I was very surprised and delighted at the commitment of everyone. And everyone had a blast. Certainly a night to remember. I found some notepads left behind the next day, and had a laugh reading the notes eg Captain wrote "Alex wants off the boat!" I was very anxious about how it would all go, never having been to one before, or heard of first-hand experiences, but would love to do another -- perhaps as a character this time!"
Amanda Nixon, Adelaide, Australia
---
"Hi everyone!
Just wanted to tell you how great last night was. We put on Dazzled To Death (the first Murder Mystery I've ever hosted!)and it was fantastic!
Everyone said how much they loved it and it was a huge success. At first my guests didn't know what was going on but they soon got into the swing of things! We made photographs to hang on the wall, family tree, family portrait and a lovely buffet. It seems as though the general consensus is to do one again but everyone wants me to do one sooner rather than later! So who knows I might be writing to you again around Christmas & New Year with the next story!
I highly recommend to people to give Dazzled To Death a go because it was excellent!
Thanks a lot Freeform Games!
Nick aka The Waiter!"
Nick Eccles, United Kingdom
---
"Last night we finally had our Murder evening! Way out West on the 4th July!! How appropriate! WOW, WOW, WOW!! We have done so many boxed versions over the years & were looking for something that would allow more flexibility to allow my friends to fully express themselves & their fantastic costumes!! At long last we have found it! Over the years our group has got bigger & bigger & your games seemed to fit the bill! We certainly were not let down. Credit where credit is due! You are all amazing to come up with the whole concept that you have developed. These really are what murder dinners are all about. THANK YOU! All my friends were fully intrigued for hours & as host I found it all so easy to sort both beforehand & on the night. Our Judge was rather ingenious. When Clem showed him her evidence he refused to give it back & nicked it!!! He then made judgement later by awarding the mine 50/50 to share with Ruby & Lucy!! Where he got that from... Was so impressed that 20 friends could be so inventive & attentive for so long. All down to this wonderful game. Having shown the photos around already we now are being asked when the next one is?? So that's why I'm back on your site again!!!....So let's see what do we fancy this time???... "
Elaine Hartley, United Kingdom
---
"Everyone there said how much they'd enjoyed it – we're veterans of your games, but this [Hollywood Lies] was definitely the best. There were quite a few people there who had never been to a MMP before and didn't know what to expect, but everyone had a great time. There was lots of variety in the plot and we all thought that the idea of producing scenes from films was inspired – showing them was the highlight of the evening. Please congratulate the author!"
Janice Bruce, United Kingdom
---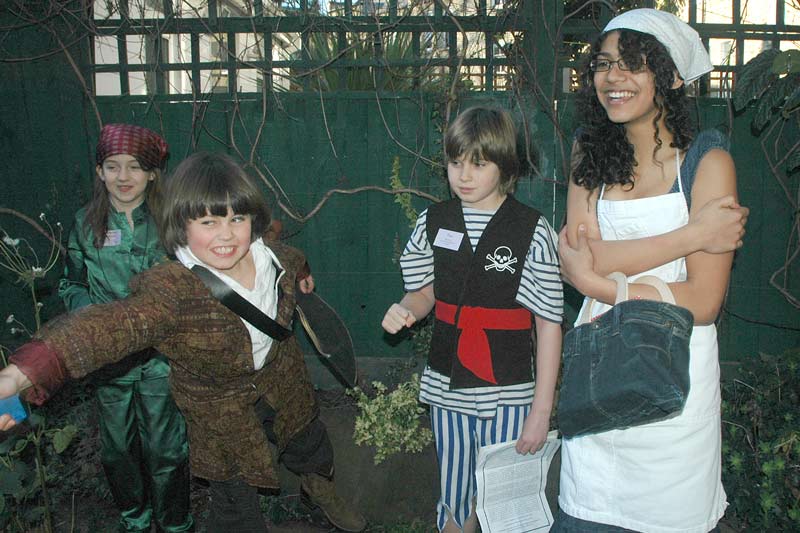 "We've played a couple of your games and enjoyed them a lot. They are certainly much, much better than any boxed murder mystery I've used!
We played A Dead Man's Chest at my 10 year old son's birthday party and it was a great success! The kids really liked studying, preparing, dressing up and plotting for their characters ahead of time. Some surprising things happened in the game that I don't think adults would have done. Hayapitl got married to Hal Overy. I conducted the ceremony.
We had two adults assisting and we would each take the kids off to a private room and suggest things their characters could do, so that they were never stuck.
I was worried before the party that 5 hours with 16 ten year-old (mostly) boys would descend into anarchy and chaos but was amazed and surprised that the kids were so busy completing their tasks that they didn't have time to make mischief. Although the pictures were taken outside, the game was played entirely inside. The time just flew by! None of the kids had ever been to a party like it and loved it. It was much cheaper than the usual pool, skating, etc parties that kids ususally do."
Juju Vail, London, United Kingdom
---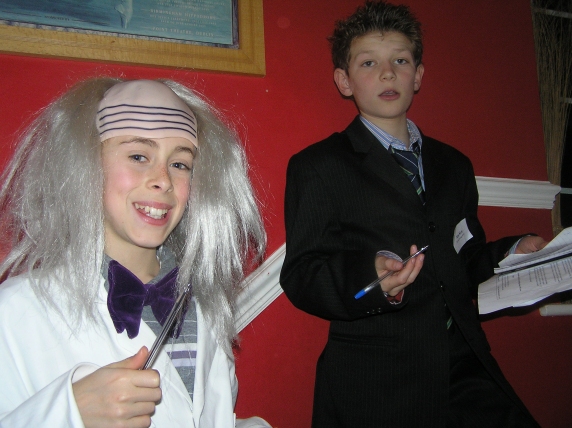 "Hi, just thought I'd ping some photos from my son's 12th birthday party, with the Casino Fatale murder mystery we bought from you in December. Although this was an 18+ game, they all had a fab time – fizzy apple drinks were served in plastic champage flutes – all guests came dressed-up and had a ball. Many thanks!"
Gill Chadbon, Kent, United Kingdom
---
"My daughter celebrated her 18th birthday this past Saturday by inviting 13 of her friends to join her in enacting the Curse of the Pharoah Expanded. It was a great success! Each participant dressed their part and kept in (frequently very amusing) character. We were initially a bit intimidated by the apparent complexity, as it was going to be played by a group of 16, 17 and 18 year olds. But from the introductions onward everyone remained engaged for three and a half hours. Thank you for creating such an intricate, engaging, exciting game. The flexibility adds challenge, but it is well worth the effort navigating its twists and turns. I recommend your games as a great activity for teenagers."
Lynn Robb, United States
---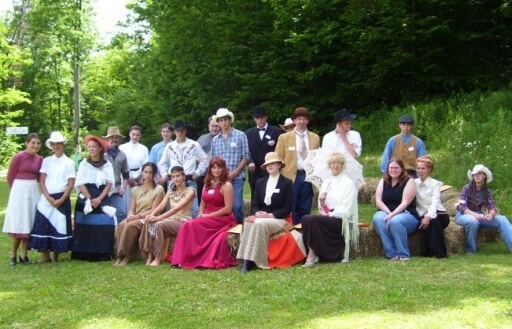 "Wow. Way out West Expanded had to be the best graduation party anyone ever had! I had been thinking about doing a themed party for a while, and when I stumbled across your website, the affordability of the game, the youth-friendliness (my party was for all of my friends from church) and the many other delighted customers you've had convinced me that this was the one. It was much fun and easier than I had expected to host... and I even became Three-Feathers, the indian shaman, which I pulled off very successfully, even though I knew everything about everyone. I let my mother be the bar-tender, and we had a great array of western-themed snacks. I was amazed at the pains most of my friends went through to come dressed authentically. The ones who I imagined wouldn't go for dressing up actually came dressed the best! Everyone had a good time, and talked about it for weeks afterwards. Several were so inspired that they attempted themed parties of their own shortly after. We also had an auction afterwards. I had asked everyone to bring a small gift (wrapped), and we used the money we had gained from blackmail etc during the game to bid for the gifts. We also had a secret vote for best costume (boy / girl) and best actor / actress, and gave out small prizes which really delighted some of them.
So, overall, it was one of the best days of my life, and I can't wait until I have an excuse to do another!"
Tai Polczynski, United States
---
"As promised I thought I'd drop you a line to let you know what a FANTASTIC success our Death on the Gambia evening was!
10/10!
I followed the guidance of some of your web contributors and put the poisonous spiders in a glass jar with leaves, etc; made up proper Passports - how easy (frightening!!!) it is to get them from the internet; created phials of poison, etc ,etc.
Our battle-hardened team (this was our 8th Murder, Mystery - though 1st from your company) REALLY enjoyed your way of doing things. The only comment which agrees with others on the web-site is that everyone wished they had their character info earlier. As recommended I gave this info out 1hr 30 mins prior to "start" but think (with hindsight) that it would have been better to send out with the invites. But then again - perhaps the characters WOULD have let things slip before the day ,,, who knows!
Anyway, we can THOROUGHLY recommend your company to our friends and will certainly try another of your titles later in the year.
Many thanks for all the hard work that must go into creating these!"
Darroch Harkness, Renfrewshire, United Kingdom
---
"We played Curse of the Pharaoh for my husband's 29th B-day last night. It was awesome!! It was actually a surprise party for him, and when he came in, our living room / dining room was transformed into a Middle Eastern tent (I hung Indian sarees on the walls and from the ceiling, had Egyptian art on the walls and was playing Middle Eastern music). We were all in costume when we yelled "Surprise!" He was so excited! I gave him the role of the detective and about half an hour to change and read his character sheet. Everyone had an amazing time! I served olives, samosas and a Mediterranean mix of appetizers as the guests familiarized themselves with the rules and had a rice, chicken and beef kebabs with flatbread for dinner when the game started. I went to the dollar store and bought real items for each of the characters' item cards and made a scarecrow with a crimson sash to lay outside the room as the murder victim. We sooo can't wait to play another game over the Christmas Holidays!!"
Alcina Prezens, Canada
---
"I ordered Curse of the Pharaoh for a Night of Mystery we hold with the youth group I work with at a Mennonite church. They're a largely creative and artsy group, with a love for enchantment in their fiction -- they love Lord of the Rings, Harry Potter, Garth Nix's works, etc. Freeform Games' approach of having abilities, items and personal goals for each character made the night so much better than the last time we did this... just having a whodunnit doesn't cut it!
"While I wouldn't recommend this one for every church group (a little too much magic for most evangelicals I'd wager) the FFG approach is hands down the best way to do a night of mystery with a large group. I think halfway through the night some people had forgotten they were supposed to be solving a murder!"
Mike Perschon, Canada
---
"We hosted Way out West last night for my husband's birthday party, and we had a fabulous time! We've tried MANY different brands of murder mystery games, and we have never had this much fun!
"Not only was I impressed with the plotline and how everything played out, but I was amazed at how easily everything was laid out in the host's packet. We had one couple cancel the morning of, and we easily filled their roles. One guy couldn't find a date, and one couple came and left within five minutes. The host's information was so well written that I went to my binder and I had everything solved within two minutes. Runs Like A Deer was given the extra information sheet (she even put on the name tag for both Indians -- one on each braid) and the trusty sheriff was turned into Slick O'Hare and he had a ball being evil!
"Props to you guys for writing such great mysteries for us to play. I'm already planning our next party!"
Carrie Jacks, United States
---
"We played Way out West on the last night of a weekend away that we had to celebrate my parents' 25th wedding anniversary. We are veterans of the boxed dinner-party games but used a Freeform to accomodate the large number of people we had -- we'll never go back to boxes again! What a fantastic time we had! I decked out our rented farmhouse like a saloon -- very authentic, and we had duels outside in the rain! Everyone really got into their characters and were determined to achieve their goals -- was really satisfying to see how much everyone enjoyed themselves; much more than the dinner party games. And, as usual for us, no one guessed the true culprit! We'll be having another party in November for my 18th birthday; Casino Fatale I think, although I won't be hosting -- I really want to take part! (Even though hosting was fantastic fun.) Thank you!"
Phil Murray, United Kingdom
---
"I hosted Way out West in honor of my daughter's 12th birthday party. I was uncertain about how it would work out for such young kids, but it was a smashing success! All of the kids really threw themselves into their parts, right down to phony "western" accents. We turned our basement into the Silver Dollar Saloon and stable, and served food and drinks as the story played out. I substituted gold foil wrapped chocolate coins for the money and other props for the items instead of just the cards to make the game more realistic. It was incredibly funny to watch all of the action and I hardly had to help or advise them at all. My husband and I laughed so hard we cried. I gave out prizes for the best actor and actress and for best costume. My son's girlfriend videotaped all of the action and made a great mini movie which we then sent to each guest. The kids and many of their parents are begging us to host another party. The only advice I have is prepare prepare prepare, and make sure that the kids have a good grasp of their characters before they arrive at the party. This is by far the best party we've ever had! Thanks so much for a great game!"
Di Arsenault, Canada
---
"I hosted Curse of the Pharaoh last week with a group of people from work. This is the fourth game I've purchased from you, and I've enjoyed every one! (I've also played Death on the Gambia, Way Out West, and Casino Fatale.) I've used it with random groups of friends, as a bonding activity for work, and as an R.A. in a freshman dorm. It's amazing how quickly people get into it, and how my quiet friends open up and jump right in (and the fun you can have as the host)! I just got back from a shift at work, and people are already talking about doing another one! Thanks so much.
"A quick note about Casino Fatale as well -- although my character had no interest in the poetry, I purchased the poem that was being auctioned off, and one of my residents wrote the poem immediately -- it was the unexpected hit of the party!"
Jessica Cox, United States
---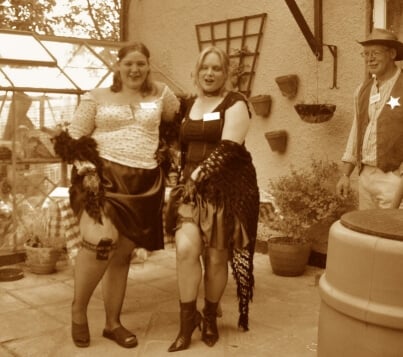 "Way out West – Our WOW party – how appropriate! A 'spur of the moment' idea. Wishing to hold the party during a pre-booked holiday, my daughter left us only one week to prepare!!! We did manage it, but next time we will definitely start much earlier!! Despite that, I'm glad to say the party seems to have been a huge success – judging by the response of our guests!
"This was the first Murder Mystery Party any of us had been to, let alone hosted. We very much liked the 'easy to follow' format, so simple to organise, with plenty of useful tips like the costume suggestions for all the characters – I imagine this must be one of the easiest themes to kit out, especially for the men as most have either a suit or jeans and shirt. I found some old saloon type piano music by Scott Joplin on the MSN Music site, which I was able to buy, download and burn to disc with ease. We took your advice and did a buffet so that guests could help themselves during the evening. My daughter made 'authentic cactus nibbles' out of cucumbers with cocktail sticks for the spikes. My husband made a great wooden town sign to hang above the gate, and a cactus shaped sign for The Silver Dollar bar. I made several 'Wanted' posters to stick around the house and garden (luckily we were blessed with a sunny summer evening).
Our guests ranged in age from 18 to 50, and everyone made a big effort with their costumes, the attention to detail was beyond our expectations. Slick adorned a fine facial scar (the only time he's been known to use make-up) and Deputy Dan even sported spurs on his boots! My niece, who on the day of the party, made the skirts for both Kate and Blaise, also made their garters and 'mini pockets' to hold their cards/items. Everybody got into character, even down to the family dog who was given the part of 'Starr Fairweather' – Deputy Dan's faithful mutt. Wearing a natty blue neckerchief, she dutifully followed Dan around as he carried out his duties, although I believe she spent more time gratefully accepting titbits from other guests than actually assisting the Deputy!
In keeping with the game era of 1884 we decided to take most the photos in sepia mode. They look really authentic, particulary when printed out.quot;I'm sure this won't be the last time we hold a Murder Mystery Party, there was great hilarity throughout the evening from start to finish! There is so much to do within the game, there's something for everyone! I would certainly recommend these to anybody and will be back to peruse your other games.
Thank you for all your help both on the web site and via e-mail. Your after-sales support has been phenomenal, a great example of real customer service!"
Kay Lovell, Devon, United Kingdom
---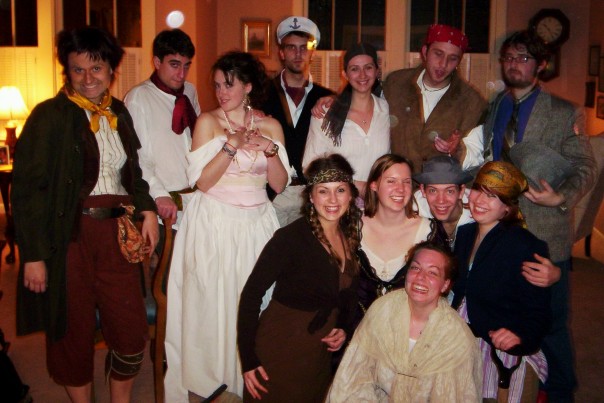 "We played A Dead Man's Chest in honor of my 21st birthday and had SUCH a great time! I'm a veteran of the dinner murder mystery games, but was always annoyed by the limit of 8 to the invitation list, as well as the lack of spontaneity (and some poor editing jobs occasionally!). Your game fixed both of those issues -- not only was I able to invite eleven theatre friends (Our Captain Nancy got the flu at the last moment -- unlike the dinner games, I was able to simply declare that Alice Tremain mutinied and took over the ship, then gave her both character sheets -- worked out great!) and it put all our improvization skills to the test!
Surprisingly enough, I had a really, really fun time hosting! I thought that, as I didn't have a "character" to play or secrets to keep concealed, I would be bored -- not at all! I wandered around, dispensing advice, keeping people to their goals, overseeing fights, etc. It sounds lame, but I had a huge amount of fun!
If I could give one recommendation, we did our murder mystery in the front living room of my parents' house, as well as the hallway and master bedroom/bathroom. This worked fanatasically, as all the major activity (fights, Hayapitl's "chair", the buffet table, discussions, etc.) could happen in this large room, but private plottings and reveals could happen in secret. (There was occasionally a line for the bathroom, that had nothing to do with the room's real purpose!)
The next day, the game was the ONLY thing being talked about in the theatre department -- everyone was telling everyone how much fun it was, all the funny jokes, everything -- it was quite a hit! Expect to sell a few more games in the near future to SPU Theatre -- we had a great time!
I'm including a picture of our full group -- top row from L to R is Bill Pistol, Don Inigo, Elizabeth, Captain Hal, Alice, Jack, and Percival -- bottom row is Tokeleth, the Bonney Host, Tom, Sawbones, and at the very bottom Hayapitl."
Bonnie Prather, United States
---
"It was difficult to decide what to do for New Year's Eve. We were 4 families from different countries. Range age from 12 years old to 65 year old. I had to host the dinner for our friends but they hardly knew each other. It was a great choice to do Dazzled to Death. Everybody had a great time; we had not much time to prepare any elaborate costumes, especially the families visiting. But they were all into their parts. Even when we took a break for dinner, they could not stop talking about it. My soon who is 12 was the winner of all prizes -- he was Reggie, and played wonderfully. I would love to write all the details but it will take me forever, there were so many great moments that I only want to thank you for a great game. I only regret that you do not have them in Spanish, I would like to do some more for my Mexican friends."
Ana Riva, Mexico
---
"New Year's Eve – what should we do??? We are 8 couples (all with 2 or 3 kids) aged 30-something and feel too old to go out to clubs, too old to have a traditional disco party and too young for a formal sit-down dinner party. Murder Mystery – what a good idea. Only decided a few days beforehand and had an absolute ball. We ordered Casino Fatale. Fantastic… everyone had an amazing time, never had to think about seating plans or who would talk to whom as the game forced everyone to interact. The best sight of the night was when The Inspector had his own special way of drawing out information from the host – refusing her access to the kitchen, and threatening her that the dinner would burn! She soon gave up her secrets! Thank you very much."
Daniel Hamburger
---
"I started having a Christmas party last year with a murder mystery, one you had to read a script and we all had a good time, but this year I tried a freeform game, The Night before Christmas, and everyone loved it. Everyone really got into costume. I sent out everyone's part to them well in advance I knew everyone was coming. I myself gave the welcome speech and a toast I had Dinah the cook set up to scream as soon as I said cheers and everyone came rushing into the kitchen to see why she was screaming and discovered the dead body. Someone said where is the Dr and of course the Dr came rushing in and pronounced our dummy dead, and this was the start of the game. They all absolutely loved it. Before I knew it John was telling Rose how he just didn't know the woman he married and someone called her a slut. I had so much fun myself just watching them acting out their parts. There were times I was laughing out loud and had to cover my mouth. Some of my guests were already talking about next year's party. This type of game is much better then the type you read. We loved it and will play again."
Robin Goracke, United States
---
"I thought that when I did Snow Business last year that that was the most fun 13 people could have. Well, Hollywood Lies was the most fun 30+ people could have. This time it was for my birthday. Everyone of my sisters and brother, sister-in-law and brothers-in-law attended (I'm the baby of six, 41 and the youngest of them is 48), a bunch of my friends from church and work also attended.
[Incidentally, we've written Hollywood Lies for 16-22 guests -- Doris added some characters of her own. Mo and Steve]
"My son, daughter and a number of my nieces and nephews helped out as well. Those who were old enough to take parts did and the younger teenagers agreed to act as hosts and hostesses. I made up names (and nametags from 'Spangles Hotel') for them and they helped with the food, ran errands, made sure the guests stayed in character and even judged the best actor/actress competition so it wouldn't be biased.
"I don't know when I've had so much fun. Everyone talked about it for weeks afterwards. Actually they're still talking and it was more than two months ago. They talked about it so much now my pastor wants me to do one with the 'Marriage Enrichment' ministry at my church. I don't think I've ever laughed so hard. Everyone (including my very straight-laced, serious brother) had an absolute blast laughing and trying to stay in character. A couple people asked me 'can't you just have a normal birthday party?' and since I'm nowhere near normal, of course I said no. They had a good time too though. I loved Hollywood Lies and I love Freeform Games. I made a scrap book and I'm always shoving it in someone's face. :-) I'm HOOKED!!!!!!"
Doris Arnett-Gary, United States
---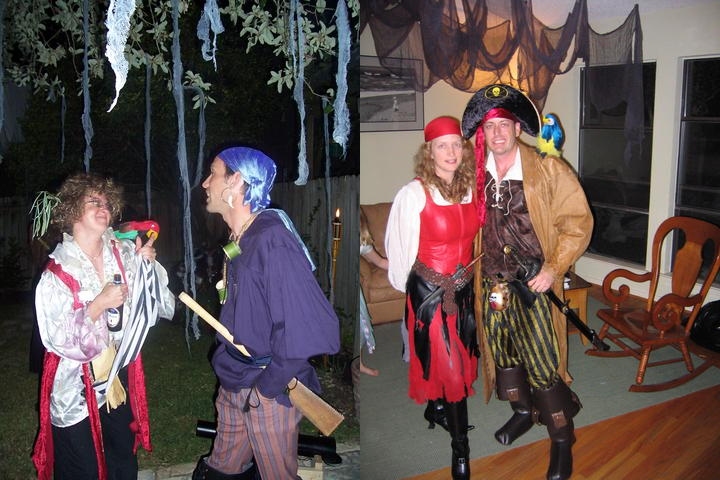 "We played A Dead Man's Chest with the full 16 characters. My little sister played Crazy "Billie Pistol" really well! (she flew into Austin from Salt Lake just for the party) She was crawling all over the lawn muttering to herself, inturrupting conversations with babble about cheese and generally weirding out people -- it was HI-LARIOUS!
"We also had one of our friends build two godzilla air cannons (basically potato guns on steroids) that shot out styrofoam balls. They were very loud and we were sure we were gonna have the cops called on us the last time we shot them, as someone forgot they'd already been charged and double charged them. KA-BOOOM!!!
"The first pic is of my sis and a friend playing Dr. Sawbones -- note the stethoscope made out of cut bamboo links and rope (he'd go up to the woman and get them to ask how it worked so they'd put it to their chest -- one time, on me actually, Hal said "that's not working" and Dr. Sawbones looked up with a grin and in his best pirate voice said, "Arrrghh, it be workin' FINE!") and the cannon in the background. Besides the cannon, we had a store-bought game that you'd hold onto and was like musical chairs, if you let go too soon it would shock you and you lost or if you were the last one after the music stopped it shocked you and you lost.
"The second is James and me and I want you to take special note of James' codpiece -- we made it out of an ornamental eggplant you get at Gardenridge and painting it gold and adorning it. It was a hit at the party.
"We were both going to be moderators but at the last moment someone bowed out so I became the ship's first mate on the Woman crew. People would come up and ask, "Do you know..." and I couldn't remember if "I" knew or I knew....
"I've included the invitation and the map. We actually made all the Items and Treasures which added to the party as well. The Black Spot was a black rose (I gave it to Sawbones at the beginning of the party and he never was attacked so poor bugger ended up with it)
"Sorry I'm going on and on about the party, but I guess you can figure out it was an incredible success.
"One last thing, in case you're interested. How it ended for us: Saucy got off and got most of the votes (actually almost everyone) Up till about three minutes before the game ended, it was going to be Black Jack and Saucy Nancy (Nancy having most everyone with her and them not caring WHO took the other ship and so I was facilitating Black Jack and me running off with the other one -- somehow we ended up as on again off again lovers in our plot) but Hal Overy made alliances with BOTH Sawbones AND (go figure she'd be so important) Cassinga, the shaman, so he couldn't die! Silly, pompus Black Jack didn't want to just not loose, he had to win and challenged Overy to a battle and won but lost when Overy didn't die AND counter-attacked and killed him at the last minute. Everyone who was in alliance with me then played our loyalty card to Saucy and got off on her ship. Black Jack was the only one to die.
"Once again thank you for a wonderfully thought-out, ginourmously entertaining evening!"
Amy Bené, United States
---
"I'd just like to drop you a line to tell you our experiences of The Night before Christmas.
"I was part of a group of sixteen friends who had hired out a manor on the south coast of Dorset over New Year, and for one of the evenings we played the game. Whilst it wasn't actually Christmas Eve, the house was still decorated, and was obviously ideal for the game. (Antlers on the walls, roaring fires, that sort of thing. It also had still functioning servants' bells that were connected up around the house.) This was the first time that any of us had taken part in a freeform version of the murder mystery (some of us hadn't played out one at all) but everyone threw themselves into it. I had an enormous job on hand to try and keep everything under control, especially with the acting and drama backgrounds of a lot of the group.
"It did come to a head, however, when I was called into the hall. I'd decided to let people have the whole use of the downstairs, so there was much to-ing and fro-ing from room to room. When I got to the hall, there were [Character A] and [Character B] standing face to face with two pistols raised at each other that they had taken out of one of the display cases! Whilst I managed to talk them out of waving the guns around, they were insistent on a gun fight to the death, so we had them walk ten paces and turn round and shout bang. [B] being the underhand guy that he is turned round on 6 and shot [A] in the back.
"Whilst this had been going on, [Character C] and [Character D] had been playing a game of 'swap the painting'. I had three postcards of The Mona Lisa, and had signed them differently as suggested, giving one each to C and D, and placing one on the mantelpiece in the lounge area. The original went missing, and C arrested D thinking he had done it, found the second fake on him and kept that for himself. I told them that he couldn't really be arrested for taking something that's worthless, so they got let go. C then swapped fake 1 for fake 2 on the fireplace, which D found out about, then he got possession of the original thinking it was a fake, and swapped it with the one on the mantelpiece. So now both D and C had fakes, and the original was back where it had been for all these years.
"After this, there was not an awful lot left to mediate on, No-one was left poisoned, so there was no dying swan acts (which I was fairly thankful for after everything else). With a dead Character A, there was no-one to pin the murder on, but most people had guessed it was him after his pockets were turfed out to find a bottle of poison when he was shot. The non-fake necklace was returned to its rightful place (it was a quiet night with this) and given to [Character E]. [Character F] had a bit of a sulk and stormed out, disowning her family, the world and anything else she could think of.
"All in all, everyone really enjoyed it, and we didn't get finished up 'til gone midnight. (We did have a couple of 'sort the children out who were in bed' breaks, though.)
"I really think we benefited from being in an environment such as the one we were in. I did 'um and ah' about the original purchase, as there are similar ideas that can be downloaded free from the net if you look hard enough. I have to say it was worth paying for, as the free versions do not tie in as well / less planned out, etc. Thanks again, and we'll definitely be buying another, though we might have to tone down for our more humble surroundings."
Russell Peters, United Kingdom
---
"...the best thing about this game is that everyone has clear objectives for the night and a clear idea of what character they play. This allows them to semi-role play through the night, interpreting situations and questions and trying to achieve their objectives while assimilating new information they gain. Also, not having a murder previously committed was novel and very cool. It's dull to have a murder and try to solve it."
Robin Duxfield, London, United Kingdom
---
"...it was excellent. The fact that no murder had taken place was a refreshing change. The aims and objectives of the characters were really well thought out and it turned us all into mad people trying to meet all our goals."
Jo Holcombe, London, United Kingdom
---
"We did this for my daughter's 14th birthday and she had already chosen 'Hollywood' as the theme of her party. Since I did this for young teens, I changed all the references to the nude photos (we made them photos of Crystal picking her nose!) One thing that I really liked is that since each of the characters had their own goals that they were trying to complete, it made the evening move along smoothly. I was really worried if kids this age would actually get into it, or if they would be bored, but it really helped having the plays to work on. The plays were really a HUGE hit for the climax of the party."
Janet Reese, United States
---
"Thanks for making me such a sought-after hostess :) [with All at Sea]"
Lynn Randar, United States
---
"I have just organised and run Death on the Gambia for the leaders and wives of Exeter's Riverside Christian Centre. The game went very well and was well written and planned. A few comments:
"(1) It was unclear to us until after we had received the full instructions that this particular game is not suited to a sit-down meal which we had already planned, together with an overnight stay, at a local hotel. It might be helpful in future if potential customers are informed of this before they purchase the game! [We agree -- and we'll be making that clear in the future -- Mo and Steve]
"(2) However, as it happened we found the perfect way to overcome that through the co-operation of the hotel management; They had given us their 'function room', a perfect size for the dozen of us. The guests we all frantically busy until the lunchtime of the day itself and so arrived at the hotel exhausted. Few of them had had the chance to go though their detailed character notes I had sent out a week before and the rest found the notes, plus the costumes (I'd hired from a local theatrical costumiers) waiting in their hotel rooms when they arrived early in the afternoon.
"I'd got the hotel to lay up three tables for 4 players each, and place three other, but bare tables around the Function room so guests could pair off, take their plates and drink and chat/scheme quietly throughout the evening.
"(3) I also timed it differently; I got them all to meet me at 5.30pm for a full briefing and questions. This lasted for half an hour. I then released them to get changed, read through their (copious) notes. They reappeared in costume to be greeted by me (Captain [the host of this game used to be the Captain, although now they are the Deckhand -- Mo and Steve]) at 7.00pm. as per the game instructions.
"The hotel served the starters at 7.20 and the main course 25 minutes later. I then allowed an hour and a quarter before the Christabel arrived at Mansa Konko and fifteen minutes later dessert arrived as we 'departed' M.K.
"I wrapped up the game a 10.00pm and did the Epilogue cards for a further 15 minutes.
"Organising the game this way made it perfectly possible to play it with a sit-down, three-course, Christmas meal. The group were ready to throw themselves into the game and saw nothing odd in taking their plates, cutlery, drink etc. off to another, bare table.
"(4) One additional tip I gave them was to come to the evening with pen and notebook, and most of them wrote notes during the evening.
"(5) I also used dice instead of stone/scissors/paper which worked far better for us.
"A good game."
Max Carpenter
---
"Just ran Death on the Gambia, and wanted to let you know that everyone had a lot of fun. By the end everyone was turning on each other trying to accomplish their goals in the last few minutes before the riverboat docked!
"I used prop books for the Death on the Nile cards, and a great time was had by all stealing books and hiding them in various places. Our local library didn't have eight identical copies, so I went to http://www.vintagepbks.com/adamscovers.html and printed out the cover art for a paperback Death on the Nile, then resized the image in Microsoft Word and taped together my own book covers and put them onto various other hardback books.
"We had some last-minute cancellations, and had to run without the character of Jane Carter. It worked pretty well... the story was that Jane was on board, and was hustled off by some unidentified men leaving all her baggage. I gave Jane's items cards to her roommate, Emily, and everything went smoothly."
Jay Shaffstall, United States
---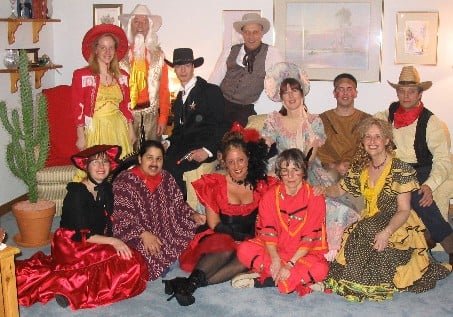 "We had so much fun with the Way Out West game. We used it as part of our annual costume party so everyone was in the proper attire. We decorated the rooms in order to give them a real Western flavor. Prior to the game, we had a professional dance instructor to put us in the Wild West mood with some hilarious and tricky dance steps and routines.
"After a solid hour of dancing, we were all set to play the game. I planned it as a surprise for the guests so no one knew about it except myself. As it turned out, we wound up with the perfect costumes for all the roles. It would be hard to describe just how much fun we had. The roles are wonderfully written with their own goals, secrets, powers, objects -- every one got into the spirit and the characters were played to the hilt. A lot of combats, pick-pocketing, accusations and bribing went on. The plot twists had us in stitches. We enjoyed it up to the very last second as the conclusions were a riot to read, especially for the characters who failed to achieve their goals. We had an elaborate buffet dinner afterwards with over 15 recipes taken from original Old West cookbooks.
"This was, for all of us, our very first experience with a freeform mystery game and I would recommend it to anyone. In our case, as we are from the province of Québec, we played the whole thing in French (our mother tongue) and it goes to prove that the appeal of the game is universal. As part of the Tips for Beginners, I added a personality trademark or habit for each character to give everyone a chance to know how to approach their roles -- that proved to be a great asset to get us started as 'first timers'. We also used real objects instead of item cards and I drew the required maps with the Indian inscriptions and signs. We even rented a real cactus (the town being Cactus Gulch) and an old telegraph.
"We had signs marking the 20th anniversary of the city and a Saloon sign on our front door so that the guests literally stepped into the saloon the moment they came in, long before starting the game itself. In Act 2, we did a full 10 minutes of 'singing the dialogue' [see below], an idea which perhaps freeform purists will object to but which was a great element of surprise that turned into a genuine laugh-athon.
"There's no need to say the costumes and music helped to create an unforgettable atmosphere. We played it across 4 rooms which gave us all the space we needed whenever 'private' conversations were required or when someone wound up in jail! There was a bowl of Mexican-style punch in the kitchen throughout.
"But it's the game itself that really took us by storm -- even for me, as the host, every moment was a genuine surprise. All the plot elements are cleverly intertwined and integrated to make up a fabulous story we are not likely to ever forget. I also loved the flexibility with regards to the characters, many of which could be either male or female. You were so kind so as to answer my numerous questions while I was planning the game -- your helpful tips really helped to make our evening a rousing success. Thank you so much!!!!!
NB -- we didn't know what "singing the dialogue" meant, so we asked...
"The "singing the dialogue" part was an impromptu idea of mine, meaning that I asked everyone to continue the game but to sing their improvised dialogue instead of speaking it. I have always been musically inclined so it hit me that this could be fun and it certainly was. Thus all the various conversations were sung for a full 10 minutes. Some people used a well-known melody (like "Red River Valley" or "Turkey in the Straw") to sing to, others improvised the melodies as well. All you could hear across the 4 rooms was singing -- those who improvised the melody made it sound like a western operetta, except that the voices were not all of "Oklahoma" calibre :-) . It was most delirious as much action went on during that time as well."
Karine Philippot, Montréal, Canada
---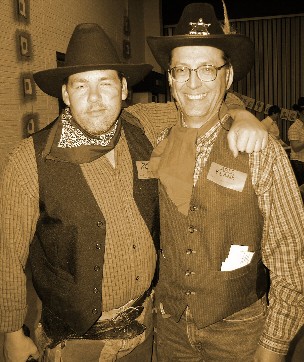 "Thought I'd write and let you know that Way out West was a great success on Friday for our Church activity. I bought Way out West thinking only about 20-25 would come, along with its suitability for a church group. We actually had 44 players so I had to write some more! Mel Easton and a couple of others had spouses, Slick had a belle for the night, and Dan a spinster schoolteacher for a sister! And complete with Blacksmith, Farmer, postmaster, photographers from the newspaper and a couple of extra cowboys and Indians we were ready. Couples played together to try and fulfil their aims and it worked well. All the parts I added had health cards, a revolver or 2 for the cowboys and the goals to find out who were the good/bad guys, the murderer and what everyone's hidden agenda was. I also had 4 of our older ladies play town gossips -- they did a bit too good of a job... No talk of football, family or work -- we really WERE in Cactus Gulch in 1884."
Judy Beaumont, Teesside, United Kingdom
---
"I and a group of 9 friends decided to try a murder mystery game [Death on the Gambia] this year on New Year's Eve. Our New Years celebrations are always good so, as nobody had ever done anything like this before, I was a bit apprehensive.
"I would like to say that I have never laughed so much, and saw my long-standing chums in a completely different light! They were all a bit worried too about how it would work and if it would be fun but after the Christabel had set sail, there was no going back (and no stopping them). On the second leg of the journey to Bathurst, one murder was committed, two passengers were unconscious and the captain (me) [the host of this game used to be the Captain, although now they are the Deckhand -- Mo and Steve] was constantly being harassed to referee combat. When we docked at Bathurst, one of the 'passengers'even asked if we could keep cruising for a while longer!
"We all thank you for helping make our New Year party the best yet. Please, please, create some more of these games, you have found a group of murder mystery converts!"
Cathy Reardon, Berkshire, United Kingdom
---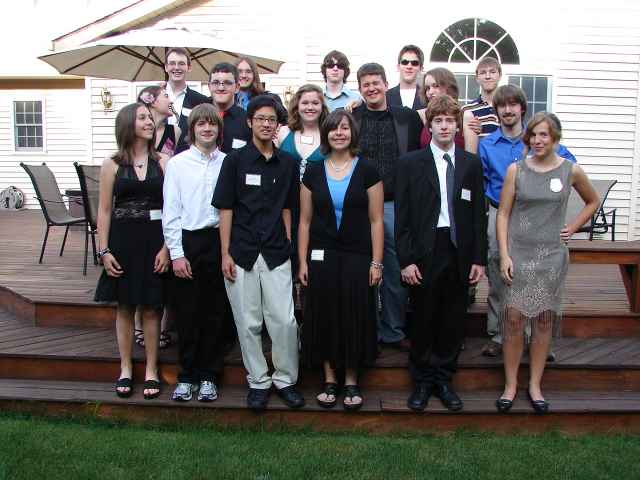 "My son, Alec, hosted an end-of-school party using Hollywood Lies in June for high school friends. They had a great time. We had 17 guests arrive dressed for the post "Eric Awards" party to find a red carpet, movie-theme decorations and trophies for the award winners, sparkling grape juice and mock cocktails. It took them a bit of time to get into their roles with the excitement of the end of the school year. But they did settle into their roles and, with some help from my husband, they got their tasks figured out and started mingling. Hollywood Lies was great because, not only did they have to solve the murder-mystery, they had to organize skits to perform at the end of the evening.
Even though the party took a lot of advanced planning and shuffling of roles when a few people couldn't attend, they enjoyed themselves immensely. I am planning another Hollywood Lies party this year with work colleagues. This is a great idea for a fun party and the information we received was very helpful!"
Pam Janson, United States
---
"I decided to have a belated birthday party for myself and, after discussing the matter with Mo at Freeform Games decided that I would prefer to get a friend to host the game for me so that I could play a part. My friend came to me and printed off all the necessary files and took them away and I just did the casting from the basic cast list. We had a number of people drop out, and some, to my dismay, at the very last minute, but thanks to my 12-year-old and her friend stepping in (they were meant to be waitressing!) we all had a fab time. Everyone thought it was great – it was just a 'different' way to spend an evening with friends. Our host was shrewd enough to bring the proceedings to a end before anyone had the chance to tire of their roles and we all expressed disappointment that it was over! It turned out that our youngest member (our 12-yr-old ex-waitress) was the Super Sleuth of the evening (maybe a lack of alcohol gave her the advantage!) When the game was over I quickly handed out some fake chips and started up a blackjack game and the fun continued into the early hours. I cannot recommend your game enough. It is well planned and thought out and three separate couples questioned my host about what he charged per evening and how often he ran the games – they assumed he and his wife were professional party hosts! My host himself felt that this was a huge compliment to you at Freeform Games as it shows that your games are so well put together that a total novice can host the game professionally and pass himself off as an expert! Thank you so much – we will be back for more!"
Stacey Aris, United Kingdom
---
"Wow! This was my very first Murder Mystery party and A Dead Man's Chest was probably the best murder mystery I could have ever done! I did the mystery for my 14th birthday, and even though I had to cut out some parts, everything went pretty smoothly. "Crazy Bill Pistol" cancelled 2 hours before the party, but I got a friend's sibling to cover for them. I got some of the party on video, and people kept chasing me away when I had the video camera, especially when they were having a private conversation. Whenever there was a storm in the game I would go to my piano (which makes some awesome sound effects) and turned it way loud so that the storm could be heard throughout the house.Everyone came dressed up. My Black Jack and Alice Tremain went all out to design their costumes, and we took pictures at the end of the party.Overall, this game was so much fun and the party was the best party I had ever done. I will definitely be getting more murder mysteries from Freeform Games very soon!"
Jessica, United States
---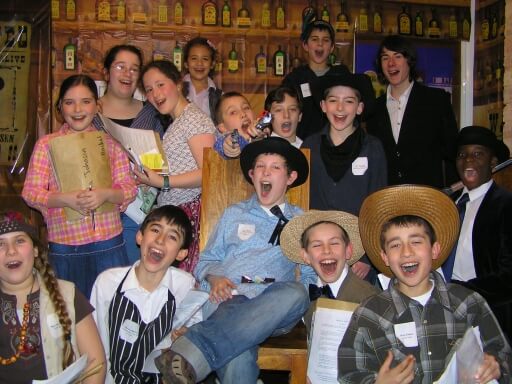 "My 11 year old son Daniel summed it up. "The best party I ever been to -- and it was mine!"
Way out West was a huge success! At the beginning the kids (aged from 11 to 14) struggled to take in all the information, but I spent the first hour or so answering questions. Once the second envelopes were handed out and a few more questions they really got into it very quickly. There were dodgy deals, scheming, and suspicions all around. Some learnt a few quick lessons about the value of information, negotiation and recognising who their friends were. When we took a break (when the Telegraph was fixed) the kids were so involved in their characters that hardly any birthday cake was eaten!
I cannot thank you both enough for the support you gave me in the beginning and all the parents were asking about how we did it so now everyone now knows all about Freeform Games. Without doubt it was the kids' party of the year. You must do more kids' versions, so the other parents can copy us."
Dave Pollock, United Kingdom
---
"My friends really enjoyed Way out West and so did I. The format is really good as it is not like other murder mystery games where there is a lot of dialogue read off a page. The improvisation was much more fun."
Kate Ingram
---
"We used Way out West, the kids' version, for my daughter's 13th birthday party. It was a grand success. The boys and girls all got into their parts, came dressed up and really enjoyed themselves. Some of the kids worked really hard on their goals, and others just spent the whole time in "shoot outs" and recovering from being unconscious! Having something to do and a role to play made it easy for lots of interactions – which is important for the socially awkward age of 13. I just wish you had more games adapted for the kids! As a parent giving the party, it was nice to not have to worry about sending home the kids with age-inappropriate story lines (although we will be giving another murder mystery party for our adult friends and we look forward to an evening of mayhem and murder!)"
Leslie Blackie, California, United States
---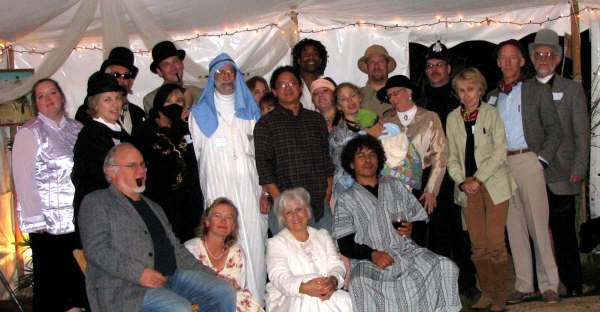 "Well, my husband's 40th birthday party [Curse of the Pharaoh] was a big success. I couldn't even keep people seated and eating! Everyone was up and interacting and staying in character the entire evening. We rented a tent, and with my sister-in-law's extensive collection of Arabic décor we were able to create an amazing atmosphere! Everyone received a black box of secret information upon arrival, and we even included real props such as snakes, scorpions, the black staff and many many more. We has actual 'antidote' (Hersheys kisses) and sour candy for poison pills. People seemed to enjoy themselves quite a bit. Thanks to you all at Freeform Games."
Joyce Dales
---
"Way out West was great fun. Everyone got into their role. They were still discussing the various intrigues and actions a week later. I don't think I'll have any problem finding participants for the next game."
David Schwalm
---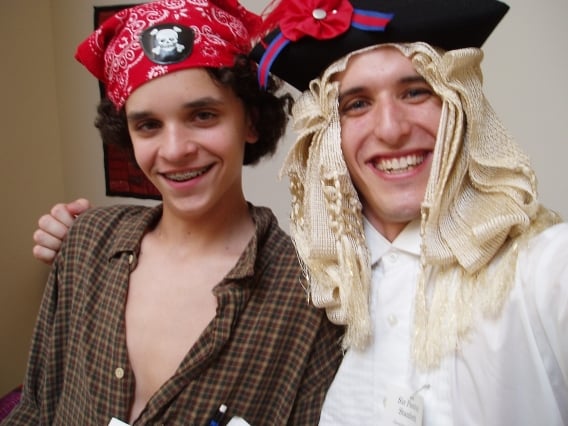 "My church "youth" group (ages 15-30) recently played A Dead Man's Chest, and the game was a big hit! My husband and I decked out our apartment to look like a tropical island, and we ate lunch together and launched into the game. I was surprised at how much everyone got into their characters; forming teams and then double-crossing each other, speaking in funny accents, holding emergency meetings in the bathrooms, and so on. The British rocked the game in our particular version -- they allied early with the Indians and several of the pirates to make sure they met their goals. Bill Pistol crawled under the dining room table in fear whenever a nobleman approached him, Cassinga managed to scare several people into actually volunteering to be sacrificed to the volcano, and the "Governor" had a great time making everyone bow to him and compliment England before approaching to speak with him (which of course ruffled Don Inigo's feathers). About half of the players knew who the murderer was by the end of the game, but no one dared lift a finger against them; this person had gotten themselves so well-allied that they were quite untouchable!
We appreciated that the game was family-friendly, and that it had a good mix of complicated and less-complicated characters to accommodate the players' varied acting abilities. This game was more than worth the cost, especially since I now know where to find an engaging party game whenever I need one! I have a lot to learn about being a good Host, and it seems that I'll have another opportunity soon -- my friends are already asking when the next game will be!"
Tara Laben, United States
---
"Hmmm… 50. What to do to celebrate reaching that age? I don't feel 50 – and my friends tell me I don't look it. (That's what friends are for!) Do I let it slip quietly by and pretend it's not happening, or do I have a huge (and expensive) party for everyone I know? When a friend suggested a murder mystery party, it sounded perfect. I could invite a dozen or so of my closest friends – some of whom had never met each other – and it would be something quite different. The guest list grew to 16 quite quickly and I searched around to find something suitable. Happy Birthday R.J. seemed ideal – who doesn't fondly remember the Dallas era? It would be easy for the guys to dress the part (suits or jeans + cowboy hats) and, as us gals were all of a certain age, we found that most of us, rather embarrassingly, had kept a few shoulder padded outfits in our wardrobe. I'd never run a murder mystery before and I was a bit daunted by all the info – but I took the advice of old hands on the internet and printed everything off well in advance and sent each guest a 'pack' of information. I also made up notebooks for each guest – and covered the fronts with a picture of SouthFork Ranch!
"Real panic set in when six extra people wanted to join in – I used Ginger Roberts and then wrote in 5 extra characters – which gave me a bit more insight into how the game would run and, although it was a lot of work adding extra notes and cross referencing everything, it was great fun in itself! One last-minute guest had to come as a 'maid' who had no real part other than to help me serve the champagne and food (all Texan of course) – and she was so enigmatic (not having any part written for her) that everyone thought she must have done it!
"Half the fun seemed to be the anticipation – local friends who'd been invited were comparing shoulder pads, diamonds and blue mascaras for a couple of weeks beforehand and the guys were apparently using their commutes to work to 'swot up' on their characters!
"I decorated my house to look like SouthSpoon with lots of over-the-top cheap crystal and candelabra and chandeliers. I also printed off pictures of Dallas and Dynasty characters (like JR and Sue Ellen's wedding photo!) and put them into spare frames and casually placed them around the house among my own pictures!
"I was a bit worried that the reality wouldn't live up to the expectation and had a panic as the big day dawned. But what a blast! From the moment the first guest arrived – a friend of 30 years whom I simply didn't recognise in her guise as 'Sue Helen' – to the moment the guests and Sheriffs tried to solve the murder, I can honestly say I have never laughed so much nor been so entertained. I couldn't believe how well everyone played their part – right to the end. I gave out prizes for the best wig, worst accent, most outrageous outfit and most enthusiastic approach. The other great thing about the whole evening was that it meant everyone had to talk to people they didn't know – and in character they could do it enthusiastically without worrying about being judged. My sister summed the evening up when she confessed that she had been dreading it (if you've not done one before the information you get does make it seem somewhat daunting). She's quite shy and had been terrified of having to 'act' in public. After just two minutes she was so 'in character' and enjoying herself as Dixie that she quite forgot her inhibitions and was really involved in the game. She said at the end that she couldn't remember when she had last enjoyed herself (or laughed) so much.
"I poured the last guest out at 3.00am and am still getting the thank-yous days later.
"A huge success all round and certainly a 50th birthday to remember for all concerned!"
Lin Johnston, United Kingdom
---
"We have all kinds of birthday parties. Some of the favorite ones have been scavenger hunts until now. Everyone enjoyed Happy Birthday R.J. so now they want to know which one is next. It was a lot of work to put it together because I like to use a lot of props. I even made real invitations. I think the best part was they had to be someone else. So they forgot all about their own worries and had a great time. I have never seen so many people just slip right into character. We ended up having 17 players. I used most of the ideas that were given and I would suggest to use them. They were helpful. I found some little trophies and put the occasion, date, and praises on them (great job--wasn't as bad as you thought--superb job). They like getting a memento of the occasion. I just want to thank you for putting together a great package. I would recommend it to anyone."
Terry Vann
---
"Had a great time on the whole and was enjoyed by all... excellent story."
Phil Hatherley, Exeter, United Kingdom
---
"We hosted Death on the Gambia as our pottery class end-of-year party. We are usually just six women, and needed something which would also engage four husbands, who don't know each other very well.
"We cast Alex Thomas as a woman in our story, and we added in a female Ginger Roberts character to make up numbers. Ginger had more fun than the rest of us put together -- and since she was recently diagnosed with breast cancer, it was great to see her having so much fun!
"I left the costumes up to the individuals and they all did wonderfully. We used a lot of props: toy guns (we're not in the UK!); books covered in identical photocopies of DOTN covers; cameras; all sorts of bottles of multi-vitamins and jars of arnica and vaseline from my medicine chest, labelled appropriately; boxes of dried twigs and grass for the spiders to jump out of; red mosaic tiles as uncut rubies; toy handcuffs; and so on. I managed to find a large bag suitable for each character's costume and placed their props and cards into it. Soon after the Christabel's departure, Katanga handed out the luggage that 'had been left on the quayside' by mistake and everyone was encouraged to take it to their cabin to check the contents.
"The first aid kits were great fun: I filled Tupperware containers with some of the usual items (scissors, plasters, tweezers) and added hilarious items such as HUGE syringes (needleless, of course!), rubber gloves, laxatives, aphrodisiac concoctions, hair-loss preparations, condoms, etc -- I got very strange looks from the pharmacist the day I shopped for the kits! The contents obviously caused great mirth amongst the players.
"We had a lot of death: Alex Thomas was the first and most prolific victim, who we saved a couple of times but eventually died quite early on. (Might be nice to know this when planning, so that you don't cast your most enthusiastic guest in this role!)
"We also had two weddings -- the Ginger Roberts married Katanga, Caroline Tanner married Joseph Keene. I think there was a divorce too!
"In general, I think the women embraced their characters far more than the men -- although this might be because the men were already 'semi-outsiders' to the group. Having said this, they enjoyed dressing up and still managed to drink copious amounts of 'peanut beer'! Unfortunately, this was sometimes to the detriment of the plot ... (We never found out who Mr Red was ...)
"All in all, we had a great evening."
Lorraine Nevin, South Africa
---
"I did a lot of research on mystery parties before I found Freeform Games and the appeal for me was that it is so interactive. I bought Way out West for our church Young Adults group and it is easily the best activity we have ever done!
"Everyone was talking about it for weeks -- this is a great idea for groups that want to get to know each other better and bring people out of their shells -- some of our most active and entertaining participants were people we normally thought of as quiet. Everyone dressed up (which was a surprise) and took their parts very seriously.
"We're planning All at Sea now for the Christmas holiday party. Thanks Freeform Games!"
Elaine Guikema
---
"Snow Business was GREAT!!!!
"I can't remember the last time I've had so much fun or laughed so hard. The 'singles' ministry at my church participated (as one of our monthly activities) along with some single friends from my job etc. It was an absolutely wonderful evening! Everyone involved, including myself, had never participated in an event like this but it went over so well you would never have known. I had to fight to stay in character I was laughing so much. There are a few things that I will definitely do differently next time but I guarantee you THERE WILL BE A NEXT TIME!!! I was so pleased with the entire set up, my friends were so excited to participate and I went ALL OUT rearranging and decorating the chalet (my children almost didn't recognize the place).
"I tried to be as authentic as possible, using actual props instead of the item cards. I even found a photograph on the internet to use as a photograph of 'Mariella Harrison'. Nobody wanted the game to end! I gave out trophies for the 'Best Costume', 'Best Actor', 'Best Actress', 'Best Secret Revealer', 'Best Secret Keeper', 'Best Crime Solver', & 'Top Goal Achiever', I also gave out certificates of participation to EVERYONE! No one leaves a singles ministry event empty handed so they also received a little gift. It was wonderful! My daughter (12) had such a blast helping me choose who would play each character and helping with other things during the evening, it was simply fantastic.
"Now all of my married friends and family want to do it too! I've decided that I'm going to do it two or three times a year, just because!!!!! Even my teenage nieces and nephews want to try it. I can't wait to do it again, I've been raving about it all week!
"One thing that I think helped a great deal and was extra fun for me was (an electronic genius) friend of mine helped me put together a CD of me reading all of the instructions and the character sheets for each person (with mood music and everything). Even though the participants received their information in plenty time to read through it they really didn't have to. They could listen to it all at home, in the car, wherever!!! When they arrived and picked up their envelopes (at the check-in desk :-) they were well prepared and all they had to read were their ability, info and secret cards!!!! Again, It was just great!!! I can't say enough and I will be recommending this game to everyone I know!!!!!!!!!! Thanks for a great time!!!!!!!"
Doris Arnett-Gary, United States
---
"We wanted to host a party in the new year and decided a freeform murder mystery was the way to go. We had tried other box type games and had been very disappointed. That was not the case with Death on the Gambia. Our guests were thrilled that they could determine the plot. Everyone got into character and the scheming began. We had so much fun plotting against each other and planning alliances!! The guests did not want the night to end.
"We decorated the entire house like the Christabel -- staterooms, decks, galley, bridge, map of Gambia, helm, African huts etc, the guests loved the details. The only trouble was too much leftover food -- people were too busy scheming to get a plate of finger food. No one wanted to stop, even for a minute. We all decided that we will do another game soon!!
"Thanks so much for such a great evening of entertainment. I can hardly wait until next time!"
Dana Loewen, Canada
---
"Oh my gosh, we had too much fun. Thank you for this game [Death on the Gambia]. The characters were fantastic. We ended up having enough people for all of the characters and my wife, as the deckhand, had an assistant deckhand, which she says was invaluable during the last section of the game. this was fabulous. I am telling all of my friends about this. I will be back again."
Eric Christensen
---
"I just wanted to let you know how much we enjoy your games. This [Hollywood Lies] will be the third one we have run and they have been a great success. This year, we've actually had friends of friends calling to ask for an invite. Thanks for a fabulous product! "
Tiffany Geden
---
"Thanks very much - I've got it [Death on the Gambia] off the web page and read it and it's just great! The themes are very different and I think my friends will enjoy it. I'm really looking forward to putting it on -- thank you very much for all your help :) (and sorry for being such a difficult customer!)"
Becky, London, United Kingdom
---
"What a great time for all! They are still talking about it [Curse of the Pharaoh]. Thank you and I would definitely recommend this one to someone else. They created alliances and wanted to swap abilities and team up against each other. What a hoot! Thanks again."
Rhonda Dinsmoor
---
"Thanks again for a great evenings entertainment, we played Death on the Gambia whilst on holiday in Devon in a big renovated farmhouse with lots of wooden panelling which added to the 1930s feel of the evening. Also Fajitas for main course and crème brule for pudding worked well as people were free to mingle."
Jon Perkins, Berkshire, United Kingdom
---
"I loved Death on the Gambia. It was very refreshing to be playing something where there wasn't a murder to solve and the ending was completely up to my players. Everyone told me for days and days afterwards what an incredible time they had at the party -- so much that I am setting up a second one!"
Satisfied Customer, Rhode Island, United States
---
"Just a note to say that we successfully played Curse of the Pharaohon New Year's Eve this year and it was a fantastic success, everyone had a really good time and enjoyed themselves immensely. Thanks very much for your help getting sorted when I messed up the purchase slightly, you were very helpful and understanding.
Thanks again, this is the second freeform games I've played and they've both been superbly written and cleverly designed, I have Way out West to play hopefully in the next month or so and am confident it'll be as good as the others. Keep up the good work!"
Tom Bates, Cheshire, United Kingdom
---
"Thanks for your quick reply. I'm excited that you have another game for our number of players. We're going to play Death on the Gambia with another group in a few weeks and then I think we'll try Curse of the Pharaoh. This was so much more fun than the boxed, scripted sets we've played in the past. I hope you'll find time to write more of them in the future. :-)"
Kristin, United States
---
"Death on the Gambia was fantastic. Thank you very much. Evening went far better than I'd dared hope. I was concerned that all the information would be overwhelming. Ten minutes in and I needn't have worried: furtive plotting, bravura, blackmail, paranoia and ultra-violence (disappointingly we only had one death.) Everyone said that they hadn't had so much fun in ages (big brownie points for us as hosts). People were too busy having fun even to drink!"
Neil Hopkins, United Kingdom
---
"The All at Sea party went very smoothly and everyone had a great time. We are still getting phone calls from our guests thanking us for a great party. I guess we can call it a great hit."
Elie Ghazal, Sweden
---
"I hadn't realised how back-stabbing some of my friends could be. In one player we had black-mailing, murdering, lying, fighting, threatening and cheating... I'd recommend this [Death on the Gambia] to friends for a good night."
Rob Steen
---
If you would like to tell us how your party went, please let us know via the form below. If we like it we'll add it to this page! (If you want to send us a photo, tell us in the story, and we'll tell you how to send it through.)
---