Welcome to the Freeform Games murder mystery party newsletter!
In this issue we talk about:
Half-price sale reminder!
---
Half-price sale reminder!
It practically is the night before Christmas now, but it's not too late to get your half-price copy of our festive murder mystery game The Night before Christmas! And perhaps more practically, its non-seasonal version Dazzled to Death is also on at half price -- buy it now and play it at any time of year! Both games are available just up until the end of December.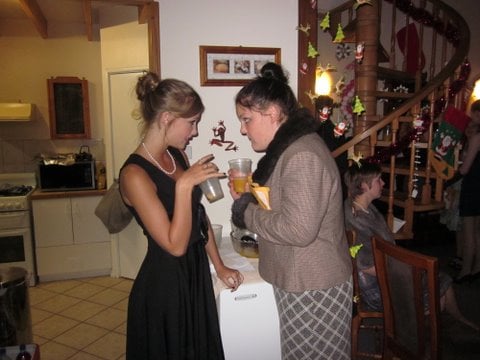 This is Dazzled to Death:
It is 1948. The socialite Evington-Browne family ("E-B" to their friends) and guests are preparing for their annual cocktail party, held by tradition at the family's hunting lodge in the White Mountains north of Boston. A fierce storm has now set in, and the party finds itself cut off from the rest of the world. This is unfortunate, as the valet of one of the guests has been found dead in the kitchen! It looks like a heart attack - but is it murder? Can you achieve your goals, keep your secrets hidden and survive Dazzled to Death? It's up to you.
The Night before Christmas and Dazzled to Death are now on sale at just USD 14.99 or GBP 10.00, half the normal price! Either is suitable for anywhere from 12 to 15 guests plus a host, and we also have a selection of free extra characters who can be added in. The game has been written to suit adults and also older teens, so you can use it for all-adult parties, all-teen parties, or mixed family groups. It is not so suitable for children under 15. You can find out more about The Night before Christmas here:
https://www.freeformgames.com/game_details.php?game_id=13
and Dazzled to Death here:
https://www.freeformgames.com/game_details.php?game_id=14
Here's some of what our customers have said about these games:
"I started having a Christmas party last year with a murder mystery, one you had to read a script and we all had a good time, but this year I tried a freeform game, The Night before Christmas, and everyone loved it. Everyone really got into costume. I sent out everyone's part to them well in advance I knew everyone was coming. I myself gave the welcome speech and a toast I had Dinah the cook set up to scream as soon as I said cheers and everyone came rushing into the kitchen to see why she was screaming and discovered the dead body. Someone said where is the Dr and of course the Dr came rushing in and pronounced our dummy dead, and this was the start of the game. They all absolutely loved it. Before I knew it John was telling Rose how he just didn't know the woman he married and someone called her a slut. I had so much fun myself just watching them acting out their parts. There were times I was laughing out loud and had to cover my mouth. Some of my guests were already talking about next year's party. This type of game is much better then the type you read. We loved it and will play again."
Robin Goracke, United States
"Just wanted to tell you how great last night was. We put on Dazzled To Death (the first Murder Mystery I've ever hosted!)and it was fantastic!
Everyone said how much they loved it and it was a huge success. At first my guests didn't know what was going on but they soon got into the swing of things! We made photographs to hang on the wall, family tree, family portrait and a lovely buffet. It seems as though the general consensus is to do one again but everyone wants me to do one sooner rather than later! So who knows I might be writing to you again around Christmas & New Year with the next story!
I highly recommend to people to give Dazzled To Death a go because it was excellent!
Thanks a lot Freeform Games!"
Nick Eccles, United Kingdom