Welcome to the Freeform Games murder mystery party newsletter!
In this issue we talk about:
Playtest our new murder mystery game – The Reality is Murder!
We are on Trustpilot
Your data – GDPR
Our discussion forum
Some great stories about our games!
---
Playtest our new murder mystery game – The Reality is Murder!
[NOTE: we now don't need playtesters any more, thank you!]
We are close to launching our newest game, The Reality is Murder, and we need your help!
We've tested the game and checked it thoroughly - but we could do with three or four murder mystery enthusiasts to test The Reality is Murder with their friends and provide us with feedback.
Here's the game background:
Welcome to Tribal!
It is 2003 and Tribal is Network 123's reality show where 12 people live for up to 40 days on the beautiful island of Moko Shanti. Every few days, contestants vote each other off the island during Tribal Meetings. Now, only three contestants are left, and tonight is Tribal's finale.
Tonight, everyone has returned to the beach where the final Tribal Meeting will be broadcast live and the winner of the $1,000,000 prize will be decided. Afterwards, a lavish after-show party will be held for the cast, crew, and guests.
Unfortunately, all is not well. Jeff Thompson, Tribal's creator and director, has been found dead on the beach – a machete embedded in his chest…
The Reality is Murder is one of our larger games and is for 23 to 30 players.
Obviously we'd like you to be able to play The Reality is Murder in the next two months or so.
If you'd to be involved, please drop us a line at info@freeformgames.com with information about yourself and when you will be able to host the game.

---
We are on Trustpilot
There are loads of these online rating systems now, and we eventually decided that we would start using one of them – Trustpilot. The idea is that people who come to our website who don't already know us will be able to see objective data, gathered by an outside agency, on how our customers rate us.
We're very pleased to say that at the moment we are rated Excellent, with five stars out of five –so thank you to everyone who's placed a rating and/or written a review!
If you'd like to give us a rating yourself, that would be great – as long as you have actually bought and used one of our games. You can do that here: https://www.trustpilot.com/evaluate/www.freeformgames.com

---
Your data – GDPR
With the introduction of the EU's new GDPR regulations, we have reviewed the personal data we keep and updated our privacy policy to include the following:
Privacy, and your data
This is the data we hold on you and what we do with it. Please note that we never pass on your details to anyone else for any reason.
Sales: When you buy a game from us we receive your name, email address, the billing address of the card you used, and (occasionally) your postal address. Of those, we only keep your name and email address so that we can identify you if you have lost your download codes. (We've had some customers email us after three or four years and happily we are able to track their purchase and provide them with updated codes.)
As the transactions are processed by PayPal or Worldpay, we don't see your credit card details at all.
Newsletter: When you sign up to our newsletter, we record your email address and your country of origin. If you unsubscribe from the newsletter, we delete your email address.
Email correspondence: If you contact us via email, we hold your name and email address and whatever information you've included in your emails. We hold these indefinitely, as as sometimes refer back to them when we are answering similar queries from other customers (we don't include your details of course).
Testimonials: If you send us a testimonial, we keep your name and your location, and these are shown on our website unless you've asked for your testimonial to be anonymous.
Photographs: If you have sent us a photograph, we record who sent it. We do not "tag" anyone in the photograph.
Your right to be forgotten: If you would like us to remove you from our records, please drop us a line via our Contact Us page and we will process that straight away. (Please note that if you have asked to be removed from our records, and you have bought a game from us and subsequently need the download codes again, you will have to re-purchase the game.)
(We also have a bit more to do about collecting consent - but we're working on that.)
Our Invitation System
We have had to take our online invitation system while we work out if it complies with the new GDPR regulations (see above).
The problem is that it required the host to enter the details of the people attending their party. Those details are classed as personal data by GDPR, and we believe that we require the owner's consent before we can use it to send party details.
So while we work out what we're going to do, or some up with an alternative solution, we've taken the invitations down.
Sorry about that.
And if there's someone reading this who knows how we can solve this problem, please let us know!
---
Our discussion forum
Back in the earlier days of Freeform Games, our discussion forum was an important and valuable way to hold conversations with customers and with people who were interested in our games – for us to answer questions and explain things, and for hosts to give each other tips and advice.
Unfortunately over time it's proved impossible to keep it secure, and so we've had it closed to new accounts for some years now. Each time we applied a new security patch and opened it back up, the hackers started work, and within a few days it was once again flooded by spam registrations and posts which took us valuable time to clear up.
Now we have our Facebook page as our main channel of conversation, and we've decided that it's time to retire the discussion forum. We're going thruogh the posts now, rescuing all the useful tips and good pieces of advice and suggestions, and we'll be adding them to our main website's Hints and Tips page. Then the forum will quietly disappear. Thank you to everyone who's contributed to it over the years!
---
Some great stories about our games!
Stories from far-flung customers are always nice to see! We have ourselves had family members working overseas for long periods, so we know how valuable social events can be in bringing together people and communities.
"Hello from Tanzania! It occurred to me that we should let you know that over the past five or so years, we've either hosted or attended a number of your games. To date we've enjoyed:
1. Curse of the Pharaoh
2. Bludgeoned on Broadway
3. Way out West
4. Murder at Sea
and we're attending A Speakeasy Murder this coming weekend. You''ve got a niche cult following among some of the expat and broader community here in Dar es Salaam – we're big fans!
Some friends of ours also hosted A Speakeasy Murder a few months ago in Ethiopia, if you want to add that to your list of countries. Keep up the great work!" Simran Bindra, Tanzania
Then here's a great photo from Hong Kong, from a party using our very first game, with which we started our business: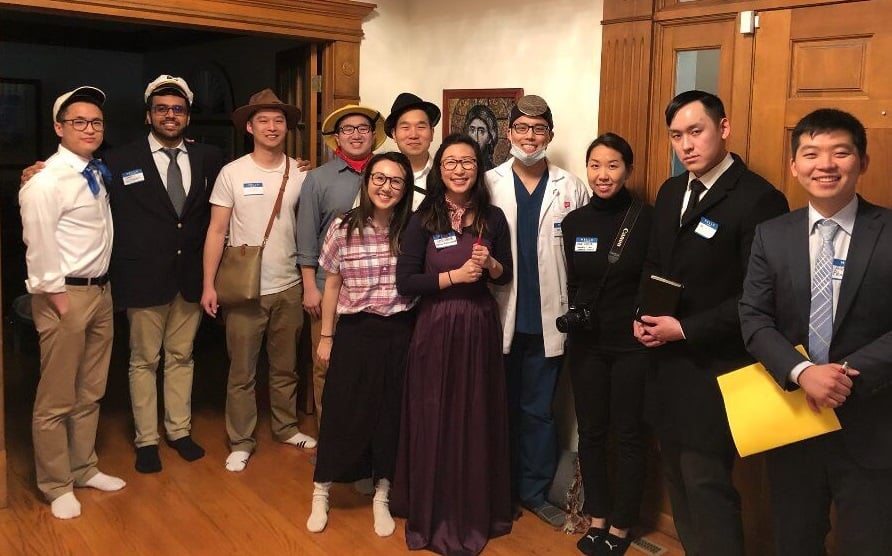 "I wanted to say that Death on the Gambia was a huge success. We love your games and we are hoping to do another in the summer!"Joseph Kim
And then going back to Africa: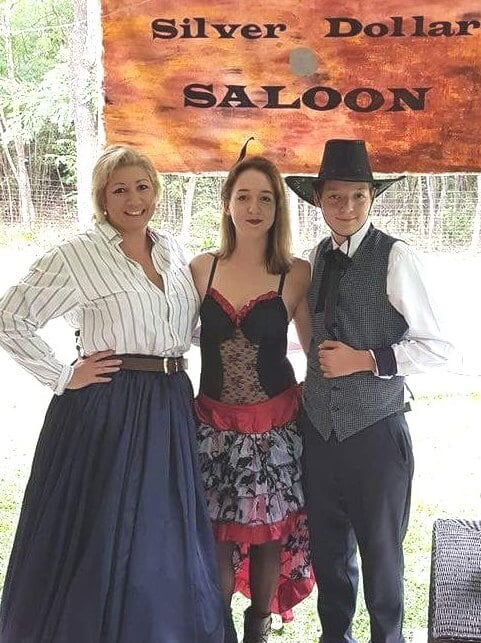 "I tried my first freeformgames murder mystery evening, Way out West, in December 2017.
We live on a farm on the outskirts of a town in Zambia. Our community is a melting pot of nations… South Africans, Zimbabweans, Australians and a good few Brits in with the locals.
We are blessed with lovely weather and were able to host the evening on our veranda, which spilled into the garden! We had quite a feisty bunch who wanted to pinch, poison and shoot. Thank heavens I had a barmaid assistant to handle all the rock paper scissors challenges.
90% had never played before… And those who had, said they had never actually finished one! Well this time we did finish, and it was super fun, really entertaining and everyone made me promise to do another in the new year. Hence Hollywood Lies happening soon!
Thank you to you and your team for fabulous entertainment!"Jacqui French, Zambia
Thank you, everyone – please do keep the stories coming! You can send them via the form here: https://www.freeformgames.com/stories.php
---
Way out West - the book
We hope you've enjoyed our free version of Way out West.

Did you know that we've also created a paperback book version as well? It's not free, unfortunately, but we think it's easier to read than the version you downloaded (which is designed to be played).

You can get Way out West at Amazon.com or Amazon.co.uk.